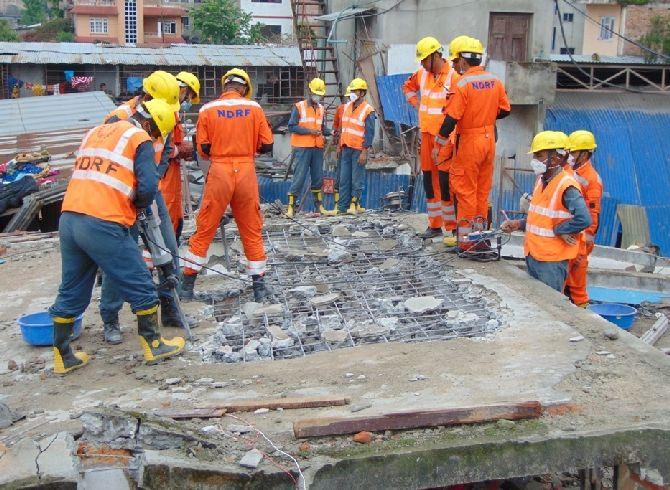 IMAGE: An NDRF team works on a collapsed building in Kathmandu, Nepal after the April 2015 quake.
'If a major earthquake of the kind that hit Nepal hits us in Delhi, 35 per cent of our homes would be destroyed.'
'Our homes need retrofitting. Our building codes need to be strengthened and strictly enforced.'
National Disaster Relief Force Director General O P Singh has co-authored Nepal Bhookamp: Zindagi ki Talaash (Nepal Earthquake: Search for Life) to commemorate one year of the tragedy which occurred on April 25, 2015 and left a trail of death and suffering.
The focus of the book, which chronicles in detail the NDRF response, is to provide a detailed guide on what are the immediate steps that must be taken by different organisations to handle a tragedy of this magnitude.
He spoke to Rashme Sehgal for Rediff.com
What was the NDRF's immediate response when you first learnt of this disaster?
The Nepal earthquake occurred on a Saturday, which saved lots of lives as it is a holiday in Nepal. All educational institutions and offices were closed.
When the Indian government heard that an earthquake of the magnitude of 7.8 on the Richter Scale had occurred, the National Crisis Management Committee headed by the Cabinet Secretary met with all the stakeholders including the home secretary, the health secretary, the transport secretary and other senior bureaucrats including the National Disaster Management Authority chairman. Several Indian states including Bihar also felt huge tremors.
Prime Minister Narendra Modi held a meeting on April 25 and the government immediately despatched NDRF teams to help in the search and rescue operations.
By 5.50 pm, our teams were met by the Indian ambassador in Kathmandu and by that night, we had started operations in four different locations. The NDRF was at the forefront of the Indian national response.
Were you a part of the rescue teams?
No, I reached on April 26, but I did the initial mobilisation. Within hours of our arrival, we had helped pull out seven victims from the rubble.
We were the first international team that landed in Kathmandu. We were active in the Kathmandu valley including Lalitpur and Sitapaila and our first team alone helped rescue 150 people from the rubble.
The Indian Army was also active in the Kathmandu valley?
The Indian Army was deployed in the rural areas while the NDRF was deployed in urban centres. Our work has been appreciated by the affected communities. The United Nations has also appreciated our work.
How exactly did your teams go about their job?
The greatest risk in an earthquake comes from building collapses and tremendous care has to be shown to extricate the victims from these trapped situations.
Every building has its own strength and weakness. We need to understand the nature of the collapse and the survival space within a building where a victim can hide himself if he is in a position to do so.
We use noise, sense and smell to try and locate a victim.
What exactly do you mean by 'noise, sense and smell'?
The body emanates a smell. We had taken nine sniffer dogs and these were used to smell out the victims. We also carried specialised equipment that helped track down victims.
Our teams have to understand the nature of the collapse to be able to ascertain where possible victims are located.
Some buildings collapse in a pancake fashion like a pack of cards. It becomes difficult to drill through the entire thickness of the building.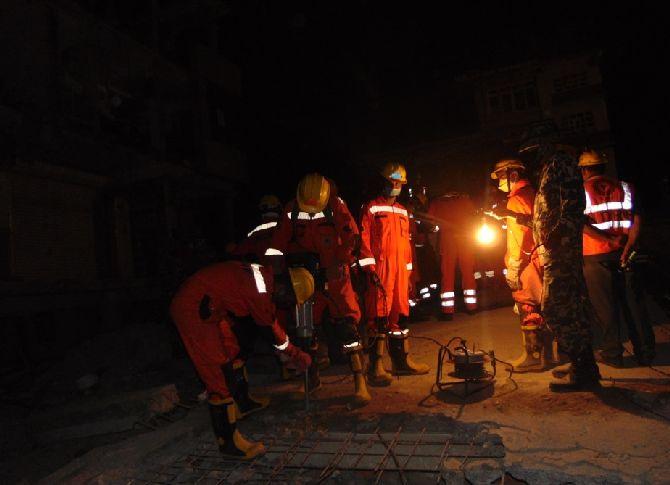 IMAGE: NDRF teams worked 24/7 to rescue people after the quake.
It has been estimated that 800,000 buildings collapsed in Nepal because of the earthquake.
Unfortunately, most buildings had weak columns and weak load bearing walls. The traditional houses made out of bamboo were able to withstand the earthquake better.
More than 9,000 people died and left 22,000 injured.
The idea of writing the book is to generate greater awareness on how to tackle such emergency situations and to showcase how 76 teams from 34 countries handled this situation.
How many teams did India have?
We had 16 teams there. It was a huge challenge. I stayed there for 12 days. It was a challenging job because this earthquake was followed by major aftershocks. In all there were 62 aftershocks.
The earthquake was followed by incessant rain which hampered the operations. The partially damaged buildings are most susceptible to aftershocks and are therefore much more dangerous.
We managed to pull a lady out of the rubble -- she had been there for 52 hours. She was 44 and was lucky not to have had major injuries. It was a very difficult time for these people who showed tremendous courage.
The famous anthropologist Professor Edward Simpson has written, 'An earthquake does not conclude, it lives in metaphor and history, pressing in and out in popular consciousness.'
This earthquake happened in Nepal after 80 years -- the last major earthquake was in 1934. The seismic activity from Afghanistan through Nepal to Bhutan is very high because these countries are sitting on a fault lines.
Simpson had researched the effects of the Gujarat 2001 earthquake. He writes about a man who lost his parents in an earthquake in 1956 and then lost his children in the Gujarat earthquake of 2001.
Did the NDRF also rescue children?
The first girl we rescued was 16 and her name is Alisha. She was rescued on the first night itself and was in the rubble for 15, 16 hours.
In all, we rescued 11 victims and 133 bodies from 86 different locations. We both rescued people and helped provide medical care and essential items like food and water.
What made you write this book?
When I was in Nepal, coordinating the state and national governments with the chairman of the NDMA and others, I decided to maintain a diary where day-to-day activities that I took part in were all noted.
I told myself I must chronicle everything so that my book can act as a guide for others on how to tackle major disasters.
Nepal lost 16,000 schools. The Nepal government were in a very difficult situation because their infrastructure also caved in.
I hope that the book is not only useful for people who love Nepal, but also for researchers who work on subjects like earthquakes.
If we are able to reduce even a small fraction of damage during a future disaster, then the effort of writing this book would be considered successful.
Recently, Japan has witnessed major earthquakes which have left 40 people dead. Japan as a nation follows very strict construction codes because they strongly support quake proofing construction. They have an Earthquake Research Institute which goes in for prediction of earthquakes, but I cannot say how accurate these predictions are.
Experts warn of the need to quake proofing buildings in India.
The Building Construction Code in India has not been revised.
Everyone is aware that the tectonic plates of the Himalayas are shifting and this could result in major earthquakes.
If a major earthquake of the kind that hit Nepal hits us in the capital, 35 per cent of our homes would be destroyed.
Our homes need retrofitting. Our building codes need to be strengthened and strictly enforced.