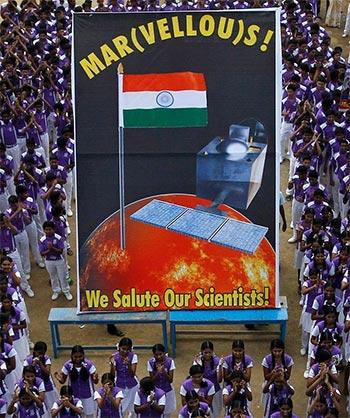 'The most noteworthy feature of the Indian space programme is that all the unique achievements have been made by engineers from small towns who have had a non elite upbringing and who have grown with the programme,' says R Aravamudan, one of the pioneers of the Indian space programme.
R Aravamudan was among the few scientists handpicked by Dr Vikram Sarabhai to start the Indian Space Research Organisation at Thumba, Thiruvananthapuram in 1962.
Former President A P J Abdul Kalam was another scientist who was part of the elite group.
Image, above: Students in Chennai celebrate India's Mars orbiter successfully entering the red planet's orbit. Photograph: Babu/Reuters
In this exclusive e-mail interview with Rediff.com's Shobha Warrier, Mr Aravamudan recalls the early days when India launched its first sounding rocket into space to its remarkable journey to Mars.
In 1962 when Dr Vikram Sarabhai handpicked a few of you to start India's space programme, what was the dream all of you had?
I was just 25 and had already spent two years in the Atomic Energy Establishment working in the Reactor Control Division.
Hailing from Madras, I could not get adjusted to crowded and noisy Bombay and wanted to get back to the south. This was when Dr Sarabhai picked me for the programme which involved training in sounding rockets in NASA and eventually being posted in Thumba.
In 1962 the outlook was pretty simple: To establish a modest sounding rocket launching facility at Thumba, which happened to be under the Magnetic Equator and provide facilities to the international scientific community to gather data.
There was no mention of developing satellites or launching vehicles at that time, although Dr Sarabhai must have had it in his mind all the time. This programme was articulated a few years later. It was then that the dream took shape.
Most of the scientists who went to Thumba at that time were working outside India. It was said that nobody could say no to Dr Sarabhai.
I was among the very first to join the group. In fact, all of us in the original group were from India.
In subsequent years, say the mid 1960s, the active recruitment drive started and whenever Dr Sarabhai went abroad, he used to meet scientists and engineers working in this area and tried to describe to them his vision of the Indian space programme and what the future would hold.
I am sure his earnestness and sincerity would have drawn people to decide to come back and have a shot at it. I would say the majority of the scientists recruited for the Indian space programme came from India.
Many of them were from small towns and had studied in local universities.
What was your first impression of Vikram Sarabhai when you met him?
I was a young electronics engineer working in the Reactor Control division of the Department of Atomic Energy at Trombay, when word got around that Dr Sarabhai was looking for fresh electronic engineers to form a core team to set up a small Rocket Launch Pad in south Kerala.
I was asked to travel to Ahmedabad and meet Dr Sarabhai to get to know the details first hand.
I took the Bombay-Ahmedabad train and checked into a seedy hotel. I took an autorickshaw to Navrangapura where the Physical Research Laboratory was situated.
The first person whom I met was (Professor) E V Chitnis, a handsome young man who said that Dr Sarabhai would meet me shortly.
As I was hanging around in the corridor waiting, a Standard Herald car with an open top stopped at the portico and a fair and dashing looking young man dressed in white shorts and shirt stepped out and asked, "Are you Aravamudan?"
Image, left: Dr Vikram Sarabhai. Kind courtesy: ISRO
I said yes and he immediately asked me to hop into the car. He drove up a short distance to an instrumentation trailer from NASA parked in the campus. Later I learnt that this was called the Microlock Receiving Trailer.
He led me inside and personally explained to me the workings of this trailer and how it received signals from scientific satellites.
He then went on to explain how he was planning to do scientific experiments from Kerala, perhaps from, near Trivandrum, using rockets carrying measuring instruments.
He also described the launch pad, telemetry receiving station, radar and Doppler velocity and position system he hoped to install.
It all sounded like science fiction to me, but I was quite interested mainly because if I took the assignment, it meant my moving down South. Also it involved a spell of training in NASA which sounded quite exciting.
But, more than anything else, it was the charisma of Dr Sarabhai, the gleam in his eyes when he described his plans and his sincerity which attracted me.
What comes to your mind when you think of November 21, 1963? Will you please describe the days before November 21 and after that?
We were at the final stages of our training at NASA when the preparations for the first launching from Thumba were at their peak. The Nike Apache Rocket had been flown to Trivandrum and the Vapour Cloud payload had reached. Being hazardous items, the transportation of these from the US was in itself a pioneering effort and many a tale could be written on this.
We were thrilled when an announcement came on the Wallops Island intercom that India had successfully launched its first sounding rocket.
The orange vapour trail was visible from all over Kerala and parts of Tamil Nadu. This created great excitement. Since the public had never seen such a sight before, it also gave rise to some hilarious newspaper reports.
In fact, the Kerala legislative assembly, which was in session, then apparently adjourned temporarily to have a good view of the bright vapour trail in the western sky!
NASA personnel who had gone to Thumba for the launch had nice stories to tell us about the beautiful Thumba beach with coconut trees all over. They also claimed that they launched the Nike Apache with the help of bullock carts for transportation and their own pocket knives for tools.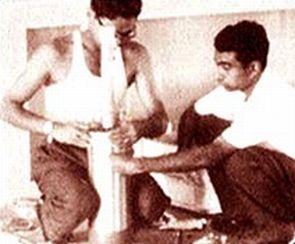 How do you describe the initial rocket launches?
I cannot, for instance, forget the day when we were launching a small rocket, which required a siren to be sounded three minutes before the launch. When one of my colleagues pressed the siren switch, a thundering noise was heard and the rocket zoomed up.
Image, left: R Aravamudan, left, and A P J Abdul Kalam work on a rocket. Photograph courtesy: R Aravamudan
Fortunately it was pointing in the right direction and no one was hurt and no harm was done. The Test Director, Mr Murthy, was heard asking anxiously, what the big sound was about.
We learnt that day, how important it was to isolate the ground leads of the firing circuits from the general ground.
Then there was the series of Nike Apache launchings with Vapour Cloud payloads triggered by locally designed ignitors. The rockets were to be fired successively. The first launching took off well, but there was no payload release.
Determined not to be deterred by a single failure, the order was given to go ahead with the next firing. But, alas that was also a failure.
It then occurred to us to carefully examine the ignitor in the laboratory. To our dismay, we found that the ignitor did not work in a vacuum, while it was fine under normal pressure. The ignitor design was modified and then it started functioning well in actual flights.
There were, fortunately, no major accidents during the launchings, although there were cases when the rockets went astray and parts were picked up from the surrounding areas.
We also worked out a regular system of compensation for fishermen who claimed that their nets had been damaged by rocket debris.
How difficult was it for you to live in a small town like Thiruvananthapuram?
Although I was born and bred in the south, I had never visited Kerala before. I had always lived in big cities. First Chennai, then Bombay and finally Washington. The contrast between these big cities and Trivandrum was quite stark.
Although Trivandrum was the state capital, it was a sleepy and slow town with 19th century tiled houses lost amidst coconut palms. The roads were narrow and curvy with sharp turns and fast changing slopes.
For young bachelors like us, who knew no cooking, there were hardly any eating places. All we had were lodging houses with minimal facilities.
At the Rocket Range, the Launch Pad and the Block House had been built and the main roads were laid. But the approach to Thumba was very circuitous. The present road via Veli was not laid and there was no bridge over the VeliLake.
We had to make use of public transport as there were no official vehicles yet and no canteen. So, our day began with a quick breakfast of idli sambar at the railway station canteen, which was the only place where we could get food to our taste.
We would then pack some snacks and lunch from the same canteen and go to the bus stand, to catch a moffusil bus to Kazhakkutam. We would get down at the bus stand there and walk about a kilometre or so to the range. The whole trip took about an hour.
Our first office was in the Bishop's House and the Church Building. The range was quite large in area and the only means of transport within the range was by bicycle. Those like Kalam who could not cycle had to hitch rides with others.
There were no strict working hours and work went on around the clock. Soon the range acquired a Jeep in addition to a Standard van and these were pressed into round the clock duties. When we got the first bus a few months later, it was a major relief to the employees.
In the early days in Thiruvananthapuram, did you, A P J Abdul Kalam and Professor Satish Dhawan talk only about the space programme or did you all also have fun? Were you people boring scientists or fun loving young men?
While myself and Kalam reached Trivandrum in the early 60s to start the rocket activities, Professor Satish Dhawan was not in the initial team and was never posted in Trivandrum.
He came into the picture much later in 1972 and took over as chairman on the death of Dr Sarabhai. He was until then in Bangalore as a professor in the Indian Institute of Science and also its Director.
As a matter of fact, he was responsible for moving the ISRO headquarters to Bangalore.
The initial days were quite hectic since we were establishing the facilities and we hardly had any time to ourselves. Trivandrum also was much less developed and was little more than a small town.
But we had a nice beach in Kovalam which we used to visit often. Of course, this was before the days of the 5 star hotels and it was tough to reach there by the rickety buses. Kalam was particularly fond of a dip in Kovalam since he was born in Rameswaram!
The other possibilities of diversion in Trivandrum were the Padmanabhaswamy Temple and the odd cinema theatres including one showing old Hollywood movies.
Several years later we formed our own recreation club named the Rocket Club in Kowdiar where we used to play badminton and cards etc.
As the tempo of activities increased in the 70s and 80s, our time for recreation contracted to the great unhappiness of our families, some of us by this time having become family men.
It was written that after the training at NASA, you had no proper facilities available at Thumba and had to manage with whatever was available. Did any of you feel demotivated then?
Not at all. We were all very young and full of energy and frequent interaction with Dr Sarabhai and other colleagues kept us going.
As ISRO grew, did the dream of you people also change? If so, in what way?
Yes. The programme grew in magnitude. The most important milestone was when on the unfortunate death of Dr Homi Bhabha in an air crash, the mantle fell on Dr Sarabhai to take over the Atomic Energy Department and Space Research.
This meant direct access to the PM and adequate funding.
What was the biggest challenge you faced in the initial days? What is the biggest challenge India's space programme faces today?
The main challenge has been that we had to develop everything from scratch. Rocket technology being defence related, is not available from abroad for love or money. You may recall the US embargoes and Russian Cryogenic imbroglio!
It was reported that India's space mission does not attract the best brains from Indian universities like the IITs and NITs. Why is it that they don't find India's space mission attractive?
While this is generally true, it is also true that lot of people usually end up and settle abroad and are not directly available to India in general.
The most noteworthy feature of Indian space programme is that all the unique achievements have been made by engineers from small towns who have had a non elite upbringing and who have grown with the programme.
What has fired them is a well defined, goal oriented and well funded programme and absolute technical freedom with no red tape.
What should the Indian government do to attract intelligent young Indians to India's space mission? Will it make a difference?
There has, in fact been a big rush in youngsters wanting to get into ISRO, what with increased pay scales and the establishment of a Space Science and Technology University in Valiamala near Trivandrum with guaranteed jobs.
The recent successes have added to the rush.
How do you rate the quality of Indian scientists?
Undoubtedly, on par with the rest of the world.
Do you consider Mangalyan as the biggest achievement of the Indian space mission?
It is one of the most visible achievements of ISRO. But the reliability of its rockets and satellites and the ability to conceive, implement and complete on time its major tasks in a transparent and confident manner is its major achievement.