'He was of the opinion that whenever elements exploit religious sentiments to achieve a political objective, tragedy takes place.'
Govind Nihalani, who made Tamas, the memorable television epic based on Bhisham Sahni's novel, salutes the writer on his 100th birthday.
Set in the weeks ahead of Partition, Govind Nihalani's 1986 television series Tamas narrates how that event changed forever the lives of people trapped in the raging fires of religious hatred.
Based on the acclaimed Hindi novelist Bhisham Sahni's book, Tamas premiered on Doordarshan amidst much controversy and was acknowledged as a classic.
"When I started reading Tamas I instantly knew it had to be made into a film. I could relate to the tragedy in the lives of the characters," Nihalani tells Syed Firdaus Ashraf/Rediff.com.
Bhisham Sahni -- whose elder brother Balraj Sahni starred in Garam Hawa, M S Sathyu's classic film about the aftermath of Partition -- would have been 100 years old on Saturday, August 8.
How do you rate Mr Bisham Sahni?
As one of the best writers in the country.
What appealed to you about Tamas?
Bhisham Sahni had a compassionate and humanist approach to the characters. He was writing a novel after Partition and had witnessed those events. I think he developed a reflective style and not an immediate emotional response to the situation.
His book does not pass judgement on any particular person or a group, or political party. His approach was very humanistic.
He felt and recorded the tragedy caused to the common man, to the innocent people whose religious sentiments were being manipulated to achieve political objectives.
He was of the opinion that whenever elements exploit religious sentiments to achieve a political objective, tragedy takes place.
The real sufferer is the common man who has little to do with what the political parties or groups are trying to achieve.
Is the situation identical today?
Very much so. The situation could be worse now.
Do you think the division between communities is getting worse?
Earlier, there was one person to fight, one institution to fight, and that was the colonial power. That went away with the Independence of India. It was followed by communal tensions.
Now we face another situation. We are a democracy and we hold elections, but religious sentiments continue to be stirred and exploited.
How did you come across Bhisham Sahni's writing?
I picked up Tamas by chance. I was shooting for Richard Attenborough's Gandhi. I was the second unit director. I picked up the book out of curiosity, as I liked the title.
I was looking for some story like that because I was a child when Partition happened. I came from Karachi, Pakistan, and that is the reason the book interested me.
What impact did the book have on you?
Once I started reading it, I could not put it down. I felt at that very moment it should be made into a film. I was emotionally involved with it and I could relate to the tragedy in the lives of the characters. I did not realise Tamas would have such a big impact on me.
Youngsters today don't seem to be aware of the richness of Hindi and other regional literature. How can this be addressed?
Not everyone is unaware. Wherever Hindi literature is taught and the language is predominantly spoken, I think people are aware. But I agree that in the metros youngsters don't follow it very much.
The good news is that the issues it raises get some attention when movies like Gandhi and Tamas are aired on August 15. But how can the issue be addressed to youngsters? One doesn't know what to do about that (laughs).
How would you like youngsters to remember Bhisham Sahni?
Every person must read his work. His short stories; they are brilliant, absolutely brilliant. His original Hindi work is excellent but if some good translation can be produced in other languages that would be good.
Tamas has been translated into English and a couple of other works have also been translated, but not many.
Religion is still being used in politics as it was narrated in Tamas...
That is why it is important. The younger generation must realise it and that is why these works should be translated into English and other regional languages. At least the works of major writers should be translated in other languages. I have been able to read the works by regional writers because they were translated into English.
Your film had the memorable line -- 'Those who forget history are condemned to repeat it.' What can be said about those who forget literature?
That is not for me to say. I was very moved by that quotation, which appears right in the beginning.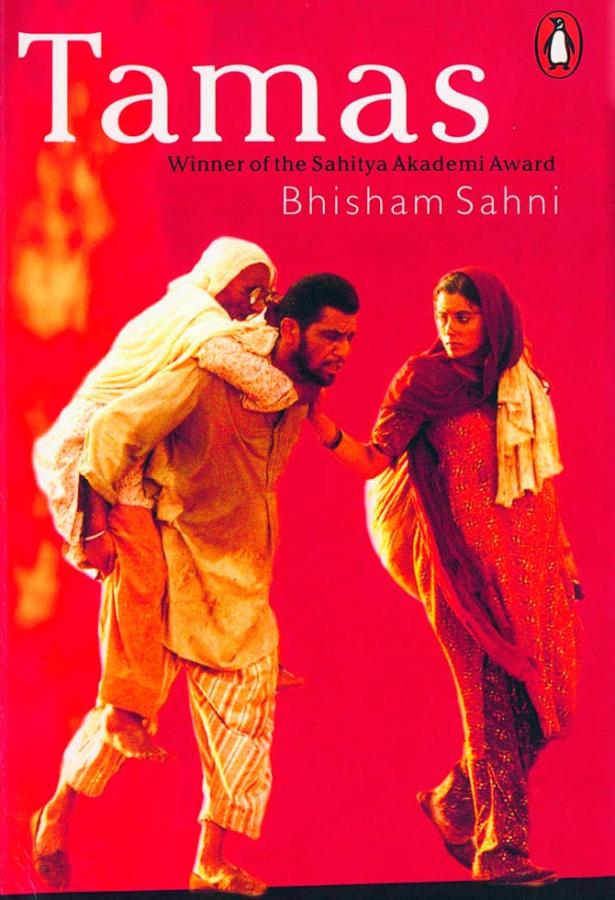 As a society what happens if we forget our history and literature?
When you forget history, it is a much bigger issue than forgetting literature. But by saying so, I am not reducing the importance of literature. It is only a comparison between history and literature.
What do you think of the present government at the Centre?
One is waiting for something concrete to be achieved that can be seen and felt.
Has the communal situation worsened in the country?
I don't really know, but one gets the feeling that there is a certain unease among the minority community.
Is it your personal observation?
That is the feeling you get from the media.
Do you see a silver lining?
It is too early to come to that kind of judgement. They (the Modi government) have been here only for more than a year.
IMAGES: Writer Bhisham Sahni played a part in Tamas, based on his novel, below.