'Government intervention in agricultural trade is a problem for farmers.'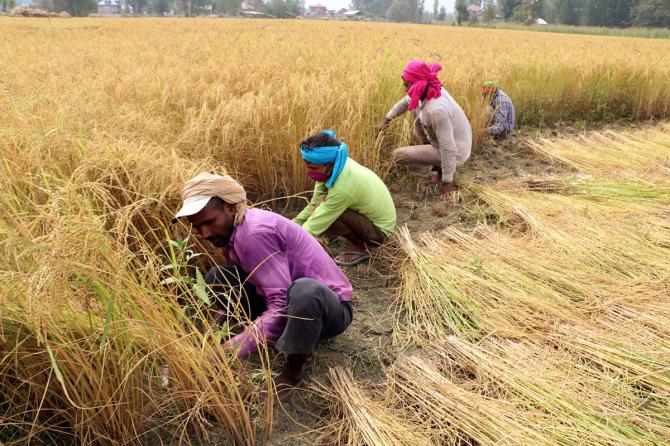 Shetkari Sanghatana President Anil J Ghanwat was appointed by the Supreme Court of India as a member of a three-member committee to examine the Centre's three farm laws.
"Today, the fastest growing sector in India in agriculture are fisheries, poultry and horticulture which has no support of MSP from the government. So why are we demanding MSP for other farm products?" Ghanwat asks Syed Firdaus Ashraf/Rediff.com in the concluding segment of the interview.
You are sounding as if everything is hunky-dory but in Himachal Pradesh, the Adanis reportedly refused to pay a price to apple growers, causing resentment.
Next year they will search for someone other than Adani. Why only Adani? They will come and sell in Pune or Mumbai. Why will they depend on Adani?
Farmers must have the freedom to choose their buyers and this is what we have been fighting for for the last 40 years.
But this Adani and apple growers example gives you a clear indication that the market economy is not rewarding farmers enough and that is a huge cause of concern for the future of farmers.
It takes time (for things to change). The situation has prevailed for almost a century in India as this policy was adopted by the British too.
Farmers were kept poor intentionally and whenever some money was going in the pockets of farmers the government would come out with a policy all of a sudden banning exports or would import the same food product at cheaper rates.
If not that, then they used to come up with a law limiting their stocks or ban district trade. These all came in the Essential Commodities Act.
The Supreme Court of India stayed the three farm laws on January 12, 2021, so why are these farmers still protesting?
I don't know why they are protesting. Punjab Chief Minister Amarinder Singh made a law which made MSP legal for wheat and rice. MSP is legal, the three farm laws have been stayed, so why are these farmers sleeping on the streets?
I would like to go and speak to those leaders and for that reason I said let our report be made public. Let there be a debate and all of us can then put across our views on an open platform. And let our countrymen decide what is good for farmers as they are demanding legal MSP.
The Modi government announced MSP last week and in real terms it is Rs 1,901 for wheat for 2022-2023, which is Rs 74 less than last year's MSP and a four percent decrease from 2021.
Last year the MSP for wheat was Rs 1,975 and this year it is Rs 2,015. Technically, we see an increase, but when we see the inflation rate then it is lower than the cost of production.
On the other side, you have to see that what will happen if the government increases the price of wheat to a greater extent. All farmers will go and produce wheat.
Today, we have 2.5 times more wheat than what we require. We need 41 lakh (4.1 million) tonnes of wheat (every year) and at this moment we have 110 lakh (11 million) tonnes of wheat.
We do not have the godowns to store them. Wheat is rotting outside and rodents are eating wheat in the godowns.
Why are we wasting taxpayers's money thus? If we start procuring all farm goods at this rate, then we will not have any money left for other development programmes. This can be very harmful for the country.
It is simple. Give farmers technology and freedom to sell their goods. Why do you need government intervention for that?
Let the farmers decide. They can decide on a seller in Malaysia or the USA and can sell his produce directly there at a fixed rate.
But how is it even possible for a small or marginal farmer to do that?
When there is demand outside, the buyers go to the field of farmers and buy at a price which he is able to afford. But what you are stating is fear-mongering.
In two acres land in Punjab a farmer produces 64 quintals of wheat. Does he carry that wheat on his head to the market? No. There are buyers who approach him.
We do not need APMC and their favours. One example: Red gram (arhar) is above MSP, prices of soyabean is above MSP, price of moong dal is above MSP. The price of cotton is above MSP.
Till there was no intervention from the government, gram prices were above MSP and as soon as the government intervened, they banned gram from commodity markets.
They imported soyabean overnight and soyabean that was selling at Rs 10,000 quintal is now selling at Rs .6000 quintal.
The government intervention in agricultural trade is a problem for farmers. Let them get out of this trade. There can be some problems and hiccups in the beginning, but after some time we will be boosting our international trade of farm products.
Today, the fastest growing sector in India in agriculture are fisheries, poultry and horticulture which has no support of MSP from the government. So why are we demanding MSP for other farm products?
Tomorrow if there is MSP for chicken, will the government purchase all chicken? Do they have that kind of money or infrastructure?
Do you feel we pampered wheat and rice growers because of Socialist policies and the Green Revolution?
Yes, during the Green Revolution it was found that the land of Punjab was good for irrigational facilities. The central focus of the Green Revolution was Punjab. We were also producing wheat and rice in Maharashtra, but the procurement system came in Punjab state.
In Maharashtra the government procured wheat and rice that time at levy rates, which was very low compared to market rates.
Do you feel your report will be a game-changer for the farming sector?
It is not a game-changer, but a future changer of the Indian farming economy.
It will change the future of farmers'S standard of living.
Farmers will be able to live with dignity and this will happen only if our report is implemented properly.