'Why did Kejriwal, the crusader against corruption, choose such an officer as his principal secretary? He has to explain. After that, he realises that Kumar's case is not picking up, so he changes tracks and picks up Jaitley for the DDCA case.'
'I personally feel this is part of Kejriwal's strategy. If he has evidence against Jaitley, then why doesn't he file a first information report like he did in the petroleum case?'
Congress General Secretary Digvijaya Singh in a freewheeling chat with Prasanna D Zore/Rediff.com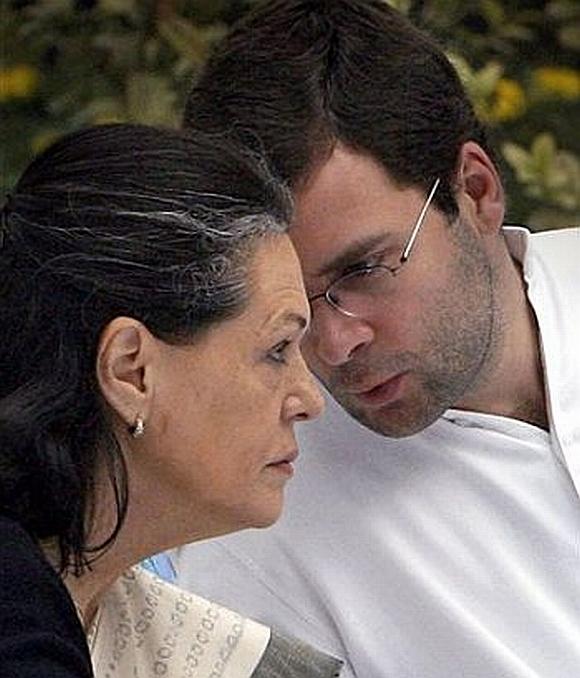 Is a bail application in the offing?
It's not bail; it's just an assurance to (the court) be present when the court asks.
There is talk about the Congress organising a march from its 24, Akbar Road headquarters to the Patiala House court where the case will be heard. Is that true?
There is no strategy in place. It may be spontaneous; it may not be spontaneous. As far as the Congress is concerned, they (Sonia and Rahul) are just going as common citizens to appear before the court.
We have the highest regard for the courts. We have not organised any such march.
Will you be a part of this march?
Well, I will be here at 1 o'clock. We have been asked to be here at 1 pm.
Asked by who?
The Congress leadership. We all have been asked to be there.
By 'we all' you mean...
All office-bearers and members of Parliament.
There will be no state Congress chiefs, chief ministers of Congress-ruled states and members of Parliament from the Lok Sabha and Rajya Sabha (in that march)?
I don't think so.
Why is Parliament not functioning? While the Congress has agreed to debate five or six pending legislation, it is still not showing any signs of agreement as far as passage of the Goods and Service Tax bill is concerned.
You must understand the reasons why Parliament is not functioning.
When the Bharatiya Janata Party was in the Opposition, Parliament had been held up for much longer than what it has been this time around.
Arun Jaitley (then the Leader of the Opposition in the Rajya Sabha and now Union finance minister) said then 'For the Opposition, disruption of Parliament is a legitimate parliamentary practice.' Why this sudden change of heart now?
Are you doing a perfect tit-for-tat for what the BJP did when you were the ruling dispensation?
No. This is not that at all. The first two disruptions took place because Jaitley unnecessarily picked up an issue with Congress MP Kumari Selja.
We also want to remind this government of the clear cut cases of corruption against Union Minister for External Affairs Sushma Swaraj, Rajasthan Chief Minister Vasundhara Raje Scindia, a Cabinet minister in the Maharashtra government (Pankaja Palwe Munde) and Chhattisgarh Chief Minister Raman Singh. But they didn't even talk about these issues.
The prime minister, who has come with a mandate of 'na khaoonga, na khane doonga (will not indulge in corruption myself, nor allow others)', has not taken any action against the allegations of corruption against these ministers.
Then Virendra Singh, the BJP MP from Bhadohi, Uttar Pradesh, used abusive language against the Congress president and the vice-president and did not apologise for it.
Then this case of Arunachal Pradesh happened; then the case of raiding the office of the chief minister of Delhi happened; then there were floods in Chennai where the response of the central government was poor.
In all these issues we wanted legitimate discussions and sought answers from the government. But we never got any.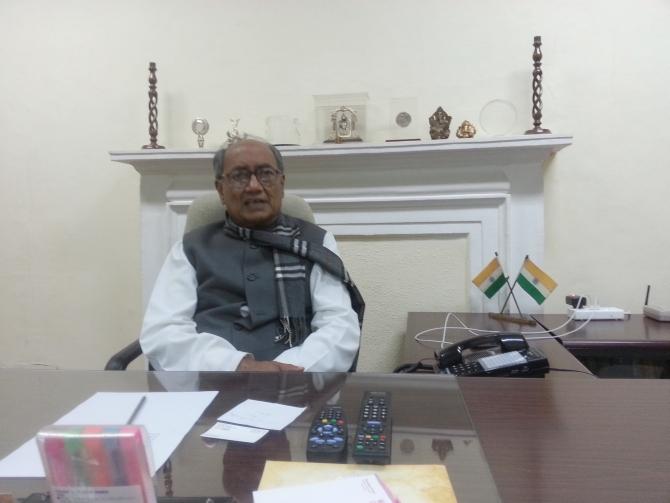 But the people in the government state that you are disrupting Parliament over the National Herald case.
No. That is not connected to this. We are doing this (disrupting Parliament) based on issues. Now, in Punjab, two Dalits were killed brutally. Before killing them, their hands and feet were chopped off.
These are the issues which they (the ruling party) keep throwing at us. How can we take it lying down?
So, we are looking to a washout of the Winter Session?
Looks like it.
Do you think the Aam Aadmi Party's press conference about Jaitley's alleged involvement in Delhi District Cricket Association corruption cases is just a bargaining chip signalling the government to go soft on the CBI investigation of Chief Minister Arvind Kejriwal's top bureaucrat Rajender Kumar?
The Delhi CM's office is raided by the CBI. Kejriwal tweets that he is being sort of, punished, his office is being raided and he defends Kumar. Now, the BJP is saying that he (Kumar) is a tainted officer. There are cases against him.
So, why did Kejriwal, the crusader against corruption, choose such an officer as his principal secretary? He has to explain. After that, he realises that Kumar's case is not picking up, so he changes tracks and picks up Jaitley for the DDCA case.
I personally feel this is part of Kejriwal's strategy. If he has evidence against Jaitley, then why doesn't he file a first information report like he did in the petroleum case?
As it looks today, it is more of Kejriwal's theatrics than anything else.
What 'strategy' are you hinting at?
I don't know the relationship between the AAP, the BJP, Kejriwal, Jaitley. I don't want to say anything about it. But I have always felt that the AAP is an extension of the BJP and its ideology, and he (Kejriwal) is part of a conspiracy to make a 'Congress-mukt' Bharat of the RSS (Rashtriya Swayamsewak Sangh).
Your comment on RSS chief Mohan Bhagwat's statement that reservations should not be scrapped for the next 100 years...
I can only say that it is one of the many times when the BJP and RSS have taken a U-turn. It is part of their character to do U-turns on their stated ideology.