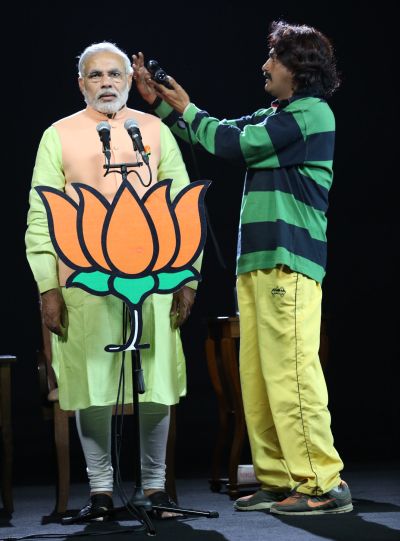 'We have to get the party and its members to this day. We have to bring them to the present and see the realities of today. We must fight the elections with 22nd century ideas.'
Former Congress MP Annu Tandon explains why she and the party lost the Lok Sabha election and how its fortunes can be revived.
Annu Tandon, right, below, the former Congress MP from Unnao in Uttar Pradesh, lived in her constituency throughout her term. Even when Parliament was in session, she made sure that she spent weekends in the area.
Her NGO Hriday Narain Dhawan Charitable Trust has been working in this district for more than a decade before she chose to contest the 2009 Lok Sabha election from Unnao.
Though she was available and accessible to her voters she was swept away by the Narendra Modi blitz.
She spoke with A Ganesh Nadar/Rediff.com over the phone.
You were always available to the people. You stayed there, everyone agrees that you did good work and yet you lost. What went wrong?
People were looking at 10 years of the United Progressive Alliance and they did not see the good work we have done. The Rural Employment Scheme, the Right to Information, the Food Security Bill, the Rural Health Scheme were all meant for the poor and they were working, being implemented properly and yet people did not acknowledge the good work.
We were targeted in a manner that we did not understand nor did we fight back. We failed to see the angst and anger of the people. We failed to market the good schemes that we had implemented.
What are people telling you today in your constituency??
They have turned up in large numbers to meet me. I can see they still love me. They say they are sad to see me lose. They say that they need a MP who stays here and yet they voted for someone who came here 20 days back. It's amazing. What do people really want?
What do you feel about the electoral results?
I am feeling really hurt. I did my best. I stayed here for five years. I was here for everything. I tried my best, but wanted to do more, I could not. Anyway I accept the people's decision. This is democracy and I accept the result.
Why do you say that?
I am talking about the Member of Parliament Local Area Development funds. People don't seem to understand that the MP can only suggest schemes, the implementation is with the state government. They don't implement it on time. If I don't get a completion certificate I don't get the next year's amount.
It is only Rs 5 crore (Rs 50 million) a year. I could spend Rs 50 crore (Rs 500 million) a year in my constituency, but I could not because of an uncooperative state government.
Is it not the collector who implements the MPLAD scheme?
Yes! It is the collector, but he reports to the state government. He cannot do anything without the state government approving it. All my work was delayed and or done too late.
People want to see results, they don't like it when it is not done and they think I was responsible for the delay. Or I was not doing what I promised.
What do you think of the Modi effect?
It was everywhere. Television, radio, print, tbe Internet -- they had taken over the entire media. If we are such crooks as you make us out to be, shouldn't we have spent more money than them?
We didn't have that much money and we did not spend as much as them or anywhere close to them.
What effect did Rahul Gandhi have in this election?
Let me tell you about the effect he had on my constituency. I am thankful to him that he found time to visit my constituency and seek votes for me and the Congress party. He was received with enthusiasm and there was euphoria following his visit.
Large crowds greeted him with so much love and affection. Thinking about that crowd and also the people who are meeting me today I cannot believe that these people did not vote for me.
Isn't the Congress leadership responsible for this defeat?
I don't agree. The entire Congress party is responsible. In victory the whole party celebrates and so in defeat too the whole party should take responsibility. We are a 130-year-old party and we know how to take victory and defeat collectively.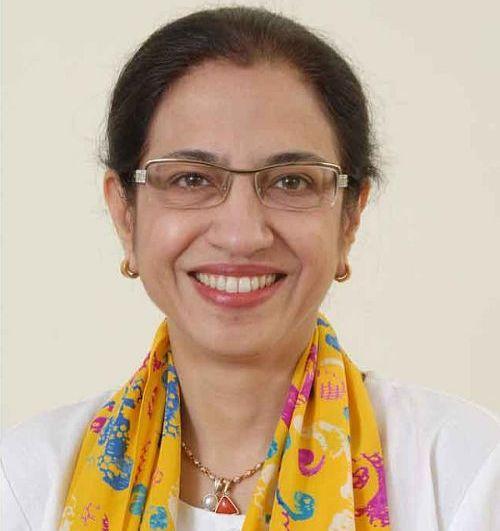 What do you think about the criticism of Rahul Gandhi's leadership? Do you agree with the disciplinary action the Congress is taking against those who have criticised him?
The disciplinary action was not because they criticised Rahul Gandhi. It was against the intemperate, uncalled for language, the forum where they made the statements and also the politically incorrect manner in which they did so.
The action was against indiscipline. We are a very large organisation. We cannot have indiscipline and still run the party. They could have and should have made the same criticism in the party forum.
We have various methods where our members can air their grievances and they always get a reply. Indiscipline will not be tolerated and that is what it was, it was not a Rahul Gandhi-specific action, the same action would have been taken who ever the leader may be.
Congress grievances have to be settled by the Congress, not by the media.
What should the Congress do to revive its fortunes?
We fought the elections in a manner suited for the 19th century when the party came into being. We have to get the party and its members to this day. We have to bring them to the present and see the realities of today.
Once that is done, we have to gear up for the 22nd century. We must fight the elections with 22nd century ideas.
Images: Top: Senthil Kumar shoots Narendra Modi for the 3D hologram. Photograph courtesy: Senthil Kumar. Bottom: Annu Tandon