'I sat down and asked what they would want in their new school. One student said a football field, another one asked for computers. One little girl came and sat next to me and said, "A separate toilet for the girls." I think these small things make a huge difference in the future of education in India,' Nita Ambani tells Aseem Chhabra/Rediff.com in Chicago.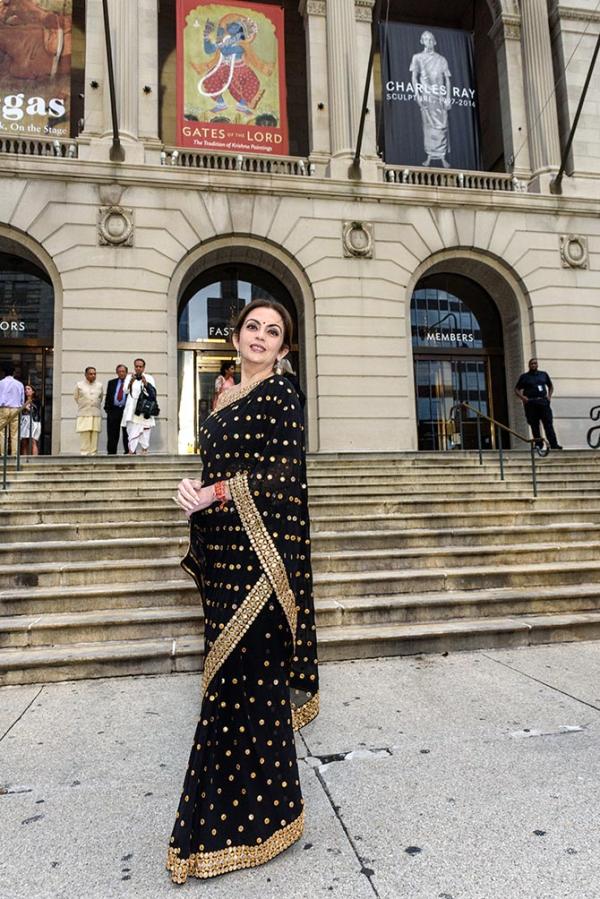 IMAGE: Nita Ambani, founder and chairperson of the Reliance Foundation, outside the Chicago Art Institute.
Nita Ambani is the founder and chairperson of the Reliance Foundation, a well-endowed organisation that supports and funds several development programmes across India.
Nita Ambani -- who is married to Reliance Industries Chairman and Managing Director Mukesh Ambani, who also happens to be the richest man in India -- has led the foundation since its inception in 2010.
In 2014-2015, the Reliance Foundation spent Rs 700 crore (Rs 7 billion)m on a diverse range of projects, many of them in the remote rural hinterlands of India.
Supporting education remains the primary goal, but the foundation also has the Bharat India Jodo initiative, which hopes to join rural and urban India through various developmental efforts.
One component of the foundation's mandate is supporting the arts. And as one of its first initiatives, the foundation is the main sponsor of a large exhibition that recently opened at the Art Institute of Chicago.
Gates of the Lord: The Tradition of Krishna Paintings is the first of its kind show in the US that explores the Pichvai wall hangings from the Pushtimarg sect of Hinduism.
The followers of Pushtimarg worship the seven-year-old Krishna, also known as Shrinathji. The Ambanis are followers of this tradition and hence the dual interest of the foundation to support this art show.
Aseem Chhabra/Rediff.com spoke to Nita Ambani at the Art Institute of Chicago about the Pichvai artwork show and the foundation's other work.
Nitaji, did you take a walk through the exhibit today?
I saw it yesterday.
I thought it was so stunning. What is your feeling about it?
For me, it's our first initiative with the Reliance Foundation to take a cultural show abroad. I have been wondering what it is going to be. And when I walked into the Art Institute of Chicago yesterday I was quite surprised by just the reactions that people were having.
They said, 'Oh my God, we never quite expected it like this.' They were quite taken aback to have our Indian culture and art being represented in such a beautiful way. I am truly touched.
IMAGE: With daughter Isha (in white), show curator Madhuvanti Ghose (in an orange sari), and Douglas Druick, chief curator of the Institute. A zardozi Pichvai artwork hangs on the wall.
And you are very familiar with this art, since you are a follower of Shrinathji?
Yes, our family is a strong believer in Shrinathji. When (the Art Institute of Chicago's Chief Curator) Douglas (Druick) and (Associate Curator of Indian, Southeast Asian, Himalayan, and Islamic Art) Madhuvanti (Ghose) came and spoke to me I got interested in it for two reasons.
One is that we could take abroad the diverse and unique art form of India. We have a huge legacy.
Secondly, it is very personal since our family is a huge believer in Shrinathji -- another name for Krishna.
Baby Krishna.
Yes, seven-year-old Krishna.
But even from your perspective, you haven't seen such a large collection of this art form.
Yes.
How did you as an individual feel about it?
I was mesmerised, really. We all talk about our legacy and to think that this art form has been around and thriving since the 17th century and it's a living art form, with such beauty and grace.
You can see it, you can feel it. You can see yourself surrounded by that love.
I am a Krishna believer. He preaches the universal message of love, but you could feel that in the rooms upstairs.
And with Pandit Jasraj's voice in the background.
Yes. And we had Vishal Baba, the main priest of the Shrinathji temple in Nathdwara here yesterday.
I was looking at the information on the Reliance Foundation. For the arts component you brought a British show to India -- Mummy: The Inside Story.
Yes, we collaborated with the British Museum and we had a quarter million people come to see it. And out of that 60,000 were school children. It was quite amazing.
I think that is really fantastic. In India it is very important to encourage that kind of art.
So I thought with Reliance Foundation we could do it in two ways. One is to take India's large art and culture to the world and make it be seen in an appreciative way. And secondly is also to see if we can bring the best of the world to India. As I said this is our first step.
Would you like to have an art show like this to travel India? Because in India, unless people go to Nathdwara, they won't be able to experience it.
I think as we did with the art from the British Museum, I was so surprised that children came in throngs to the museum. We had 500 schools coming to the Chhatrapati Shivaji Maharaj Vastu Sangrahalaya in Mumbai. Even to make children appreciate our own art legacy would be wonderful.
Tell me more about your other passions with the foundation. Which is your most passionate project?
Education.
I can understand that. You started a school in Mumbai.
No, I started as a schoolteacher. My first job after I got married was teaching in a school in Mumbai. Today we run 13 schools so we have more than 15,000 children that we educate.
We started the Dhirubhai Ambani International School 12 years ago. And that is our flagship school.
So education has been very, very dear to me. If I can do something for rural education which can transform their lives in a holistic way.
I spoke about it last evening at the opening of the show. We also do disaster response and when the floods hit Uttarakhand in northern India, the Reliance Foundation was there, rebuilding homes and schools.
I was spending time with the affected children and it was so surprising to see them smiling in the midst of all the misery around them.
And I sat down with them and asked them what they would want in their new school. One student said a football field, another one asked for computers. One little girl came and sat next to me and said, 'A separate toilet for the girls.' I think these small things make a huge difference in the future of education in India.
Because otherwise they have to share the toilets with the boys?
Yes. That's why girls drop out of education at age 13.
The other schools you mentioned -- you said you have 13 schools, are they also in cities or in rural areas also?
Wherever Mukesh puts up a plant, I put up a school (she laughs). We started with Patalganga, which is in Raigad district in Maharashtra. We have two schools there. Then we went to Surat. Everywhere Mukesh has a plant I have a school.
In Jamnagar when he opened a refinery there we started a school for 3,000 children.
And these schools have the same level of education as the international school in Mumbai?
It is a national curriculum.
What about the other initiatives you have taken?
Health is an important one. Disaster response is also something very important to me.
I read the foundation was present in Kashmir after the floods last year.
Yes in Kashmir. We started in Anjar when the area was hit by the earthquake (on January 26, 2001). At that time we were putting up a refinery there. Recently, the Reliance Foundation was also working in Nepal.
We also have the Bharat India Jodo initiative, which looks at sustainable growth for farmers and their families.
We have the story of Vajaben Vasava in Chitalda village in Gujarat, who is a single mother, with three children, a bedridden father and they are marginalised farmers -- which means they work on land that does not receive that much rainfall and it cannot be used for farming crops.
We teach them how to have their own vegetable gardens. Most of the children are malnourished with not enough to eat. They survive on one meal.
Vajaben took up the lead and said she would work with the Reliance Foundation and help bring sustainability in her village. And this in a very male-dominated environment.
The Reliance Foundation now works with 4,500 plus villages.
And they are mostly in states where you also have businesses?
No, this is separate. The schools are there, but now we work in eight states, including Andhra Pradesh, Maharashtra, Gujarat, Madhya Pradesh, Bihar.
How much traveling do you do to see these projects?
I travel quite a lot. Once you go there, there are clusters there and you can't come back at night. We have BIJ workers and we live in the clusters. But it's transformational.
It must be very rewarding.
Yes.
If there was one project that you could initiate now -- and I am sure your plate must be very full -- what would that project be?
I think I would still want to continue in the field of education. I would want to focus on primary education in rural areas and see that every girl and boy gets an equal chance, and every child can read and write.
The second initiative, now that you have said this, would be to maybe concentrate on women and the girl child.
I know the school in Mumbai, because my cousin's kids go there, but with the other schools the fees are pretty inexpensive?
Yes, very inexpensive. In Jamnagar all our employees' children study in the school. In Patalganga the school is open to the entire community. So you have right from the farmers to the watchman's children there. And they are getting good education there at CBSE (Central Board for Secondary Education) education level.
We just opened a school in New Bombay. It's not even one academic year now.
I am wondering how involved you get in terms of curriculum.
Too much (she laughs). I love it. It's a passion, so I don't know where to say stop.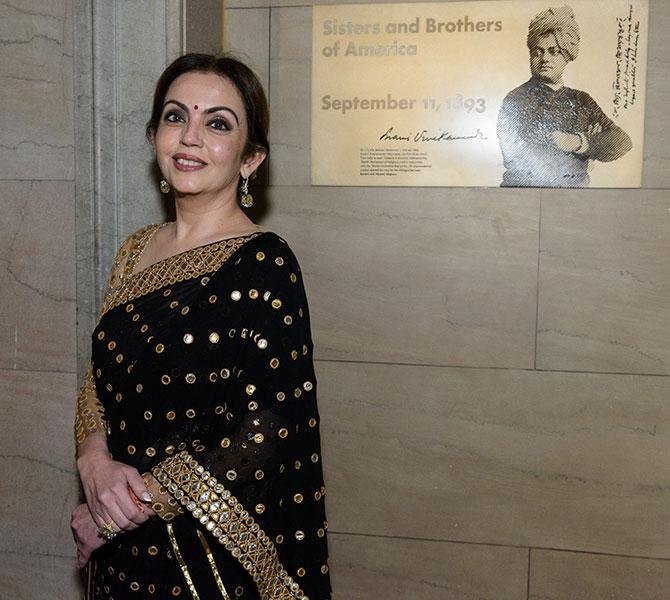 IMAGE: Nita Ambani under Swami Vivekananda's plaque at the Chicago Art Institute, the venue of his landmark speech in 1893.
Why stop?
I enjoy it. And I do a lot of work with children in sports too.
I know you also sponsor the music concert with Zakir Hussain.
The Abbaji concerts. We have been doing it for many years.
I was very apprehensive about how this show at the Art Institute would be taken, but I am mighty pleased with the way people have responded.
It is amazing. I am now talking not as a journalist, but as someone who visits museums. I am so glad we have the opportunity to see this in the US. You should bring it to New York next time.
I am glad. But the date of September 11 is so significant. Because on this day in 1893 Swami Vivekananda gave his speech. It was 122 years ago. And he spoke about universal oneness and religious tolerance.
I think it is the right time for this show here, because Krishna also speaks about love, oneness. All these teachings are so essential in our times.