'I could have joined the BJP in 2014, the doors were open.'
'I stayed on with the TMC, a party I was involved with since its very inception.'
'But today enough is enough.'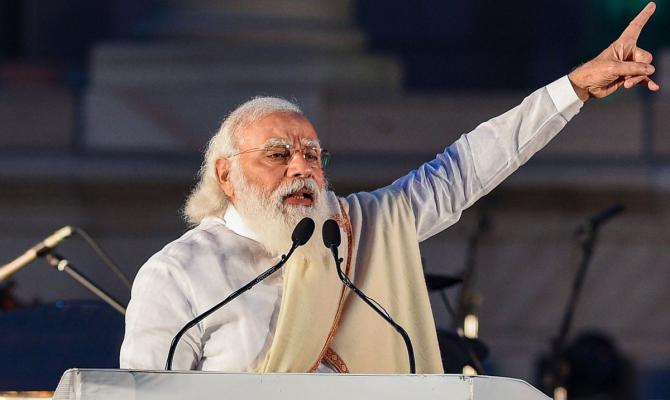 Following his 'inner voice', the Trinamool Congress's Rajya Sabha MP Dinesh Trivedi, or Dineshbhai as he is popularly called, announced his resignation from the Upper House amidst high-voltage drama on February 12. As expected, he joined the Bharatiya Janata Party on March 6.
This is without doubt a prize catch for the BJP. And for the Trinamool Congress which has seen several rebels quit the party in favour of the BJP in the run up to the West Bengal elections, this is surely the biggest blow.
Opinions are sharply divided. His critics see this move as an act of betrayal and the politics of convenience. They accuse him of being an opportunist and quitting the TMC when its leader Mamata Banerjee is facing the biggest challenge of her political career.
Some political observers feel that an affable and erudite man of his stature and vision was wasting his potential in the TMC.
With dignified silence he endured the petty politics within the party and never bad-mouthed his leader.
"I feel deeply sorry about this party which we built together. Today, the soul of the party has vanished and what remains is power and arrogance," says Dineshbhai.
A sense of "suffocation and the violence" sweeping the state of West Bengal, he says, prompted his exit from the TMC.
A former Union minister, Dineshbhai was often seen by some as the most distinguished member of the TMC and by others as a complete misfit in the party.
Dineshbhai endured some difficult moments as railway minister in the UPA2 government and after a brief tenure resigned over Railway Budget disagreements with his leader Mamata Banerjee.
As a Lok Sabha member, Dineshbhai represented Barrackpore in Bengal from 2009 to 2019.
Dineshbhai shares his angst in an exclusive interview with Rediff.com's Senior Contributor Payal Singh Mohanka.
Your former party, the Trinamool Congess has urged Rajya Sabha Chairperson M Venkaiah Naidu to form an inquiry committee to probe the announcement of your resignation in the Rajya Sabha.
The TMC says you had not been recommended by them as a speaker. You spoke against the rules.
They have no idea either of the Constitution or how Parliament functions.
They have torn the rule book.
They have created a ruckus in the well of the House, they have screamed and danced on the tables of the Rajya Sabha.
They have not let the House function on a regular basis.
Under which rules and which authority were they doing this?
On one side, you talk of Swami Vivekananda, Ishwar Chandra Vidyasagar, Mahatma Gandhi, Netaji Subhas Chandra Bose, you talk of all the stalwarts of the world and on the other side you are abusing in the worst language on the floor of the House.
Now you talk of etiquette, norms and rules!
I have been a veteran parliamentarian.
I took the permission of the chair and I spoke.
This charge against me exposes the party more.
Even my Twitter handle was taken away and they used my Twitter account to abuse the prime minister, the governor.
These are all Constitutional positions.
Then I start wondering, what is happening.
This is not done. It is sad when a party loses the spirit of India.
The most important thing for me is the spirit of India.
You speak of the spirit of India, but the BJP is accused of killing the spirit of India.
I don't need to defend anybody because they don't require any defence.
You don't target minorities, you target the appeasement policy, which is the vote bank policy.
Everybody is an Indian first and then Hindu, Muslim, Sikh, Christian.
Very honestly, my Muslim friends have called me and said 'You have done the right thing.'
Only yesterday, the person who used to drive me to my constituency said, 'I am so happy you have left this party. Your party people come, give speeches and go away and we face the reaction. You have just used us as a vote bank. What have you given us in terms of our education, our health, employment, our standard of living. You have just created a divide.'
If you ask me it is the other way round, in the name of secularism there is actually appeasement.
I think we should all collectively work towards what I believe in.
India needs a uniform civil code.
I have been saying this for years.
Appeasement is bad. In the name of secularism, you are appeasing a section of society and creating problems for that section of society.
Now that section of society has awakened and they have realised that they are only being used .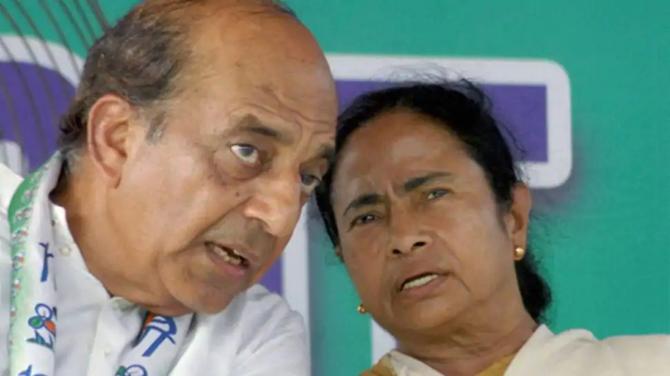 The TMC claims that minorities in West Bengal are filled with a sense of fear at the thought of the BJP winning in West Bengal.
Minorities have more sense of fear because of the appeasement policy.
My own people, who work at home and are from the minority community say, 'For Heaven's sake, why are you people fighting with Ram? The moment you fight with Ram, we get affected. Don't do that.'
How do you see the BJP's prospects in the coming elections in Bengal?
People want peace and prosperity.
They don't want danga, fasaad and some kind of protest everyday.
They don't want corruption. They are fed up with corruption and violence.
When I condemned the violent attack on BJP President (Jagat Prakash) Naddaji's car, the party condemned me.
Why are you condemning this, I was told.
Should we welcome violence? The small timers who have become leaders have no idea about ethics, norms, decorum and etiquette.
Who is guiding them?
You have been critical of political consultants. How do you see the role being played by Prashant Kishor?
On one side, you talk of your party being poor, on the other side you pay a consultant hundreds of crores.
This money could have been used for the poor.
Consultants are outsiders.
Our leader formed this party together with me, Mukul Roy, Ajit Panja and others.
If we have left this party, don't you think you should introspect?
In your house or my house, if someone who has been working with us leaves we call them and ask them what the problem is.
But here, even when your founder members leave you are abusing them instead of looking within.
All those who are running the party, I don't want to name them, but they were not even politically born when we struggled to form this party.
Who is advising them? Consultants have no stake in the party.
Tomorrow if something goes wrong in the elections, they will take their money and go somewhere else.
Mamata di and Mr Modi have a few traits in common. How do you see your new leader?
If you ask me, there is nothing in common.
Very honestly I would not like to comment on this.
But I can say one is a leader who gives a call to the countrymen that on a particular evening light a lamp to give inspiration to frontline workers and show that there is hope.
And everybody irrespective of political party, colour, creed or religion, the entire country rises to the occasion.
Now show me one leader in the world who commands this kind of respect.
On a personal level, how difficult was it to sever ties with Mamata di?
See when you get this call from your inner strength, you know you are doing the right thing.
I feel deeply sorry about this party which we built together.
Today, the soul of the party has vanished and what remains is power and arrogance.
I wish them good luck, good health.
I wish they work towards betterment, the spirit of India, the country and the Constitution.
Feature Presentation: Aslam Hunani/Rediff.com