'These people are not concerned about Hindu, Muslim, Sikh or Christian -- they are only concerned about being in power,' Akhilesh Yadav tells Rediff.com's Archana Masih in his first interview after the election results.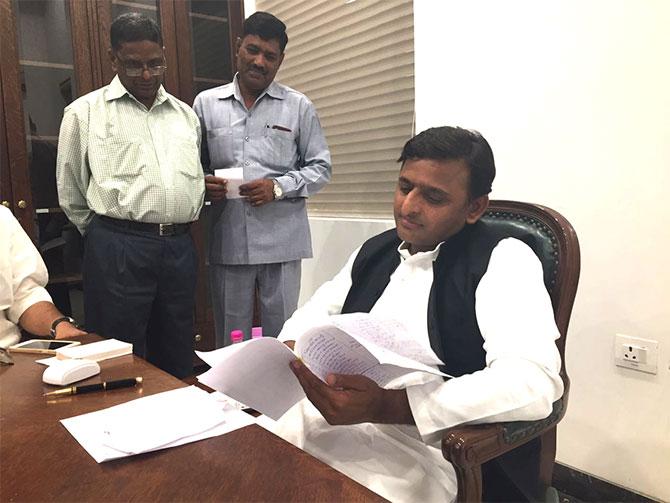 IMAGE: Akhilesh Yadav at his office in Lucknow on a Sunday. Photographs: Archana Masih/Rediff.com
It is Sunday morning and a big crowd is waiting outside the white gates of 1, Kalidas Marg in Lucknow, the office of Akhilesh Yadav, who was till two weeks ago, Uttar Pradesh's chief minister.
"Bhaiyaji baithe hai office mein (Bhaiya is in the office)," says a policeman on the road outside.
The sun is exceptionally harsh for this time of the year as people send in little handwritten notes through the gate and await their turn to be called in.
They have come from different parts of the state. Some stand, jostling at the gate, others sit on the parapet of the elegant white walls; the rest wander around the precinct.
A tea shop stall makes brisk business.
I have an appointment but the security staff doesn't relent till a person comes to the gate from inside to escort me in.
Akhilesh Yadav in his familiar white kurta-pyjama and black waist-coat, sits at the head of a long table surrounded by a dozen or so party leaders.
They are Samajwadi Party state presidents from various states, including UP.
Akhilesh Yadav whose party suffered its worst-ever defeat, is cheerful and apologises that his wife, Lok Sabha MP Dimple Yadav, couldn't make time for the interview as per my request.
In an hour-long interview with Rediff.com, the young politician speaks about the reasons for his defeat, the BJP's "political dishonesty" and how he is looking forward to a holiday with his children.
The first of a multi-part interview:
Have you recovered from the election campaign?
This is a battle. It gets quite tiring but you enjoy the campaign.
It has just been one week (for the Yogi Adityanath government). Just now they are trying to do a clean up ('jhadu chal raha hai').
They are raising issues which have been used to mislead people.
Voters have been deceived into voting for them.
Tundey Kabab, a shop that hasn't been shut in 100 years, no one is going there to eat any more.
That's why I said in my first press conference -- unko samjhaney se nahi behkave se vote mila hai [they have got votes not by making people understand what they stand for, but by misleading them).
What they had said and what is being done is quite different.
Small traders have been hit. They should openly bring out policies and laws -- or they should stop the export of meat and automatically all slaughter houses will be closed.
But that would mean a lot of people will lose jobs, it will impact the economy running into thousands of crores.
You said something, people understood something else and what is happening is totally different.
People were shown videos of cows being slaughtered.
No one knows where those pictures came from -- from Afghanistan or somewhere else.
Those who were in that trade for 20, 30 years, their shops have been shut down.
A shop was burnt in Hathras, there was an incident in Kushinagar, shops were closed in Lucknow.
Two people who used to supply meat for the lion safari -- whom the government staff themselves had given work, and whose work experts from the UK had also praised -- are now being called illegal.
So were officials going to illegal places before?
What is wrong in cracking down on establishments that were illegal in the first place?
I am fine with that. But what did they say?
They said we will ban slaughter.
I can Google any video of BJP leaders saying that and play it for you.
What did the BJP president and other leaders say?
What did the PM say? (They said) we will stop slaughter of cows and animals.
Cow slaughter was already banned here.
I was the person who brought the law against it and said that that a person would be jailed under NSA (the National Security Act, for cow slaughter).
Two men from Etawah who provide meat for the lions are summoned. The men say that forest officials had brought doctors from the UK to their facility and the London experts had said they had not seen a system like this in the world.
They praised the work of the Etawah lion safari, says the man, showing pictures of the expert and lions on his I-phone.
"You can see the pictures, right?" interjects Akhilesh Yadav. "You are non-veg I suppose."
"You should have seen the lion safari. It's on the Agra-Lucknow highway."
There is also the tannery business which will be affected.
Political parties will have to say with clarity what is it that they want.
Whatever they have told the people and what has been understood by the people, they should be doing that.
If the country and society suffers they should be ready for it.
Political beimani ki hai unhoney logo ke saath (they have been politically dishonest with the people).
People thought that some big plan was in the offing. Their understanding was not that the chicken shops would shut down.
Since the morning murgakhanas are calling and asking what have these people done?
Mutton eaters did not know that bakrakhana would be shut down.
They don't know what will be banned in UP next.
As a former chief minister, even I don't know.
UP does a lot of export, so does Maharashtra.
I have heard a slaughterhouse is coming up in MP.
I want to know if the BJP had campaigned for shutting the chicken shop?
I am also confused.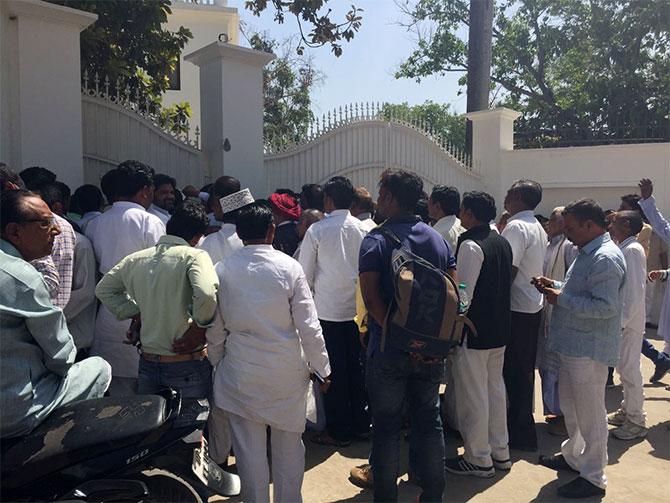 IMAGE: Crowds outside 1, Kalidas Marg, Akhilesh Yadav's office, March 26, 2017.
What changes do you anticipate in your state under the new government?
The new government has just about started functioning. There is one chief minister, two deputy chief ministers.
I had made Lok Bhavan as the CM's office. It is a big office. I don't know what will happen.
If the home secretary and DGP are called by three people imagine what law and order you will have.
The chief ministers were a big surprise for the people of UP.
The people did not know that the new government would come in this form.
You mean the choice of CM and his deputies?
They looked so weak that someone else's name was doing the rounds and what you got was three people!
Who will run this government?
How much do you think Hindutva will be a factor in the running of the administration?
In the CM's residence that is next door from here, there was a puja done for shuddhi (cleansing). I could not understand what is shuddhi.
Do they not consider me a Hindu? Will I have to prove that I am a Hindu?
If he has done shuddhi, how do I prove that I too am a Hindu?
The BJP is not going to give me a certificate to prove I am a Hindu?
The television shows him feeding the cow first.
Even I used to feed the cow. I have a cow in my house from before, meanwhile he will have to bring a cow.
I am a vegetarian. My children eat non veg, they sit next to me and eat. I don't have a problem with that.
It's not about development or banning of slaughter.
These people are not concerned about Hindu, Muslim, Sikh or Christian -- they are only concerned about being in power.
What do you think about the Ram Mandir which has again become a part of political discourse?
My party's position is that the Constitution is equal for both Hindu and Muslim.
The decision of the court has to be accepted by all.
Without the Supreme Court, you cannot move ahead.
Whatever the BJP leaders say, we will abide by the decision of the court.
We live in a nation and the BJP will also have to accept the court's decision.
The Constitution and law is equal for everyone.
The Ram Mandir issue is being talked about more after the new government has been formed than during the campaign?
It was never out of the BJP's agenda. They always spoke about it and they will always speak about it.
The slogan of 'Jai Shri Ram' is raised at their meetings.
Why 'Jai Shri Ram'? Our poor used to say 'Sita-Ram', when did this get replaced with 'Jai Shri Ram'?
Today, the elders of the village still say 'Ram-Ram'.
Who doesn't have Ram inside them, tell me?
Bhagwan is in all religions. "Ikram mein bhi Ram hai," says a SP leader sitting around the table.