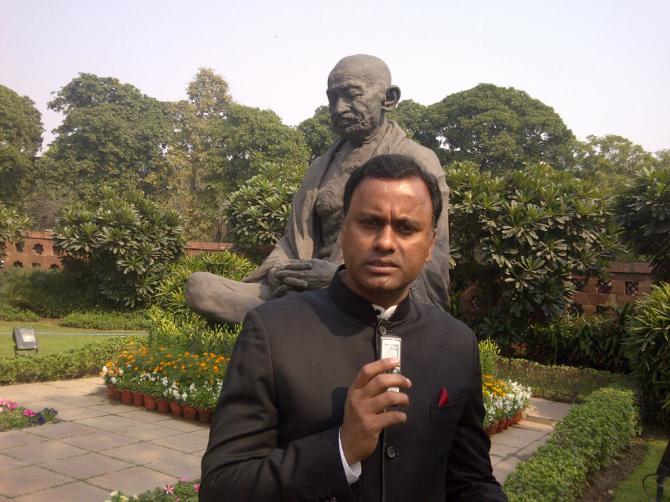 'The feeling in Telangana is that without her a separate state cannot be created.'
'All the MPs and MLAs from Seema-Andhra have a business background. Their interest is to save their business,' Congress MP K Raj Gopal Reddy, who played a key role in Thursday's turbulent events, tells Rediff.com's Sheela Bhatt.
K Raj Gopal Reddy, the Member of Parliament from the Bhongir constituency in the Telangana region of Andhra Pradesh, is happy that the Congress somehow tabled the bill that will create a separate Telangana state on Thursday, February 13.
In an emotionally charged exclusive conversation with Rediff.com's Sheela Bhatt, the MP explained how and why the ruckus in the Lok Sabha will help him in the upcoming general election.
He has spent millions of rupees to nuture his constituency and believes Thursday's turbulent events in the Lok Sabha will send positive signals to his supporters in the Nalgonda district of Andhra Pradesh.
Reddy has no doubt that his region will soon become a part of Telangana, the 29th state of the Indian Union. He told Rediff.com that he was assigned the duty to protect Union Home Minister Sushil Kumar Shinde and other Congress leaders seated on the front benches.
For the first time, he says proudly, he was asked by Parliamentary Affairs Minister Kamal Nath to sit on the front bench of the Lok Sabha next to Union Health Minister Ghulam Nabi Azad.
His interview clearly suggests how tabling and passing of the bill has become an exercise that requires muscle power and is also fraught with real-time violence.
Hear from Reddy how the tabling of the Andhra Pradesh reorganisation bill needed the muscle power of young Congress MPs, many of them close to party Vice-President Rahul Gandhi.
These MPs under Kamal Nath's leadership were positioned in the well of the House to counter MPs who want Andhra Pradesh to remain united. So able-bodied Congress MPs took defensive positions and were ready to attack if the House was disrupted.
Tell us what happened.
I came to Parliament along with other Congress MPs at around 10.15 am. Out of 17 seats in the Telangana region, the Congress has 12 MPs. (Union Minister S) Jaipal Reddy was not with us in the morning.
Eleven of us and a few MPs from other states met and discussed with Kamal Nathji the strategy to introduce the bill. We knew some nuisance would be created.
There are some 25 Seema-Andhra MPs from the Congress, the Telugu Desam Party and Jagan Reddy's YSR Congress who are opposing Telangana.
We planned on how to protect Shinde and the Speaker's podium. Our intention was to protect Shinde and as well as Speaker Meira Kumar.
Why did you take up the job of the marshals? You are an elected MP, you are not a muscle man.
We were not doing anything. We were simply standing there (in the well of the House). The Speaker said we can't call the marshals (in advance or in anticipation of violence).
We knew there would be a surprise attack. They would snatch the papers from Shinde's hands or may take the paper from the Speaker's hand.
If the Lok Sabha was adjourned, we would not be able to introduce the bill. So we stood there in a peaceful manner to stop these people.
Venugopal Reddy of the TDP went to the Speaker's podium and broke the glass. He then moved towards the (Lok Sabha) secretary general. Some of us tried to catch him.
He then took out a knife.
That is not true. He didn't take out anything like that. Did you see it?
Yes. D K Suresh, an MP from Karnataka, and Raj Babbar were holding him.
All these four, five MPs could not do anything. They surrendered.
Suddenly, L Rajagopal, who was throwing papers, took out pepper spray and sprayed it on everybody.
It was very powerful spray. Our eyes were burning. We were coughing.
Nobody could stand there for long. Within five minutes the entire House was vacated.
We caught hold of Rajagopal and Venugopal. Only then did the marshals come in.
What happened to the Speaker?
She said the bill is accepted and after that she left.
Nobody saw the tabling of the bill.
Tabling means... Shinde introduced the bill. I was sitting on the front bench with Ghulam Nabi Azad.
Why on the front bench?
I knew that the Seema-Andhra MPs can create nuisance. I wasn't hurt. But Congress MP P Prabhakar's eyes were burning. He was immediately taken out.
How will you look back at this event?
See, the bill has been introduced. The bill will be passed. The BJP (Bharatiya Janata Party) is ready to support the bill.
This is a genuine agitation in which more than 1,000 people have died. That is why the Congress party is supporting it.
Now there is no going back on Telangana.
Why are the other MPs creating a nuisance? They should be punished. They should be debarred from the House. They should not be allowed to stand again for election.
Why can't your party adopt a path of reconciliation? Why are you provoking them to do such things?
We never did (anything). During the Telangana agitation, we didn't attack them. We are waiting since P Chidambaram's statement on the issue in 2009.
We are begging the high command and Congress MPs from Seema-Andhra. They are not understanding us. They want us to forcibly live together.
The Telangana people don't want to live together.
Just for the sake of 6, 7 seats you are playing deceptive politics, isn't it so?
No. That is not correct. For 20 seats, the Congress will not do this. This is a genuine cause. Our agitation is old.
This time the Congress should create Telangana.
Will you lose the Lok Sabha election if Telangana is not formed?
I don't mind if I lose or win. I want Telangana first.
Will the Congress win seats if Telangana is created?
I don't know. Actually, in Seema-Andhra, the rural people don't mind Telangana. Hyderabad is very far away for them. People from Anantapur, Vizag find it difficult to travel to the capital. They are separate from us already.
Politicians and businesspeople are behind the agitation for a united Andhra.
All the MPs and MLAs from Seema-Andhra have a business background. Their interest is to save their business. They want power. While keeping power they want money.
Do you think the BJP wants Telangana?
I don't think they oppose it. The TDP's Chandrababu Naidu and the BJP's Venkaiah Naidu have promised Narendra Modi that in united Andhra their TDP-BJP alliance will get 20 seats.
The TDP is opposing Telangana because they stand to lose. These two Andhra leaders are trying to stop Telangana.
But the BJP as a national party won't commit such a mistake.
In case Telangana is not created, then will the BJP gain?
In Telangana they won't get any seats because people will not trust them.
In Seema-Andhra it is possible the alliance may win some seats.
So you agree that the BJP won't get any seats in Telangana, whether it is created or not created. Then why should the BJP help create Telangana now?
It's not about seats, it is about the promise made to the people.
The promise can be fulfilled after three months also.
If they go along with the TDP it will not help.
Naidu has been defamed for creating hurdles for Telangana. He will not allow it to happen.
Even Congress leader Y S Rajasekhara Reddy didn't allow the creation of Telangana.
I agree he was a strong leader. Sonia Gandhi wanted to give Telangana, but YSR said he will develop it, he controlled the agitation.
When YSR died, the Congress agreed to create a separate state.
Is the Congress in New Delhi divided on the Telangana issue.
Maybe. Definitely, some of them are not ready.
What is Rahul Gandhi's view on Telangana?
I don't know. It is a party decision. Everybody has to support it.
Have you met Sonia Gandhi on the issue?
Many times. It is because of Sonia Gandhi that the issue has come to this position.
Nobody in this world can do justice. We are getting Telangana just because of her.
She is treated as the mother of Telangana.
The feeling in Telangana is that without her a separate state cannot be created.
She will become part of history if Telangana is created, then why should Modi allow its creation?
It is all about keeping a promise.
Will you win your Lok Sabha seat if Telangana is not created?
No. Last time I won by a margin of 150,000 votes. If Telangana is created, then I will win by a 500,000 margin.