'It is sad that Kerala had so many Covid patients which is primarily due to the mismanagement of the Left government.'
'I studied public health in one the best institutions of the country and those who taught me are still there, but not one of them was engaged.'
'The technical committee was full of CPI-M leaders who happen to have medical degrees with no experience in public health.'
'They were advising the CM and we are paying for those mistakes.'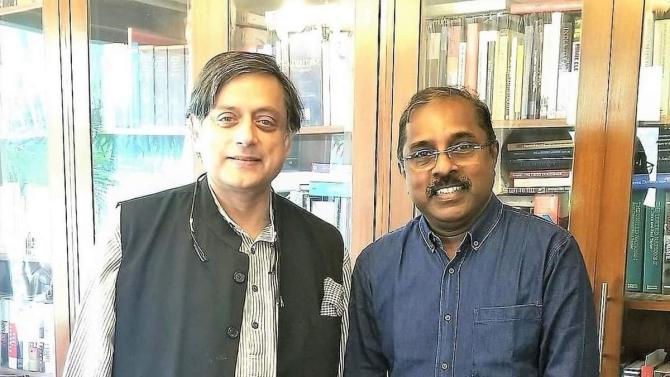 Dr S S Lal, an infectious disease and public health expert who has worked in India, East Timor, Switzerland and United States, is the Congress candidate from Kazhakootam in Kerala.
After spending nearly 14 years abroad involved in formulating policies and programmes to control infectious diseases in various countries, Dr Lal returned home a couple of years ago.
He became president of the Kerala unit of Professional's Congress and is contesting the Kazhakootam seat against state Tourism Minister K Surendran (CPI-M) and Sobha Surendran (BJP).
Dr Lal, who graduated from the Trivandrum Medical College, says he was offered an assembly ticket in 1991, but he was 29 then and medicine was his priority at that time.
Thirty years later, he feels the time is right for a foray in politics.
In a late night conversation with Rediff.com's Archana Masih after a long day of campaigning, he spoke about his journey from Trivandrum to the world and back -- and what Kerala should have done to handle COVID-19 better.
What made you leave your career as a doctor in America and return to India to join politics?
I am a medical doctor with a PhD, but I was not practicing medicine abroad. I was a medical practitioner in India before joining WHO in 1999.
At WHO, I was involved in public health and my role was in influencing policies of governments in various countries.
Later, I worked in America for an international organisation that received funds from donors including the US government and distributed it to poorer countries to help control diseases like TB and malaria.
What brought you back to India?
I never wanted to leave India. Many classmates went to the US and UK. I finished medicine in 1990 and joined WHO in 1999. I was the first person to get a WHO job in South India. I was based in Kerala and worked for South India.
After four years I became a team leader and was asked to move to the WHO head office in Delhi for another four years -- and then was selected as an international officer to serve in East Timor which was the least developed country of that time.
It was an opportunity to serve a country that needed support in fighting infectious diseases. While I was in East Timor, Global Fund which was part of WHO at that time, offered me a job in Geneva.
It was a dream job for somebody in the field of public health. I accepted it becausethe Global Fund was the biggest funding agency in the world initiated by then UN secretary-general Kofi Anan. It receives funds from all countries, the richer countries contributed more and this funding went to various countries. India was the biggest recipient at that time.
I could play a role in helping the Indian government get funding for these major diseases.
When I moved to the USA, I was offered the position of director position by a global organisation which had partnered with WHO and received donations from various organisation including the US government and the Gates Foundation etc.
Even there I was helping in channelising donations to lesser developed countries including India.
I had always wanted to return home to India. There were personal reasons too, I lost my father and only sister and my 82-year-old mother was alone here. In the last couple of years I wanted to return and be with her.
I discussed with my organization and they posted me back to India where I could do the same job from here.
I discussed it with Congress leaders Shashi Tharoor, A K Antony and Ramesh Chennithala etc, and they offered me the position of President of the All India Professional Congress and wanted me to join national politics.
I thought it was the right time for me to join politics.
I had to tell my organisation that I was going to join politics so I could not continue with this job and they accepted. This is my story. I had wanted to come back and this was the right opportunity.
Why did you get the ticket? What were the reason behind you getting the ticket?
I was offered a ticket in 1991 and offered a seat in the assembly election. I was around 29 at that time. So the Congress has always considered me as a potential candidate.
The Congress is a democratic party and gives representation to all sections and people. I have been president of the Professionals Congress in Kerala and have the experience of working in different countries.
The Congress wanted people like us to use our exposure and experience overseas for the people of India. I started my life from Kazhakootam constituency, have studied here and continue to live here. That is why I was considered for this constituency.
There were a combination of things that went into my candidature, not because I was the best candidate or most deserving.
What do you tell people when you go campaigning?
I tell them that the United Democratic Front has to come back to power. This government has to go. The Left Democratic Front government has damaged all the good done by the UDF.
My constituency has all the big institutions and hospitals of Kerala. It has the IT park, cricket stadium of Kerala, but the government failed to make Kazhakootam a global hub. There are places which have much fewer resources and have developed faster.
Dili, the capital of East Timor, was worse than a village of India, but in the last 15 years they have done very well and the Global Fund is going stop funding because they have crossed the bracket stipulated by World Bank for countries eligible for funding.
We have resources, but my constituency hasn't seen development. The tourism minister [the CPI-M's K Surendran who is seeking a re-election from Kazhakootam] is from here, but there is not even a single boat for enjoyment!
When I was a child, we could hire a boat and go boating but not anymore.
The LDF government in its manifesto had said that the Trivandrum medical college would gain the status of AIIMS, but nothing has happened in 5 years. You must have read that maggots were found in the wound of a patient soon after a patient came home after being discharged from the Trivandrum Medical College.
The LDF did not focus on any development, the entire focus was on politics. They were using all money for building their own party, the development was only for CPI-M.
They have bought land everywhere in the state and indulging in corruption.
I tell people that whatever development has happened was in the UDF's time and if we come to power people's dreams will come true.
We want to make this place a global hub where flight will be landing from various countries. We have everything here, but the government has failed to create jobs for local people.
I met a poor woman the other day who told me that her daughter has an MSc degree, but does not have a job. These are the problems faced by people. The educated don't have job opportunities.
The state Congress president has said you would be health minister if the UDF came to power. You have criticised this government's handling of the COVID-19 pandemic. What would you do differently if you were health minister?
The state Congress president can say this, but I have to depend on the people. All power is in the fingertips of the voter, so I cannot claim that I can become this or that. I will wait and respect the people's verdict.
Secondly, whoever becomes health minister of Kerala has lots waiting for her/him. Kerala was among the best performing states in terms of health indicies.
25% of global TB is in India, but Kerala has very little TB.
India has second highest HIV cases in absolute numbers and South India is red on the HIV map, except Kerala.
Malaria cannot be found here -- even in my college days I did not come across a single case of malaria.
In infant mortality, Kerala is close to the achievements of the USA, so Kerala is different. In education and health, Kerala is the best performing state in the country, but Kerala has borne the highest burden of Covid.
It is sad that we had so many Covid patients which is primarily due to the mismanagement of the Left government.
In spite of having a very strong and competent health system, the Pinarayi Vijayan government did not deal with the crisis properly. They did not consult people who were experienced.
The CPI-M is an autocratic party. The ministers do whatever Mr Vijayan says. He excluded all stake holders when Covid started. He did not treat the state as a single unit. He was trying to divide people.
From day one, he used the 6 pm Covid press conference for his politics. He used the first few minutes to give out some numbers and talked politics in the remaining time. He did not allow those who knew what was going on to speak.
In US, even though Donald Trump called infectious disease expert Dr Anthony Fauci an 'idiot', Dr Fauci was allowed to speak the truth even though they had arguments. But here, only Pinarayi Vijayan was talking. The director of health services -- did anyone see him? The medical education director -- did anyone see him?
I studied public health in one the best institutions of the country and those who taught me are still there, but not one of them was engaged. The technical committee was full of CPI-M leaders who happen to have medical degrees with no experience in public health. They were advising the CM and we are paying for those mistakes.
What would you do differently?
The state should be seen as a single unit and all parties and all people should be seen as equal. It should be the government for all, not only for those who voted for you.
All stakeholders should be given opportunity to contribute, including IMA (the Indian Medical Association).
The government failed to engage the private sector when 80% healthcare is in private sector. If you exclude them you cannot function. With only 20% healthcare staff how can you control a pandemic like Covid?
Even now, the government hasn't done any real preparation for addressing the pandemic. You have to strengthen primary care and link it with local private hospitals. The Nipah virus was diagnosed by a private hospital and they informed the government. As far as communicable diseases go, outbreaks can happen anywhere but surveillances systems are important so that we can contain the disease. This should be the focus for whichever party comes to power.
Feature Presentation: Aslam Hunani/Rediff.com