In recent years, India's depleting submarine strength has been an area of concern for the powers that be.
At present, the navy operates 13 old diesel-electric submarines -- barely half of them fully operational at this time -- and one nuclear-powered submarine, the INS Chakra.
So what is the navy doing to bolster its submarine strength? In an interaction with Vipin Vijayan/Rediff.com, Indian Navy Chief Admiral R K Dhowan enumerated a three-pronged strategy.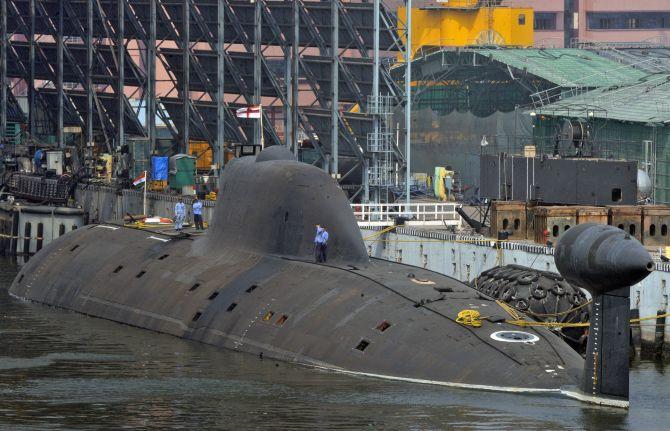 Indian Navy's INS Chakra submarine pictured at the naval warehouse in the southern Indian city of Visakhapatnam. Photograph: R Narendra/ Reuters
"First, the navy took stock of what it has. Today's operations have to be run with today's assets. What will come in tomorrow is our planning, but we have to be ready today. We took stock of all our assets in terms of the submarines that we have… looked into their operational cycle to see that whatever we have is fully operational -- not just fully operational but also fully combat ready," Admiral R K Dhowan said.
"Secondly, we looked at a programme as to how to provide our existing fleet of submarines with a greater lease of life. We looked at the service life extension programme, in terms of longer refits in consultation with original equipment manufacturers for the Kilo class diesel-electric submarines," he stated.
"Thirdly, we have sped up the existing indigenous construction programme of our submarines, which has seen some delays at the Mazagon Dock Shipbuilders Limited. Those delays have now been arrested. We launched our first submarine this year (INS Kalvari, the first of the six Scorpene submarines under construction at Mazagon); it will be commissioned next year. The subsequent submarines will be delivered in a time-bound schedule. We are also progressing our cases as far as the next set of submarines (the 75-I) and this is at an advanced stage of planning."
Stated as the largest Make in India programme, the Project 75I tender -- delayed by nearly seven years and approved by the ministry of defence back in October 2014 -- is worth Rs 60,000 crore and envisages license-building six next generation diesel submarines. According to naval officials, the first Project 75I submarine could be commissioned around 2025-27.
That brought us to the next question. Why does India rely on diesel-electric submarines when nuclear variants are termed more efficient and lethal? Especially since according to the latest estimates, China's People Liberation Army Navy currently operates five nuclear attack submarines, four nuclear ballistic missile submarines, compared to India's one functional nuclear Akula-class Chakra.
India's indigenously built nuclear-powered submarine INS Arihant is still undergoing performance trials and naval officials hope it will be ready in time for the Presidential Fleet Review in Vasakhaptnam in February 2016.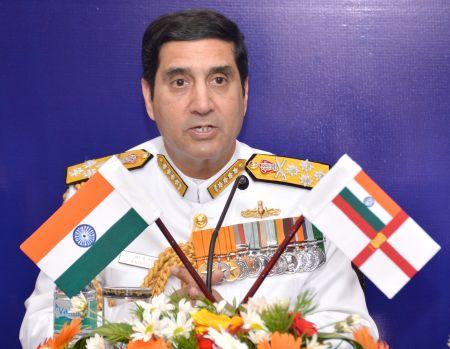 Indian Navy chief Admiral RK Dhowan. Photograph: Vipin Vijayan
"Every country has to look into this aspect of its own requirements, in our own waters, what are our maritime interests, what is our threat perception, etc. that is how we look at our maritime capability perspective plan. In our requirements, we have issues that are related as challenges like shallow waters which can only be met by diesel submarines," Admiral Dhowan explained.
"The nuclear submarines have a different role to play; they are force multipliers. So in our maritime capability perspective plan, we have taken a comprehensive look at the capabilities that are required by the Indian Navy. Accordingly, our force structure has been planned whether it's for aircraft carriers, whether it is for the frigates and warships whether it is for submarines," he added.
But it is not as if the navy has totally looked away from nuclear submarines.
Earlier this year, media reports said that the Narendra Modi government had given its go ahead to build a new class of nuclear attack submarines at an estimated cost of over 90,000 crore.
Those plans, however, will take years before they even come out of the navy's submarine design bureau drawing board.