'This is the first time in Goa politics that a communal leadership is being foisted on Goa's people.'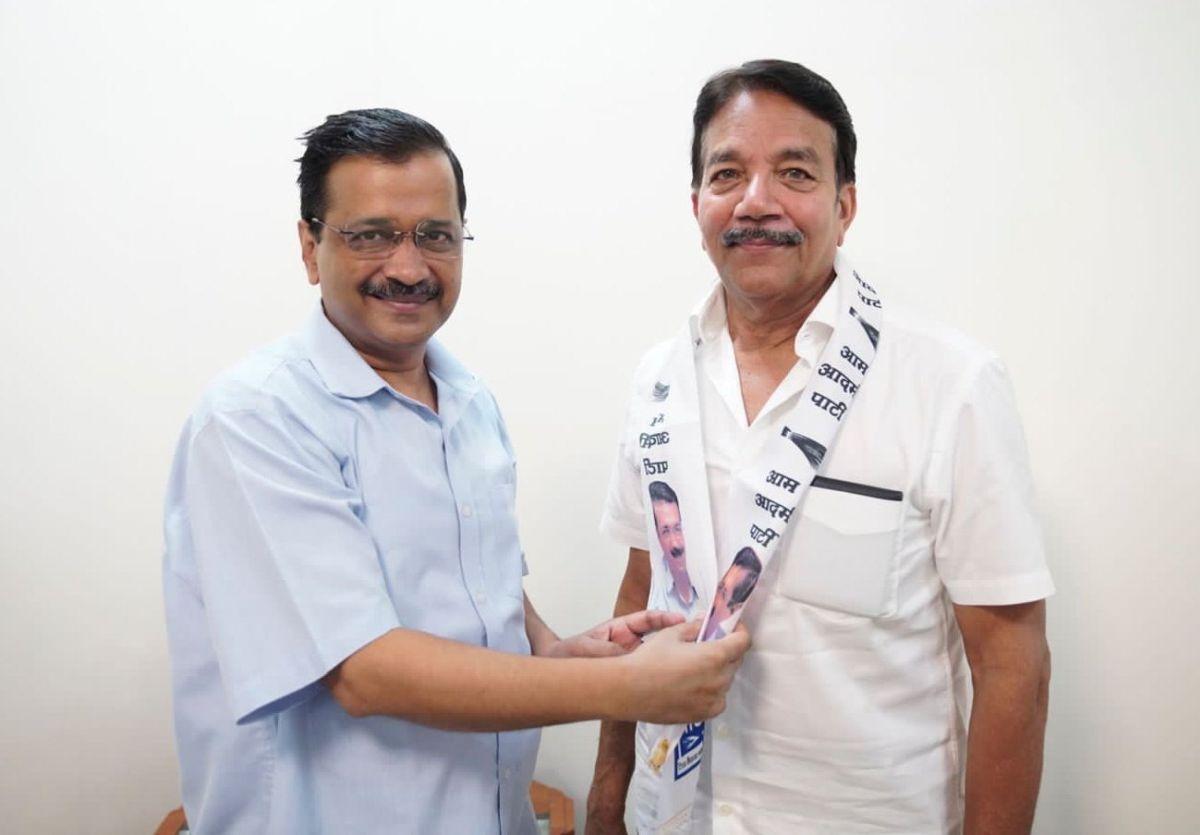 Former Goa deputy chief minister Dayanand Narvekar, who quit AAP within three months of joining the party, tells Prasanna D Zore/Rediff.com what shocks him about AAP.
You joined the Aam Aadmi Party in October and quit it in January. What went wrong in these three months?
I was elected an MLA from Goa for more than 35 years since 1977. For some reasons, I had not contested the last election (in 2017). This time, some AAP leaders came to me and said they wanted me to come to Delhi to meet (AAP convenor and Delhi Chief Minister Arvind) Kejriwal. They interviewed me following which I met Kejriwal.
I was told I can be an advisor or mentor to AAP for some months and if I decide I could contest the election (as an AAP candidate). That was the verbal agreement between me and AAP leaders, including Kejriwal.
We started building the AAP in Goa in right earnest, established its office and started connecting with the people of Goa. And then all of a sudden, they announced two things.
The first announcement was AAP's chief ministerial candidate will be from the Bhandari community. It was a rude shock for me because we have never taken such a communal line for a CM nominee in Goa. This was not expected from a leader like Kejriwal.
I tried to convince him that doing such politics in Goa was not correct and against my principles.
To push AAP's communal agenda further they declared that AAP's Goa deputy CM will be a Christian.
I had been with the Congress for many, many years and we always had credentials of being secular.
When in Congress I had contributed to the election of four chief ministers: Dr Wilfred D'souza, Luizinho Faleiro, Francisco Sardinha and one more whose name I don't remember now.
We never indulged in Hindu and Christian politics. It was the person's qualification and popularity with the people of Goa that mattered.
This was the first issue on which I had a sharp difference with AAP, but still they went ahead and announced a Bhandari candidate as their CM (Amit Palyenkar). This decision was taken in November.
Secondly, I had contested from three constituencies in the past and won from all the three, namely, Tivim, Aldona and Porvorim.
There was this person, Bruno Fernandes from Aldona, who was with AAP through thick and thin since 2017. I told them they had a ready-made candidate from Aldona.
Also, after doing surveys and meeting people, I told them I wanted to contest from Porvorim from where I have been elected many times.
Both my suggestions were shot down. That made me realise that AAP was interested in playing the communal card and I decided to quit AAP.
You are labelling AAP a communal party.
What else does their selection of candidates based on caste and religion prove?
In Aldona, they have bypassed their own candidate (Bruno Fernandes) who worked with them sincerely for five years. They wanted me to contest from Aldona because Bruno Fernandes happened to be Christian and they wanted a Hindu candidate.
After I departed, they have taken a Hindu candidate (ex-MGP candidate from Aldona Mahesh Satelkar) on board (to contest from Aldona).
I could not justify bypassing Bruno Fernandes just to satisfy AAP's communal politics which they think can help them win Goa. People of Goa will give them a shock treatment.
These were clear indications that AAP wants to play communal politics in Goa. I am sure the people of Goa will defeat such tendencies. There is no place for it in Goa.
This is the first time in Goa politics that a communal leadership is being foisted on Goa's people.
BJP MLA from Vasco Carlos Almeida, who quit the party to join the Congress, claimed that the BJP too is playing communal politics in Goa.
BJP is communal and they have never hidden that fact. All over India, the BJP is known to be communal.
Why did you decide to contest as an Independent candidate this time?
I am contesting this election as an Independent from Porvorim. This time I don't want to have any affiliation with any party.
I had been with the Congress for almost 25 years, but in the last election (in 2017) I did not contest because I wanted to disassociate myself from the Congress. I wanted to create my own independent space.
Today, you will see lot of Independents in Goa (3 out of 40 assembly seats were won by Independents in Goa in 2017).
Even a former BJP chief minister is contesting as an Independent candidate this time (former BJP chief minister Laxmikant Parsekar is contesting as an Independent from Mandrem after the BJP gave the ticket to his rival Dayanand Sopte).
Do you think Independent MLAs will emerge as kingmakers in Goa after March 10?
They will have to get elected first. Independents take their own risk in contesting without any party's support as both the Congress and BJP have a loyal voter base.
Independents will have to struggle to get people's votes, but we have to find out for ourselves how popular we are without any party backing. It is a test of our popularity among the people of Goa.
Could Goa results throw a hung assembly with AAP and TMC in the fray along with some Independent MLAs?
I don't think so. It is a clear-cut contest between the Congress and BJP.
Who will win a majority? Congress or BJP?
I can't say that now, but it will be neck-and-neck.
I will be happy for AAP if they get more than five seats and TMC gets more than three seats. That is my reading based on 40 years of political career.
Congress (17) and BJP (13) are likely to get more or less the same number of seats they bagged in 2017.