'When this COVID-19 restarted, the first thing I observed was that the patients are all below 50 years.'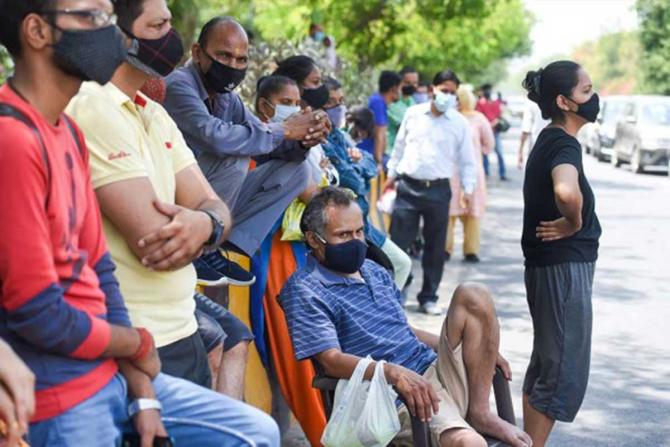 The new COVID-19 case counts coming out of Uttar Pradesh are not entirely accurate, several doctors from the state tell you.
But they will not speak on record to say this.
Case numbers, they believe, are sky-rocketing.
So are, sadly, the death rates in each of UP's larger metros.
In the absence of authentic enough data on case counts, death rates are a critical indicator of the COVID-19 situation in different areas, including Ghaziabad.
This city, which borders New Delhi, and is considered one of the fastest growing urban centres of India*, has relatively better medical facilities and many more hospital beds than other Uttar Pradesh cities and towns.
Yet the narrative in Ghaziabad is like it is all over the state: nA acute shortage of beds and not enough medical help.
In Part II of an interview to Rediff.com, one of Ghaziabad's emergency care specialists, who, like other UP doctors, did not wish to be quoted by name, is perturbed by the number of younger deaths he is seeing and the unaffordable mismanagement of valuable resources in desperate circumstances.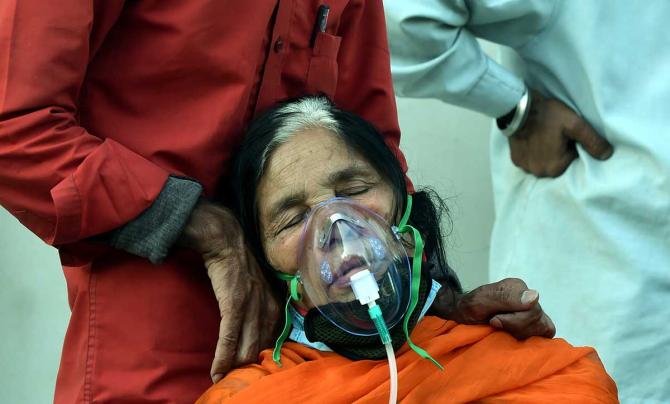 In Mumbai, some beds are occupied by people who don't need to be in the hospital. Is that happening in Ghaziabad?
Exactly. That's exactly what I'm saying.
Right now, in Ghaziabad more than 500 jumbo oxygen cylinders are kept in homes by people.
The situation should be controlled by the government, not by individual people.
For instance, if individuals start handling traffic, there would be a lot of chaos and accidents will happen.
People are panicking. They are running from one hospital to the next.
One person should be posted in each hospital, as a controlling power with full authority.
This person can segregate the patients as well.
If there is a patient -- who had a cardiac arrest, had cardiopulmonary resuscitation, brain stem function is gone -- and especially if he is in a vegetative state, he/she is occupying a ventilator.
He (the person in charge) will have to call the family of that patient and say: 'I am sorry, this 85-year-old lady has lived her life very well. And now I want to give this ventilator to a young person, whose life can be saved'.
At least one to two per cent ventilators are occupied by those who are either in vegetative state or should not be treated.
We should identify which patients we have to treat.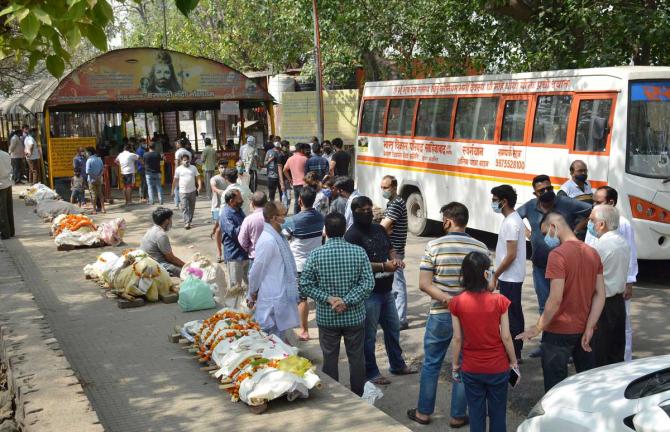 Are you seeing a lot more younger people seriously ill?
Yes!
Basically, I am managing a (large) ICU.
Last year, I worked there 10 months. When the first wave came, mortality was high. When the second wave came it dips after one month. Again, in November mortality increases. Again, it dips.
But this time, when this COVID-19 restarted, the first thing I observed was that the patients are all below 50 years.
Apart from (small kids) everyone is affected, especially the young. The young are dying. Very high death rates among the young.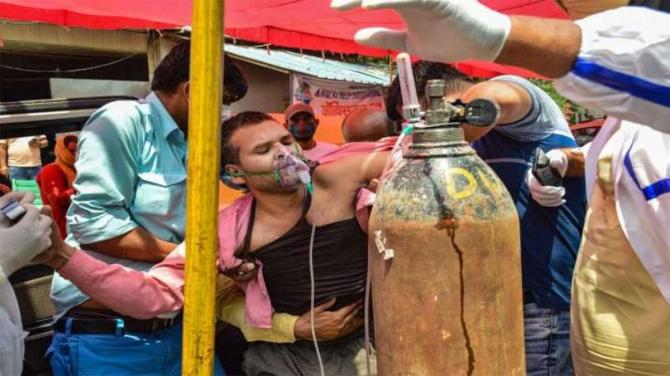 There deaths are high because they are a certain percentage of the cases and case numbers are very high. But are you seeing people who are dying, who did not need to die? Dying because there's no oxygen, there's no bed?
Yes.
We have to identify patients who can be saved and who cannot be saved.
If we are treating any patient who has multi-organ failure and is suffering from so many diseases, that are not treatable, ever since he landed in the hospital, that means he is occupying a bed.
But if there's a young patient, who is just 35, and is having the responsibility of (supporting) four persons in the house, and is just suffering from a little bit lack of oxygen, if he's supported, within a week or 10 days, there is a high chance or probability that he may survive.
We have to approach this issue very quickly.
As per news reports bed capacity is being increased in Uttar Pradesh and more oxygen is being procured. But so far, you're not seeing any improvements?
Just a minute, Ma'am -- who will handle them?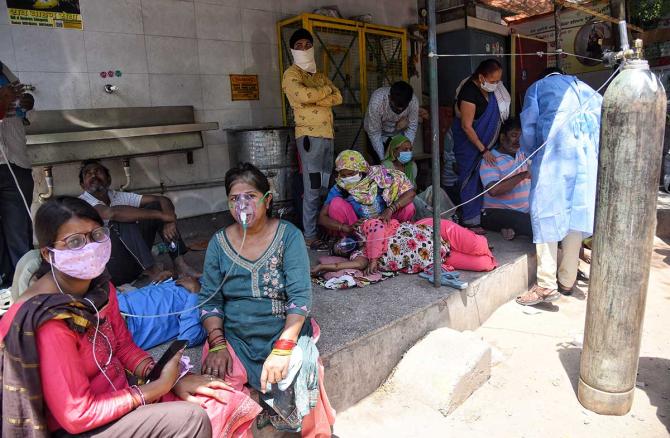 I don't know.
Who will handle them (new patients if they come in)?
My hospital is having 25 intensivists. All are experts in handling ventilators and in handling these types of patients.
I can handle 50 patients per day, without any problem. I can run a 100-bedded hospital individually, assisted by a junior. But I have that expertise.
But 99 per cent hospitals don't have people with this (kind of medical) expertise, who can identify and treat these kinds of patient.
So, most of the patients will die, either after three days or after five days or after 10 days.
Because there's not enough medical expertise?
Medical expertise is there, but it's available just in clusters. It is just there in big, big, hospitals.
Medical expertise to treat COVID-19 patients is not evenly spread?
Exactly.
Basically, the government needs to identify who are the people who can handle the situation -- the right medical expertise.
If, for instance, I know how to fly a plane, the government should call me and say: 'Come, fly this plane'.
But the government is not calling for medical expertise. Whom should we talk to (to offer our help)?
What do you as a doctor feel?
If within five days, if the government and the politicians don't come to the table and (draw up) a proper protocol, on how to handle this situation, this situation is going to become a civil war-like situation.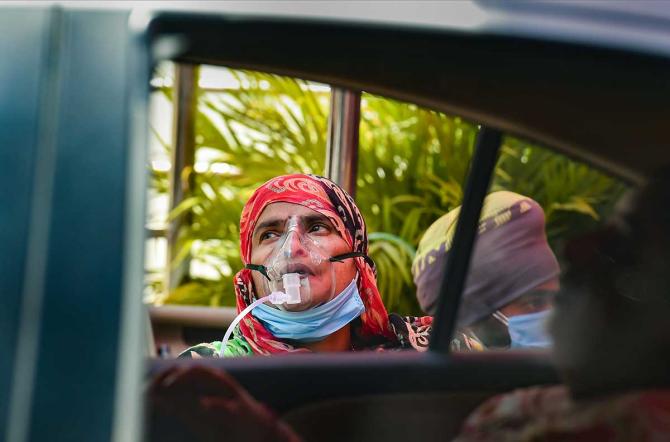 And this fresh disaster has occurred because this new variant is much more infectious?
Yes.
But there are multiple factors.
People believe in very superstitious things.
'God will save me'.
'God will come to save me and nothing will happen'.
'I was born with very strong genes'.
The virus is a billion years elder to us. We came from the virus. How can you defeat the virus? They are grand, grand, grand forefathers of us.
And viruses have almost magical powers?
Yes.
You can mutually take an agreement with the virus: 'Okay, you are coming, I will give you (the virus) the path and you can go away'.
But if you stand in front of the virus, it will hit you and it will kill you.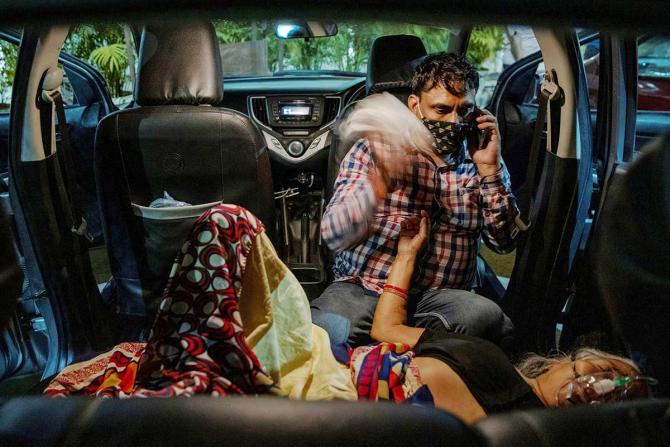 It is both -- we are dealing with a variant of the COVID-19 virus and also because of the people's attitude?
Multiple things.
The virus is a super computer. A very big computer.
It is not like humans. We are very slow learners.
A virus is a very, very, fast learner. From one virus information is given to two viruses. All viruses give information to each other and share everything, and hence become very strong. This is the exact cause of mutation.
Personally, the situation must be very tiring for you?
Yes, yes.
There's no end in sight?
More than 40 per cent patients are at home without any treatment.
Photographs were published yesterday (April 20) of pyres burning in Ghaziabad...
Yes, everywhere, everywhere.
Fifteen days earlier I just calculated: There are 90,000 nursing homes and hospitals registered in India. If only two patients in each of these hospital or nursing homes die, you can then imagine that two lakh people are dying per day.
Even if one person is dying in each hospital, then one lakh people are dying per day.
As, I told you earlier, mortality is very, very high. There is panic. If the statistics were to come onto a proper graph, more panic will spread in society.
*According to The world's fastest growing cities and urban areas from 2006 to 2020 (external link)