'This year, we know the virus.'
'Last year we didn't know anything about it.'
'The best part is that for the Indian population there has been some amount of cross protection.'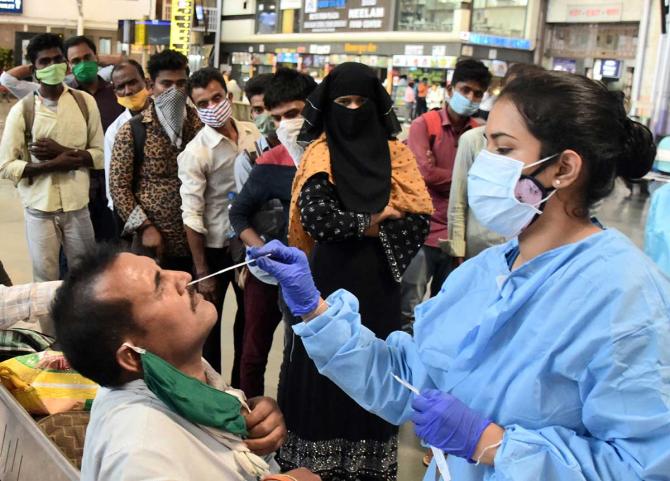 The tally for fresh COVID-19 cases in Mumbai and Pune might be touching the stratosphere at 8,553* and 8,646* on Thursday, April 1, 2021.
But yet we have all heard about the Holi parties that just took place in our buildings? Or the ginormous engagement ceremonies and 25th wedding anniversary bashes?
Or the 30 people you see, maybe just from your window, who won't wear a mask or wear it properly?
Or the educated, well-to-do, privileged folk who somehow ridiculously unscientifically believe that COVID-19 will tiptoe past them and would like their lives to continue as before, taking nil precautions, like the virus SARS-CoV-2 will recognise their entitlement too?
Or those who test positive and are still wandering here and there, not heeding the urgent need to isolate?
Or the passengers, who arrive into Mumbai on international flights, and don't honour home quarantine? Or seek exemptions from institutional quarantine on flimsy, illegal grounds? Or run away from their hotel quarantine rooms in the dead of the night, letting loose the UK or Brazil or South African variant into our local populations -- so many of them that the BrihanMumbai Municipal Corporation has instructed hotels to keep passports?
I recently came off an international flight and was sent, after a smooth, quick process, by BEST bus to quarantine in a hotel. To my astonishment, none of my co-passengers were on that bus, hardly anyone was actually. They had all probably, I guess, sought exemptions, hoodwinking a system they yet expect to run efficiently and protect them at all times, or even a little bit down the road, should they get COVID-19.
Travelling on the bus with me, were the 'luckless' few, who had not wangled exemptions -- a motley lot, a house painter from Dubai, a labourer or maybe mechanic from Dubai, a college student from probably America, a transvestite pair (by occupation as well, apparently) and a maid from Europe.
When the COVID-19 pandemic reached India in January 2020, with it arrived a significant stigma. A stigma that ruthlessly attacked those who turned out positive, making life incredibly difficult for healthcare workers, airline crew, hotel staff looking after the essential work force and others who contracted it.
But now the total nonchalance with which many people are carelessly facing the virus is becoming a public health nightmare in Mumbai, especially after the arrival of this new, unclassified extraordinarily infectious variant, which is pushing numbers wildly up, literally second by second.
Ask Dr Jayanthi S Shastri about this nightmare and she will hold forth.
In the second part of an interview to Vaihayasi Pande Daniel/Rediff.com, Dr Shastri, microbiologist and the professor of microbiology at the BMC run-BYL Nair Hospital and the head of molecular lab, Kasturba Specialty Hospital (which tests COVID-19 cases), both in central Mumbai, speaks about how difficult it has been to rein people in.
She makes a plea to people to remember the consequences of rising cases on critical care staff, who are running extremely ragged, exhausted, after a year plus of taking care of COVID-19 cases, without a break.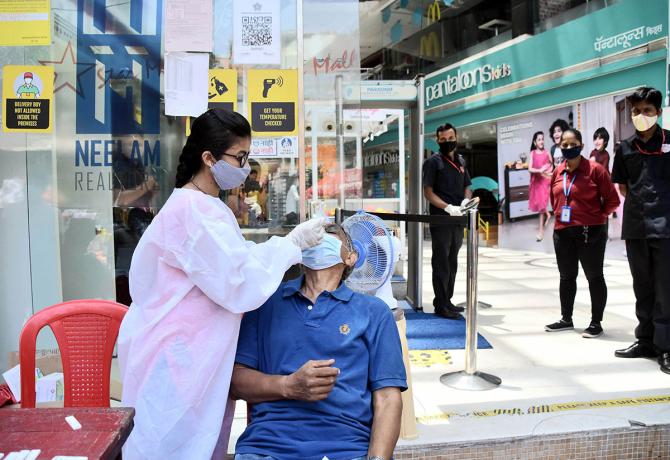 One hears that the ICUs IN Mumbai hospitals are getting full. But there are many more milder cases, asymptomatic cases, and not that many deaths, as you said. So, hospitals are still coping?
Yes, yes, as of now, the hospitals are coping. As of now.
A number of asymptomatic cases are there.
We definitely need to ramp up testing. When I say ramp up testing, I mean the RT-PCR** test and not the rapid antigen test, because rapid antigen gives you a false sense of security. If a negative person (as per the rapid antigen test), who is actually positive, gets into a mall or market or crowded place, then that's even worse.
I feel that there should be mobile vans stationed, for instance, outside malls and people can just get their RT-PCR test done.
Now more than lives, it is the livelihood of people at stake. Business and everything else is, of course, really down and it is at stake. In order that we are able to tide over this crisis, I think we all have to go through this.
You are saying the situation is worrying and in terms of hospital capacity, it is worrying, worrying...
Not worrying. I'm saying, as of now, most are asymptomatic cases. Severe symptomatic cases, which we saw in the early part of the disease, till about September 2020 -- it is not the scene like that.
It seems like the virus is in harmony with the patient. Somewhere the body's defences are adequate, to keep the illness asymptomatic or mildly symptomatic. You don't have a crisis situation.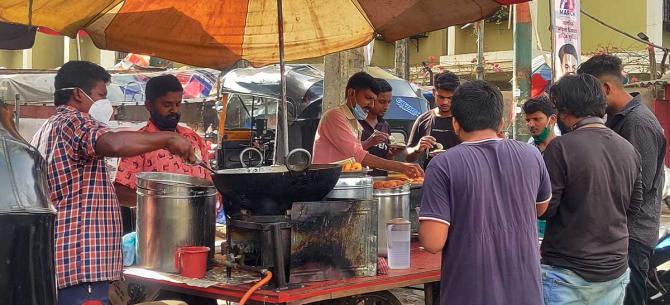 The government announced very specifically, March 24, that the 'double mutant', you spoke earlier about, is present in Maharashtra, Kerala and Delhi. That immediately made everybody anxious. But you're saying that there is not much evidence of it in Mumbai, as far as one knows.
Yes. Basically, as of now, we have sequenced about 237 samples, as I told you, from cluster samples, as well as international travelers.
We have got -- as the newspapers say -- about 22 samples with the UK strain.
It's hard to say that, that is the strain causing this kind of scenario. It's all many factors put together.
People are bringing their guards down. They are not masking. They are, for example, flocking to the food courts and food stalls in large numbers, like they haven't seen a restaurant for years.
Pandemic fatigue is very, very high?
Yes.
In a mall, for instance, it is closed from all sides. And there is centralised air conditioning. It's not really a very nice thing to even see.
Would you say, that if there is a variant, it cannot be as bad as the London variant?
The London variant caused/is causing much more mortalities?
Yes.
This is something milder definitely?
It looks like it.
Another term bandied about for months together, actually more than a year, and probably has no real context, is herd immunity. Are we any closer to herd immunity?
I'll tell you something: When we are saying we don't know whether the presence of antibodies means immunity ie when we are saying that, how can we say anything about herd immunity?
We are talking from our own wisdom about the viral infection.
This particular virus, it defeats everything.
It defeats science, in many ways.
It has got its own logic. It's repurposed itself and it is bringing its ugly head up again.
It's hard to say:
First, is whether antibodies are going to protect. We don't know.
In spite of the fact that there are enough experiments to show that antibodies are preventing the live viruses from spreading and growing, in an experimental situation. That's what they do in plaque reduction neutralisation testing in the laboratory
Secondly, how much is the quantity of antibody required for protection? We don't know.
I think we really don't have a definition for herd immunity.
I had to go abroad recently. At my destination, the London/UK variant was pretty prevalent.
Travel was scary and so was going about in high-COVID-19 cases surroundings.
What I learnt from that trip I think can apply to our everyday life.
I wore a double mask all through, one of them surgical and an N95 on the flights.
If you are very careful, stay masked, keep as much distance as you can from somebody whose mask is below their nose, or is not wearing one, and you follow these two, three things, you can go about a 'normal life' and yet stay safe, most of the time, fingers crossed. You can stay safe, do your work, if you follow the rules?
Absolutely.
I must tell you that I went to the US in November. That was when COVID-19 was at its peak there.
I went to New York. I wore an N95 mask all through my journey of 15 hours on a direct flight. And I never brought my mask down, when others were eating.
You waited till they finished eating?
I had this way of eating -- I had these straws and cartons for hydrating myself. I would just keep it below my mask. I would not remove my mask when others were eating.
While sleeping, I just wore a surgical mask, while others had taken their masks off.
But I flew 16 hours in the first week of November. And I returned on January 9, again, the similar way.
Like you rightly said, if you follow the right measures, you can definitely be safe.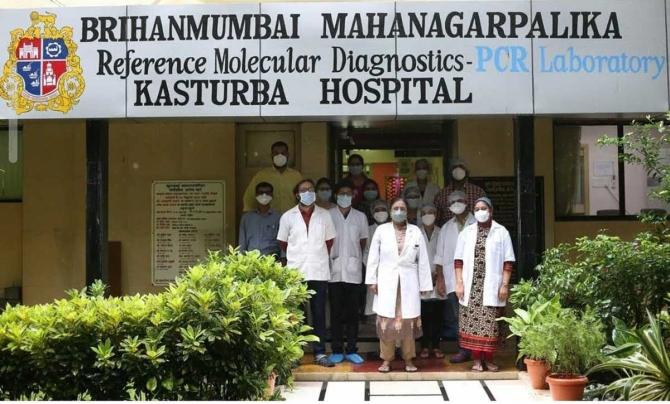 How has your work life has changed over these last 12 months? And how has COVID-19 changed your life?
Is it a little bit less hectic this year, in spite of the present surge?
This year, we know the virus. Last year we didn't know anything about it.
We were like speculating. Last year went in speculation.
Today it is a fight head on -- I would put it that way.
We know the virus well. We know that it's there in various forms. We are, somehow, taking everything in our stride.
The best part is that for the Indian population there has been some amount of cross protection.
There was an article recently on a study which was done in the National Institute of Immunology, New Delhi, that had been published in Frontiers in Immunology. In it they have shown cross-protection from earlier infections of other types of coronaviruses against SARS-CoV-2.
Indians seem to have benefitted a lot due to this cross-protection.
Last year went in speculation. This year we know what we have to do.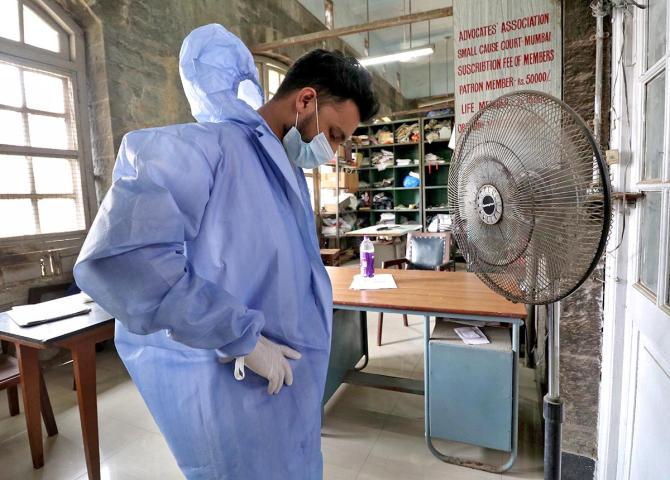 But is it less stressful for you, personally?
Last year my working hours were anything between 12 to 14 hours. Now, probably it's about eight to nine hours.
Last year, we were like sort of following the rules in the book, that 'a viral infection is like this...', 'this is herd immunity' and 'the antibodies may be protective' etc, etc.
Last year went a lot in looking at all the research articles, looking at all the things happening in the world, trying to bring the best examples to our place.
It meant a lot of time was spent in understanding the disease.
Today I think our knowledge base is quite enough and adequate to take the COVID-19 virus on.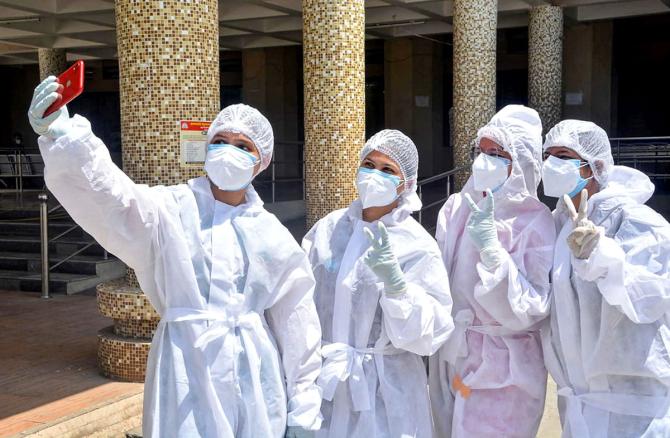 Basically, you are saying that you can look at the situation much more calmly and feel much more armed?
Absolutely. I'm looking at it very positively.
And I really want to tell the citizens: If you don't wear your mask properly, it amounts to healthcare providers, and those looking after you, having to wear their PPEs and their N95s for longer hours.
Nobody thinks about that doctor, who is at the hospital for long hours, without even being able to hydrate himself, go to the bathroom. Once he starts seeing his patients it takes about two to three hours.
If the general public doesn't mask themselves, it's the healthcare providers who have to toil for their inadequacies.
Would you say that that both the BMC and the state government are doing a good job and we are in good hands? But it is the people who need to brush up their act?
Absolutely. Absolutely.
Look at the way the hospitals and the labs are running. All of them are functioning.
Look at the vaccination programme. Don't think about the turnout. Turnout depends upon people wanting to go and take the vaccine and there may be some hesitancy in that.
But the services are so efficient.
I represent a municipal corporation hospital -- see the facilities in the municipal corporation hospitals, they are really par excellence.
The government is doing a great job.
It's the people who are saying: 'How long do we have to wear a mask'? 'I think the virus is out, no? Now we can remove our masks'.
They are all going for large gatherings or calling so many people home.
All this needs to stop.
We have to wait -- let time pass -- and then see how it goes.
*Source: Indian Express, Rediff.com
**Reverse Transcription Polymerase Chain Reaction Test
Feature Presentation: Ashish Narsale/Rediff.com