'Despite expanded testing, the incidence remains low.'
'Therefore, the focus should be on specific districts where we need to improve the testing.'
'We should have a district-centric strategy.'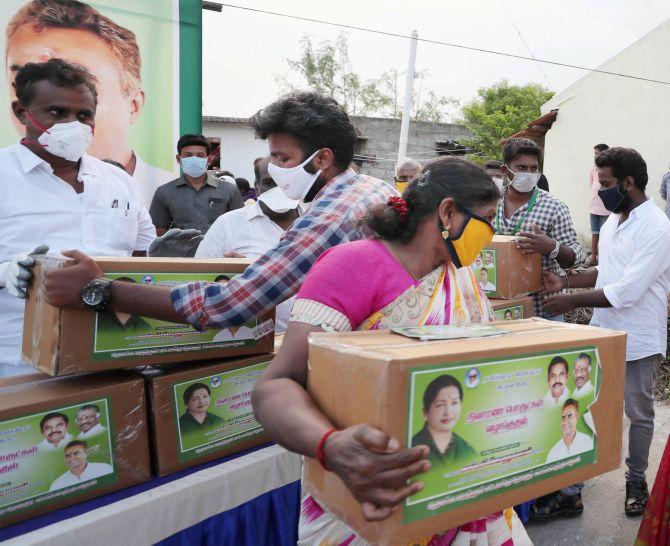 Tamil Nadu Health Minister C Vijayabaskar says at 54% , the state's recovery rate from coronavirus was the highest in the country while the mortality rate was at 1.2%.
But that doesn't mean the state is out of the woods. Worrying, with state capital Chennai remaining the biggest hotspot, the government moved quickly to bring in senior IAS officer J Radhakrishnan as Special Nodal Officer to coordinate with other wings of the state government to contain the pandemic's spread.
Apart from this, the Tamil Nadu government has formed a 25-member expert committee to advise it on how the spread of coronavirus can be contained.
Dr Prabhdeep Kaur, scientist E/deputy director, ICMR-National Institute of Epidemiology in Chennai, is part of the committee.
"It is important to recognise that this is not the first, nor the last, epidemic," Dr Kaur, below, tells A Ganesh Nadar/Rediff.com.
The Tamil Nadu experts committee of which you are part had recommended that only a gradual phasing out of the lockdown is possible. So you must be happy with the Centre's decision to extend the lockdown.
The central government's order is a generic one at the national level. There are a lot of relaxations so it seems appropriate. It has to be applied in the local context.
Do you see a total lifting of the lockdown or will it be a graded one?
It has to be a graded one while looking at all the parameters.
We can consider several epidemiological indicators such as doubling time in every district. Decisions can be made at the district level. Even the Government of India recommends a district-centric approach
It is such a challenge to balance public health and safety and the state of the economy. Longer that industrial activity remains dormant, the harder it is for the economy to recover.
It is a very tough balance to strike for every nation and for every state. We have to collaborate closely between the community and the government.
Long term measures will work better with cooperation.
Restrictions will be there where the infection is more and where it is spreading.
Certain restrictions cannot be lifted. Crowding cannot be permitted.
The inter-ministerial group that visiting Tamil Nadu praised the state for its work in preventing the spread of coronavirus. What did Tamil Nadu do different, do better than other states, in your opinion?
Tamil Nadu has a strong public health system. It has a large workforce used to tackle a health emergency. People have been working all over the state.
We need to mobilise more resources to sustain the efforts over long time
Tamil Nadu has increased testing and has second highest number of tests carried out among all states.
Our testing numbers are three times the national average.
Contact tracing has been very good.
The infection can be restricted to a well-defined geographic area with good contact tracing.
In an address to the media you had called lifestyle changes with a focus on personal hygiene. What kind of changes do you have in mind, and will they now be a permanent feature?
Certain changes can be a permanent feature, such as hand washing. It will protect us from all kinds of infections.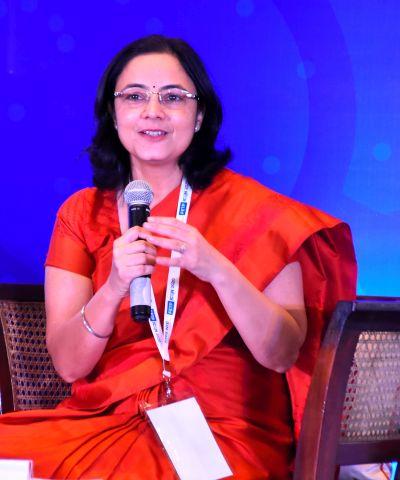 Social distancing and masks have to be there till a vaccine is found.
These measures will have to be in place for long time.
We have to integrate it with our lifestyle.
Our other priority should be protecting vulnerable people -- the elderly and those with other health problems. They should have minimal contact with working people.
There are practical challenges when it is a joint family. We have to minimise the contact between the elders and the young who go out to work.
There are always concerns about the poor and weaker sections living in slums where the luxury of social distancing, or even proper sanitation, may not be available.
Instead of putting the burden on citizens, shouldn't the government first ensure that conducive situations are created in these places?
Given the magnitude of the pandemic, what the government can do is surveillance and testing. There are stringent measures being implemented at these places.
If someone turns positive but has mild symptoms the government can put them in quarantine centres which don't have to be hospitals.
By doing this, you can minimise their contact with those that are infected.
As an epidemiologist, what is your take on the virus, its spread, mutation? Do you see a second wave of infections happening?
India is in the early part of the epidemic. We have to watch the trends carefully.
The virus will circulate for a very long time. We have to prepare our health system and the community to deal with the virus.
Are you happy with the fewer numbers of testing in India compared to other nations? Isn't this why our reported numbers too are less as compared to other nations?
India has been testing adequately as compared to many other countries. India in the past month has increased the testing very fast.
Despite expanded testing the incidence (infections per lakh of population) remains low.
Therefore, the focus should be on specific districts where we need to improve the testing.
There are differences between districts. We should have a district-centric strategy.
Could you tell us how your average day has been like since you became a member of the expert committee?
I am an epidemiologist. I have been working on COVID-19 since it hit India.
It is a 24x7 job. Our team has been providing support at the national and state level. It is a very challenging task.
We are learning about a new disease on a daily basis. We have to rapidly translate the knowledge to the implementation at the ground level.
Overall, the public health workforce has been stretched. After we come out of this, I hope, there will be better recognition of the need to strengthen the public health system and expansion of the public health workforce, including epidemiologists.
All states do not have enough public health workforce, they need scale up for the long term.
It is important to recognise that this is not the first, nor the last, epidemic.
Finally, when do you see the situation returning to normal, if at all?
Honestly, as an epidemiologist I have to say, I don't know.