'When we go to war, we also take our families.'
'It's not just fighting the war ourselves, but our families are doing that too. And that's the biggest sacrifice.'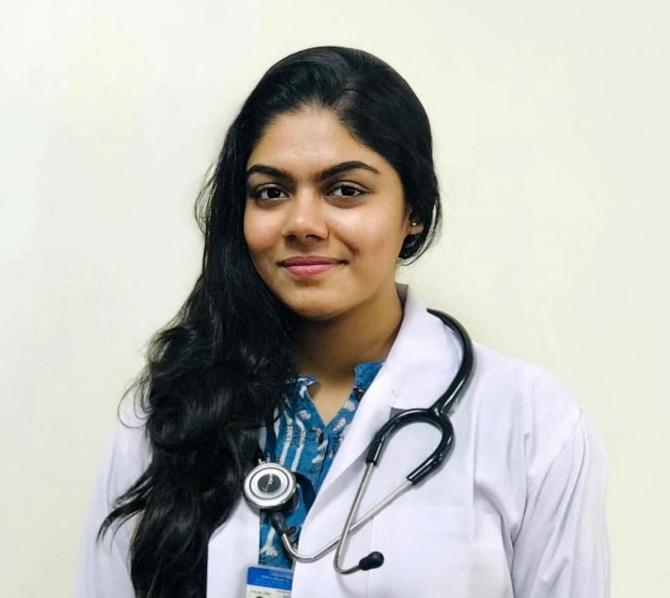 Dr Hansel Misquitta, a young MBBS graduate, was among the first volunteers to sign up for Covid duties in April.
"It was the best decision of my life," says the doctor who served for two-and-a-half months, donning a PPE and treating Covid patients in the NSCI stadium facility in Worli, south central Mumbai.
She was safe from the infection while serving on the frontline, but contracted the virus a few weeks after returning home.
After spending a week in hospital, three days in ICU, she is in home quarantine and almost recovered.
An aspiring surgeon, she will appear for a surgical residency exam in October and is the first doctor in her family.
Speaking to Rediff.com's Archana Masih, Dr Misquitta says now that she has seen Covid from both sides -- doctor and patient -- she is ready to go back to fighting the disease once again.
"My patients have made me a good doctor," says the Covid warrior.
As a doctor you have treated Covid patients and then you became a patient yourself when you contracted Covid. How did you deal with both these sides of this disease?
I have experienced a spectrum of emotions -- from pain, to fear to being treated like an untouchable.
I know what patients go through and that's one reason I made it a point to touch them because I know the comfort that a doctor's touch can give to a patient.
Covid patients are away from family and no one wants to come close to them. I made sure that each of my patients are touched and I counselled them emotionally.
I returned home in June after doing Covid duties for two-and--a-half-months. I think I contracted the infection during a house call in July. Someone was sick and needed my help.
I had lost my grandmother also around the same time. I was talking to her on video and she collapsed in front of me and was gone. She lived in Mangalore. All this took a toll on me.
The long hours of Covid duties and constantly wearing the PPE probably affected my lungs. I am asthmatic and had to be hospitalised after I got Covid.
I still have 20% of residual damage in my lung.
I cannot put myself above my patients. I kept thinking I was being selfish by occupying an ICU bed since no beds were available. My mother also contracted the infection and was in a bad condition herself. Probably she would have been admitted the same night. I wouldn't have stayed on that bed had my mother needed it. That would kill me. Thankfully, my mother did not need hospitalisation.
I am home now and under home quarantine. My mother is also better.
How long were you in hospital?
One week. Three days in the ICU and then I was shifted to the regular ward.
Since I was the only mobile patient in the ICU, I was taking care of the patients who were geriatrics. The doctors really had their hands tied and being in the ICU is not easy. They would make short visits and leave.
I was sharing the ICU with a 75-year-old lady. We shared a similar sounding name -- her name was Hansa. I was looking after her and two-three other patients who were on dialysis.
I was helping them out with the experience I had gathered after treating Covid patients at the NSCI Dome.
I learned from physiotherapists that chest physiotherapy really improves lung function in COVID. I applied those exercises to that patient and actually saw her improve.
She was discharged two days back from the ICU, and now is the regular ward. She called me and thanked me.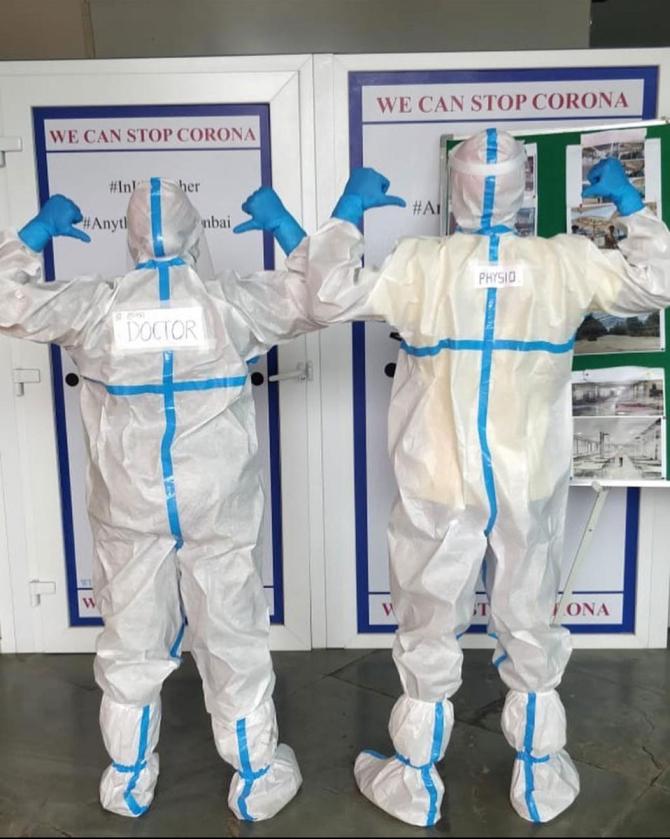 What were your thoughts at that time because you must have had the chance to think about your own health, your mother and the two-and-a-half months spent as a frontline doctor?
Many doctors who have been infected feel, 'Why me?'
I was feeling guilty that I gave it to my mother. She has asthma and extremely high cholesterol. I was scared about her.
I knew I was at risk because I was treating Covid patients. I was prepared, but I did not expect such a big flare up. But both my mother and I stayed positive through it.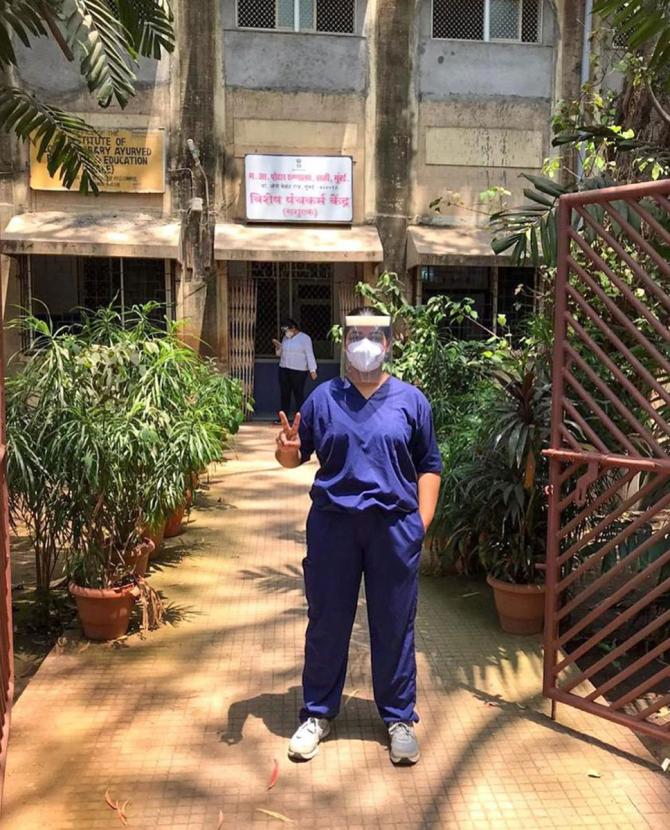 As doctors we are exposed to different diseases. I did internship for a year in a municipal hospital where we were exposed to TB and had needle stick injuries.
We also treated children of HIV patients. We cannot deny anyone treatment.
So I was totally prepared that I probably might get infected.
The only negative in my head at that time was that I am treating so many patients, but I couldn't save my own grandmother. I was very close to her.
I couldn't do much for my mom either because she was at home and I was in hospital. These thoughts bothered me.
When we go to war, we also take our families. It's not just fighting the war ourselves, but our families are doing that too. And that's the biggest sacrifice doctors fighting Covid have made.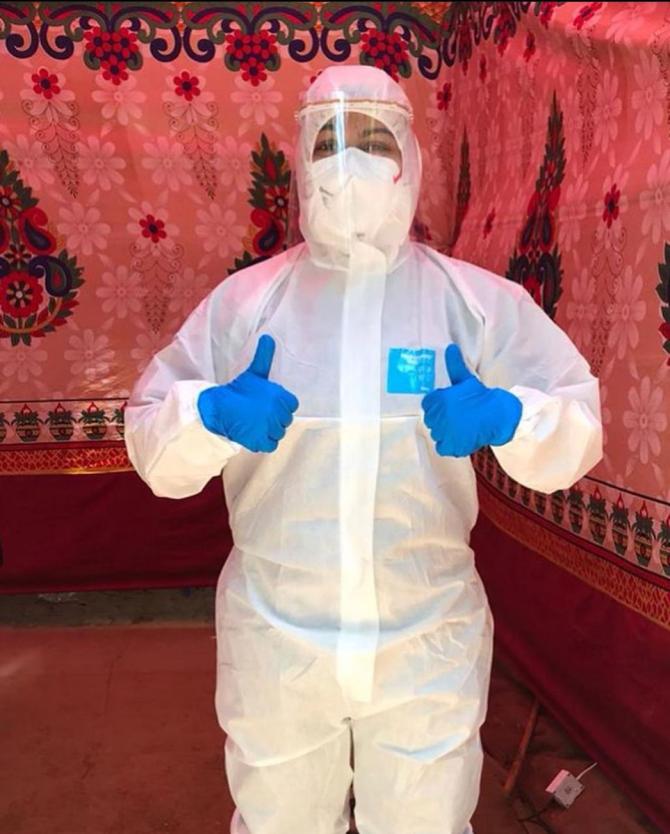 What support did you get from the colleagues who served on the frontline with you when you were sick with Covid?
I can't stop talking about that. I received immense support and love from all of them. From the junior most to senior most, and also people who joined after I left.
They were constantly messaging me because they knew I wasn't able to talk. I used to start getting breathless and coughing.
My senior Dr Rais Ansari regularly followed up with me, even though he was so busy.
The biggest support was my fiance Dr Mikail Merchant. He took me to hospital even though his parents are old and have comorbidities.
He took care of my mom and I wouldn't have got through the difficult time without him.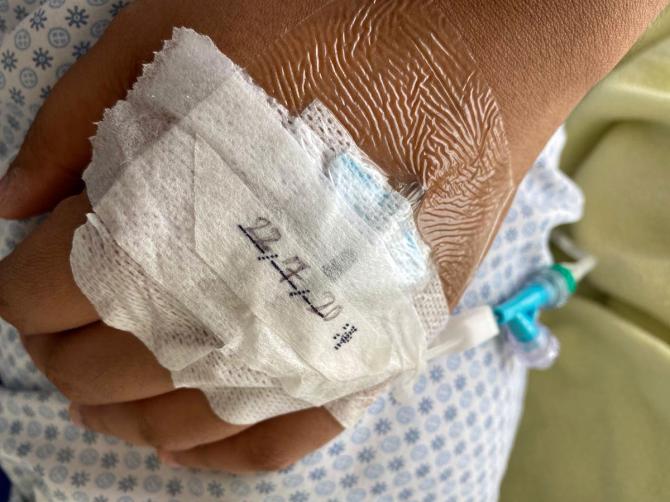 What have been your learnings about Covid?
I can write a book with one chapter each dedicated to the patients. I have learned from them and I feel my patients have made me a good doctor.
It's an amazing time for doctors to develop their soft skills which they lack in India.
Responding to Dr Muffazal Lakdwala's call to be part of Covid reponse team was the best decision I've taken. I have never regretted it.
I learned so much not only about being a doctor, but management skills that I probably wouldn't have learned otherwise.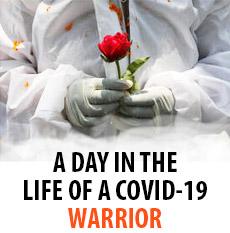 We were the initial task force that set up the jumbo facility from the very beginning.
I had no experience with dealing with BMC and Dr Muffi just said I have faith in you, just go ahead just do it.
He gave me the confidence to take this up and give it my best, and it really did shape me into a better doctor.
You can't get better surgeons and mentors like him and Dr Neeta Warty. She was like a second mom to me!
Two patients, in particular, touched my life. I will never forget my experience at NSCI.
Infectious disease is not my forte because I want to be a surgeon. A doctor is first a doctor and then a surgeon.
Feature Presentation: Aslam Hunani/Rediff.com