'65 per cent were males.'
'Age group of deaths: More were seen from age 51 to 70.'
'Saw some deaths from age 21 to the 40s.'
'About 76 to 77 per cent of patient deaths had some kind of a comorbidity.'
'The main comorbidities were the presence of diabetes, hypertension, some kind of heart diseases.'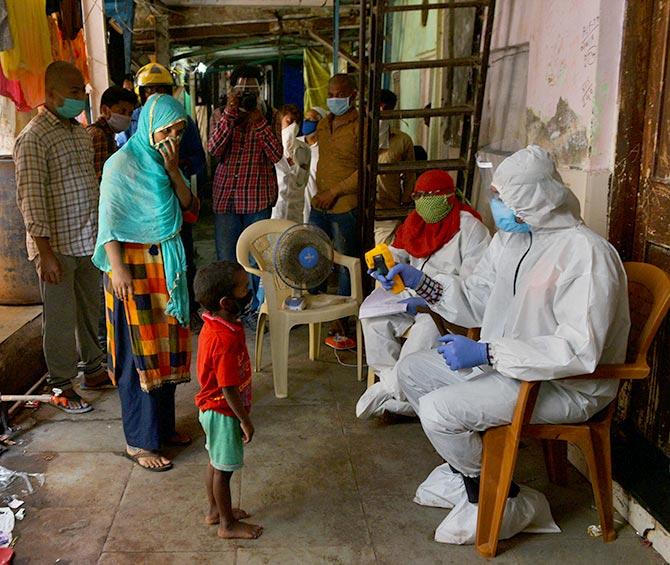 Post mortems have always been responsible for the evolution of modern medicine.
The post-mortem examination of a body, after death, offers important information about why, when and how a person died.
It additionally provides special insight on why diseases spread.
With that key principle in mind, a team of doctors was appointed, over 25 days ago, to investigate Mumbai's COVID-19 deaths and through that study urgently suggest ways to reduce mortality.
This team, headed by Dr Avinash Supe, is assessing mortality in Mumbai and the 'hotspots' in surrounding areas, and that covers Raigad, Panvel, Thane, Palghar and the seven municipal corporations and 13 municipal councils of the Mumbai Metropolitan Region.
Their job, says Dr Supe is to "look at the mortality and suggest to the government various ways of reducing that mortality."
It's a seven-member committee that has an extensive range of medical experience, both in years and qualifications -- frontline clinicians, heads of departments of BrihanMumbai Municipal Corporation-run hospitals, community medicine experts, medical administrators and those managing ICUs.
The committee is being assisted by a lot of other staff, like deputy health service directors and consultants.
Dr Supe, the executive director of the Hinduja Hospital, Khar, north west Mumbai, is a gastroenterological surgeon.
He was the dean of both the KEM and Sion hospitals (King Edward Memorial, Parel, central Mumbai, and the Lokmanya Tilak Municipal General Hospital, north central Mumbai) and attached to the Seth Gordhandas Sunderdas Medical College.
A Dr BC Roy awardee, with 36 years of experience under his belt, Dr Supe explains to Vaihayasi Pande Daniel/Rediff.com how exactly the committee is going about examining the COVID-19 deaths to come up with advice that will be imperative in reducing fatalities in the city.
You have been given the role of reducing COVID-19 mortality rates in Mumbai and nearby areas.
What are the strategies you are looking at to cut mortality rates?
The whole aim is to analyse the COVID-19 deaths at two levels.
Initially, we would like to examine the demographics, clinical aspects and other aspects.
We have already done some part of that.
That means: Where are the deaths coming from, which areas; what are the patterns of those deaths; what is the basic history of contact; the age group, and the history of any international travel.
(While) looking at which areas the deaths are coming from, we check how many days before the symptoms appeared, and how many days after the symptoms (appeared) did they come to the hospital.
We look at the time between onset of symptoms to death.
What are the comorbidities?
This is the first level of analysis we have done for most of the deaths.
The next level is, we are also now looking at the signs, clinical investigations, laboratory investigations, and also looking for treatment and its correlation with mortality.
We also compare the mortality between various hospitals and do further sequential analysis.
This is the mandate of the committee.
When did you start this analysis?
Three weeks (ago).
We have given the first report of about 131 patients.
Now we have more than 400 patients already.
So, we have already had meetings and started working on that new data.
Data comes in only after two or three days.
And it takes a little time to analyse.
We have already started the next report.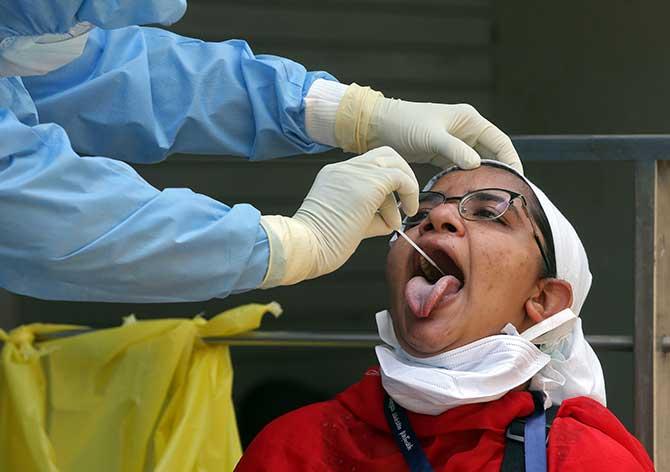 Are you at liberty to tell us what your analysis has shown?
I can tell you about the first report.
The second report is not ready.
The first report mainly talks about the pattern of deaths.
We were seeing that males were predominantly more than women, 65 per cent were males.
Age group of deaths: More were seen from age 51 to 70.
Saw some deaths from age 21 to the 40s.
A few deaths.
But the percentage of deaths was much more in the elderly group.
About 76 to 77 per cent of patient deaths had some kind of a comorbidity.
The main comorbidities were the presence of diabetes, hypertension, some kind of a cardiovascular (heart) diseases.
A few patients had cancer, but those patients were minimum, three, four.
Maximum had hypertension (long-term history of high blood pressure), diabetes, diabetic ketoacidosis (a diabetes complication, when excess ketones are produced) and other comorbidities.
Many people primarily died of comorbidity with diabetes?
Died because of pneumonia and that kind of disease.
But they had associated comorbidity of diabetes.
Some patients presented with symptoms other than the respiratory disorders, like say thrombosis (blood clot formation), convulsions and GI tract issues and all that.
Few of the patients presented with other atypical symptoms.
On the time side: Onset of symptoms to death, that time was around 6.5 to seven days.
Onset of symptoms to admission was around four to five days.
And patients, maximum patients died within two to three days of admission.
Some patients died within 24 to 48 hours, that is about 30 to 40 per cent and the rest died after five to seven days.
We suggested that if you pick up the patients early, will be able to save them better.
Was there any link to the socio-economic class?
No, not like that.
I don't think so.
There were people who had travelled internationally also, people who had travelled nationally also, people who were staying in middle class areas also etc.
Mumbai is a city where 60 per cent stay in the slums.
The pattern we saw (reflects that).
We saw doctors also dying.
Maybe we have not analysed (the socio-economic aspect) because we never had that kind of data.
Never had data to show that a particular class of patients has died.
But if we get the data, we will analyse.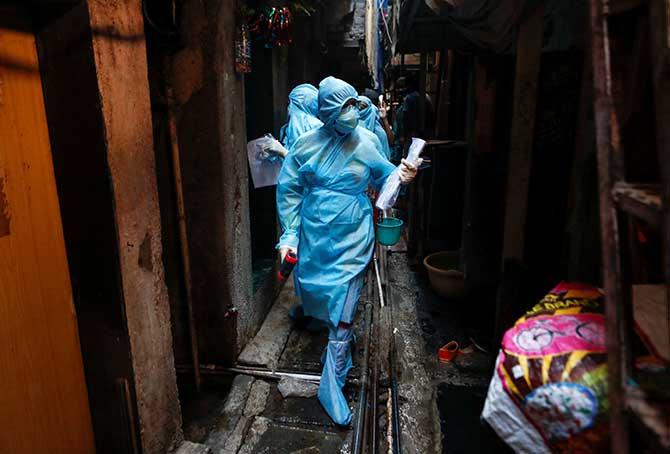 The reason I asked was in reference to the time it took these COVID-19 afflicted to get to the hospital.
I was wondering if people of a higher socio-economic strata have the ways and means of getting to the hospital quicker.
It's not like that.
There was an interval of six days (before they got the hospital).
Or maybe four to five days.
What happens is: The patients would get symptoms.
Then they would go to a local doctor, who would give them some medicine.
Then to a testing place.
They would test.
It would take one day for them to get the report.
Then they would search for a hospital.
That was taking a little time.
In our report we also analysed this and gave the government classifications.
(Suggested they) divide patients into six categories.
Like those people who are elderly and having some kind of a symptom, they need to be rushed into the hospital earlier.
And even if there are no symptoms, but it is an elderly patient, we should shift them to typically what is called an oxygen stations.
And you monitor them with continuous oxygenation saturation.
Those patients whose oxygen saturation is less than 93 per cent or 90 per cent, or resting tachycardia is higher, or breathing rate is higher, or they are feeling some kind of breathlessness or tightness in the chest, these patients should be shifted immediately to the hospital and if necessary into a critical care unit.
That was the kind of approach we took and I personally feel the Maharashtra government has acted upon it very well -- the task force in Mumbai, our health department (Mumbai), the government.
They have started screening patients.
They have opened up a lot of oxygenation centres.
They are opening more.
That approach has reduced this time interval.
They also established an ambulance line and the helpline 1916, which manages allocation of beds and ambulance services for patients.
That has probably hastened the time (in bringing the patient in).
Let's hope in the next analysis we will find this time limit a little shorter.
Does it seem as if in Mumbai that the rates of asymptomatic cases are higher?
I don't know whether this applies to the rest of India, so let me ask just about Mumbai and surrounding areas of Bombay.
Maybe higher than other places in India or the world?
India has done 12 lakhs of tests and 56,000 are positive.
There are now 15,000 cases in Maharashtra and 10,000 cases in Mumbai (as of May 7).
The number of tests done in Mumbai and surrounding regions is fairly high, but the number of tests which have come positive are only 10,000, in Mumbai for instance.
That means, definitely, if you compare to say Turkey, Spain and other countries, the positivity rate is less in our patients.
Secondly, asymptomatic patients are also high.
We have 50 to 60 per cent patients in Mumbai who are asymptomatic, or have mild symptoms.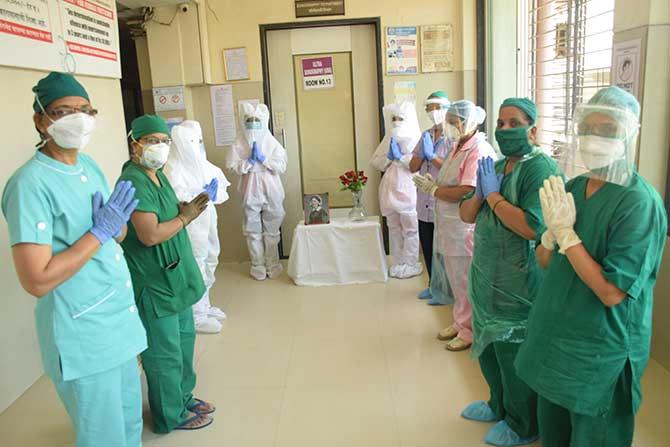 More asymptomatic cases is a good sign.
But it also makes the situation more difficult because more work has to be done to contain the spread when there are more asymptomatic cases.
Isn't that correct?
Yes, true.
Very true.
Because whenever there are asymptomatic patients, they need to be contained.
They need to be kept in some kind of quarantine.
They have to behave properly -- that means they have to wear masks; they have to follow cough etiquette; they have to remain in an isolated area and they have to maintain social distancing.
Only if you do that, will asymptomatic cases not spread the disease.
That is what is the world's experience.
Asymptomatic patients need to be contained, kept in quarantine, and not (be allowed to) spread cases to rural areas.
I would like to understand a little bit more about herd immunity in the context of Bombay.
Can somebody, who does not get sick or does not suffer COVID-19, also gain herd immunity?
What is the difference between herd immunity and a vaccine -- are they not operating on the same principle?
How do you get herd immunity without getting sick with COVID-19?
Herd immunity means that, directly or indirectly, people have suffered a mild attack of COVID-19 without noticing it and then they develop antibodies.
It is something like when you are walking inside a local train.
You must be getting some viruses, which you don't clinically suffer, you are never diagnosed, nobody suspects it.
But then after a few days you get antibodies.
Slowly that is the way people get herd immunity, and the virus is muted.
A vaccine is something which is given to individuals and then he gets antibodies.
But they basically function on the same principle roughly?
Yes, yes.
There are two things about this.
One is there are a lot of atypical pneumonias, atypical infections we get.
Colds and all those kinds of things.
There are patients, which we see, with different kinds of coronavirus.
Not this novel coronavirus (COVID-19), but SARS-CoV-1 and MERS (SARS is a severe acute respiratory syndrome coronavirus that emerged from China in the early 2000s.
The viral respiratory disease called Middle East Respiratory Syndrome triggered by a novel coronavirus MERS CoV that was first identified in Saudi Arabia in 2012).
These are all COVID-similar kinds of viruses.
So, maybe we have some immunity.
We may not have immunity for COVID-19 directly.
But we may have parallel immunity.
That is one of the theories which clinicians are concerning themselves with.
How much it affects us (helps us), we really don't know.
Nobody has done that study.
And it's very difficult to really comment on that, because these are all theories, assumptions, predictions by people and we don't know whether they are likely to be true.
There was a very nice study, from California, from Santa Maria county, published about 15 days ago.
It is a very well-published study.
They studied their population -- 3,000 people from that population.
And they found that for every patient, detected with COVID-19, that they had seen, there were 50 times as many people, (in the community), who were COVID-19 antibody positive/having antibodies.
That means, if you have, say x number of patients, who were detected and then isolated and treated, then in the community 50 times that number will be people who have already got the antibody.
Now we really don't know whether this is true in Mumbai.
We have not done any studies.
When the government does such kinds of studies, they will know whether we can remove the lockdown safely from an area.
It has no implication on treating an individual patient.
But it has implication on the way you treat the community -- whether you want to lift the lockdown or don't want to disturb lockdown.
We have to do such studies, after some time, now that 28 days are over.
Some of the areas, which were hotspots say three weeks ago, these are the areas where you can see whether people are antibody positive.
Then those areas can be opened up (if they are).
We have to really do these kinds of strategies, to see how we can prevent spread to others, improve the safety of the people and also look at the economy.
So, it's a triple balance you know.
But we must look at the safety of the people.
We do not want many deaths.
That is our first concern.
Secondly, we should see that economy should not suffer.
At the same time, we should also see that a lot of our asymptomatic patients are not spreading the disease into rural areas and other areas.
It is a difficult task, but we have to do it.