'They have been pursuing their agenda of bulldozing everything and everybody on their way.'
'They suddenly see Rahul Gandhi standing in front of them without fear and fighting against them aggressively.'
'He doesn't show any compromise in his attitude towards fascism.'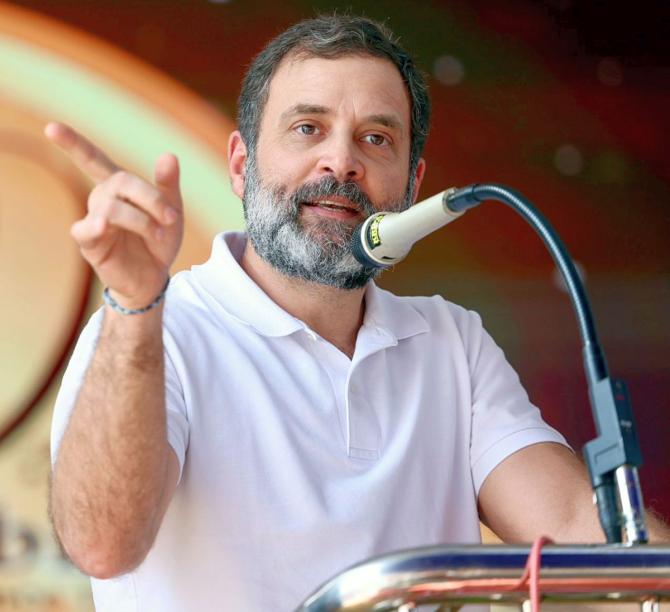 What happens if the Election Commission orders a by-election in the Lok Sabha constituency of Wayanad in Kerala, which was represented by Rahul Gandhi until last week.
"We have not even thought about a by-election. People of Wayanad are very shocked. They look at this conviction and disqualification as an insult to them," Congress leader V D Satheesan, leader of the Opposition in the Kerala assembly, tells Rediff.com's Shobha Warrier.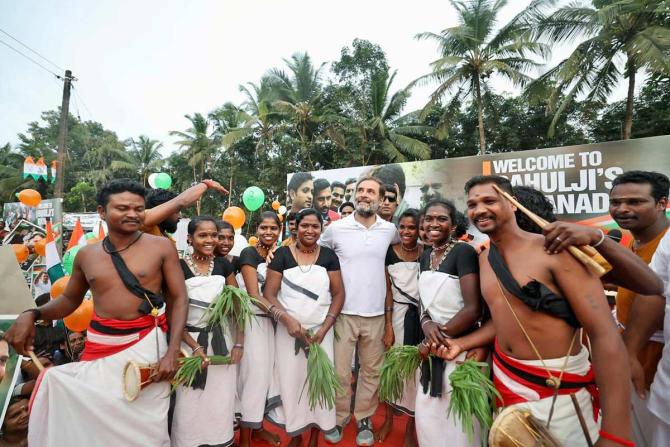 You said the Congress was going to fight Rahul Gandhi's case politically and legally. Can you elaborate on it?
As you know, there are legal remedies like going to the sessions sourt, high court, etc.
If the conviction gets stayed in a higher court, the disqualification ceases to exist.
If you look at the case of the Lakshadweep MP, although his conviction was stayed by the Kerala high court in January, he was reinstated only today (March 29, 2023), after two months.
(Lakshadweep MP Mohammed Faizal P P of the NCP was convicted on January 11, 2023 and disqualified two days after. Though the Kerala high court suspended his conviction and sentence on January 25, 2023, he was reinstated as an MP only on Wednesday, March 29, 2023. That is, more than two months after he was disqualified.)
Within 24 hours of the court verdict on Rahul Gandhi's conviction, he was disqualified.
If that is the case, within 24 hours of getting a stay on the court verdict, he should be reinstated.
I feel everything about Rahulji's case was done according to a written script.
It is quite evident that they wanted to target Rahul Gandhi.
After the successful Bharat Jodo Yatra, they realised he was a threat to them.
In fact, soon after the yatra itself, they started feeling disturbed.
When he attacked the government on the Adani connection aggressively, they got really rattled.
Whatever he said on Adani in Parliament was removed from the records on flimsy grounds though he had not said anything unparliamentary.
What has happened so far is the face of fascism, that is silencing the voice of the Opposition even in the House.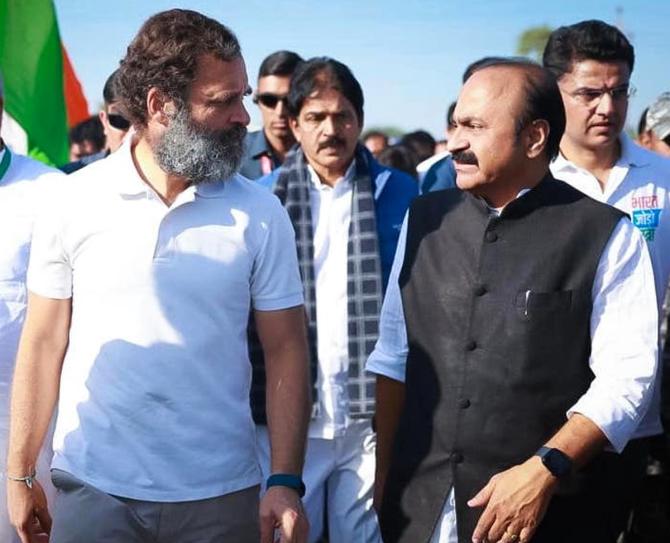 Do you think what Rahul Gandhi spoke in Cambridge is also a reason for this?
Yes, definitely. When he made a political attack on the government on foreign soil, he was called anti-national.
So, we brought out ten video clippings of Narendra Modi speaking against the Congress and the former prime ministers of India on various international platforms from 2014 onwards.
Recently, he spoke somewhere that before 2014, Indians felt it was because of the bad karma of previous births that they were born in India.
If you criticise a government even if it is on foreign soil, how does it make you anti-national?
Yes, that is the question we are also asking.
You are not criticising the nation, you are only criticising the government. It was a political attack.
Whether it is in this country or outside the country, everybody talks politics.
Has he (Modi) not been talking politics on international platforms? If you are not allowed to talk politics on foreign soil, the person who has violated it the most is the present prime minister.
Who is afraid of Rahul Gandhi? The BJP or Narendra Modi?
I would say, the entire Sangh Parivar is afraid of Rahul Gandhi now.
They have been pursuing their agenda of bulldozing everything and everybody on their way. They suddenly see Rahul Gandhi standing in front of them without fear and fighting against them aggressively. He doesn't show any compromise in his attitude towards fascism.
But they cannot scare him with a court case or a conviction.
At his press conference after the conviction, he was very emotional.
He said, even if you disqualify me for my entire life, even if you put me in jail for my entire life, I will fight against fascism.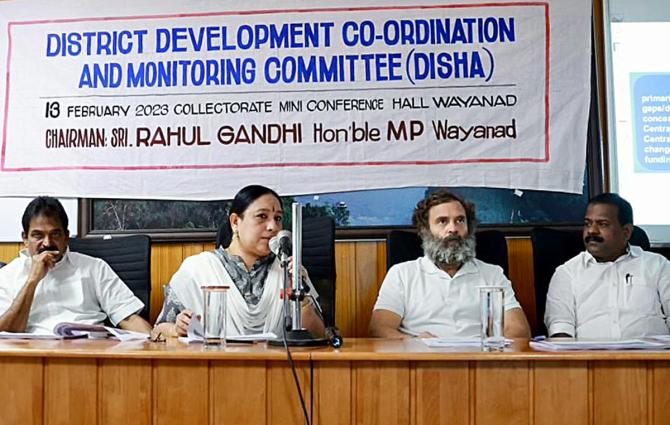 When he took the name of Savarkar at the press conference, it created some controversy...
My question is, what is wrong in saying he was not Savarkar to apologise? There are records in our archives.
I have the literature on the two times Savarkar apologised to the British. This is a fact, and it is there in the records. Nobody is making this up.
Rahul Gandhi's grandmother and father are martyrs.
The question Priyanka Gandhi asked was very relevant. 'How can you call a martyr's son, anti-national?'
On the other hand, they were not part of the freedom movement.
By 'They', you mean?
The Sangh Parivar.
I would say, what they are exhibiting is not nationalism, but hyper nationalism. And hyper nationalism is entirely different from true nationalism.
What they have is a populistic approach to nationalism.
If you look at history, you will see that what is happening is the repetition of what happened in the early 20th century Europe.
If the common enemy of the Nazis was the Jews, for these people it is the minorities.
They portray the minorities as anti-nationals, extremists, etc.
They claim that Christians are involved in conversion.
In 1951, the Christian population in India was 2.3%, and in 2023 also, it is 2.3%.
If they had been converting massively, why is it that the number has not increased?
Their strategy is to create a common enemy in front of the majority community so that there will not be any anti-incumbency against the government.
But history also tells that those who follow fascism don't last long.
After some time, people will rise against them, people will enter the streets.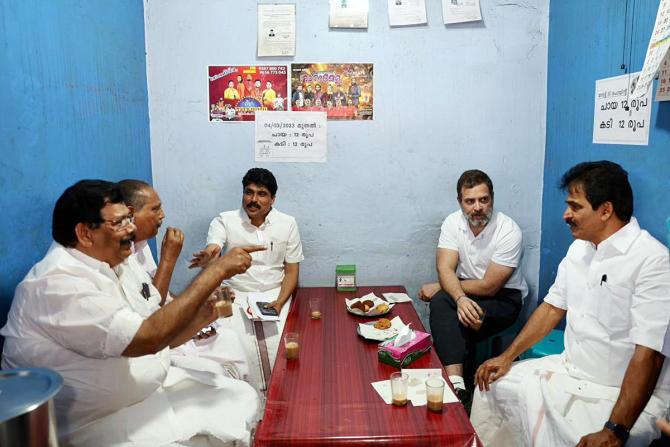 The BJP says your party is not doing anything legally against Rahul Gandhi's conviction because you want to make him a martyr...
How many days have passed after the verdict has come? We have to first get a copy of the judgment, and then prepare an appeal.
It may take one week. It is not that we are not going to appeal.
The BJP also says that as Rahul Gandhi has not won any election for the Congress, the party finds this an excuse to keep him away so that it will be better for the Congress...
(Laughs) We have kept Rahul Gandhi in the front in all the elections and we will continue to do so.
It is not that he has not won any election for the party.
It was when he was the Congress president that the Congress won MP, Karnataka, Rajasthan, Chhattisgarh, Haryana, Punjab, Goa.
What did they do? They made the MLAs defect and take the victory from our hands in some states.
In 2009, Rahul Gandhi was in charge of UP and we got 21 seats to Parliament.
We are not keeping him away in our fight against fascism, we are fighting with him in the front.
Kerala has become very important as Wayanad is Rahul Gandhi's constituency. What are your thoughts on a by-election in Wayanad?
We have not even thought about a by-election.
People of Wayanad are very shocked. They look at this conviction and disqualification as an insult to them.
Thousands of people participated in a protest organised by the Youth Congress.
What is your strategy if there is going to be a by-election?
Actually, we have been preparing for the 2024 elections.
I am in charge of Vision 24 for Kerala which we had prepared at the Chintan Shivir (in Rajasthan last year). And we have already started our work with 2024 as our aim.
Though we are ready for any by-election, we have not thought about a by-election in Wayanad. We are hopeful of getting a relief in the upper court.
Do you think what happened to Rahul Gandhi will unite all the Opposition parties against the BJP in the 2024 elections?
In a way, we should thank the BJP and Modi because this has become an opportunity for all the non-BJP parties to come together under one platform.
All of them realise that if this can happen to Rahul Gandhi, it can happen to the other Opposition leaders also in future.
That's why all the parties have kept aside the minor issues for a bigger cause, and decided to come under one platform.
During the last assembly elections in Kerala, I had interviewed Congress leaders and all of them admitted that there was groupism in the party. It helped the LDF come back to power. Do you think this issue will unite all the groups in Kerala?
First of all, it is not because of factionalism that we lost the elections.
Yes, there were many groups in the party, but that is not why we lost.
There were many other reasons why we lost.
During the pandemic, because of the lockdown, we couldn't agitate or protest against the government.
Secondly, our preparation for the election was very poor.
Then, we were overconfident after our wins in the Parliament election.
We should have discussed why we won the Parliamentary seats, but we didn't.
Today, factionalism is comparatively much less in Kerala. With Rahulji's issue, the entire Congress in Kerala got united.
Not just the entire Congress party, all the constituents of the UDF also are united now.
In fact, our partner, the Indian Union Muslim League, has Rahulji's photo as the status on their page.
I can confidently say that the UDF is a unified front now.
On the 5th of April, all of us are going to have a satyagraha in front of Raj Bhavan.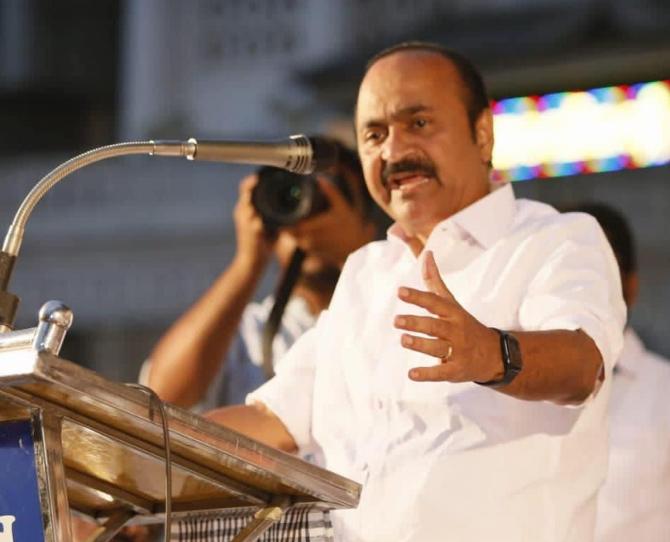 Do you think you will be able to carry this momentum to May 2024?
Definitely. What has happened to Rahulji tells us what this government, this regime, the Sangh Parivar stands for. They have been exposed fully.
In Kerala, this has resulted in an anti-BJP trend.
Narendra Modi says the next step is for the BJP to conquer Kerala...
Kerala will remain in his dream.
They are trying to appease the Christian community in Kerala with that dream in mind, but the Christian community cannot go with the BJP when all the Christian organisations in the country have approached the Supreme Court because of the violence against the community across the nation. And the case is pending in the court.
When they are the aggrieved party, how can they go after the BJP? They cannot.
In Kerala, the BJP had got 11%-12% votes in the last election. What does it mean? 90% of the Hindus are against the BJP.
The Hindu vote must be the base vote in other states for the BJP, but in Kerala, 90% of the Hindus are not with them. That is the difference between the other states and Kerala.
It means they can never make a space in Kerala.
So, the dream will never materialise.
Not only that, the BJP's vote percentage also will come down next time.
If it is 11%-12% now, they will not even reach the double digit percentage in 2024.
Feature Presentation: Rajesh Alva/Rediff.com