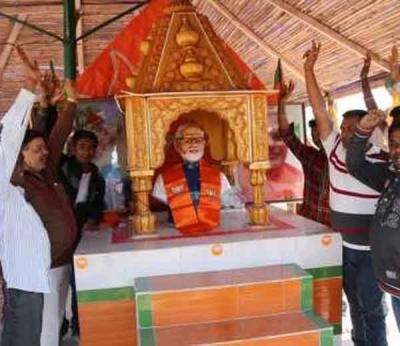 'Without destroying idol worship, you cannot destroy caste because idol worship keeps religious communities in its religious ideology. The RSS is a big promoter of idol worship.'
'They may have an OBC PM, but neither the RSS or the VHP talk about an OBC becoming a priest. The equation is: Business in Baniya hands. Religion in Brahmin hands. OBC votes for the BJP.'
Kancha Ilaiah is Professor and Director at the Centre for the Study of Social Exclusion and Inclusive Policy at the Maulana Azad National Urdu University in Hyderabad.
Dr Ilaiah, who is also a well known Dalit rights activist, has written several books: Why I am not a Hindu, God As Political Philosopher: Buddha's Challenge to Brahminism, A Hollow Shell, The State and Repressive Culture etc.
In the more than an hour-and-a-half long interview at the professor's office at the Maulana Azad National Urdu University, Dr Ilaiah, left, below, spoke to Shobha Warrier/Rediff.com about Narendra Modi, caste and religion.
Before the Lok Sabha elections, you had asked students belonging to the scheduled castes, scheduled tribes and other backward classes communities not to vote for Narendra Modi. Now that he is prime minister, how do you evaluate Modi's rule?
I feel the shifting of votes to the BJP (Bharatiya Janata Party) came from the OBC (Other Backward Classes) groups, because for the first time, the BJP put up a person from the OBC community as the prime ministerial candidate.
The RSS (Rashtriya Swayamsevak Sangh) and the VHP (Vishwa Hindu Parishad) also made this very clear at the ground level and Narendra Modi himself spoke of his background.
But after they came to power, it appears that his personality is split. His own caste background, Ghanchi, has slowly become a baniya-ised caste. We see a lot of family influence from the Jain-Baniya group in Gujarat.
After he came to power, he is trying to implement the Baniya-Brahmin system. Earlier, if a Brahmin were the prime minster, Baniyas would be the second rung leaders.
The Guptas were the first Baniyas who came to power. They brought in the Baniya economy into everything and employed Brahmins.
It became the Gupta golden age, but it was essentially a Baniya Raj. Scientific temper lost out during the Gupta period after they declared dead bodies as untouchables for the rulers. The study of anatomy began to crumble till the Muslim rulers came.
Narendra Modi's rule is more towards the Baniya hegemony.
Do you get such a feeling because he favours business expansion?
His 'Make in India' plan is to expand India's business community, which is dominated by the Baniyas.
It was the Muslim entrepreneur Azim Premji who first became a philanthropist in the IT era. The Tatas were philanthropists, but they were Parsis.
What kind of sociological impact will Baniya dominance have on Indian society?
What is the impact of Reliance on Indian society? How many people live in a 22-floor house like the elder Ambani? No industrialist in the US lives like that. Look at the way Bill Gates or Warren Buffet live? Reliance has no human angle in business. Buffet asked the government to tax him more, but would (Mukesh) Ambani or (Gautam) Adani ever say that?
When Modi was declared an OBC, I thought he was a Sudra OBC like us who ate meat, but the Gujarat system is different.
Still, is it not creditable that an OBC rose to become prime minister of the country?
It is. When I raised the slogan, Boycott him, it was based on the Hindutva and anti-Muslim, anti-Christian ideology of the BJP and not based on his community background.
One Modi becoming prime minister is like one Lakshmi or Saraswati won't make all women goddesses of wealth and knowledge. Similarly, because Indira Gandhi was prime minister, not all women in India got empowered.
Modi came at a time when you had an ineffective prime minister. All the OBCs felt the Congress didn't give them anything because the Congress was promoting Muslims, Dalits, etc.
When Modi was declared the PM candidate, they thought it was a new opportunity for them to come up and 5%, 6% of the OBCs went strongly with Modi.
What happened afterwards? There is no visible OBC leader who can address their issues in this government. How do the OBCs empower themselves in future?
If the central government pushes English education down into the villages, intellectuals also would rise from the OBCs, if not today, tomorrow.
You mean English is the key for a community to come up?
Yes, English is the only tool that can even up. I wrote sometime back that Saraswati has shifted base from Sanskrit to English and that she has become an English goddess.
The majority of Brahmins sent their children to English medium schools and not to Sanskrit schools.
English is the only tool to climb up the ladder, but now they want everyone in the Hindi belt to send their children to Hindi medium schools.
With the way the BJP is trying to impose Hindi, do you feel the party doesn't understand the idea of pluralism?
It doesn't understand pluralism. The party also thinks English is a Western language. There is a contradiction within the party too. That is why we see the book controversies, the language controversies, the syllabus controversies and the religious controversies.
Tell me, why do they feel Sanskrit is the oldest language in India? It is a simple common sense that Pali was older than Sanskrit, and it is Pali that had a world class university at Nalanda and not Sanskrit.
The masses never spoke in Sanskrit; only a few Brahmins spoke in Sanskrit. Even the Brahmins of India got connected to each other only when they spoke English.
Today, they are afraid of the OBCs and the Dalits getting connected like that. That is their problem with English.
During the elections, Narendra Modi did not speak about caste or religion; he said he had only one agenda and that was development. Has caste become a non-issue now?
Caste operates at two levels. The party wanted to come out of the Gujarat embargo and the caste equations in UP, Bihar, etc. They said development was their plan. But at the ground level, they hugely used caste for mobilising votes and the Brahmin-Baniya combination reworked. They roped in the OBCs and eliminated the Muslims.
The BJP always had a vote share of 24%, 25%, but the extra 5%, they got from the OBCs. They did not target Dalits as they knew Dalits were strongly struck with the Congress from 1970 onwards.
Development is one plank and caste is another plank.
OBCs alone can keep caste going. If OBCs also move away from Hinduism, Hinduism as a religion will collapse.
They may have an OBC PM, but neither the RSS or the VHP talk about an OBC becoming a priest.
So the equation is: Business is in Baniya hands. Religion is in Brahmin hands. OBC votes for the BJP.
What is the relevance of caste in an aspirational India?
Caste becomes relevant as it has come to the metropolis in various modes. In no capitalist country do you see idol worship happening, but in India, it is increasing.
Capitalism and capitalist mode of business destroyed idol worship. Idol worship and caste structures are connected.
I am re-examining Ambedkar's ideology. Without destroying idol worship, you cannot destroy caste because idol worship keeps religious communities in its religious ideology. The RSS is a big promoter of idol worship.
Caste will become irrelevant in India when idol worship and religion become irrelevant.
Is religion irrelevant today? No. Your children are more religious today than in Nehru's time.
When Gandhi spoke of Ram Rajya, Nehru spoke of rationalism and an a-religious State. Can any primer minister of today say he is an atheist?
What will happen to caste-based parties? In a state like Tamil Nadu, the vote share of caste-based parties is coming down.
With Mandal, aspirations of the OBCs went up. The Mandal phase gave them the hope of education, job, political power, etc. Regional parties came up based on that aspiration and they came to power in no time.
The Hindu Baniya-Brahmin party putting up Narendra Modi as the prime ministerial candidate and he becoming the prime minister has given hope to the OBCs. But we will have to wait and see what it does to them in the long run.
The days of religion not playing a role in politics is not over yet in India. Democracy and religion have inter relationships. Can India think of having a Muslim as a prime minister?
When Hinduism plays a crucial role in politics, you must remember there is no Hinduism without caste. If they try abolishing caste, and if the aspirations of the OBCs are not met, India will move slowly towards a civil war like it happened in America. Remember the civil war happened in America 100 years after it won Independence.
Caste debates have to be deepened and caste validity has to be abolished along with idol worship. Religion has to become more sophisticated and unilinear. The fact is there is no society as hypocritical as India in the world.
What will happen to a party like the BSP (Bahujan Samaj Party)?
The ideological ups and downs will happen to the BSP also. Mayavati is not an ideological leader like Kanshi Ram. Even in the case of the Congress, it did not produce an ideological prime minister after Nehru.
Nehru saw the intellectual strength in Ambedkar who was also a rationalist and an atheist till he became a Buddhist. The intellectual levels of Nehru and Ambedkar were equal.
Today, we don't have that kind of intellectual leaders. The Muslims or Dalits or OBCs will have to produce intellectual leaders in the coming days.
What kind of signals are you getting from the Modi government?
The larger signals are: Certain slogans like toilets, jan dhan, etc are happening at the ground level. They are not transformative, but health improving agenda.
Modi speaks of Buddha and Gandhi, but the RSS and the VHP speak of Ram Rajya.
If you look at the economy, Modi is stabilising Baniya business and Baniya production.
Development in the urban areas is happening, but if it doesn't include rural areas, there will be huge unrest. You can't expect NRIs to invest in agriculture when they have no clue about the Indian rural sector and agriculture.
Chandrababu Naidu did this earlier and the agrarian economy got shattered and created a crisis in the Indian economy. Narendra Modi, right from the beginning, is moving in that direction, neglecting agriculture completely.
Image: A temple dedicated to Narendra Modi in Gujarat. After the prime minister expressed his displeasure, the temple organisers decided to replace the Modi idol with a statue of Bharat Mata.