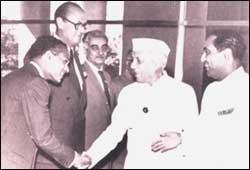 Dr P K Iyengar, former chairman, Atomic Energy Commission, was one of the main scientists behind the actual manufacture of the atomic device which put India on the nuclear map with Pokhran I on May 18, 1974.
Dr Iyengar worked at the Department of Atomic Energy for 40 years. In 1984 he was appointed director of the Bhabha Atomic Research Centre in Mumbai and in 1990 chairman of the Atomic Energy Commission.
Dr Iyengar has received a number of awards for his work, including the S S Bhatnagar Award and the Padma Bhushan.
He was among the scientists personally chosen and nurtured by Dr Homi J Bhabha, the father of India's nuclear programme (Dr Bhabha is seen in photograph above, at Jawaharlal Nehru's left) in 1952.
Dr Iyengar spoke to Deputy Managing Editor Ramananda Sengupta in an interview to mark Dr Bhabha's 40th death anniversary:
What is Dr Bhabha's legacy to India?
In retrospect, there is no parallel for what Dr Bhabha achieved in planning for science, in executing scientific projects and in recognising the importance of science and technology and in the development of the economics of this country.
He proved that within 30 years a new technology like atomic energy could be ushered into the Indian scenario with outstanding achievements.
India has proved it is in the forefront in all aspects of nuclear technology, from exploring natural resources, making value-added products and in demonstrating to the world that it can compete effectively in the frontiers of modern of science and technology.
The first Pokhran explosion made every Indian confident of his future in a world ridden with economic disparities and intellectual backwardness.
The great contribution of Dr Bhabha is in generating a team of scientists, technologists and administrators who could deal successfully with modern aspects of science and technology. The achievements in nuclear science and space technology is the greatest legacy he has left behind for the Indian population to pursue.
What are your personal recollections of Dr Bhabha?
My personal recollection (are from a trip) when I accompanied him to Canada and the US in 1957. He was so respected by the most advanced labs in the US for his wisdom and his contribution to science and recognized for his abilities to be in the forefront of science and technology.
At many of the places he visited he got such a good reception that it was easy to establish cooperation in nuclear science, which was rather unheard of in any developing country.
Personally his behaviour towards fellow scientists was so friendly and encouraging that they trusted him very much.
His leadership and his way of handling politicians and the bureaucracy impressed me and was the guiding role in my career at the Department of Atomic Energy.
Was Dr Bhabha keen on India becoming a Nuclear Weapons State?
Dr Bhabha had in his mind from the very beginning that India should become a Nuclear Weapons State. His emphasis on self-reliance is essentially due to the fact he wanted India to be a nuclear weapons country.
What about his relationship with J R D Tata?
The Tatas always encouraged Dr Bhabha, and helped him in every way that they could.
Given his stress on self reliance, would Dr Bhabha have been happy with the nuclear deal we are negotiating with the US?
In my view, had Dr Bhabha been alive, we would not have been in this position (to begin with). With respect to India-US relations, he was always for an independent way of thinking and acting, commanding equal respect from the partner.
If you look at the agreement with Canada (Canada sold and installed for India two heavy water reactors in Rajasthan as well as a small Cirus research reactor at BARC, Mumbai. The plutonium for India's first peaceful nuclear explosion in Pokhran in 1974, it is believed, came from Cirus), it was on equal terms even though the Canadians were much more advanced than India at that time.
Even in the Cirus programme, he took strong measures for equal participation, for example by agreeing to provide half the fuel charge of the Cirus reactor from India, which was a very great challenge to the technologists of this country.
His negotiations with France established a very quick and strong association in atomic energy with that country.
In short, I don't think we would have been in this position if he was alive today.
'In the canon of Indian science it is blasphemy to criticise Bhabha or to question the wisdom of Nehru in giving Bhabha a free hand during a crucial period. Yet the legacy of that period, especially the cult of personality it encouraged, weighs heavily on Indian scientific endeavor to this day,' once wrote Dhirendra Sharma in the Bulletin of Atomic Scientists.
He was more Indian than any Indian I have ever seen, confident of Indian culture, and the Indian spirit.
There is no doubt that other scientists from different areas and specialisations were a little jealous of the position he held, and the respect he commanded from Nehru.
Nehru in turn, trusted Bhabha because Bhabha inherited his perceptions from the scientific world of Western countries, which Nehru believed was necessary for the India scientific community to progress.
There was a very good understanding between the two which our people did not understand or appreciate at that time.
Photograph courtesy: Homi J Bhabha: Architect of Nuclear India by Dilip M Salvi, Rupa & Co.