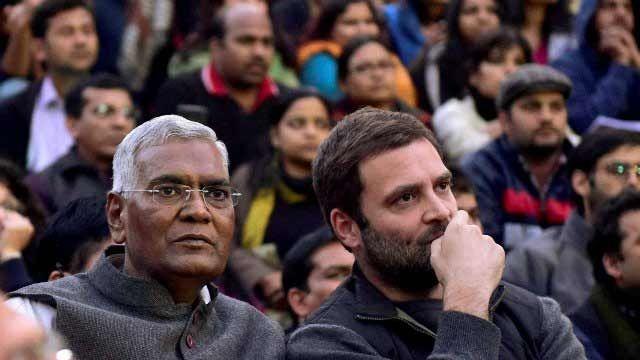 >
IMAGE: Communist Party of India National Secretary D Raja with Congress Vice-President Rahul Gandhi at JNU, February 13, 2016. Photograph: PTI

'Is the agenda of the RSS according to the Constitution of India? They talk of Hindu Raj, Hindutva. Is this Constitutional?'
'Nobody can question the nationalism and patriotism of the AISF. If at all, somebody has to question, then it has to question the nationalism and patriotism of the ABVP.'
'Modi is head of the government. Why is he not speaking a word on JNU?'
Doraiswamy Raja, the national secretary of the Communist Party of India and a Rajya Sabha member, says the Jawaharlal National University is being targeted by the Bharatiya Janata Party and the Rashtriya Swayamsevak Sangh because the BJP and RSS want to make JNU a laboratory for Hindutva politics.
BJP MP Mahesh Giri released a video on Twitter alleging that Raja's daughter Aparajita -- who is the president of the CPI-linked All India Students Federation -- was present with JNU protestors and raised anti-India slogans. Nowhere in the video is Aparajita Raja seen spouting anti-India slogans.
D Raja spoke to Syed Firdaus Ashraf/Rediff.com about the JNU controversy.
How do you see the JNU controversy?
The RSS and BJP are targeting JNU because they feel JNU is a hurdle to their agenda.
After all, JNU is one the best universities in the world and the country. It is known for its intellectual and academic courses. It is known for expression of new ideas and thoughts.
They think JNU is not in accordance with their Hindutva agenda and that is why the RSS is trying to make JNU their laboratory.
Do you think they are targeting JNU because it is a leftist university?
Why do you brand it leftist?
It is a university which believes in ideas and believes in academic excellence.
It believes in scientific ideas and if it is Leftist, what is the problem? Is it a crime?
Anybody can have Marxist ideas. If you have other ideas you speak out. There can be a battle of ideas, but not in this way.
But the students were shouting anti-India slogans.
That is a different thing. Who was shouting? Was the entire JNU shouting anti-India slogans? Did you hear that?
No not everyone, but...
Hindutva is Constitutional or what? ABVP (the Akhil Bharatiya Vidyarthi Parishad, the BJP's student wing) students are studying there and they have a union there.
If somebody has shouted anti-national slogan, then it is condemnable.
But for that, can you brand the whole university as a centre of anti-national, anti-Constitutional activities?
If that is so, I will ask is the agenda of the RSS according to the Constitution of India? They talk of Hindu Raj, Hindutva. Is this Constitutional? That is anti-Constitutional.
That way, the ABVP and RSS should be accused of anti-Constitutional procedures for speaking about Hindu Rashtra and Hindutva.
What about the sedition charges filed against JNU students?
It was too irrational. That is where the politics lies. They want to target the best organisation.
People should know that the All India Students Federation was formed in 1936 in Lucknow. Its foundation was addressed by Pandit Jawaharlal Nehru.
I quoted all these things to Home Minister Rajnath Singh, who is a Member of Parliament from Lucknow. It was in the forefront of our freedom movement.
Try to see history. Nobody can question the nationalism and patriotism of the AISF.
If at all somebody has to question, then it has to question the nationalism and patriotism of the ABVP.
The AISF was making supreme sacrifices for the independence of the country. Where was the ABVP?
Is the JNU episode creating a fear psychosis in the country?
Yes, there is a fear psychosis all over the country. They are creating an atmosphere of terror.
We are a democracy, we are not under a dictator. People should understand that they (the Narendra Modi government) is creating a fear psychosis.
Who are they to decide what one must eat and what one must not eat?
What people should believe in or what they should not believe in? This should not go unchallenged.
What must Modi do in this situation?
Modi is head of the government. He should speak out. Why is he not speaking a word on JNU?
When Rohith Vemula committed suicide, he said, 'I understand a mother's pain' and here what do you understand?
The prime minister should speak out whether he approves of what the Delhi police is doing and what his home minister is doing.
How do you see the ABVP on campuses?
Everywhere, they are creating trouble. Outside JNU too, they have created (trouble). They did it in Hyderabad too.