'Media reports have highlighted that hawala money is coming from Arab countries. And this money is used to create disturbances in Jammu and Kashmir.'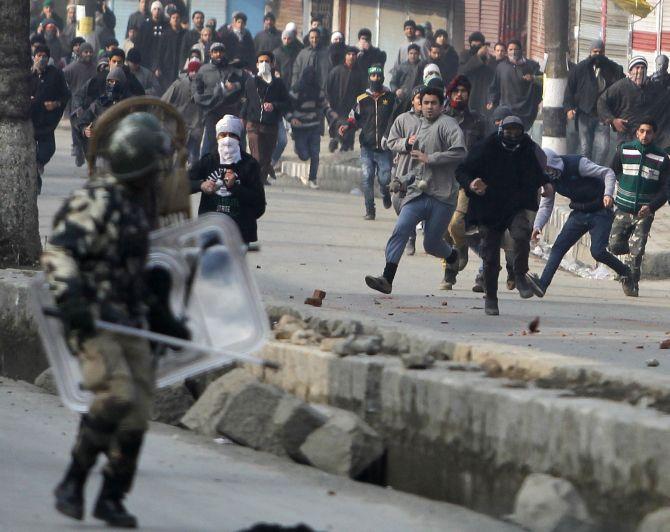 IMAGE: Separatists pelt stones at the security forces in Srinagar in Kashmir. Photograph: Reuters
Virender Gupta is a spokesperson for the Bharatiya Janata Party's Jammu and Kashmir unit.
Gupta has cautioned the Jammu and Kashmir government about hawala money being sent into Kashmir from the Gulf countries, which he says is being used to spread terrorism in the valley.
Syed Firdaus Ashraf/Rediff.com quizzed Gupta about hawala, Kashmiryat, and why many Kashmiri youngsters have become separatists.
On what basis are you saying that hawala money is coming from the Gulf into Jammu and Kashmir?
Media reports have highlighted in detail that hawala money is coming from Arab countries. The government knows about it.
This money is going to the madrasas, funding seminars and conferences for these people (Kashmiri separatists).
Some people were caught doing hawala transactions in the Poonch and Uri sectors (near the border with Pakistan).
When goods are exchanged (with Pakistan), the people who are underground get payment though hawala.
So the money is reaching them through these means. There are intelligence reports on this issue.
Who drafted this report?
The newspapers published this in Jammu and Kashmir and so did the national newspapers. I was commenting on the basis of those reports.
What business do you believe goes on in Uri and Poonch?
The goods from India are exchanged with Pakistan. There are two roads open from the Indian side. One is from the Poonch sector and one is from the Uri sector.
The business community (in India and Pakistan) exchange goods. There was news earlier too that whatever transaction takes place, it is through hawala.
This money is used to create disturbances in (Jammu and Kashmir).
Your statement says Rs 6 crore (Rs 60 million) is sent to Kashmir every year through hawala.
Yes, that can be true. When there is a camp and people are motivated, then money must be coming in.
How have things changed on the ground due to this hawala money?
On the ground I don't know what impact is happening. The intelligence report said many mosques are being built and they are preaching terrorism using this (hawala money).
At the local level terrorists are being trained. There is a general observation that youth are getting engaged in these (terrorist) activities.
You must have read that these days when a terrorist is cornered, local people come out of their homes and throw stones at the army.
The security forces have to tackle two forces -- the mob that shelters the terrorists, and the terrorists. This is what is happening on the ground level.
Now they (the security forces) have decided that wherever there are terrorists, the police and paramilitary forces will cordon off a three kilometre area so that people will not come out of their homes.
JKLF (Jammu and Kashmir Liberation Front) Chairman Yasin Malik was detained earlier in a hawala case. Why has the hawala issue not been solved yet?
(Yasin Malik) is an old issue. Hawala money is being transferred through different sources also within the country to Jammu and Kashmir.
It was also reported that hawala money was also being sent to the state from Nepal.
I feel effective steps are not being taken at the state level. Though the BJP is a ruling partner in J&K, the home department is with the Peoples Democratic Party.
The Centre does send forces regularly, but here at the ground level local people have to work. Therefore, the problem persists.
What is the BJP's stance at the local level? What action is your party taking?
The BJP is not doing anything. It is the job of the security agencies. The Centre intervenes (as and when required).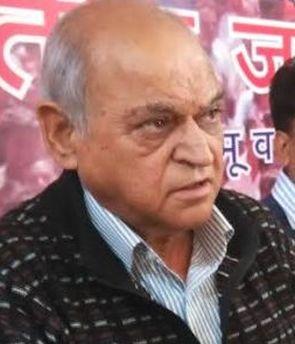 IMAGE: Virender Gupta, spokesperson, Jammu and Kashmir BJP.
You also said hawala money brainwashes young people in Kashmir against India. How?
I have said what has already appeared in the newspapers. There are mosques that have come up and there are preachers from other places.
Islam has a second version which is of the Taliban and jihad. This kind of propaganda is going on and people are being trained. These things happen at other places in the country too.
They encourage students and youths to join them.
You are saying the second version of Islam is in Kashmir, so does it mean that Salafist Islam and Wahabbi Islam are destroying Kashmiriyat and the Sufi culture of Islam?
Sufi Islam was not there, it was just made up. Right from the very beginning, and I am not telling you this as the BJP spokesperson, I am telling you the reality.
Right from the very beginning of J&K's secession demand, there was continuous migration of Kashmiri Pandits, Dogras and Punjabis. Some people shifted because of jobs. This process was going on.
This cricket match incident (at the National Institute of Technology campus in Srinagar) happened now, but it is not new.
When Pakistan used to win, these things used to happen in engineering colleges regularly (in Kashmir). In 1986 when Kapil Dev had come here there was a cricket match and people had hoisted the Pakistani flag. These things have been happening for very long.
What about the Sufi culture of Kashmir?
There used to be Hindu maharajas in Kashmir. Mostly people were Hindus. Even when the Muslims came, the Hindus were in large numbers.
If Sufism was there, why would there be conversion in Kashmir?
It is only now that they talk of Kashmiriyat and say it was mini-Hindustan.
I have always believed that Sufism and Kashmiriyat were central to Kashmir.
It was only a little bit. There are one or two dargahs in Kashmir, but they were not in prominence. If someone says it was in prominence, then it is wrong.
I always thought Salafist and Wahabbi Islam finished off Kashmiriyat.
Who believes these Sufis? All these conversions took place and migration took place, so where was Sufism? We say there is secularism in Kashmir. Where is secularism in Kashmir?
They have always taken the name of Islam. On Friday prayer processions are taken in large numbers. There are Pakistani flags as well as IS (Islamic State) flags being waved.
What Sufism are you talking about? What tolerance are you talking about? This is wrong propaganda being spread.
During the time of Sheikh Abdullah there must have been some form of Kashmiriyat.
Which Kashmiriyat? Sheikh Abdullah was a leader of the Muslim community. At that time the landlords were Kashmiri Pandits and Dogras and he started a movement against them. He distributed the properties of Rajputs and Kashmiri Pandits.
Are you saying that Sheikh Abdullah did not believe in Kashmiriyat?
This Kashmiriyat slogan started after 1990. Where was Kashmiriyat earlier?
Why are Kashmiri youngsters supporting separatists and IS? Where has India failed?
We are failing because we are adopting a soft policy on these (Kashmiri) people. The policies that were adopted in Punjab, it was not adopted here.
You will find bureaucrats and college professors supporting (the separatists). If you talk to them alone, they will support the separatists.
In Punjab, Sikhs fought (militancy).
Sir, you are saying all this on record as the BJP spokesperson.
I am not saying all these things as the BJP spokesperson.
Any BJP man, if you talk internally, will also say these things. Before this alliance (with the PDP in Jammu and Kashmir) the BJP too has been saying the things which I am saying now.