'Look at the number of billionaires, the number of new billionaires in India.'
'Adani and Ambani are not the only ones.'
'What's wrong with people making money as long as it benefits us?'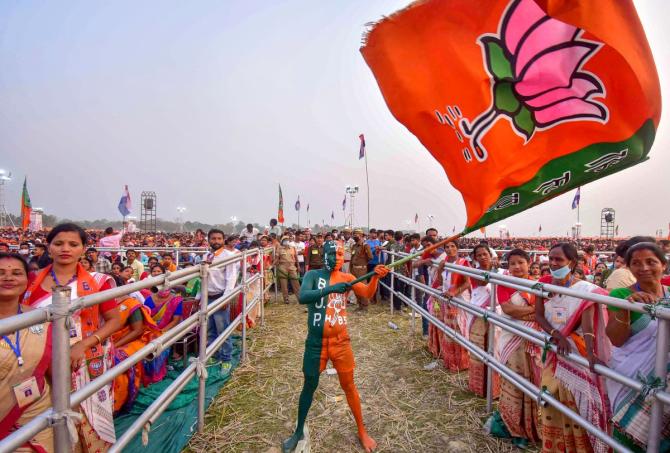 "No, I am not the first chief economic adviser to enter politics. Dr Manmohan Singh did it before me. And I think Ashok Mitra*, too, if I am not mistaken."
Dr Ashok Lahiri (pictured below) is polite to a fault and there is no hint of disparagement at the pre-interview research.
So, let's begin again.
Dr Ashok Lahiri is the Bhartiya Janata Party's candidate from the Balurghat assembly constituency in North Bengal's Dakshin Dinajpur district. This is his first foray into politics.
He is the party's urbane, moderate, academic face, who the party hopes will attract the fence-sitters in Bengal, tired of 10 years of Trinamool Congress rule but averse to Hindutva politics in a state that does not vote on identity or caste politics.
Dr Lahiri has been the chief economic adviser to the Government of India; a reader at the Delhi School of Economics; chairman of the Bandhan Bank; executive director at the Asian Development Bank and director of the National Institute of Public Finance and Policy. He has also had stints with the World Bank and the International Monetary Fund. He was also part of the 15th Finance Commission.
Dr Lahiri has been an advocate of better partnership between the three levels of governments -- Union, state and local -- and efficacy at the grassroots, in the spirit of cooperative federalism.
He is also being touted as West Bengal's next finance minister if the BJP indeed forms government.
Dr Lahiri has said that he wants to focus on three areas in the state -- education, health and infrastructure.
Speaking to Swarupa Dutt/Rediff.com from his constituency, Balurghat, Dr Lahiri holds forth more as economist than politician and explains why he finds currency with Narendra Modi' economic policies.
Why the BJP?
For two reasons. First, I am an economist and I see a lot of synchronicity between the BJP's economic policies and mine.
Second, the BJP nominated me when no other party did (laughs). So, I accepted it.
So then, would you agree with the Modi government's demonetisation debacle and a badly implemented GST?
That's a thing of the past.
But it was instrumental in ushering in a flailing economy since 2016 especially since India was doing reasonably well prior to that?
I think you are drawing too much of a link between the two. There have been some side effects which have not been conclusively proved.
But we have reasons to believe that it did contribute to an increase in tax reporting and a consciousness about the need for curbing corruption.
But didn't these come at a huge cost?
Nothing is free. We are looking at it prospectively, not retrospectively.
The opinion is that while Modi was not expected to know whether demonetisation would work, he should have given an ear to his then CEA Arvind Subramanian and the then Reserve Bank of India governor Raghuram Rajan, who resigned before the debacle. But he did not.
Do you want to do a post-mortem of demonetisation? Look, PM Modi's economic policies, Modinomics as you call it, is not just demonetisation. Modinomics is much more than that.
For example, GST was speeded up during Modi's regime, foreign direct investment was liberalised, there is considerable improvement in tax administration with Direct Benefit Transfer, there is ease of doing business, there is emphasis on investment.
There is also lot of emphasis on fiscal consolidation, not now maybe, but as soon as possible, after the pandemic.
The Atmanirbhar Abhiyan, the goal of a self-reliant India, for instance had flaws even before the pandemic.
Small and medium-sized enterprises, Micro, Small and Medium Enterprises do not have the experience or resources to use bank finance. Real stimulus is possible only if credit flow is discernible.
Would you agree with economists and the Opposition that many of this government's schemes are inherently flawed and that Modi's team simply does not have the expertise to get the economy up and running?
Which party has that? Tell me the alternative?
Every country is struggling with the pandemic and the recession. India is not alone.
The green shoots of the economy that we were talking about is visible. The January Index of Industrial Production was a bit of a disappointment, but still it will be too premature to pass a judgement on the way the pandemic has been handled and the economic fallouts.
It is very easy to say, spend more money. But you have to think about not only tomorrow, but also day after.
Of course, when you do the post-mortem you will always find ways in which it could have been done better. There is no doubt about that. No matter what you do, with the benefit of hindsight you can find things which you could have been done better.
But I have not seen anyone suggesting anything apart from opening the hose pipe and dropping helicopter money. (Helicopter money is a proposed unconventional monetary policy, sometimes suggested as an alternative to quantitative easing when the economy is in a liquidity trap).
You have worked with two prime ministers -- Atal Bihari Vajpayee and Dr Manmohan Singh. How do they compare as bosses?
I have worked with five prime ministers. P V Narasimha Rao to begin with, H D Deve Gowda, Inder Kumar Gujral, Mr Vajpayee and with Dr Manmohan Singh.
You are asking for my autobiography (laughs). It is still too early.
Indian prime ministers are a talented lot. I can tell you the strong points that each of the five PMs I worked with had. You don't become a PM of 1.3 billion people for nothing.
But apart from Dr Manmohan Singh and Mr Modi, none of them secured a second term. So we must give something to these two men. Beyond that I don't want to say anything.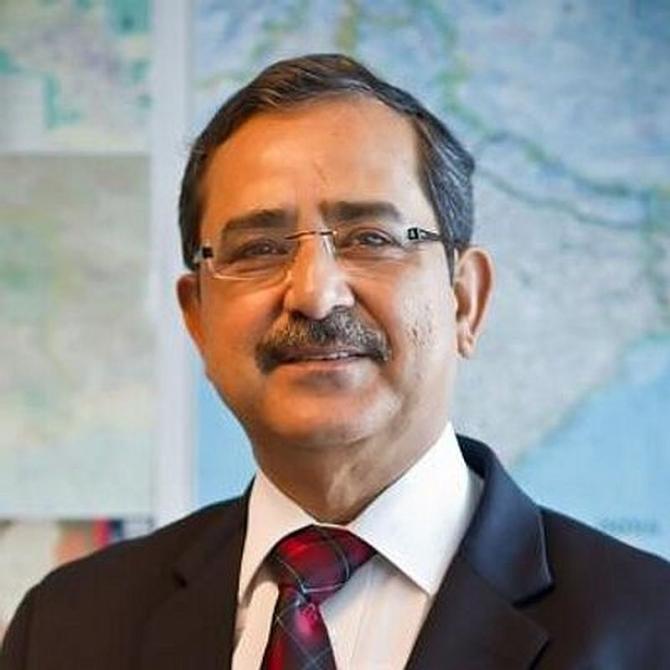 BJP Bengal president Dilip Ghosh has promised to usher in the Gujarat model in West Bengal. Is the Gujarat model a myth as several economists have suggested?
There is no doubt about the fact that Gujarat is one of the fastest growing economies. But it is also true that they could have done better on social indicators.
As I told you, that if you look at any policy package there are always things that could be done better.
Gujarat shouldn't be thrown away either.
There are always things that we can learn like how to attract investment, how to promote per capita income because if you don't increase your gross state domestic product there is nothing to distribute.
If you look at the fiscal position of Gujarat, the per capital GSDP of Gujarat is one of the best.
Bengal has a lot to learn from Gujarat.
Does it need to follow everything blindly? No.
You have been outside the state since the Naxalite movement of the 1970s. In that sense you are an outsider. Do you find a connect to the state?
See, this outsider-insider debate is a perverse debate. There are 1.8 crore (18 million) Bengalis outside Bengal. Many of the top Bengali intellectuals including two living Nobel Laureates (Amartya Sen and Abhijit Banerjee) right now are outsiders in that sense.
Some of the best men of literature -- Atul Prasad Sen (composer, lyricist, singer), Banaphul (novelist) and Saradindu Bandopadhyay (writer) -- were operating from outside Bengal. I've never seen this debate outside of Bengal.
I mean, Bengal belongs to India and India belongs to Bengal. I can't think of Bengal without India and India without Bengal. So what is this? I don't understand at all.
I've always maintained my house here in Kolkata and I come here regularly. During the duration of the Finance Commission, I couldn't come here because I was busy and then the pandemic happened.
I take serious exception to the charge that I am an outsider. To me an outsider debate doesn't mean anything. If Netaji Subhas Chandra Bose went to Gujarat would you have said he was an outsider or if Mahatma Gandhi came to Bengal?
It is a perverse and subversive debate.
Have you begun your rallies in Balurghat and how will you go about your campaign?
No rallies yet, but I am in Balurghat right now. The BJP is a cadre-based party. Fortunately, I will have the benefit of the cadre with the district president, the general secretary, the mandal karyakartas as they call them. So they will hold my hand and show me the way forward.
Do candidates make a difference in Bengal? The BJP doesn't yet have a CM candidate. In effect the people will be voting for Modi, isn't it?
I don't have an answer to that. As you know votes are not cast on a single issue. People decide on a vector of things when they vote.
The Modi wave is definitely important. The fact that Mr Modi makes a difference is indisputable.
I hope party candidates also matter (laughs), otherwise I won't feel good that I can't make any difference.
You are touted to be the finance minister of West Bengal if the BJP wins.
I don't want to comment on this. It's not up to me; it's for the party to decide who wins. But yes, I will definitely give my economic inputs to this state.
How do you weigh in on the Congress party's statement that the Modi-Shah government has only been looking after the interests of Adani and Ambani?
Rubbish. All rubbish. Look at the number of billionaires, the number of new billionaires in India.
Adani and Ambani are not the only ones.
It is almost a Stalinist view. What's wrong with people making money as long as it benefits us? It is an unsubstantiated allegation which is just a political slogan.
Considering that Mamata Banerjee has inherited a state laid waste by the Left Front government for 34 years, has she done a good job?
(Sighs) Well, better than the Left, but leaves much to be desired.
The manifestos of all the parties in the Bengal election have promised sops, handouts. Is an economy based on subsidies the way forward?
That's a very difficult question. You have to judge the people's mood and everyone says India has reached the stage where you cannot ignore the socially depressed sections. So some welfare measures are needed.
The question is, are they targeted? And I think if you look at the Sankalp Patro of the BJP it is quite targeted. That is where the difference is, it is not universal.
*Dr Ashok Mitra was finance minister in Jyoti Basu's Left Front government, from 1977 to 1987.