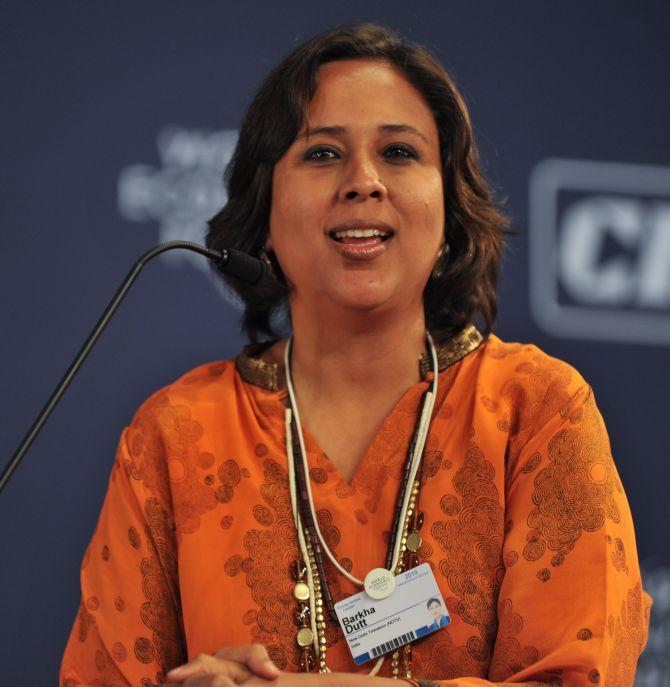 One of Indian TV's most famous faces tells Kanika Datta why and how she hopes to reinvent herself in the uncharted territories of multimedia and think tanks
The first thing Barkha Dutt wants to clarify is that she's not signing off from NDTV, her professional alma mater of 20 years. Not yet, anyway, though she frankly admits she couldn't say if things will change five years from now. That future hinges on how well she is able to reinvent herself as an entrepreneur in the brave new worlds of multimedia and think tanks.
"I am trying to push the envelope in the non-TV space," explains Dutt, till recently NDTV Group Editor and one of Indian television's most famous faces, with a legion of fans and detractors in almost equal numbers.
To do this, she has reworked her contract with NDTV so that she is now consulting editor who will continue to anchor The Buck Stops Here on weeknights and We, The People on weekends and be available for big news breaks. This not-undemanding schedule is expected to free her to pursue business plans she's preparing with friends and associates.
There is much to be finalised still but the outlines of Barkha 2.0 have started emerging. Neither venture will require her to stray far from her core competence as a seasoned TV journalist with enviable contacts. For instance, the multi-media content company will have a certain amount of content from NDTV but the basic business plan is to offer content for diverse multimedia platforms that will be packaged in unique and different ways.
How different, especially when the digital space grows more crowded by the day?
From talks with six or seven friends who will be joining her in this venture, the broad idea that has emerged is to bring together a small group of people from diverse backgrounds to curate and create original content.
"We essentially see ourselves as a digital studio," she says. Since the big idea is to create distinctive and eclectic conversations, the creators/curators will come from entertainment, the arts, politics, diplomacy, specialists in food writing and so on, rather than journalists who, she points out, can sometimes have a rather jaded view of things.
The focus is on the exploding world of digital news and entertainment, but one unexpected and somewhat serendipitous part of these plans is a possible radio show. That opportunity emerged when the news of her change of role at NDTV went viral and a radio channel head called -- she's not saying who because discussions are still very preliminary -- suggesting she consider doing a radio show.
"This was not part of the plan but I did study radio production at Jamia Millia so I thought, why not," she laughs.
The registration of the multimedia company and talks with a private equity/venture capital investors are on, so Dutt is reluctant to offer many more details.
"I will probably have more to say in April or so," she says apologetically but confirms that the investor is Indian. Asked about revenues and breakeven, she candidly admits she's not entirely clear how these ideas can be monetised and, in any case, those are not her areas of expertise.
"I've left that to others to figure out but my own motives are creative rather than commercial," she says.
Indeed, she is quick to clarify that she's not aiming to become a mogul with these new ventures.
"We're not going to be some digital media empire owning platforms and so on; we're going to create great content. An incremental approach is a better revenue model because it means we won't need that much money."
True to her word, the Delhi office of the new ventures is slated to be the empty basement of her tastefully decorated Greater Kailash ground floor home; in Mumbai, the search is on for office space.
In any case, she points out, no one can really predict if and when the money will roll in since the digital information business is still a relatively new concept in India and companies are yet to make money from it.
Her company, however, will start with a revenue stream from her contract with NDTV and, if discussions work out, from the radio show.
The obvious issue of conflict of interest has also been addressed in the contract: content she creates for her company has to be "distinct" from what she produces for NDTV. How distinct? "A lot of this is still exploratory," she demurs, adding that she's exploring a range of ideas and is ready to chart new territory -- "look at Amazon, for instance; it started out as an e-commerce company and is now into a streaming video service," she points out.
The second element of her career outside NDTV has crystallised a little more in the form of a think tank called Ideas Collective.
"This has nothing to do with the mass media but will be a high-calibre multi-disciplinary policy group with experts from education defence, diplomacy, human resources and so on," she explains.
IC will kick off in December 2015/ January 2016 with a series of annual summits titled IF, which stands for Ideas for the Future. The objective is to create "futuristic conversations" on eight or 10 subjects -- such as, what will happen if gay rights are decriminalised in India or, say, low-cost air fares become cheaper than first-class rail fares. "So it will be IF dot, dot, dot, not IF with a question mark," she clarifies. The Aspen Institute and former Daily Beast editor Tina Brown's Women in the World annual summit are models she's examined.
The revenue stream here appears to be clearer: IC will be a not-for-profit outfit, with a group of donors (rather on the Brookings India line) and conference costs covered by sponsorships. It is, however, very much part of the broad idea of creating "live conversations" that informs the multimedia foray and there will some amount of overlap between the two.
This low-key career shift appears almost at odds with someone who has often been a headline maker and celebrity in her own right. Her reporting stint during the Kargil conflict between May and July 1999 catapulted her to national fame and became the inspiration for a film starring actor Preity Zinta.
More recently, she was in the eye of a national controversy involving Niira Radia, a corporate lobbyist. Even today, however, people queue up to ask for her autograph or have photographs taken with her.
The Indian diaspora forms a particularly adoring fan base; in India, no two members of the chatterati can agree on her talent, which makes her a frequent topic of drawing room conversation.
But Dutt, who is far more understated off-screen than her forceful on-screen persona suggests, does not appear to have experienced the equivalent of a Pauline epiphany with this decision. On the contrary, she says, this is something she's been mulling for about two years.
"I've done this (job at NDTV) for 20 years and I got the feeling that I had peaked. So I thought if I had to reinvent myself, it had to be now," she says. Initially, she thought of making the change after the 2014 elections and approached some friends with ideas -- naturally, they didn't believe her at first.
Now, as Dutt, 43, opts for a brand extension, so to speak, of her career, much of her success will also depend on her own self-belief.