'An army general is not supposed to speak on political issues.'
'He should be keeping away from politics.'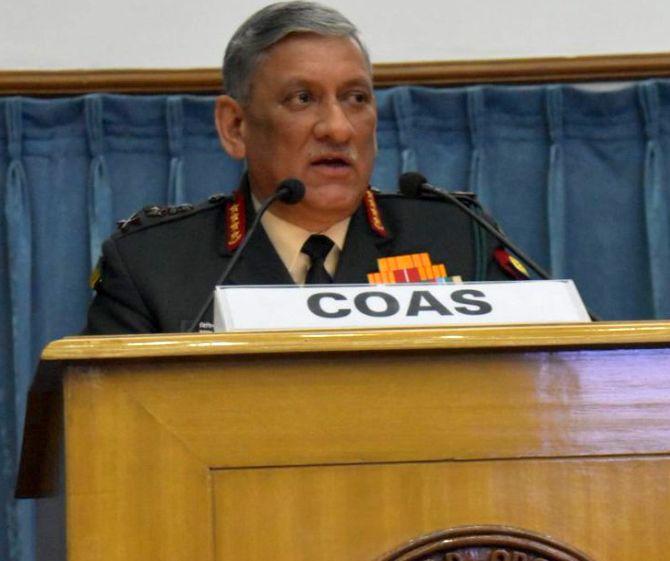 Army chief General Bipin Rawat's comments about the rise of the All India United Democratic Front, which champions the cause of Muslims in Assam, have stirred a controversy.
At a seminar on the north east on Wednesday, February 21, General Rawat spoke of 'planned immigration, which is taking place because of our western neighbour. They will always try and ensure that this area is taken over.'
'It is the proxy dimension of warfare. This proxy game is being played very well by our western neighbour, supported also by our northern neighbour,' the Indian Express quoted General Rawat as saying.
'There is a party called AIUDF, if you look... they have grown in a faster time-frame than the BJP has grown over the years. When we talk of Jan Sangh with two members of Parliament and where they have reached, AIUDF is moving at a faster pace in the state of Assam,' the general added.
'Finally, what will be the state of Assam, we will have to take a call,' the army chief went on to say.
Even as his remarks drew widespread attention, the Indian Army was quick to counter suggestions that General Rawat had made political remarks.
'There is nothing political or religious in the talk. Army Chief just mentioned amalgamation and development in the seminar on North-East organised at DRDO Bhawan on 21 February,' ANI quoted the army as saying.
"This is a political statement which is not good as it is coming from the army chief," AIUDF President M Badruddin Ajmal tells Rediff.com's Syed Firdaus Ashraf.
What is your reaction to the army chief's statement about your party?
It is a sad part for our country. An army general is not supposed to speak on political issues. He should be keeping away from politics.
But the army chief is talking like a politician. It is sad.
Politicians bring people into the mainstream and tell them to give up the gun and fight their issues politically rather than talking through the bullet.
We politicians tell people that things should be sorted out through the ballot, not the bullet.
Our party is secular and till this date nobody has dared to raise a question on our credentials. Unfortunately, this allegation has come now.
(Ajmal then quotes the Urdu poet Mir Taqi Mir):
Pattā pattā buuTā buuTā haal hamārā jaane hai
Jaane na jaane gul hī na jaane baaġh to saarā jaane hai
(Every plant, every petal is aware of how I feel.
Though the beloved is ignorant, the entire garden knows).
Muslims have sacrificed their lives for India and they have never betrayed their country.
I once again repeat, that it is sad that an army general is talking like this. He is talking for a political party.
Which party?
I do not want to take the name of any party.
But this is a political statement which is not good as it is coming from the army chief.
The army chief mentioned that there is a 'planned immigration' of illegal Bangladeshis...
Muslims came to Assam in the 12th century. Our party has been in existence for the last 11 years only.
What is the connection?
The Bharatiya Janata Party had only two seats (in 1984) and now they are in power. Will the army chief say the same thing for the BJP?
One more point is that our party got 18 MLAs in 2011 and now we have come down to 13 MLAs in 2016 due to the rise of the BJP, and this proves that there is the normal process of election.
Sometimes you win, sometimes you lose. This happens everywhere in elections.
Is the population of Muslims increasing in Assam and the number of Hindus decreasing correspondingly because of this influx?
It is the job of the government to look into this.
They have to look into this matter if the demography of the state is changing.
The biggest issue in Assam is about NRC (the National Register of Citizens). It is a very sensitive matter.
They went and searched every (Muslim) home and Alhamdulilhah (Allah be praised), not a single incident of violence was reported.
This means the people of Assam want peace.
Why are they being instigated?
This creates the wrong impression in people's minds.
The army chief must talk about peace.
Now, the Supreme Court has given a deadline (for the publication of the final National Register of Citizens). We have welcomed this step.
We want to wipe this mark from our foreheads that we are Bangladeshis.
And after this (the publication of the NRC), the people who are staying in Assam must not be abused by stating that they are Bangladeshis.
But there is a perception that many Bangladeshi Muslims live in Assam.
If you are saying this, then you must say it with some proof.
I am not saying yes or even no to whether there are Bangladeshis in Assam or not. That is the job of the government.
Why are they sitting in power? Why are the army men guarding borders then?
Rumours are being spread that 40 lakh Bangladeshis have come into Assam, which is not right.
By saying such things you want to say that Muslims were never a part of Assam.
But the fear is for real. There have been cases of counterfeit currency found and bomb blasts for which the link has been established to Bangladesh in some cases.
If infiltration is happening, then whose job is it (to stop it)?
It is not the job of citizens. It is the job of people who are in power to see that infiltration does not take place.
I am saying that those who are crossing the border illegally, kill them, but till date they have not killed a single person on the border for crossing over illegally (into India).
(Then prime minister) Rajiv Gandhi signed an accord with the people of Assam that anyone who came after the cutoff date of 1971 will be declared as an illegal immigrant and anyone who came before 1971 to Assam is an Indian citizen.
If the government finds anyone came to Assam after 1971, send them back (to Bangladesh).
How did the population of Muslims increase so drastically in Assam?
This is the job of the government and therefore they are making the NRC.
The Supreme Court of India is monitoring this and we have welcomed this move.
But in the name of Bangladeshis you cannot catch hold of the citizens of India and put them in jail or in a detention camp.
Prove it and do it legally.
And if you find Bangladeshis, then send them back. We are supporting you.
People call your party the champion of Muslims in Assam.
The AIUDF is a secular party.
Out of 18 MLAs in 2011, there were two Hindus.
Out of 10 MLAs in 2006 there were two Hindus, and even in the 2016 assembly elections out of 13 MLAs there are two Hindus.
We also have one MP who is a Hindu (Radheshyam Biswas from the Karimganj constituency in Assam)) out of our three.
It means we are a secular party.
If we were not a secular party, Hindus would not have voted for us.