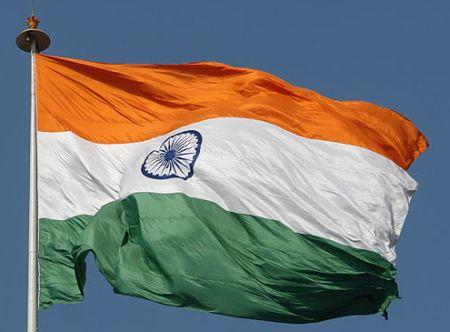 'The situation is normal now. The Kashmiri Pandits should come back.'
Eshfaq-ur-Rehman Poswal is a Bharatiya Janata Party leader from Jammu and Kashmir. A prominent Gujjar leader, he is a national executive member of the BJP's Scheduled Tribes morcha.
Poswal recently met BJP President Amit Shah and asked for permission to hoist the national flag at Lal Chowk, Srinagar on August 15.
Poswal explained his plans to A Ganesh Nadar/Rediff.com
Why do you want to hoist the national flag at Lal Chowk in Srinagar on Independence Day?
Since the formation of our coalition government in J&K we want to curb anti-national activities. We want to show the BJP presence in the state. We want to keep our agenda alive which was given to us by (founder of the BJP's parent, the Jana Sangh) Dr Syama Prasad Mukherjee.
On Independence Day don't officials in the state, schools and colleges hoist the national flag every year?
They all do, but I want to do it at Lal Chowk.
How will it make a difference?
If anti-nationals can show other flags at Lal Chowk, I want to hoist the national flag.
There are reports that the prime minister is going to announce a Rs 70,000 crore (Rs 700 billion) package for Jammu and Kashmir. Why are you asking for a special package for the Gujjar and Bakkerwal communities?
All packages announced are used by bureaucrats and politicians for their favourite areas. Rural areas always suffer. These communities are always ignored. I have been asking for a tribal minister in the state since 2007.
Now there is a tribal minister, but it has not helped. We want equal share according to our population.
How is the Peoples Democratic Party-BJP government doing in Jammu and Kashmir?
I just met Union Tourism Minister Mahesh Sharma and asked him to develop some Hindu areas. He said, 'Muftisaab (J&K Chief Minister Mufti Mohammad Sayeed) will do it.' Let us see what happens.
What more do you think should the BJP do in Jammu and Kashmir?
We can do a lot. Lots of work needs to be done. Industries have to be developed. Only then will the Kashmir problem be solved.
When do you think the Kashmiri Pandits can return to the Valley?
The situation is normal now. They should come back. With industrialisation they too should come back. Prime Minister Narendra Modi has said the same thing. The chief minister has to take steps to implement this.
Do you think peace has a better chance in Jammu and Kashmir with the BJP part of the government?
Since the BJP has come to power in alliance with the PDP, militancy has come down in the state. Now the government has been able to stop the militants at the border itself.
Are people in the state happy with the state and central governments?
Common people are watching what the PDP-BJP government is doing. People think that the Centre is not giving enough money to the state.
The government needs to publicise better what it is doing. People should know the government's plans. The government has to tell people what they are doing.
Photograph: Kind Courtesy Yann Forget/Wikipedia Commons