'It is a very clear case of an attempt to bend the media.'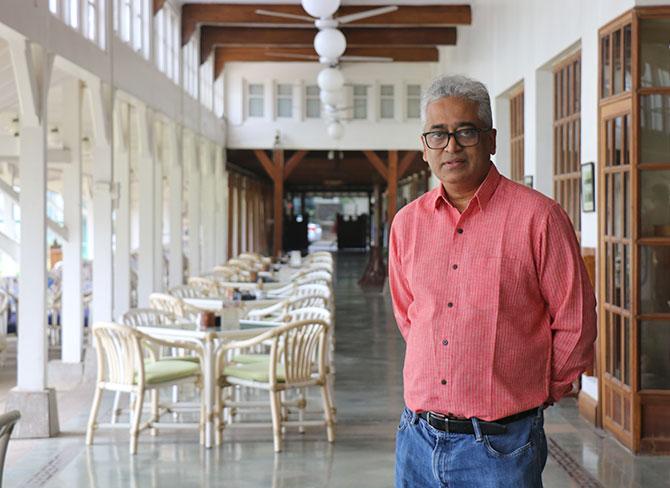 Two first information reports (FIRs) have been lodged against six journalists and Congress Lok Sabha MP Shashi Tharoor under 10 different legal provisions, chief among them being sedition under Section 124(A) of the Indian Penal Code and intentionally promoting communal disharmony and hurting religious sentiments.
The two FIRs -- one lodged in Bhopal, Madhya Pradesh, filed by Sanjay Raghuvanshi, and another in Noida, Uttar Pradesh, by an unnamed person; both Bharatiya Janata Party-ruled states -- have been lodged against senior journalists Rajdeep Sardesai (India Today anchor), Quami Awaaz editor Zafar Agha, Caravan Executive Editor Vinod K Jose, its founding editor Paresh Nath, Managing Editor Ananth Nath and senior consulting editor for National Herald, Mrinal Pande.
While the Editors Guild of India has demanded that these FIRs lodged against these six seasoned journalists be dropped and called it an 'attempt to intimidate harass, and stifle free media', the fact remains that the legal proceedings against these six will be a long drawn out process.
Senior journalist Harish Khare, who served as media adviser to then prime minister Dr Manmohan Singh during his second term, tells Prasanna D Zore/Rediff.com that "This (legal case) is something which these boys will have to argue out (in a court of law)."
What is the government's intent in encouraging an environment that seeks to intimidate journalists?
Would you say that the government is taking such intimidation a bit too far now?
That's the overall pattern that can be discerned.
While the process of law (that these journalists will have to face now) may not necessarily lead to a conviction, but the process itself becomes a punishment.
People get involved with court appearances at different places; it's a very old trick which various governments have used and this government is using it more often than not. That's all.
There is no doubt that this in an attempt to browbeat the media.
Is it not intimidating journalists who are perceived as not friendly to the Modi regime?
I don't know whether it is singling out any kind of category, but our laws are such that any government can use them, and so this government is misusing them and (hence a) number of cases have been registered against various news organisations.
To my mind it is a very clear case of an attempt to bend the media.
The Noida FIR has also booked these journalists for sedition. Do the tweets by these six journalists call for sedition or to say that they were trying to hurt religious sentiments and incite communal violence?
That's quite legally baffling really and factually incorrect. I'm pretty sure that the judiciary will throw these FIRs out.
The judiciary is there to give relief to the people of India, all citizens, not just journalists.
Can these tweets by these journalists act as evidence in a court of law to prove the charge of sedition or inciting communal passions?
I'm not on social media at all -- I don't see tweets; I don't believe in tweets; I have never gone by any social media or WhatsApp kind of messaging.
I'm a slightly old-fashioned person that way but this (legal case) is something which these boys will have to argue out (in a court of law).