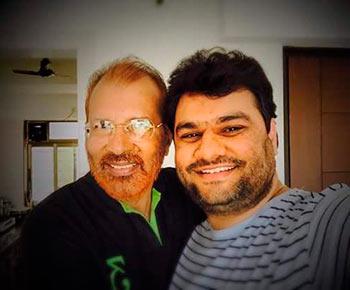 'My father would always tell me not to worry because he was innocent and had to be in jail because of the politics involved.'
'You just carry on with the legal fight'.
'Jeet hamari hogi.'
Former Gujarat cop D G Vanzara -- the main accused in the Ishrat Jahan and Sohrabudin Shaikh encounter cases, who was imprisoned in the Sabarmati central jail for eight years and in Mumbai since last February on the Bombay high court's bail condition in the Sohrabuddin Shaikh case that he not enter Gujarat -- will be back home on Friday, April 8, after a special CBI court gave him the permission to do so.
His son Prithviraj Vanzara spoke with Prasanna D Zore/Rediff.com about his father's homecoming.
Prithviraj was the one who coordinated with his father's legal team as well as elders in the family who entrusted him with the responsibility to handle all the preparations necessary to fight his father's legal battle.
He would travel from one state to another, meet his father in the Sabarmati jail and act as the go to man in the family.
How are you going to welcome your father in Ahmedabad on Friday?
He will be arriving at Ahmedabad domestic airport at 9 am where we will be having a small ceremony.
About 1,000 people from all over Gujarat will welcome him at the airport with garlands and vermillion.
From there, with a convoy of over 100 cars, we will drive towards the Gandhinagar town hall.
There he would be received from people belonging to various castes and communities who are coming from all over Gujarat.
There will be a big swagat satkar samaroh (welcome celebrations).
After lunch there with all the dear and near ones from the family and close friends, we will head to our home where an aarati of 21 thalis will herald him to our home.
We will be welcoming him back home with all the vidhi-vidhan (rituals) that were done to welcome Lord Ram and Sita into Ayodhya after their 14 years in exile.
He will be coming home after spending eight years in jail and almost a year in Mumbai. How did the family cope with his absence?
We have a huge but very close-knit family with whom we share a very strong bonding. All our first cousins are like real brothers to us.
When there are so many people around to support you, you get the strength to fight through such terrible times.
We had to fight continuously and that's what we all did. And the family played the most important role.
The entire family stood with us strongly and was always there to support our fight for justice for my father.
The legal fight took nine years and went on from one state to another. Now the CBI court has given him permission to go back where he belongs.
What would your father tell you when you would meet him in the Sabarmati central jail? What was his state of mind like in prison?
He would always tell me one thing: I have done nothing wrong. What I am saying is the truth but that truth has been overwhelmed for some time by the power politics involved in the case and the way the media is painting a one-sided picture.
Also, you guys (the media) must focus on and write about why the case has not yet started in a court of law?
When the Supreme Court gave bail to all the eight accused the most important observation it made was 'The Supreme Court gave bail to these eight people because they were kept in prison for eight years without any trial.'
Sanvidhaan main saaf-saaf likha hua hai CrPC main (in the CrPC and India's Constitution it has been clearly written that) when somebody faces a trial it is just an accusation (charge) to prove which the trial is going on.
A trial in itself should not be construed as the accused are guilty.
So my father would always tell me not to worry because he was innocent but had to be in jail because of the politics involved. You just carry on with the legal fight.
Jeet hamari hogi (Victory will be ours).
What legal steps are you contemplating so that the trial against him begins in earnest?
Till about a month ago there was a stay on the trial. Two weeks ago we got a judgment that this stay has been lifted.
So, first of all, we will try for the discharge (of this case)... see whenever the trial begins the case would not drag on for long.
See, there are no merits in the accusation against my father and other co-accused in the case. There will be 100 per cent acquittal in this case and there will be no convictions at all.
So, our first step will be to get the discharge application through.
Let's see what happens, but we will very soon consult our legal advisers as to how we can expedite this trial.
For now, the most important thing is that he is coming home after nine years.
Among your father's well-wishers and friends who would come home to welcome him, will there be BJP leaders from Gujarat as well?
If somebody is already in the BJP and he happens to be our friend then, of course, he is welcome. But there is no such thing happening on Friday.
People who believe in his work and who believe that whatever the Gujarat police did to fight terrorism in the state and those who believe that he was imprisoned wrongly will be there.
Was BJP President Amit Shah (who was the Gujarat minister of state for home when the encounters occurred) in touch with you or your family during your father's stay in jail or when he was in Mumbai for more than a year now?
He was a co-accused in this case. He has already been discharged. He was not in touch with either me or anybody else in the family. He is too big a man for that.
During his days in jail your father had written a letter calling Narendra Modi his god and accused Amit Shah of driving a divide between him and his god.
That letter was based on the prevailing circumstances then, but woh toh ab raat gayi baat gayi, ab uska kuch lena dena nahi hai (that is a closed chapter now and has nothing to do with my father now).
IMAGE: Prithviraj Vanzara with his father D G Vanzara. Photograph: Kind courtesy Prithviraj Vanzara/Facebook