'The Election Commission has to deal with money power, intimidation tactics and caste politics.'
'For many parties, elections are like a business; invest huge for huge returns.'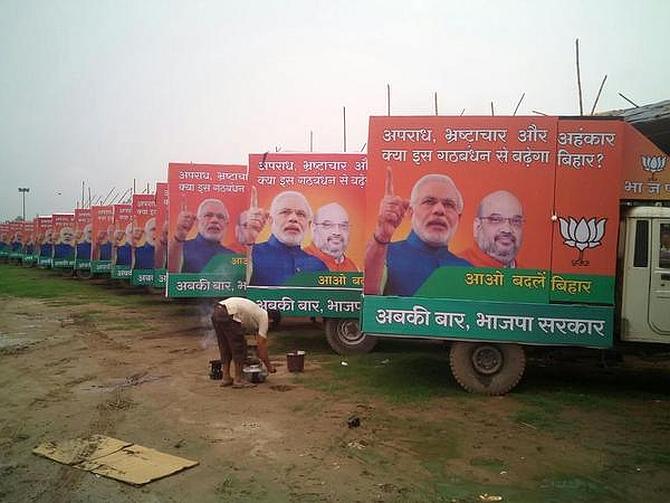 IMAGE: The BJP's 160 GPS-fitted raths that will reach out to voters e in villages across the state.
Former Election Commission observer K J Rao, who was lauded for ensuring free and fair polls in the 2005 Bihar assembly election, visited different parts of the state to persuade people to use their political franchise without fear.
Rao is presently the general secretary of the Foundation for Advanced Management Election, founded by former chief election commissioners J M Lyngdoh, T S Krishnamurthy, N Gopalswami and S Y Quraishi. The organisation sees a role for itself in helping people become part of a more effective democracy.
Rao, below, left, spoke to M I Khan in Patna about the 2015 Bihar assembly election and what can be done make the polls freer and fairer.
Do you think conducting a fair poll in the 2015 Bihar assembly elecion is as much of a challenge as it was in 2005?
It is always a big challenge for the Election Commission to ensure free and fair polls in Bihar. Although the Election Commission has initiated certain measures it is not an easy task.
The Election Commission has to deal with money power, intimidation tactics and caste politics to ensure that all voters, particularly the poor, get to use their political franchise.
There is no doubt that the situation has improved in Bihar. It isn't like it was back in 2005 when people were afraid of bullying, booth capturing and other malpractices.
But the use of money power is still alarming. Restricting the influence of such money is a huge challenge for the Election Commission.
The number of candidates in the fray with criminal backgrounds has declined in compared to what it was a decade ago due to intervention of the Supreme Court.
What is the reason for the rise of money power in elections?
For many parties, elections are like a business; invest huge for huge returns.
The parties have to be blamed for fielding candidates who are either rich and are backed by the rich. This increases the scope of money in what could otherwise be a fair election.
What are your most serious concerns with regards to the polling process in Bihar?
I have visited different parts of Bihar and have interacted with the local people. Politicians or leaders are not bothered about electoral reforms.
With that sort of people in the fray, political parties are free to use huge amounts of money without any checks on their expenditure. There should be a ceiling on expenditure by political parties, but no major political party wants that to happen.
The fact that there is no inner democracy in most political parties adds to the abysmal state of affairs. Political parties should not give tickets to criminals, tainted individuals or bahubalis (political strongmen) in order to discourage the use of money and muscle power in elections.
Efforts should be made to dissuade parties from distributing money and liquor in order to purchase votes.
K J Rao. Photograph: M I Khan
Do you think votes are still purchased?
Voters are purchased to favour a particular candidate or party. Not uncommonly, huge amounts of cash caught or seized by the police during and before elections are often intended to be used for this very purpose.
A Bharatiya Janata Party MP and MLA have accused their party of selling election tickets for money. How do you look at this development?
The use of illegal wealth is a serious issue. If political parties give tickets to tainted individuals and to bahubalis, there is a greater chance of exchange of money.
What is your ideal scenario for free and fair polls?
It is simple. Voters must be free to visit polling booths and do so without any fear.
Real democracy will be practised when polls are held without security forces at polling booths. Till such time as authorities are forced to deploy the police at polling booths we will not have achieved that ideal state.
A total ban on tainted individuals from contesting polls and providing all voters the opportunity to use their democratic franchise is one way of getting there.
What is your advice to young voters in Bihar?
Rise above caste and religion and use NOTA (the none of the above option) against bahubalis if threatened.
People have to decide whether they should vote for facilities like education, health, jobs, basic infrastructure or to vote for candidates who are merely members of their caste.