'Because of the melting of ice as well as irresponsible human behaviour such as throwing soil and plastic into the sea, there has been a rise in temperature.'
'I fear there will be direct and dangerous consequences for us.'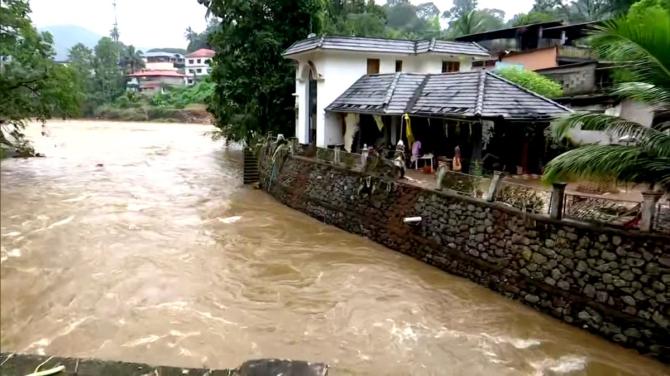 2018 literally proved to be a 'watershed' year for Kerala.
After the big floods in August that year, natural disasters, especially as a result of landslides, have become an unavoidable, annual, feature.
The scene was no different in 2021 and while many lives were lost, thousands had to be shifted to temporary shelters.
It is not one region or one district alone that has been affected, but different pockets across the length and breadth of the state.
Experts have noted the sudden change in rain pattern and the increased susceptibility of various ecologically fragile regions in the state to landslides.
But has the state government and its people woken up to the new, frightening, reality and put into place measures that can prevent or at least mitigate the impact of natural calamities?
Or, is it only a seasonal debate that we indulge in immediately after each disaster?
Unless we have a set of do's and don'ts, a climate-resilient approach and long-term, micro-level planning, there will be more tragedies to follow, warns Dr V R Haridas, a hydro-geologist working for Caritas India, in this interview with Rediff.com Contributor Sujit Chandra Kumar.
Landslides and loss of lives and property are becoming an annual feature in Kerala. In Koottikkal alone, 10 lives were lost this time. What are the reasons?
There are various reasons why this is happening with increasing regularity.
One of the reasons for this is definitely the high intensity rainfall that happens within a short span of time.
For instance, if you receive 10 cm of rain within an hour, it can cause problems anywhere.
Secondly, all these landslides are happening in areas where slope is high.
A third reason is the percolation of water through the soil strata and then to the rock strata and finally to the hard rock.
The barren rock in Kerala is either charnockite or granite.
Charnockite is overlaid with laterite and above it is soil.
This soil is actually formed by the weathering of the rock.
It is interesting to note that it takes 500 years for the formation of an inch of soil from the laterite and from the rock.
In the '80s and '90s, lots of big trees were cut down in our state for plantation purposes.
But the big roots were left behind. When the root sod remains like that for 20 or 30 years, it acts like a pipe for water to go down.
The water seeps down till it reaches the laterite which is like a sponge in absorbing water.
There is an interface between this laterite and charnockite.
Along with the water, smooth clay like substance also goes down and reaches this interface.
This heavy load causes a big movement underground.
This is why we see big stones or rocks in areas affected by landslides.
Besides, there are big boulders that get dislocated because of pressure when huge volume of water gets between them.
Yet another reason is that a lot of construction has happened on the fracture (joint or fault).
When filled with water, these fractures may cause the construction above to slide.
When I visited Puthumala where the landslide happened in 2019, I demonstrated this.
I was then the climate change advisor for NABARD.
We also need to understand that land use pattern has changed in Kerala as a result of which soil loosening happens.
Such areas are always sensitive. Contributing to soil loosening is also the cultivation of erosion permitting crops such as tapioca, potato, turmeric and ginger.
During harvesting, we uproot these tubers, causing the soil to loosen.
The solution is to opt for strip cropping of both tubers as well as erosion preventing crops such as beans.
This will add to the farmers' income too.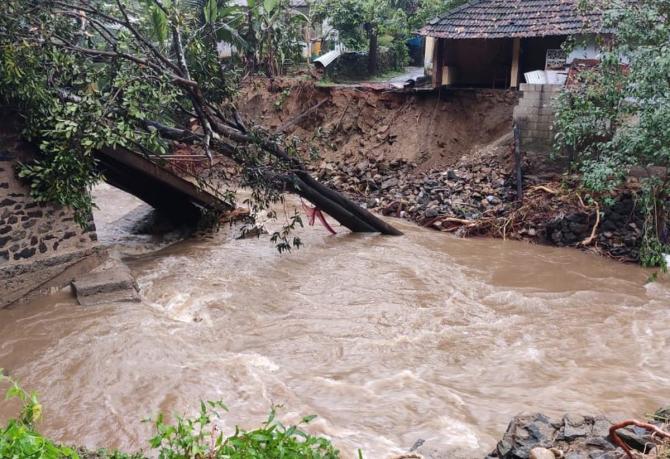 Unfortunately, we discuss such measures only after a tragedy occurs and then forget about it...
Yes. I have no doubt that there will be landslides next year too.
In fact, the two rainy seasons - thulavarsham and kalavarsham - have got merged.
On May 12, the rains started in Kerala and did not stop till October 23.
In between, there are phases when the temperature is very, very, high.
This year, the summer will be the hottest.
When there is excessive rain, it is not only the water that flows rapidly, soil also moves away, creating an impervious zone in that place.
If water is not going down, drought is a distinct possibility.
During intense rain, water flows rapidly into the sea instead of settling down.
Around 40-50 years ago, we used to have yarn rain.
During the beginning of this year, I saw this and felt happy because it is good for the soil but then the torrential rains happened.
The report in August by the Intergovernmental Panel on Climate Change has immense relevance as far as Kerala is concerned.
Because of the melting of ice as well as irresponsible human behaviour such as throwing soil and plastic into the sea, there has been a rise in temperature.
I fear there will be direct and dangerous consequences for us.
In my estimate, Alappuzha town may get submerged in sea water in about 20-25 years.
This is a deadly prospect. Are we doing anything to prevent such a fate?
What are we doing now? We are taking rock out of the mountains and putting them on the sea to build walls.
Isn't this nonsensical? They have already built huge walls and they say they require a lot more rocks.
The ideal way is to take sand from the sea and build sand dunes instead of building these rock walls.
Two months ago, I visited Chellanam where there was erosion.
People there told me that the sea expelled rocks not sand; the same rocks that we deposited in the sea.
When Ockhi happened, the sea brought out the mud that we put there and deposited it back in the houses.
Nature does all this but we still do not understand.
We don't need to know science but only have common sense to realise this.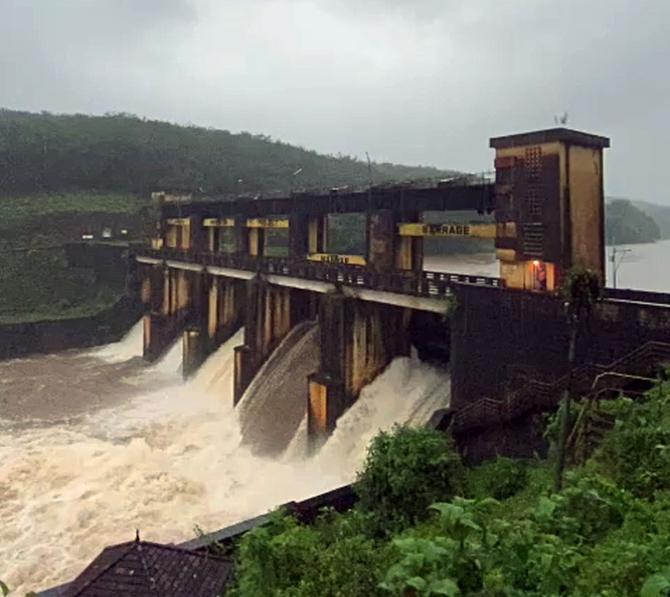 According to news reports, after the 2018 floods, as many as 223 new quarry permits have been issued. Another sign that we haven't learned our lesson.
We will not learn the lesson because for us, filling our pockets is more important.
It's because of vested interests but I don't want to elaborate on this.
Let man plan express highways, but doesn't water need its pathways too instead of it getting inundated? Thousands of people have lost everything in the Manimalayar region this time because there was no provision for water to flow out.
In places like Malaysia, when they build big roads, they make provision for robust water channels too.
Here, our rivers' water holding capacity has decreased.
We are filling the channels and streams with mud, little by little.
We are closing the ponds and constructing buildings above them.
In each panchayat, there used to be 10 to 50 ponds but their number has come down to five or six.
Houses have increased in size while ponds have gone down in their size and relevance.
In earlier times, there was the practice of prayaschitham (compensation).
When they built houses, which rarely went beyond 600 sq ft, they would make amends for blocking the rainwater from reaching the ground by digging a pond which is equal in area in the vicinity.
That kind of respect for nature is now non-existent.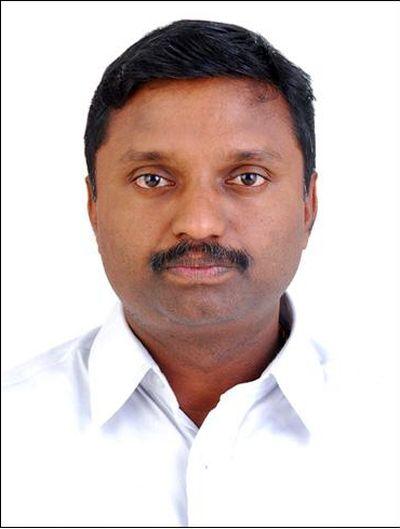 Weather prediction is not always accurate and this hampers evacuation efforts.
Because of climate change, rain clouds form all of a sudden and there is intense rain.
When cyclones happen, the central government is able to predict in advance how it will behave and where it will have landfall.
But in the case of localised rain, it becomes unpredictable.
So, we will have to adapt our planning based on the new rain pattern.
Finally, what are the precautions we need to take both in the short and long term?
It is important to have a set of do's and don'ts.
For instance, in slopy and landslide-affected areas, you should not dig trenches or ponds.
Since the rains are now localised, we need to have micro-level planning and implementation of programmes by local self-governments in consultation with the local community.
Departmental integration is another key requirement.
There should be climate resilient approaches including water conservation, protection of streams and stopping unlawful constructions.
In short, we cannot afford to continue like before.
Feature Presentation: Aslam Hunani/Rediff.com