'Modi and the BJP don't want Delhi to function.'
'The LG is like a puppet of the BJP.'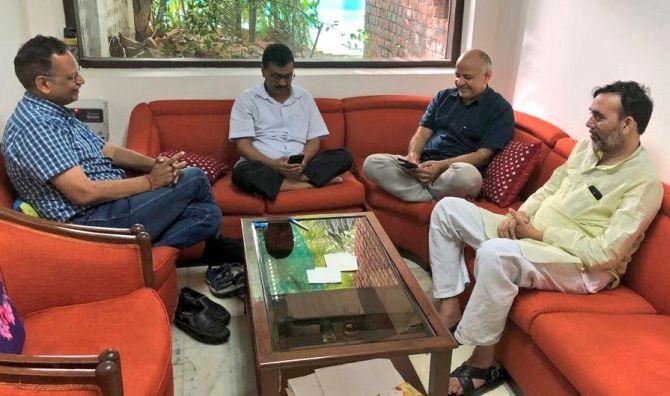 For more than 50 hours, Delhi Chief Minister Arvind Kejriwal, accompanied by Deputy Chief Minister Manish Sisodia, Health Minister Satyendar Jain and Transport Minister Gopal Rai, have stayed put in a room meant for visitors at Lieutenant Governor Anil Baijal's office.
Their demand: Clamp down on a four-month-long agitation by senior bureaucrats against the AAP government and clear the scheme for doorstep delivery of rations.
"Modi and Amit A Shah's dictatorship continues. They want to stop the growth of the AAP," the Aam Aadmi Party's Rajya Sabha member Sanjay Singh tells Rediff.com's Syed Firdaus Ashraf.
You describe the current situation in Delhi an 'Emergency' due to the IAS officers' strike. You have also written a letter to President Ram Nath Kovind to intervene. Is the situation really that serious?
For the past four months, IAS officers in Delhi have been on strike.
Ministers call them for meetings, but they don't come.
For instance, a meeting on dengue was called, as it breaks out in Delhi every year.
We called for one this year, but no one turned up.
We want rations to be delivered at home because there is corruption going on in ration shops. This is not the case of Delhi alone, but all over India.
Now when we want to deliver rations to the homes of poor people, these bureaucrats have stopped the move in connivance with Lieutenant Governor Anil Baijal.
We want to whitewash Delhi schools, but these bureaucrats are not doing that.
We want CCTV cameras in Delhi, but they aren't doing that too.
All the work has come to a stop in Delhi because of these bureaucrats.
But your government is an elected one.
This is our problem.
Our hands and legs have been cut and we are thrown into the swimming pool.
We cannot transfer bureaucrats.
We cannot take any action against bureaucrats if they do not come for our meeting, so who will then implement our policies on the ground? That is the big question.
All services come under the purview of the LG. We have requested him to intervene and tell these bureaucrats to end their strike.
But as you know, all governors and LGs only work for Prime Minister Modi.
They dismissed the Uttarakhand and Arunachal Pradesh governments.
In Manipur and Goa, they invited the BJP to stake a claim to form the government in spite of it having no majority, with the help of the governor.
Governors and LGs are only listening to PM Modi's orders.
IAS officers say they are working. They have a created a hashtag #Delhiatwork on Twitter. They give proof of the work done by them.
We have shown more than 50 letters on Wednesday where we called these IAS officers to come and attend meetings, but they refuse to come. These 'hashtag people' are BJP people on Twitter.
PM Modi and the BJP don't want Delhi (state) to function. The LG is like a puppet of the BJP.
At the end of the day, it is the public that faces problems. Don't you think all of you must bring about some kind of solution to this stalemate?
How will we find a solution? For whom are we sitting on this dharna for? It is for the public.
We are not sitting for some land or money. We want this strike by IAS to be over and we will end our dharna.
Just because these IAS officers are saying they are working, that does not mean they are.
They are not coming to ministers' meetings. You read their (IAS officers) press release in which they said they are not on strike and in the same letter they said the Delhi government has not taken positive steps to end the strike.
They are contradicting their own statement.
IAS officers have published an article saying the strike will end if Arvind Kejriwal apologises to the IAS association. Why doesn't he do that?
Even if Arvind Kejriwal says sorry every day, these IAS officers will not work. They are just giving excuses not to work.
A few days back, a superintendent of police in UP was told by a BJP MLA that laaton ke bhoot baaton se nahin mantey (words won't work with those who understand only force). What did IAS officers all over India do about that?
In another incident, the daughter of an IAS daughter was harassed by a BJP leader's son (Vikas Barala) and there wasn't a single IAS officer who spoke out against it.
PM Modi now says he will appoint professionals (in the civil services) and not a single IAS officer speaks out against this issue. Why?
They only speak up against Arvind Kejriwal.
Why do IAS officers speak up only against your party?
You give us full government (control) and then you will find that not a single IAS officer will speak up against us.
They will work much better for the welfare of people and will be happier.
But the high court rejected your demand for full government.
Now the case is in the Supreme Court. Let us wait (for the judgment).
Why does everyone speak out against Arvind Kejriwal?
Because Arvind Kejriwal is a popular leader and they want to finish off his popularity. They want to defame him.
One additional superintendent of police questions the Delhi CM on how his house was painted and how air-conditioners have been fitted in his house.
The CBI raids his house and even the house of the deputy CM.
The health minister's house is raided too.
Rajendra Kumar, an IAS officer working with the Delhi CM, is called in for questioning by the CBI and then abused for five days.
How is it that the AAP government has problems with the Centre? Sheila Dixit, a Congress chief minister, ran the state smoothly when the Atal Bihari Vajpayee-led BJP government was in power at the Centre.
Vajpayeeji's rule was different. Vajpayeeji was a different kind of man.
Now, PM Modi and Amit A Shah's dictatorship continues. They want to stop the growth of the AAP.
Our mohalla clinic model has been praised even by former United Nations secretary- general Kofi Annan. Even the USA appreciates it. This is not being taken well by the BJP. They are troubled by the good work of AAP.
We have reduced the cost of electricity in Delhi by 50 per cent while people in BJP-ruled states pay double the rates for electricity.
We have made water free in Delhi. In spite of doing all these things we are giving a profitable budget and we give accountability to the people of Delhi too.
Arvind Kejriwal continues to be projected as an anarchist in the media.
Who is sitting in the media?
Only NDTV is an independent media organisation. Rest all you media houses are corporate houses and are against AAP.
Despite whatever steps you take during this crisis, it seems AAP will soon become extinct.
AAP will not be finished because the people are with us.
Once we do something wrong we will be over, but if we work for the public interest then we will not be over.
There's that old Rajesh Khanna song -- Yeh public hai sab jaanti hai.
Another allegation against your party is that you have returned to dharna politics because AAP has not received space in the joint Opposition front taking shape.
We were never a part of the joint Opposition. We were always alone in our fight.
We took the tricolour in our hands with the agenda of finishing off corruption.