'If a drone can't fly airspace without the DGCA knowing about it, how did such a big plane get airborne?'
'The DGCA knows this aircraft had undergone major repairs. Now, the question is who allowed it.'
'The DGCA cannot come out of this.'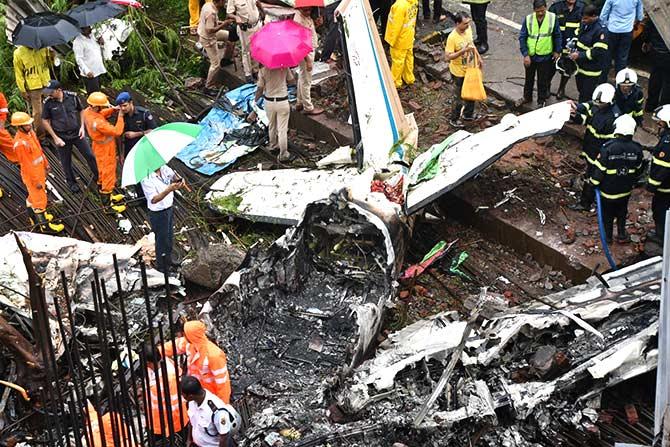 "The DGCA (Directorate General of Civil Aviation) cares a damn for human life," Ernakulam advocate Yeshwant Shenoy had told Rediff.com in December 2017 in response to how airline operators compromise on passengers' safety by making their pilots work for more than the mandated eight hours.
Six months later, Shenoy's views have not changed much; this time responding to an aircraft crash in Mumbai that killed five people -- two pilots, two engineers and a bystander -- on Thursday, June 28.
"This is nothing. This is only a trailer. Take it from me. A big aircraft will come down. Mumbai, Delhi, wherever" he tells Rediff.com's Prasanna D Zore.
Should test flights be allowed in busy cities like Mumbai?
Test flights are not allowed in residential areas. It is as simple as that.
But the problem is when your airport is in the city, the final approach has to be over the city.
Most airports in India are within city limits.
Say, when an aircraft is repaired in Mumbai and when it is repaired and taken to its base, such flights are always test flights with only pilots and no passengers on board. But it still has to fly over Mumbai.
What do you do about it?
How was such a test flight allowed? Were DGCA norms flouted?
The DGCA knows what is happening. You have to be extremely careful. Let me explain this in a simple manner.
Not even a drone can fly in Indian airspace without the DGCA's permission. Not even a drone!
This is the rule and I am strictly talking about rules here.
If a drone cannot fly into the airspace without the DGCA knowing about it, tell me how did such a big plane with two pilots and two AMEs (aircraft maintenance engineers) get airborne?
Without DGCA permission this doesn't happen.
The DGCA has records of every aircraft. It knows that this aircraft had undergone major repairs. Now, the question is who allowed it.
The DGCA cannot come out of this.
I am telling you, whatever they may do or say, they cannot come out of it (cannot escape the blame for this accident and risking safety of the people).
What action could the DGCA face?
This is the problem. They don't take any action because when you go to the court.
They (the DGCA officials) say I am a government servant; I am protected under (Section) 197 (The offence under Section 197 is non-cognisable).
But their ringmasters are sitting in the ministry of civil aviation.
By 'they' are you pointing towards the DGCA or the civil aviation ministry?
No! Don't take it as singular. This is an organised racket.
It is run by the ministry of civil aviation where the DGCA is a part of it. The ministry is also a part of it and so is Air India.
Look at their deadly combination.
The same ministry is handling the regulatory powers on the one side (the DGCA works under the civil aviation ministry) and they also have a commercial interest in AI (Air India).
Just tell me how you will be concerned about safety if you are both the regulator as well as an operator.
I have been seeking action against this deadly combination since 2010.
In every court document I have been saying that I am running a race against time.
As regards an accident, I am sure it is going to happen; accidents like these are inevitable.
I am running a race against time to see if I can prevent many more of such accidents.
How may such accidents like this occur before the ministry and the DGCA get cracking?
Also, what are the DGCA rules that govern test flights of under maintenance/repair airplanes that had met with accidents and which have to be tested for their flight/air worthiness?
The Uttar Pradesh government (which owned the plane earlier) already disposed it off (four years ago).
Now, you need to understand the maintenance part of aircraft.
Any aircraft can go through a major or minor repair from time to time.
When a major repair is undertaken it comes through a serious test of its airworthiness.
So, when an MRO (maintenance, repair and overhaul) official gives permission to fly such an aircraft and when they take the flight, the DGCA needs to certify it.
That is why the MRO keeps saying that the DGCA certified it.
Now the DGCA has to answer (as to how certification of such aircraft unworthy of flight happens/happened).
Also, do you think the ministry of civil aviation or the (civil aviation) secretary don't know about it? I will show you 20 e-mails that I have written to them.
If this aircraft had hit a fully occupied residential building do you think it would have led to an overhaul of how civil aviation safety is taken for granted in India?
Nothing (can change this attitude towards human safety).
Did Mangalore (the crash in 2010 that killed 158 people) change anything?
158 people lost their lives not because of anything, but because of the negligence of the airport authorities and people who manage civil aviation in this country.
Did even a single officer face transfer after that?
It is the culture that you have developed into the minds of people (running civil aviation), then who will have any problem in being corrupt? Nobody!
See the way the civil aviation authorities have handled the complaints of various whistleblowers.
Take the case of Mangala Narsimhan (Airports Authority of India's deputy general manager, aviation safety) and her husband (K S L Narasimhan, AAI, joint general manager, air traffic control). Both are under suspension. And these are the employees of AAI.
Now, when you see the corrupt (officials in the civil aviation set up) getting promoted again and again and honest employees suffering suspension, and if you are an employee, you tell me, which side will you go?
The answer is obvious.
Therefore, the problem that lies at the heart of this rot in the civil aviation apparatus of this country is structural in nature. It is at the molecular level.
Unless you overhaul this apparatus completely, or send one senior person to prison, you cannot (change the mindset of civil aviation authorities about the safety of ordinary people).
How are such test flights conducted in Western countries where the norms are stricter?
There you have airports where they test airworthiness of aircraft that have undergone major overhaul or repairs. They don't do it in populated areas putting civilian lives in danger.
Let me give your readers a more beautiful example of how such test flights are done in India or how civil aviation is run in India.
Just look at Bangalore (airport). Have you seen the old airport, the HAL (Hindustan Aeronautics Limited) airport? It is a test airport. Bang in the (middle of the) city!
Just outside in the vicinity there is a 20-storeyed building that obstructs the (flight paths of aircraft landing or taking off from this) airport.
Despite being an obstacle that building is still standing upright. This is the story of (civil aviation safety in) our country.
Isn't it the same issue plaguing a busier airport like Mumbai?
I filed a public interest litigation (filed in the Bombay high court against the DGCA, ministry of civil aviation and the Mumbai International Airport, seeking height restrictions for construction in the vicinity of the airport) in 2014.
In 2016, the judge banned any new building construction in the vicinity of the airport and also ordered demolition of 450 obstacles (that hampered operations of Mumbai airport).
When that judge retired, this matter went to another judge. He disposed it off in just one hearing. One hearing!
I have filed an appeal in the Supreme Court which is pending.
Now, what is important to note is that within 20 days of that order, the AAI permitted (construction of) 60 buildings in the same area where the (June 28) crash happened.
Now that I know how the system works, I can say that not only you are not going to demolish the 450 buildings (according to the earlier order) but also add to it another 60 buildings; and you have finished the airport.
They are now building a new airport in Navi Mumbai and already there are 20, 30 floor towers in that area.
And the officials have the audacity to declare that they will commission this new airport with a displaced threshold. (According to the DGCA Web site, a displaced threshold is not located at the extremity of a runway; according to Wikipedia, a displaced threshold or DTHR is a runway threshold located at a point other than the physical beginning or end of the runway. The portion of the runway so displaced may be used for takeoff but not for landing. Landing aircraft may use the displaced area on the opposite end for roll out.)
This happens only in a corrupt country like India. No other country in the world would do it.
After this accident, what could the DGCA and the government do to prevent such mishaps in the future?
You don't have to do much; simply follow the regulations led down by the ICAO (International Civil Aviation Organisation).
They are the ones who have led down watertight regulations; you don't even have to scratch your heads to come up with aviation safety norms.
What could possibly be the reasons behind this accident even as DGCA officials believe low visibility due to heavy rain or engine failure could have been the reasons for this crash?
For an air accident there could be thousand reasons. But here is one simple point: There should be a minimum separation between an aircraft and a building (in the vicinity, if at all).
In the case of Mumbai airport, it is absolutely clear that this norm has been violated. And for this, nobody but the DGCA is responsible.
Mumbai has two airports: The Chhatrapati Shivaji Maharaj International Airport and the smaller one near Juhu beach.
While all commercial aircraft operate out of the CSMIA, all the single-seaters, double-seaters, helicopters operate from Juhu airport.
If these flights from Juhu airport are flying at a higher altitude then it leads to delays in flight take-offs and landings at the CSMIA.
This leads to commercial losses for the airline operators. And it is this loss that makes our aviation apparatus indifferent to human safety.
This accident happened because of corruption; such accidents will continue to happen because of corruption because you will not punish the corrupt and instead punish whistleblowers.
This is nothing. This is only a trailer.
Take it from me. A big aircraft will come down. Mumbai, Delhi, wherever...