May 18, 2017
2 dead, 30 missing as bridge in Goa collapses in river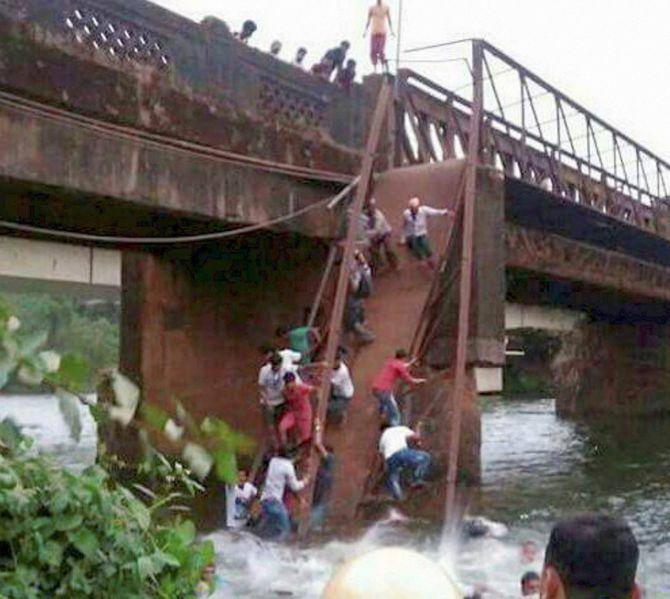 The incident took place when a youth, who had jumped into the river to commit suicide was being rescued by the fire and emergency service personnel, a police official said.
Horror@Times Square: 1 dead, 22 hurt as car mows down pedestrians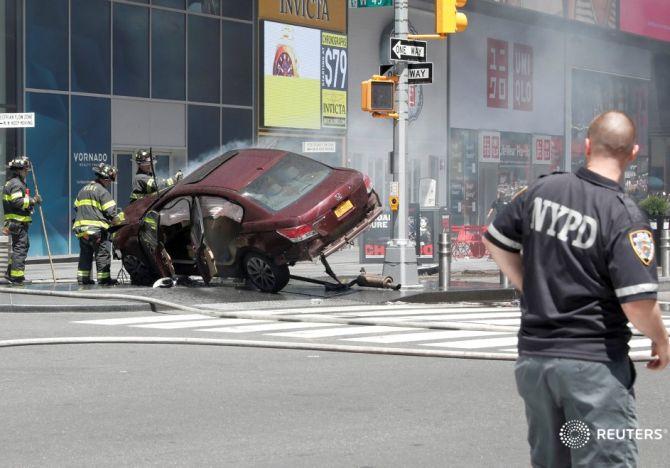 Witnesses said the motorist had driven against traffic and onto the sidewalk, striking pedestrians.
Crackers and celebrations! Friends rejoice ICJ's stay on Jadhav's execution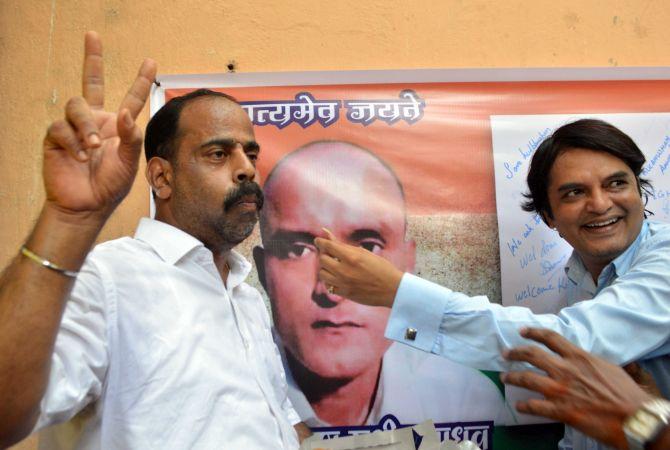 'Prayers of 125 crore Indians have been answered,' said well-wishers of the former naval officer who has been incarcerated by Pakistan.
May 17, 2017
PHOTOS: Why giant hands are emerging from the water in Venice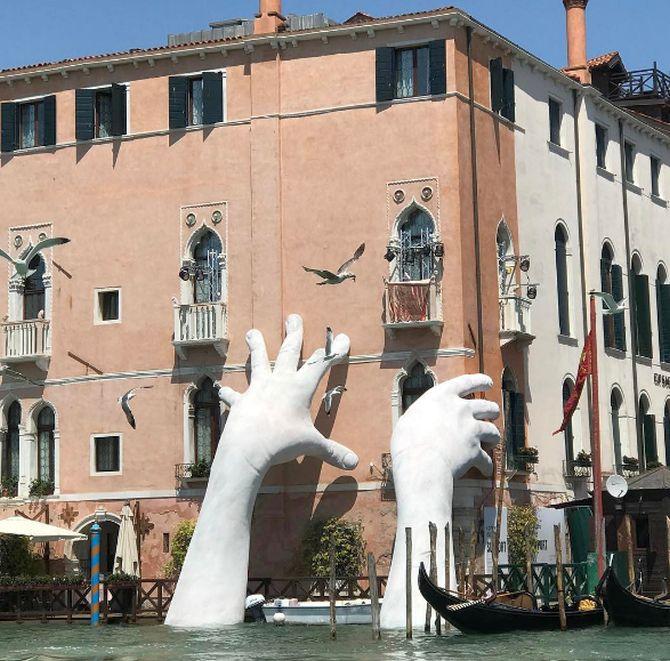 Support, a temporary artwork by artist Lorenzo Quinn, sees two large hands emerge from Venice's Grand Canal to protect, and as the name suggests, support the historic Ca' Sagredo Hotel.
May 16, 2017
PHOTOS: The heat is on!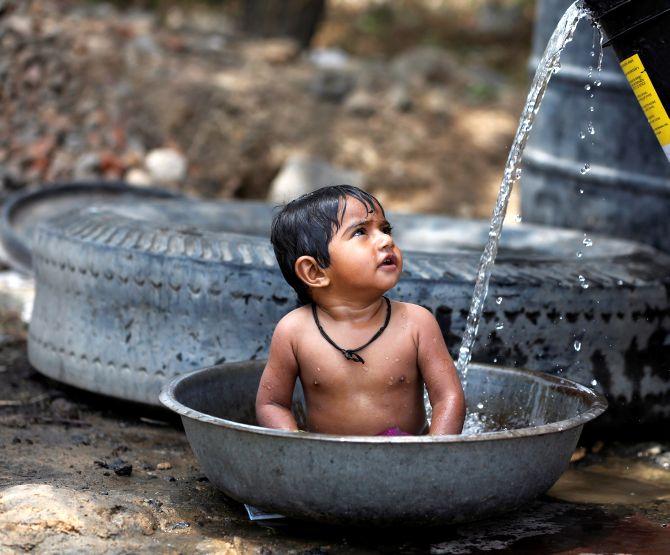 Parts of the country are reeling under severe heat wave conditions, resulting in temperatures soaring in the 40s.
1,500 locals shifted as Pakistan continues to fire at LoC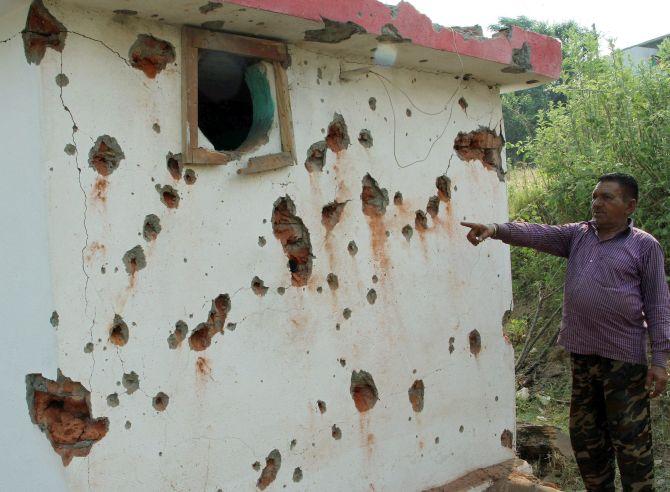 Pakistan violated the ceasefire for the third consecutive day on Monday by firing small arms on forward posts and four hamlets in Nowshera sector of Jammu and Kashmir's Rajouri district.
May 15, 2017
Paper balls flung, whistles blown: Chaotic start to UP assembly session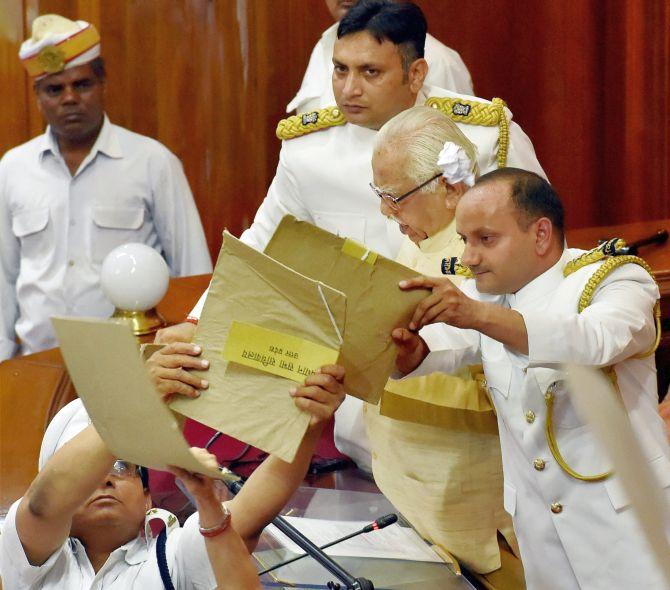 Opposition MLAs flung paper balls at Governor Ram Naik and marshals frantically deflected the projectiles with files as the opening day of the maiden session of the new Uttar Pradesh assembly presented a spectacle of complete mayhem.
2 cops injured as students take to stone-pelting again in Kashmir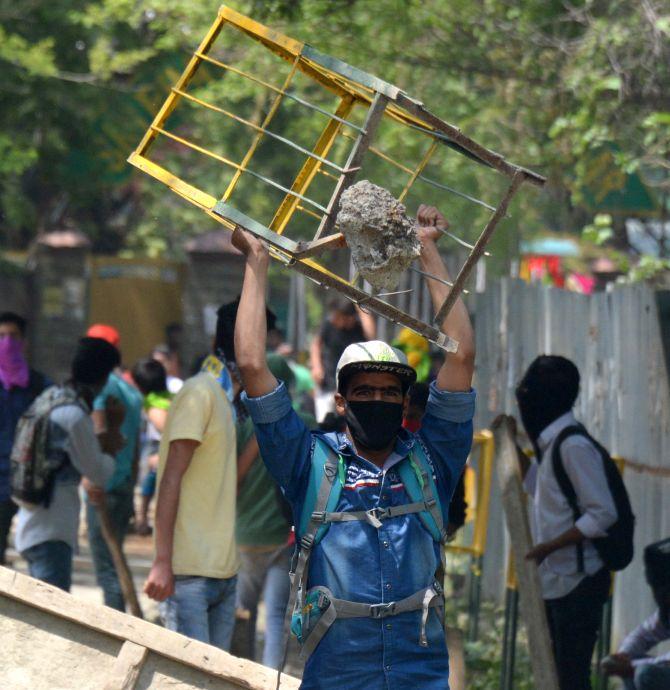 The students of the Sri Pratap College were protesting against the alleged "high handedness" of security forces.
May 13, 2017
PHOTOS: At India Gate, candle burns brightly for slain Umar Fayaz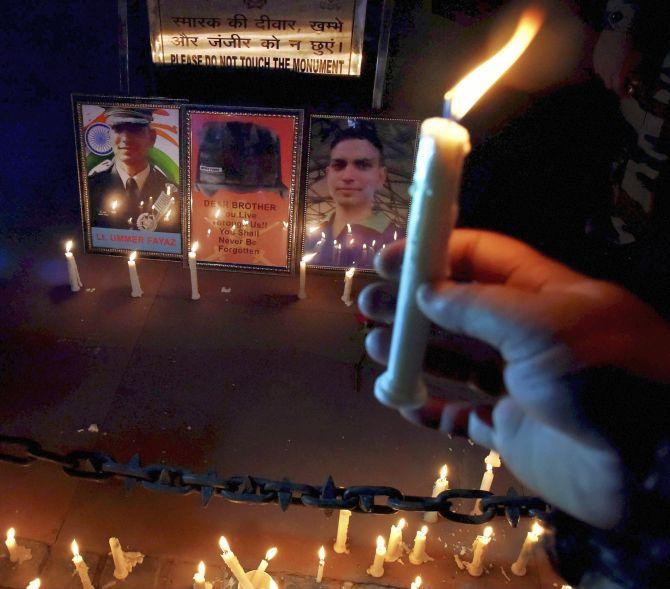 Hundreds of army veterans, students and tourists took out a candle light march in his memory, with many voicing their demand for the death of the young lieutenant to be "avenged".
PHOTOS: Justin Trudeau's son joining him at work is oh-so-cute!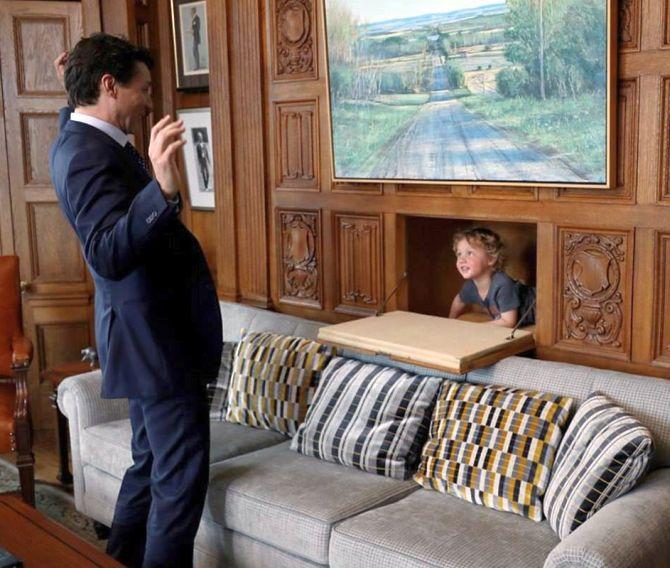 The Canadian PM, 45, shared a series of heart-warming snaps of himself and his youngest son Hadrien, three, on Facebook, saying: 'Had some company at the office today.'
Giant inflatable ballerina takes over New York's Rockefeller Center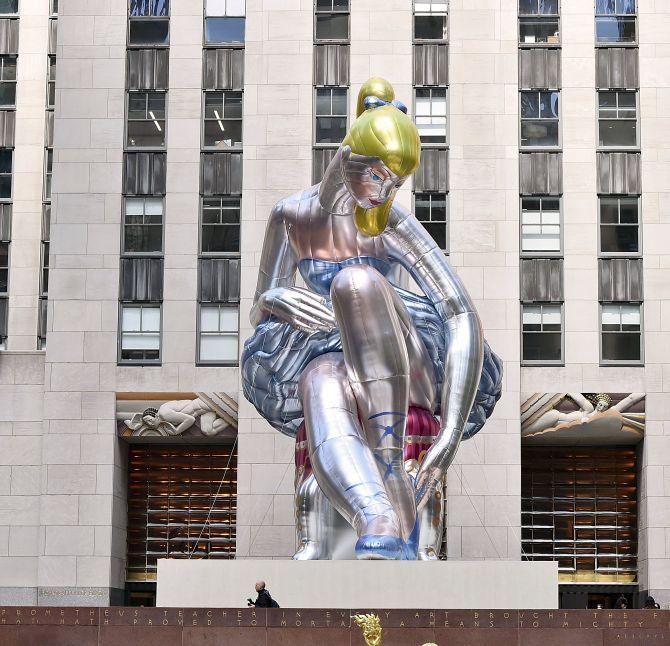 Pop-art prince Jeff Koons unveiled his latest public art installation, "Seated Ballerina," a 45-foot inflatable sculpture at the busy center and it will preside over the Midtown landmark until June 2.
May 12, 2017
PM Modi cautions international community on growing 'arc of violence'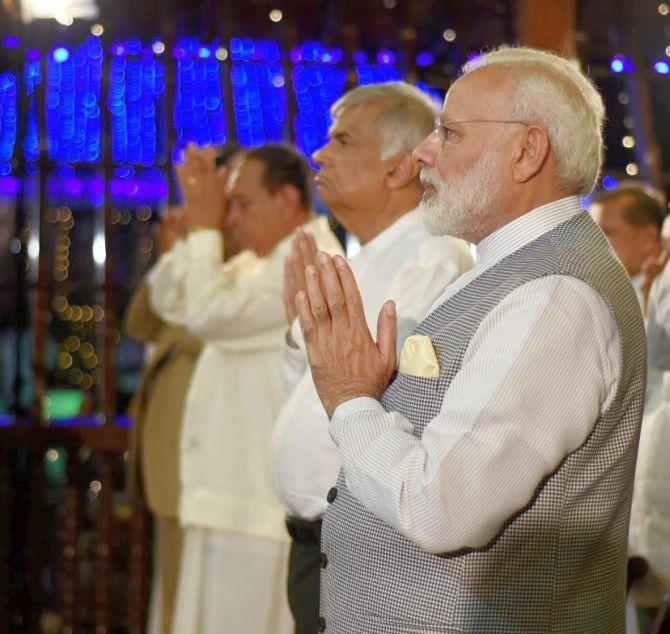 Speaking as the chief guest at the International Vesak Day celebrations in Colombo, the prime minister said that the themes of social justice and sustainable world peace, chosen for the Vesak day, resonate deeply with Buddha's teachings.
Heights of Love! Couple weds on Mount Everest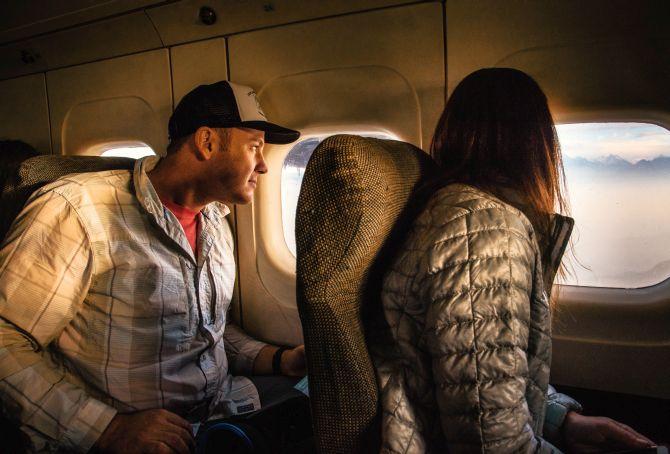 James Sissom, 35, and Ashley Schmieder, 32, from California decided to trek through the snow for three weeks to tie the knot on Mount Everest.
May 11, 2017
PHOTOS: PM in Sri Lanka, prays at old Buddhist temple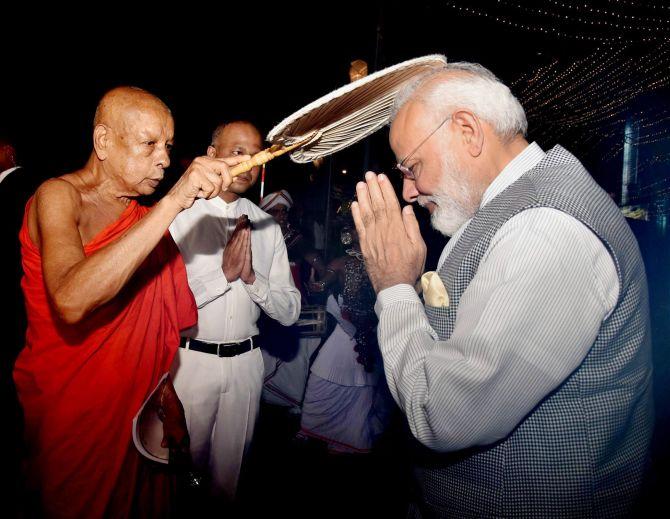 The visit and the agenda is mainly to re-emphasise the traditional connect between India and Sri Lanka, particularly in the context of Buddhism, which is a shared heritage.
AAP takes EVM protest to Election Commission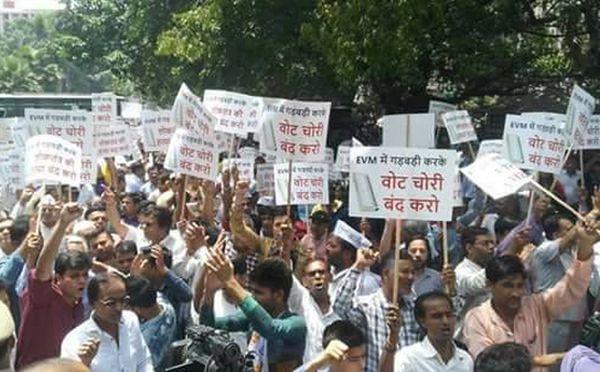 The protesters, including AAP MLAs and newly appointed Delhi convener Gopal Rai, alleged that the manipulation of electronic voting machines was killing democracy.
PHOTOS: Putin's adventures on the ice!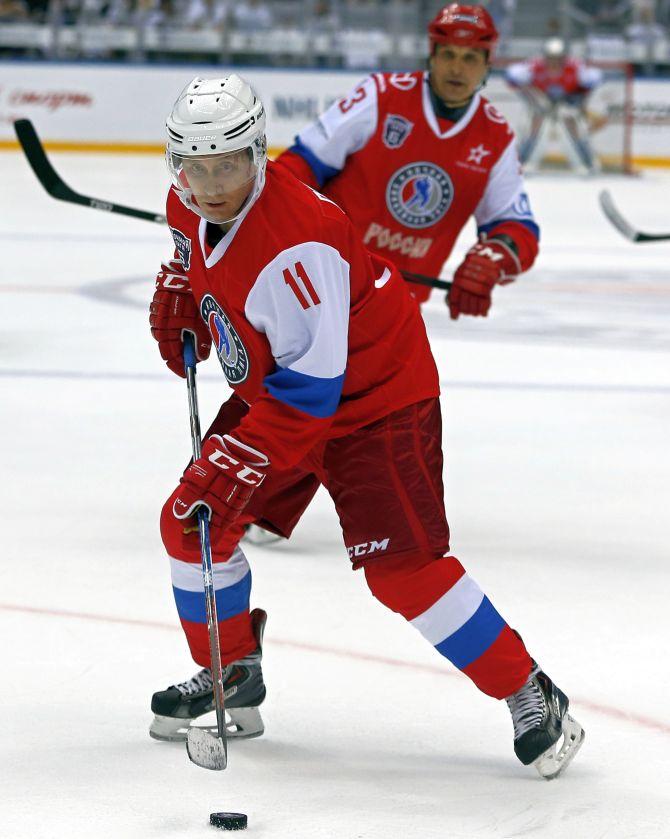 Is there anything he can't do?
May 10, 2017
PHOTOS: Final farewell to army officer abducted and killed by terrorists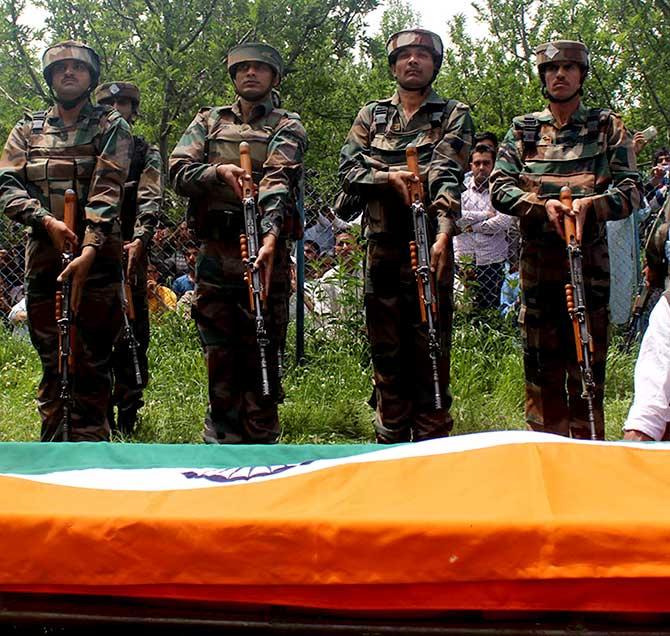 A pall of gloom descended on the Harmain area of Shopian as people bid final adieu to Lieutenant Umer Fayaz, the army soldier who found killed on Wednesday.
May 09, 2017
Tamil Nadu faces worst drought in 140 years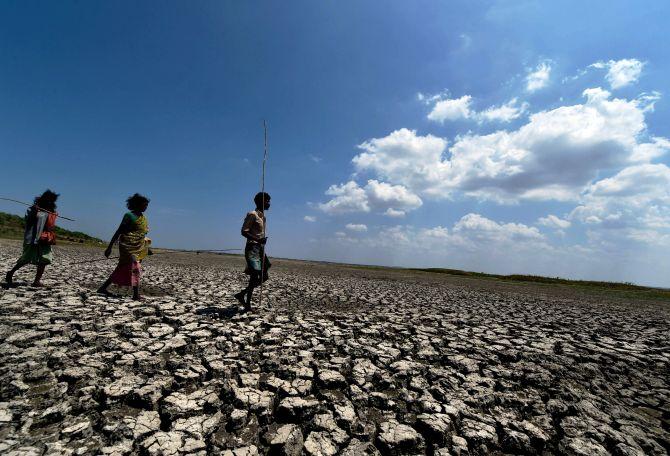 The storage of water in the six major reservoirs in the state was just 6.2 per cent of capacity as of April 27, 2017, reports T E Narasimhan and Gireesh Babu.
May 08, 2017
Meet Emmanuel Macron -- France's youngest president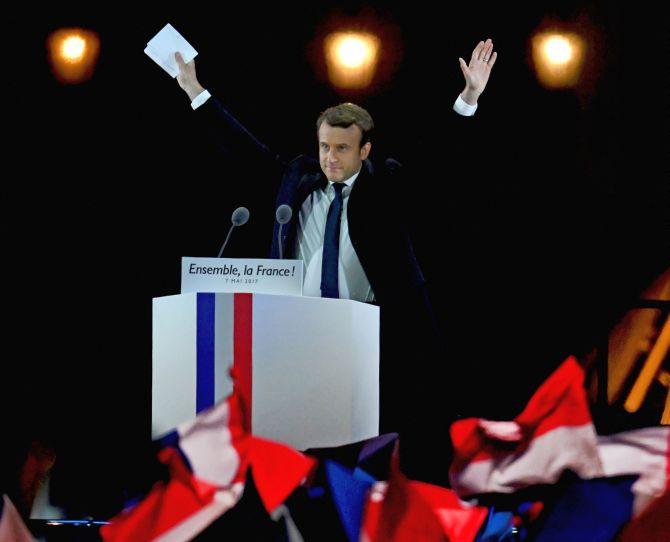 Emmanuel Macron will be the next French president after winning the election in a landslide on Sunday, May 7.
'New page of our history has turned': Macron marches to French presidency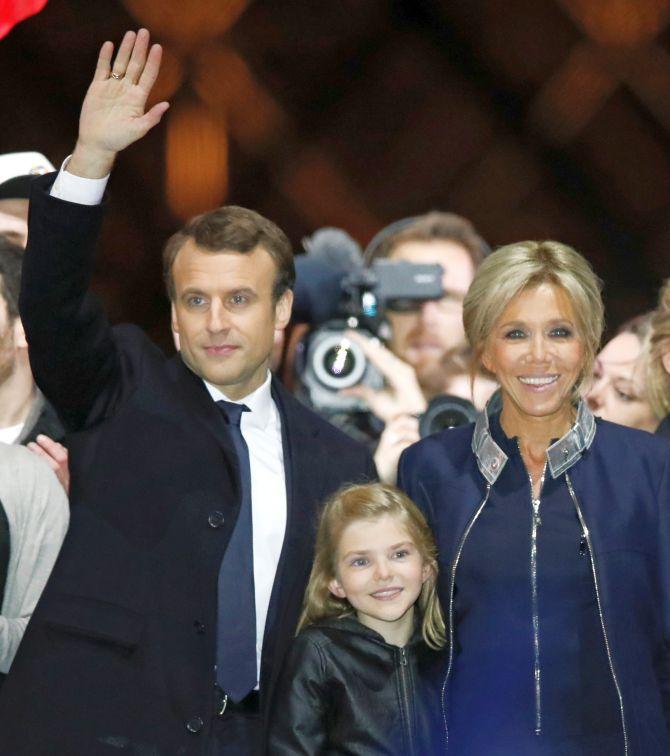 At the age of 39, Centrist Emmanuel Macron will become France's youngest leader since Napoleon.
May 07, 2017
Tripura lagging due to corruption, says Amit Shah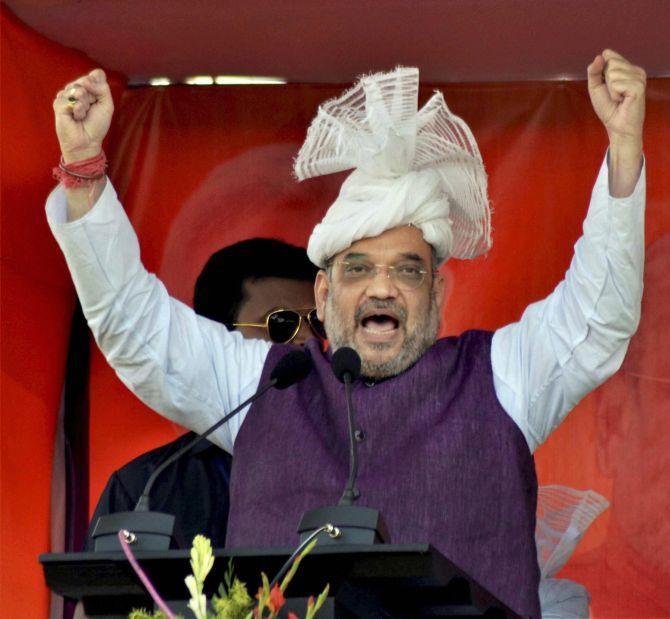 The BJP president is on a two-day visit to Marxist-ruled Tripura to strengthen the party base in the north eastern state.
Waiting for 'rakshaks', cows are choking on plastic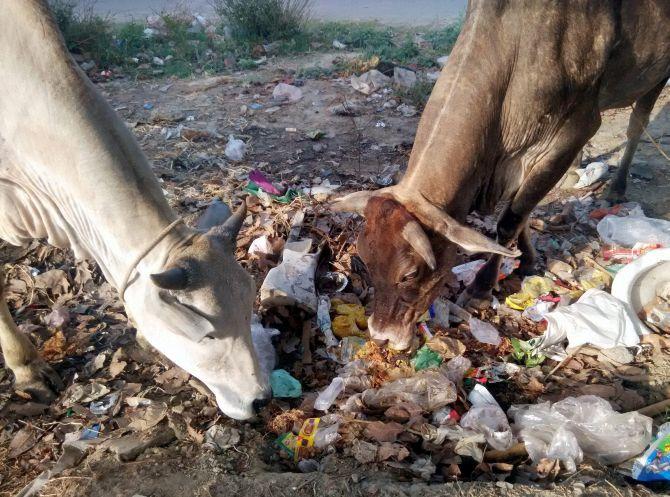 While so-called 'cow protectors' have indulged in widespread vigilantism under the garb of protection of cattle, there has been little effort to save them from the real threat to their survival -- urban garbage, open dumps and apathy of cow owners.
May 05, 2017
PHOTOS: Sandstorm chokes Beijing and northern China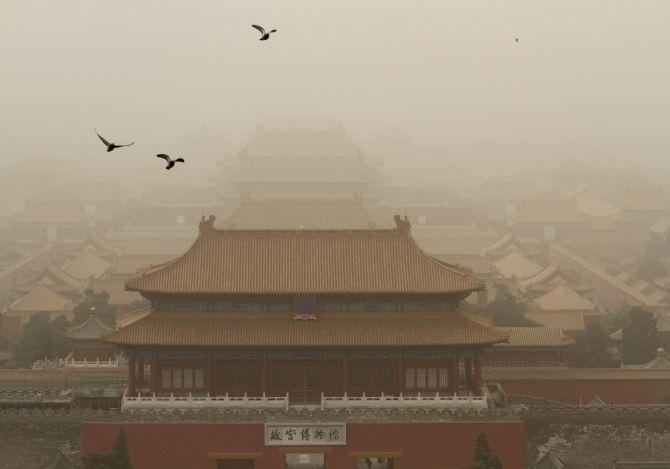 Beijing's sky was gloomy and the ground largely deserted.
May 04, 2017
ISRO all set to launch South Asian satellite tomorrow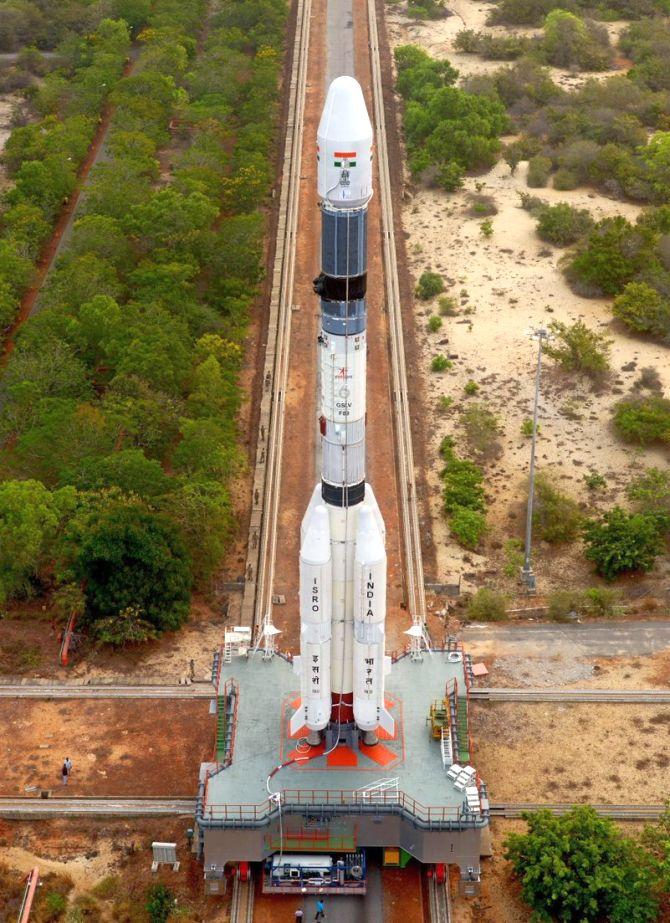 Except Pakistan, seven SAARC countries are a part of the project.
See the wonderful world through the eyes of National Geographic!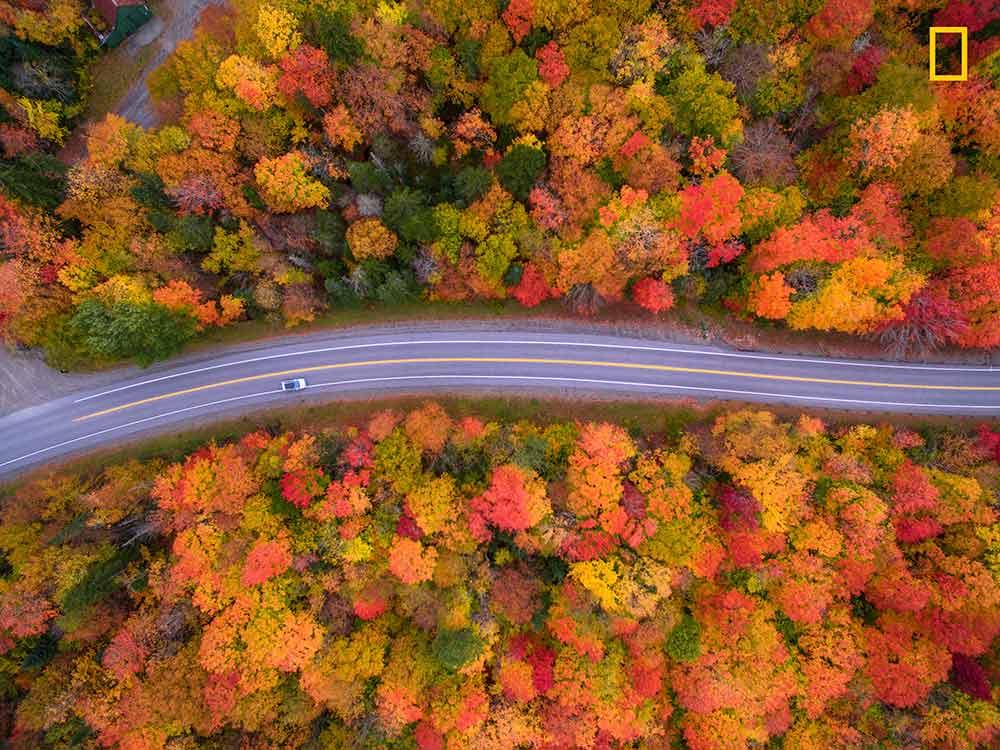 National Geographic launched its annual Travel Photographer of the Year contest, calling on photographers around the world to submit their work in one of three categories: nature, people or cities.
May 03, 2017
PHOTOS: PM offers prayers at Kedarnath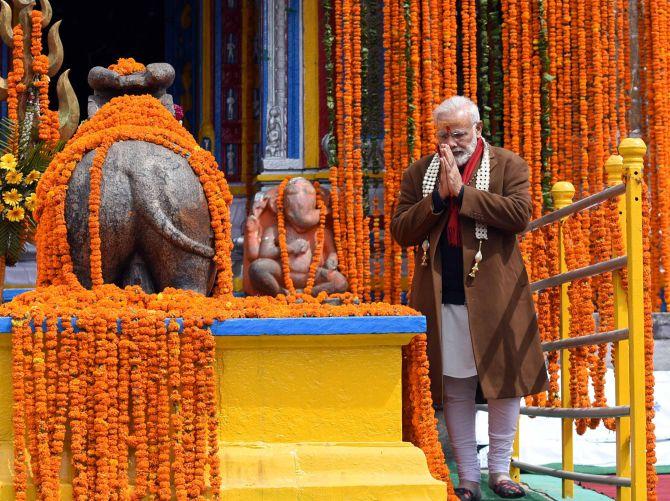 The temple doors were opened at 8.50 am and the prime minister arrived just about half an hour later to offer prayers and perform a 'rudrabhishek'.
May 02, 2017
'Want 50 Pak heads in return for his sacrifice'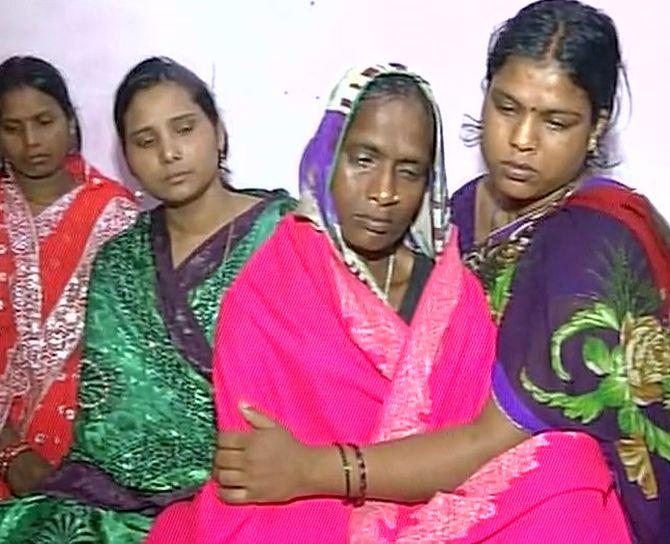 Families of martyred asked the government to take stern action against Pakistan
May 01, 2017
Modi meets Turkey's Erdogan, says threat of terrorism a shared worry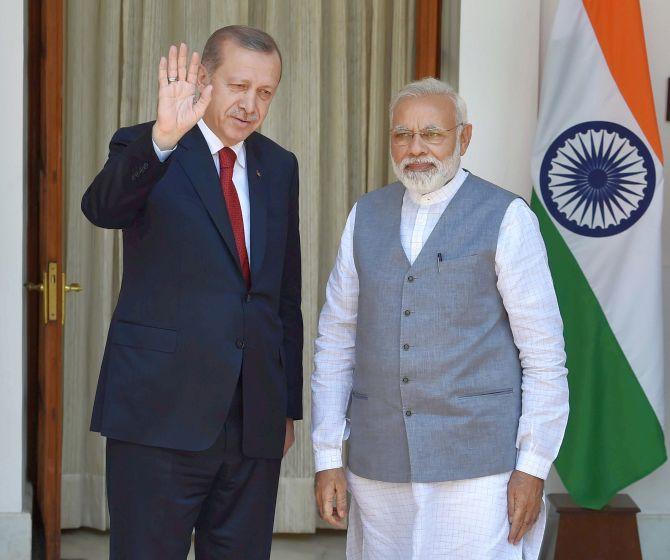 Prime Minister Narendra Modi and visiting Turkish President Recep Tayyip Erdogan held comprehensive discussions and took stock of full range of bilateral relations, including political and economic.
April 28, 2017
Slurrrp! Beat the heat with this Museum of Ice Cream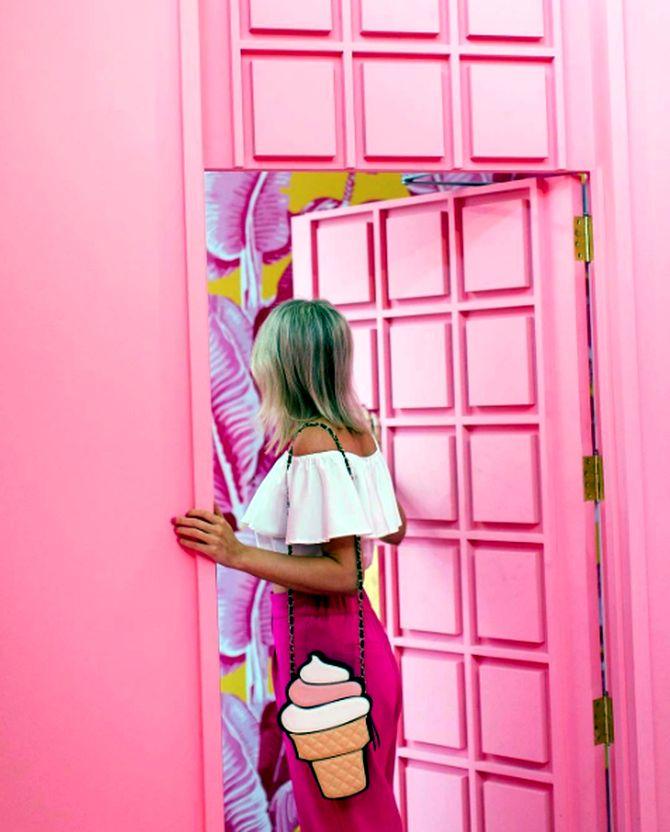 It's hot and sweltering and all we can do to survive this blistering heat is think of ice cream.
April 27, 2017
Nepal earthquake: 2 years and $4.1 billion on...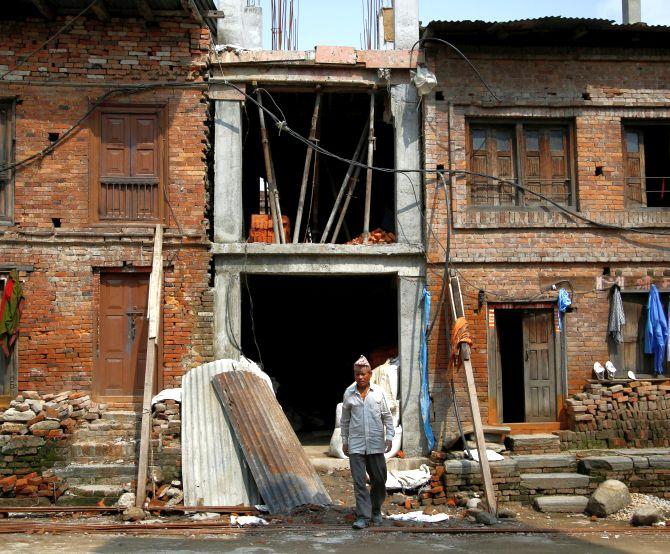 On April 25 2015, a massive earthquake in Ghorka, Nepal, followed by another devastating one on May 12, killed nearly 9,000 people and injured over 21,000. More than 600,000 homes were damaged or destroyed.
Captain among 3 killed in attack on army camp in Kashmir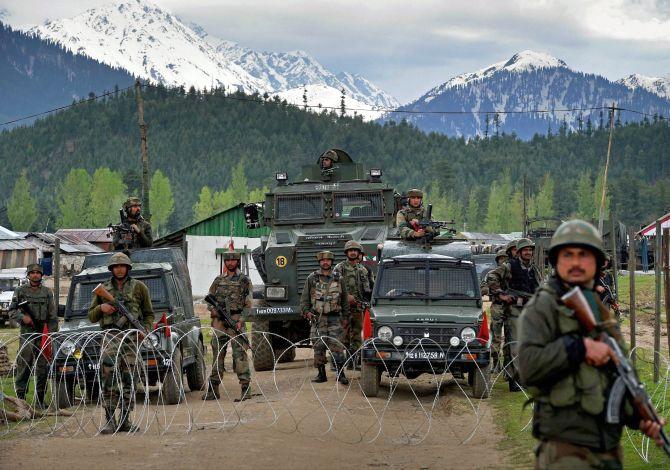 The incident took place at Panjgaon at Chowkibal when terorists, suspected to be of terror outfit Jaish-e-Mohammad stormed the battalion camp which is in-charge of road opening duties on the crucial roads in this area.
The odd, odd world we live in!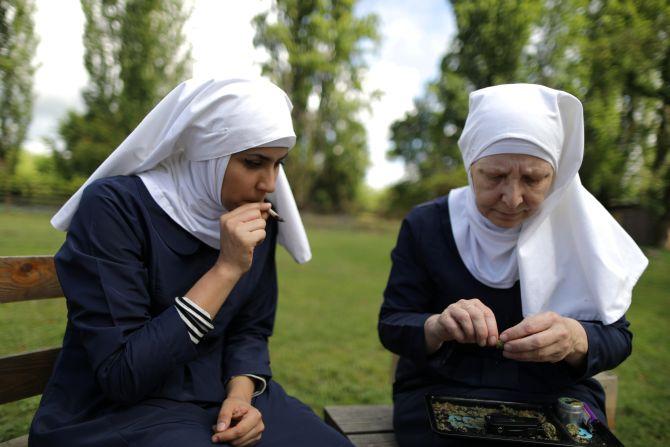 Moments that show it's an odd, odd world we live in.
April 26, 2017
Nation bids tearful farewell to Sukma martyrs
Last rites of CRPF jawanas killed in the Naxal attack in Chhattisgarh's Sukma, were conducted with full state honours.
BJP sinks AAP, Congress in Delhi civic polls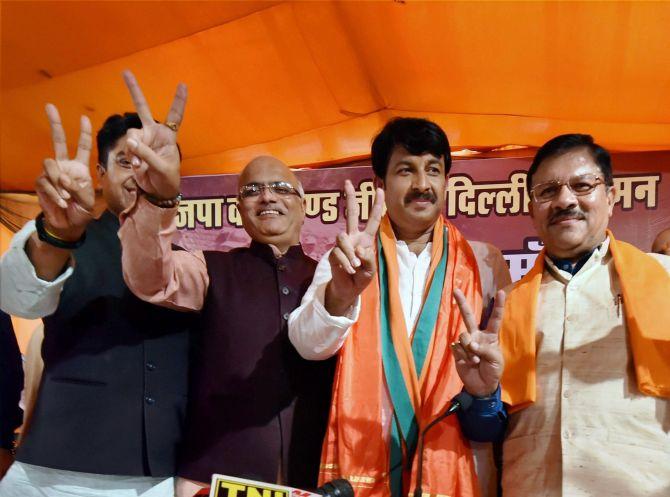 The results are being seen as a ringing endorsement of Prime Minister Narendra Modi's policies and a reflection of his unmatched popularity.
China launches first domestically-built aircraft carrier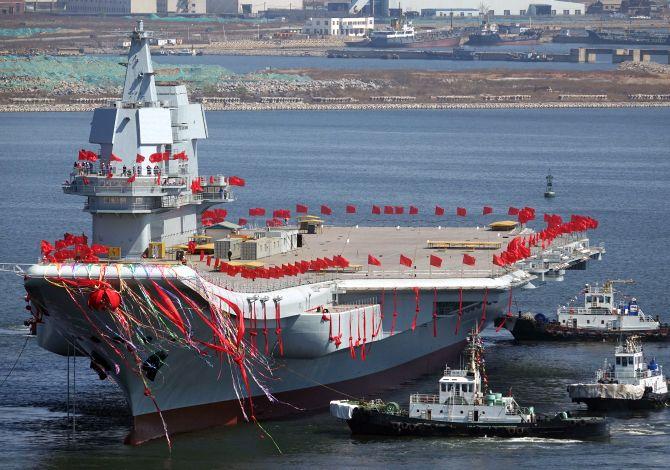 It is the country's second aircraft carrier, after the Liaoning, and the first to be made domestically.
April 25, 2017
Stalin detained during DMK-led opposition bandh in Tamil Nadu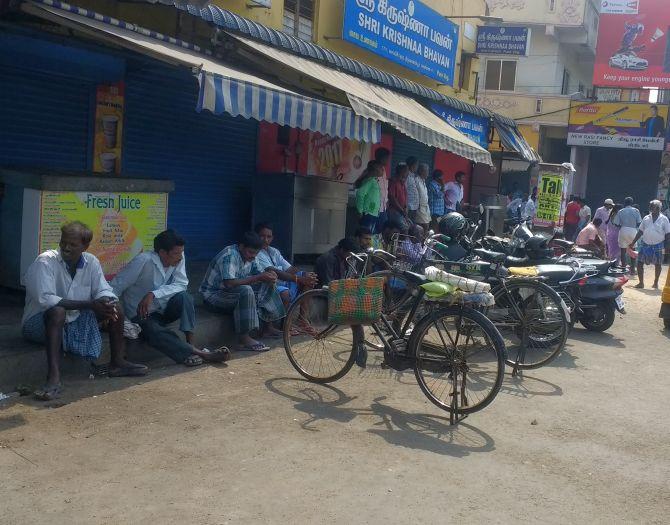 Stalin, along with cadres of the DMK and other parties, came in a procession in Tiruvarur and was detained in a marriage hall, police said, adding they will be let off later.
It's a cold-blooded murder, says Rajnath on Sukma Naxal attack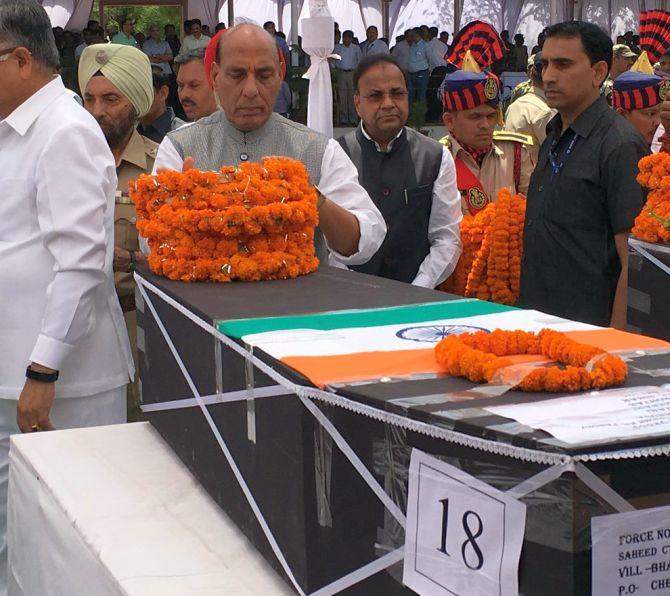 He accused Naxalites of using tribal villagers as a shield.
April 24, 2017
PHOTOS: Violent clashes erupt in Srinagar as colleges reopen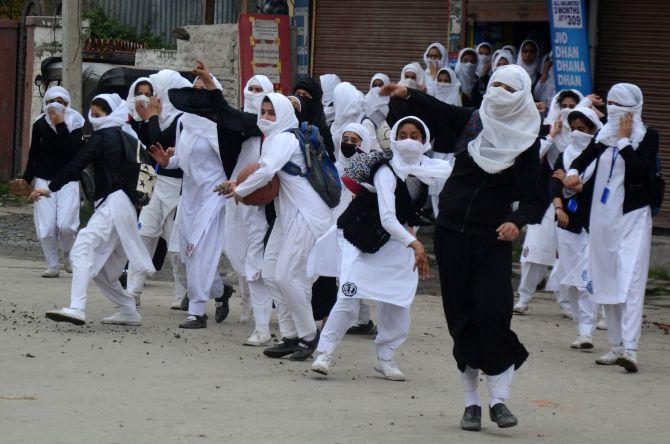 Police had to fire dozens of tear smoke shells in an attempt to disperse the stone-pelting students from S P College and the adjoining Women's College on M A Road, officials said.
REWIND: Top photos of the week that was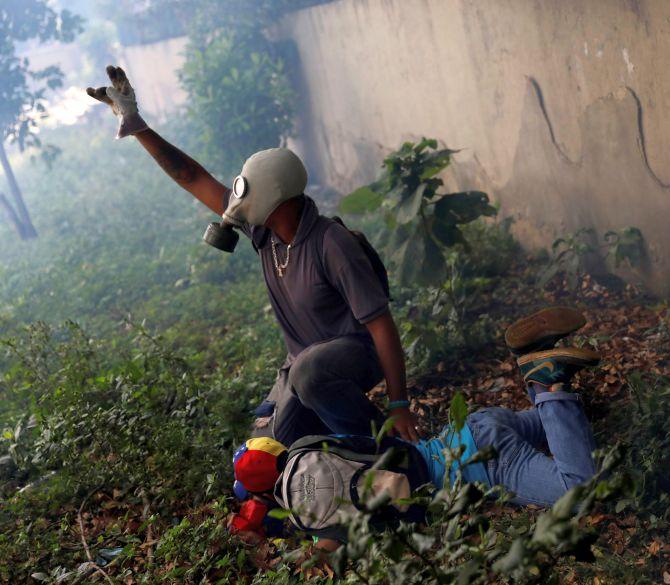 Here's a glimpse of all that happened around the world last week in images.
In France, it will be Le Pen vs Macron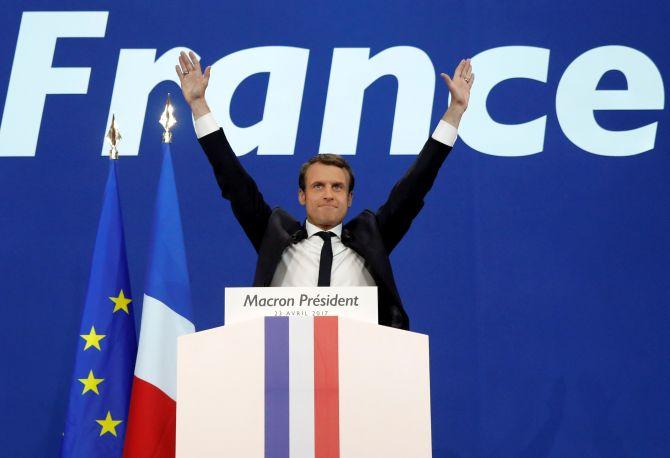 Voters in France have comprehensively snubbed the country's political establishment, sending far-right populist Marine Le Pen and political novice Emmanuel Macron through to the second round of the country's presidential election.
April 23, 2017
MCD elections: Delhi records 54 % voting, exit polls predict BJP's win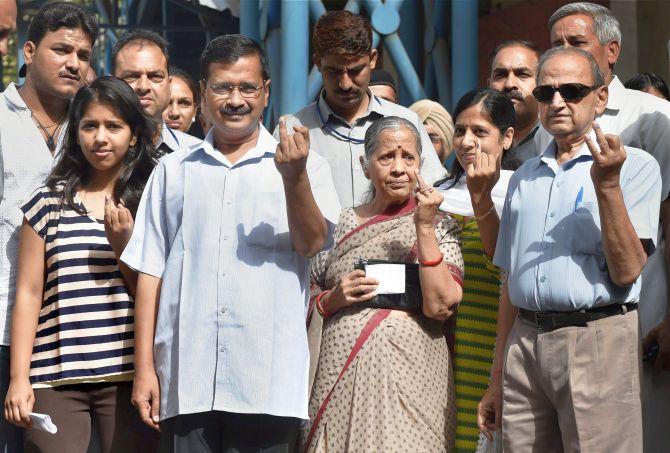 Exit polls predict clean sweep for the BJP, rout for AAP.
April 21, 2017
14 people killed in fire at kerosene distribution centre in MP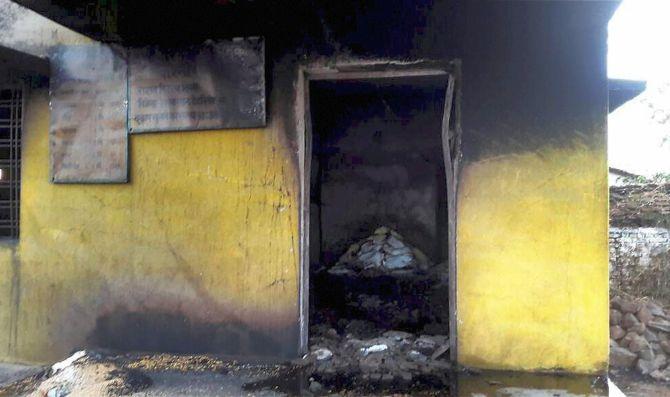 The CM has announced an ex gratia of Rs 4 lakh each to the kin of those killed.
Unmanned aerial vehicle Lakshya crashes in Odisha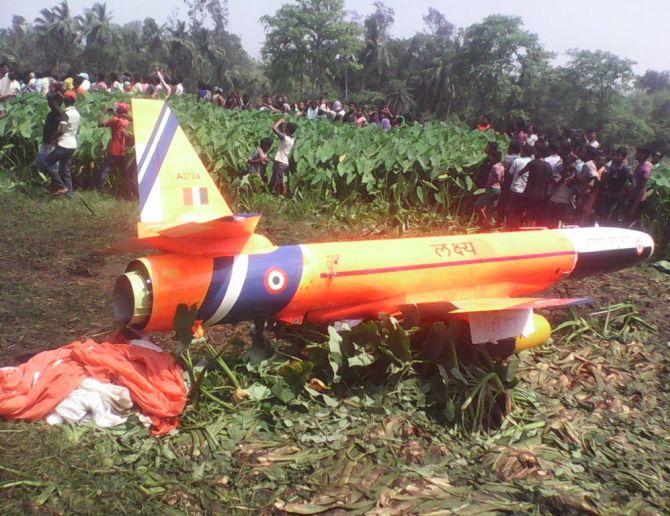 There was no casualty or damage to property, Superintendent of Police Niti Sekhar said.
PHOTOS: Welcome to the International Church of Cannabis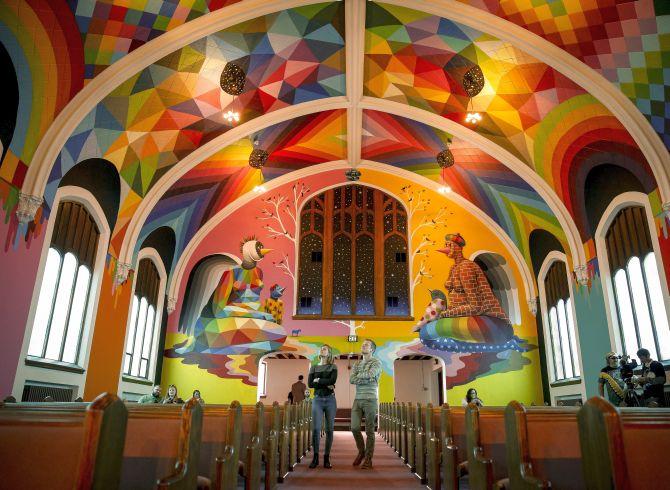 From April 20, weed smokers will be able to smoke, learn and reflect at the International Church of Cannabis at Colorado, US.
Queen@91: 15 facts about her that might surprise you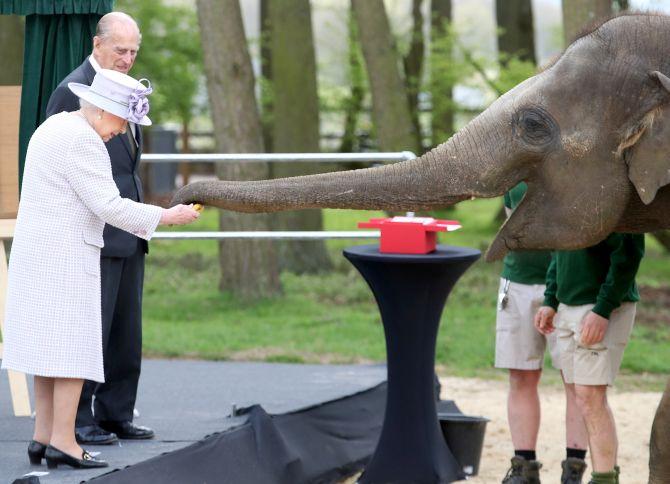 The Queen, 89, will take over the title from her great-great-grandmother Queen Victoria who, according to Buckingham Palace, reigned for exactly 23,226 days, 16 hours and 23 minutes.
The Mosul violinist who defied Islamic State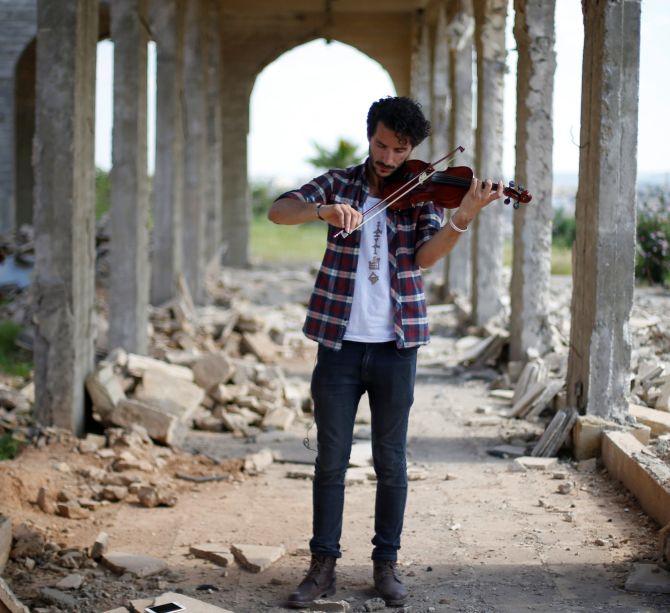 Amid the sounds of gunbattle and bombs exploding, on Wednesday, the sound of music arose from the ruins of Mosul in Iraq, all thanks to one man -- Ameen Mukdad.
Islamic State behind Paris attack which kills 1 cop, injures 2 others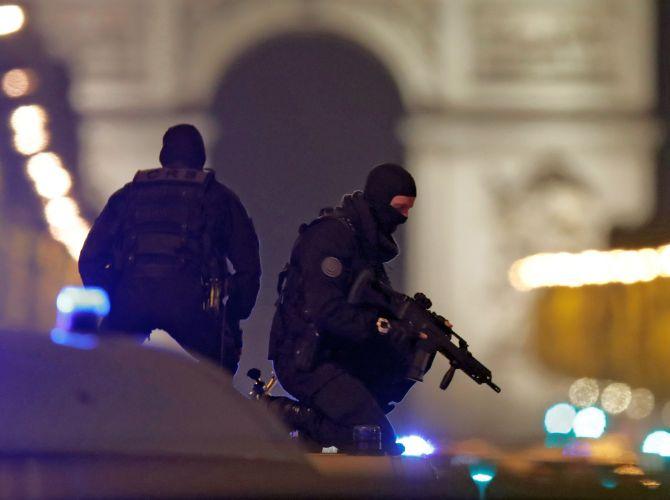 The shooting happened about 9 pm local time when a car stopped at 102 Champs-Elysees in front of a police van, Interior Ministry spokesman Pierre Henry Brandet said.
April 19, 2017
45 killed after bus falls into river in Shimla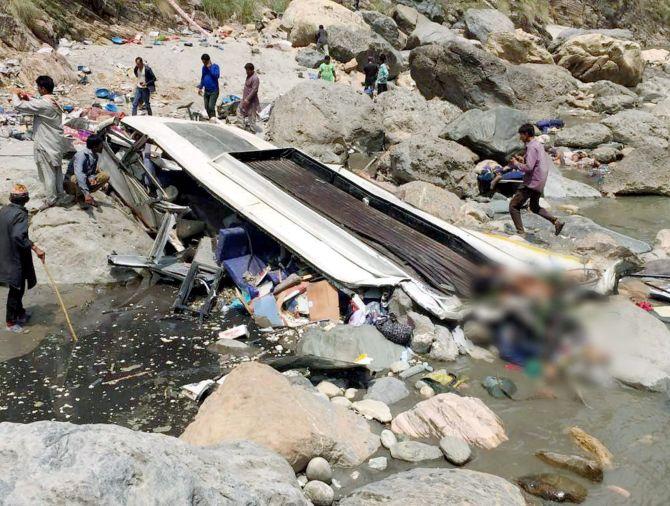 The passengers were on their way from Vikasnagar in Uttarakhand to Tuni and the accident took place on the Uttarakhand-Himachal border in Himachal territory.
PHOTOS: Leaders remove lal batti voluntarily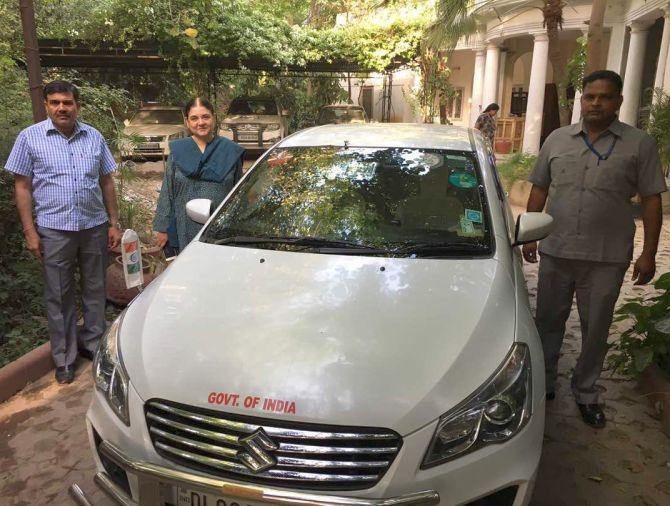 Several Union ministers and chief ministers voluntarily removed the red beacons from their vehicles even before the notification of it came into effect.
April 18, 2017
PHOTOS: Inside Yogi's Hindu Yuva Vahini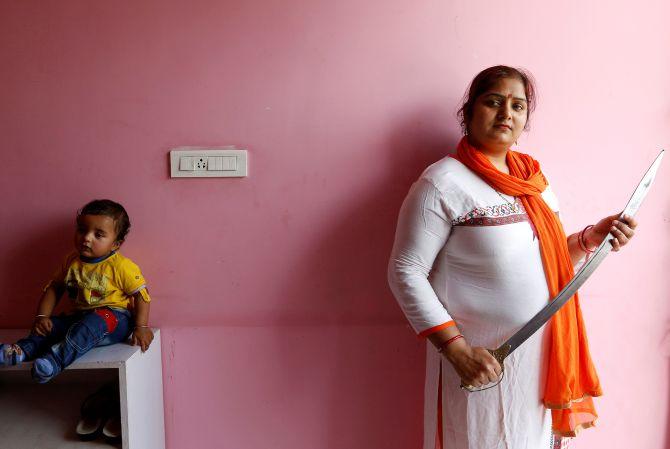 In recent weeks, reports have come out from Uttar Pradesh of members of the Hindu Yuva Vahini thrashing couples, shutting down meat shops.
April 17, 2017
Prince Harry was 'close to complete breakdown' after Diana's death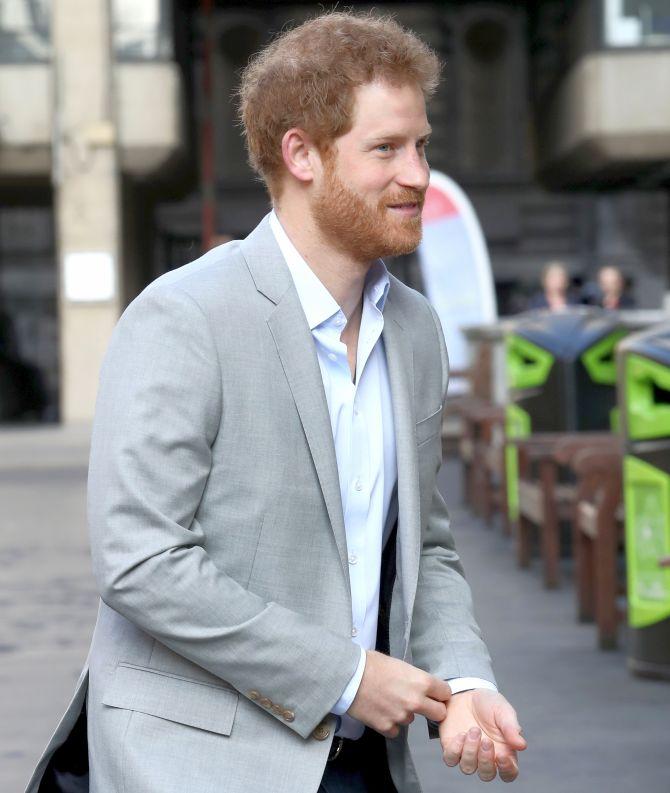 The fifth in line to the British throne reveals how counselling helped him through grief issues after his mother's demise when he was 12-years- old.
Erdogan clinches victory in Turkish constitutional referendum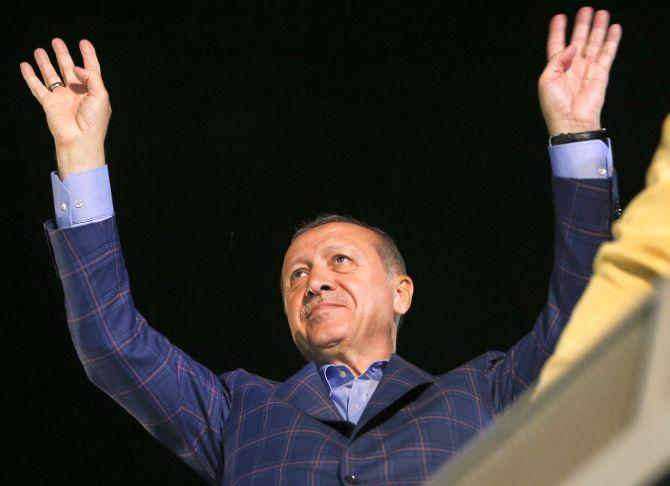 The 'Yes' campaign won 51.4 per cent of the vote against 48.6 per cent for 'No', the election commission said on Sunday in figures quoted by state news agency Anadolu, in a count based on 99.5 per cent of the ballot boxes.
4 lakh litres of water later, Mount Abu wildfire continues to rage on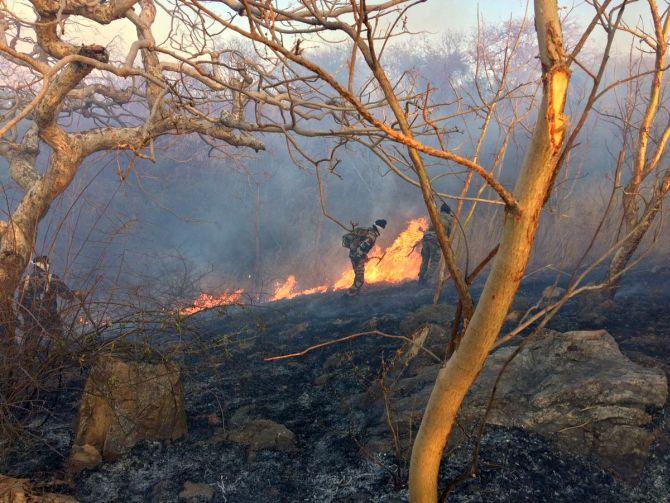 On Sunday, in an operation called Bambi Bucket, the Indian Air Force flew a total of 64 shuttles, pouring over 1,95,500 litres of water to douse the raging forest fires, a defence spokesperson said.
April 16, 2017
PHOTOS: Modi's Surat roadshow, a homecoming fit for a PM!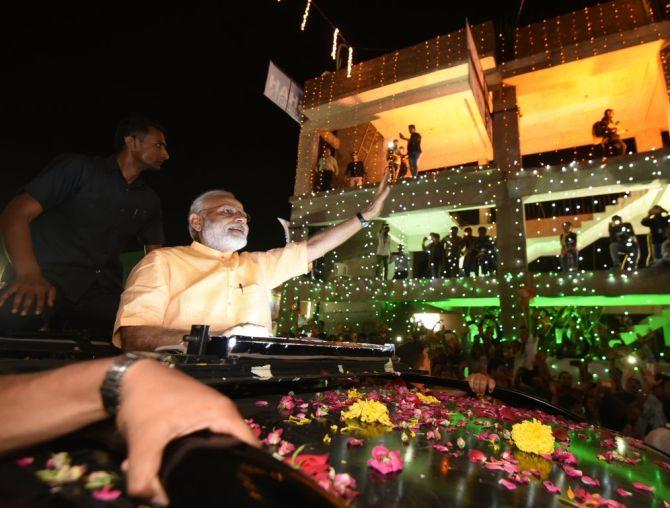 Huge television screens, flags, flashy lights and a 10,000-bike cavalcade.
Hope fades for missing people in Lanka garbage mishap, toll 24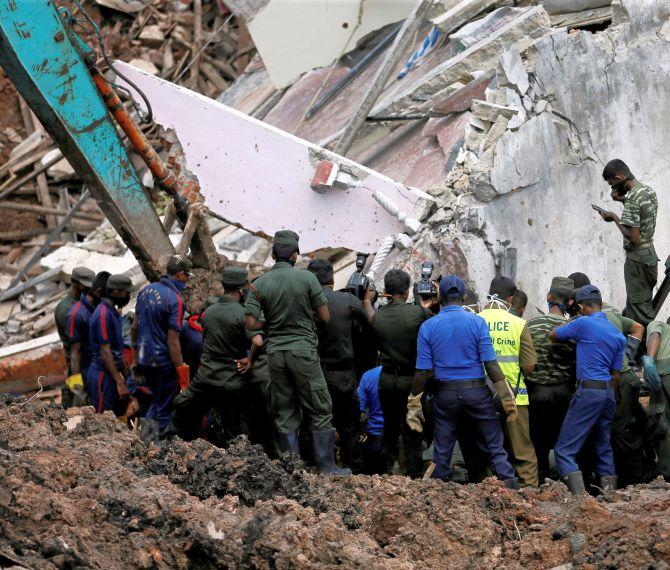 The residents near the dump had been protesting for months, demanding that the garbage dump be relocated.
April 15, 2017
Bhubaneswar: PM holds roadshow amid chants of 'Modi, Modi'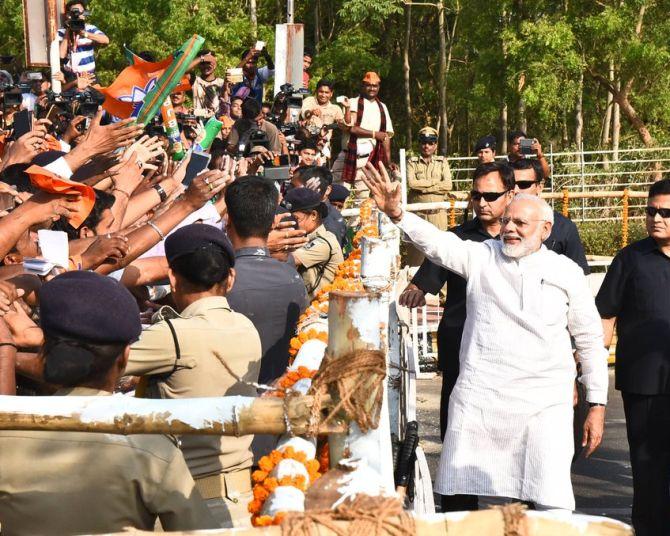 Defying the security cordon, Modi even got off his vehicle a couple of times, walked to the people waiting for him.
April 14, 2017
PHOTOS: PM Modi pays tribute to Ambedkar at Deekshabhoomi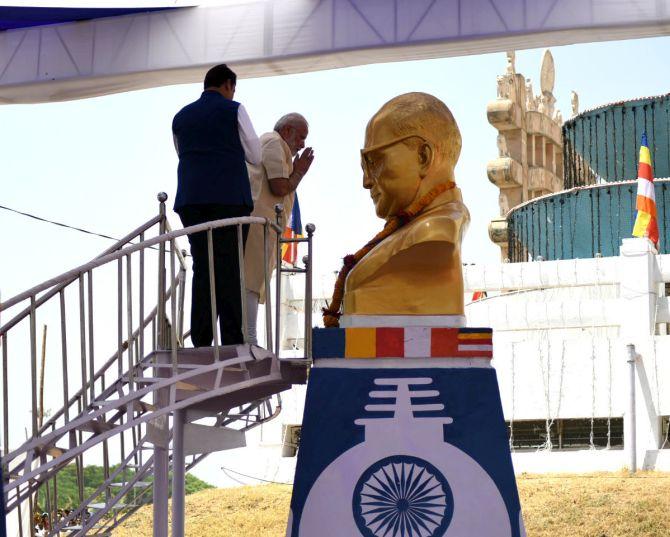 Taking forward the Bharatiya Janata Party's aggressive dalit outreach, Prime Minister Narendra Modi on Friday flew into Nagpur to pay homage to Bhimrao Ambedkar at 'Deekshabhoomi'.
April 12, 2017
Protect India's constitutional democracy: Opposition to Prez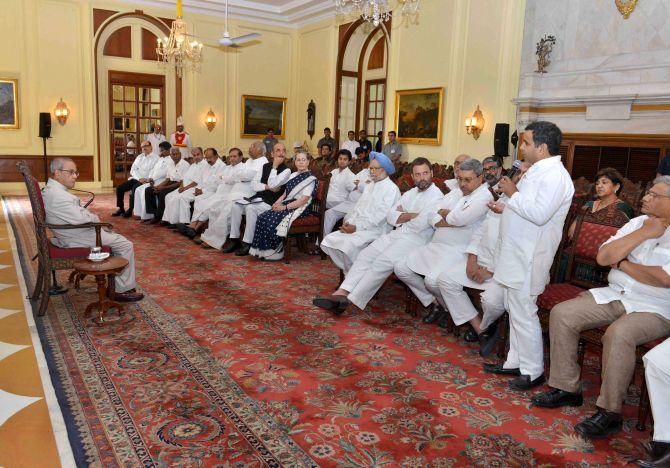 Major opposition parties met President Pranab Mukherjee on Wednesday and put forth their concerns over recent incidents of violence, including attacks by cow vigilantes, and attempts to "muzzle voices of dissent".
The world's 10 weirdest festivals that will make you go 'AAH'!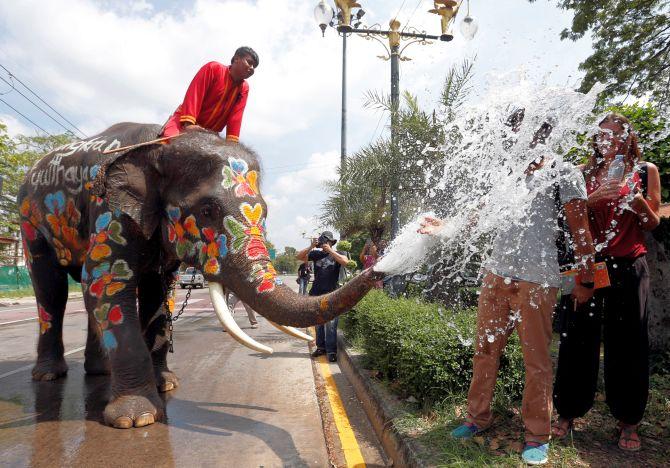 We take a look at the world's quirky, colourful - and downright bizarre - events.
April 11, 2017
WTF News! It's Weird, True and Funny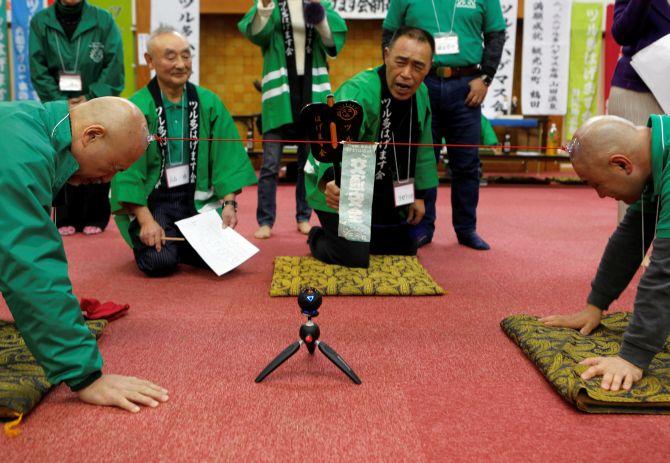 Here's a collection of stories that prove we live in a truly mad, mad world.
Teacher, student killed in US school shooting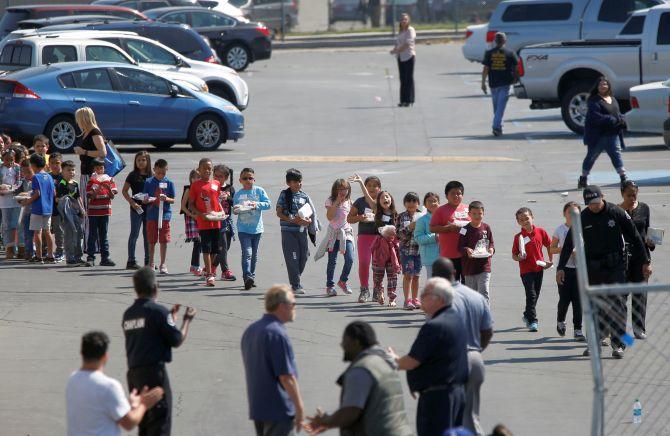 A teacher and a student have been shot dead in a murder-suicide at an elementary school in San Bernardino, California.
April 09, 2017
Srinagar bypoll: 3 killed, several injured as mobs storm polling booths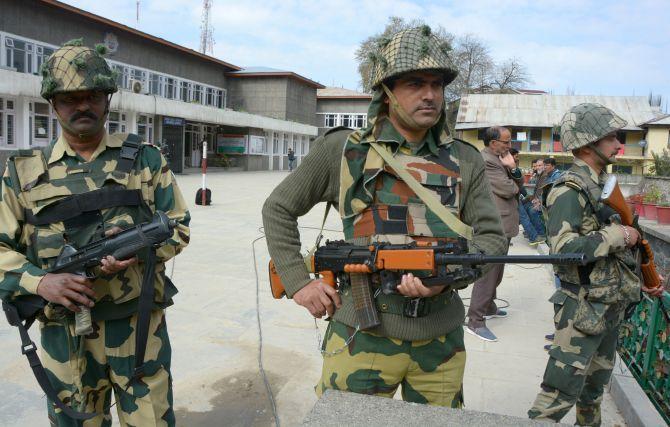 The BSF opened fire in Pakharpora near Charar-e-Sharif area to quell stone-pelting protesters in which at least one person was killed and five injured.
April 07, 2017
Stockholm: 3 killed as truck crashes into store near Indian Embassy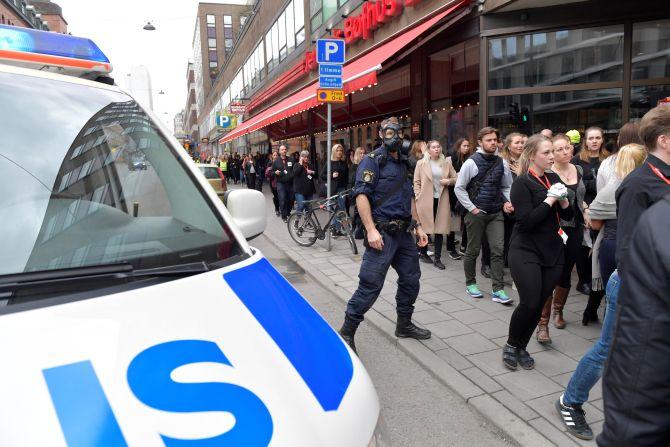 One person was arrested in connection with the attack later.
IN PHOTOS: The 59-missile attack by US on Syria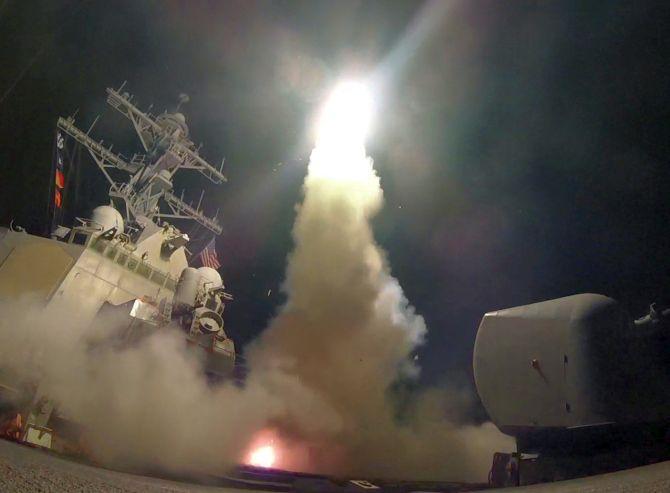 US President Donald Trump ordered military strikes against Syria on Thursday in retaliation for a chemical weapons attack that killed dozens of civilians, including children.
Eating mice, shaving heads: What TN farmers have been doing at Jantar Mantar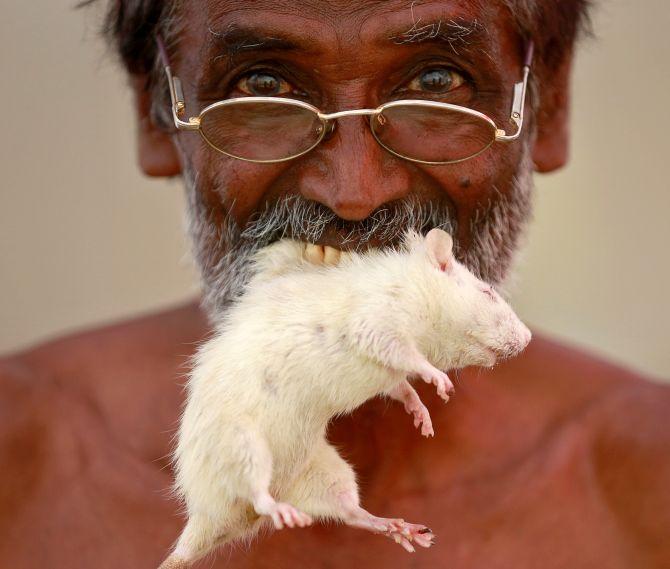 Take a look at how Tamil Nadu farmers are making their voices heard.
Will have a very great relationship: Trump on meeting China's Xi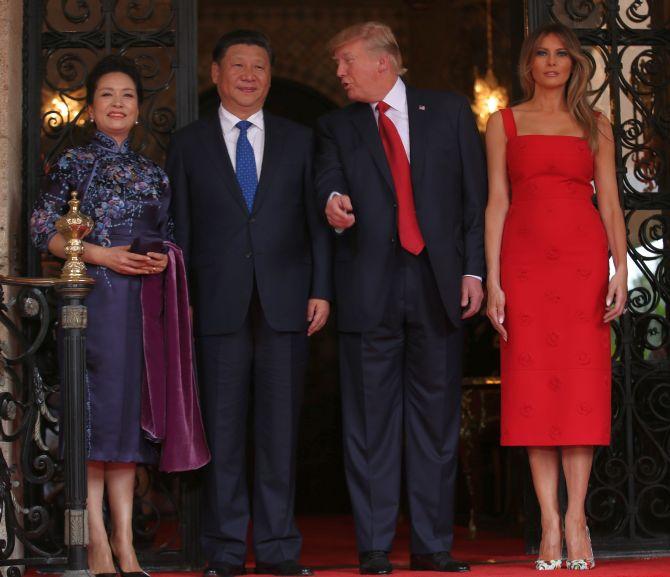 United States President Donald Trump has said that he will have a "very, very great relationship" with his Chinese counterpart Xi Jinping as the two leaders met in the Florida resort of Mar-a-Lago for the first time.
April 06, 2017
President honours surgical strikes heroes with Shaurya Chakras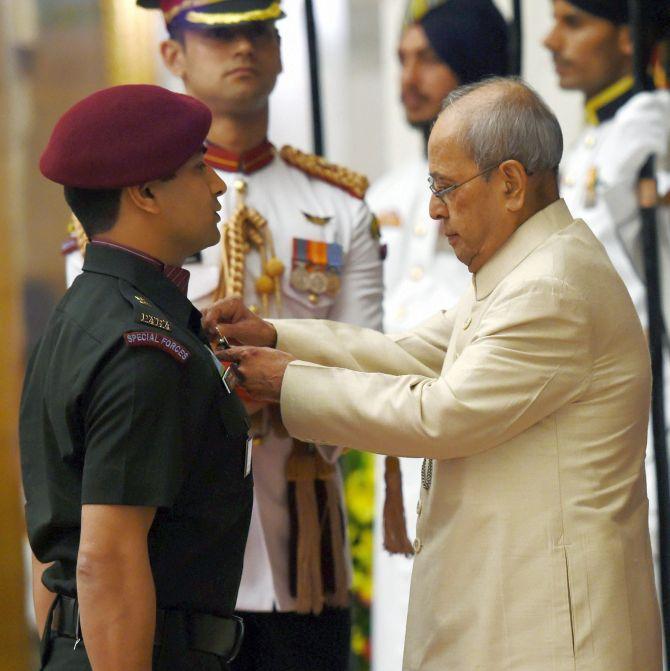 President Pranab Mukherjee on Thursday awarded Shaurya Chakras to the officers who took part in the daring surgical strike across the Line of Control last year.
PHOTOS: It's April, but it's snowing in Kashmir!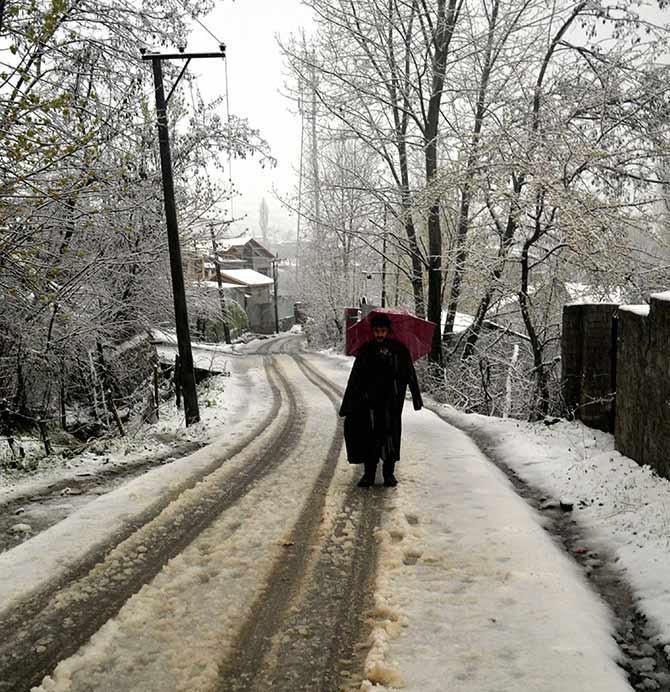 The snowfall has prompted authorities to shut down the Jammu-Srinagar National Highway and schools and colleges are also shut.
From WW I to Syria: When poison rained from the skies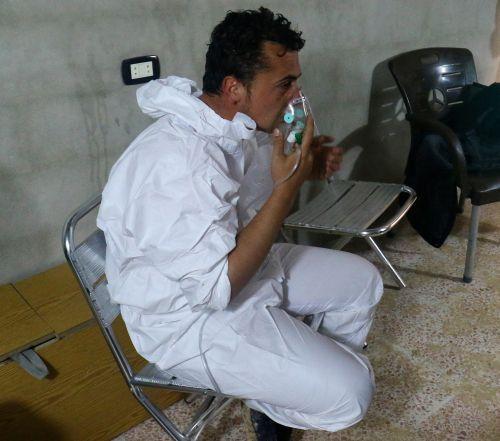 Rediff.com takes a look at times these deadly weapons have been used.
April 05, 2017
'A barbaric act'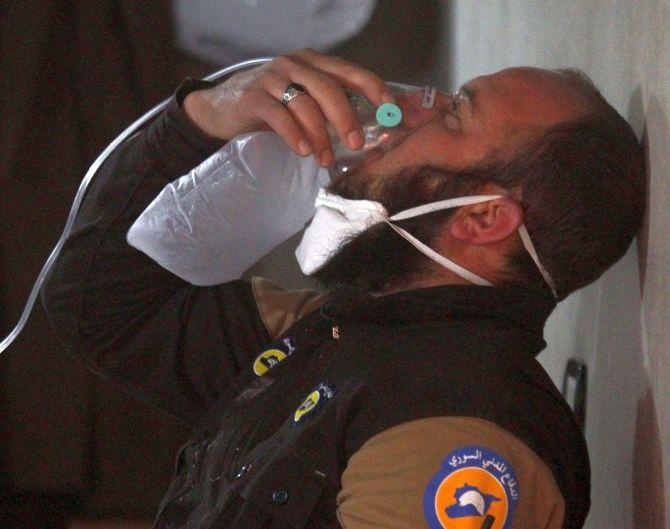 The Syrian Observatory for Human Rights had said those killed in the town of Khan Sheikhun, in Idlib province, had died from the effects of the gas, adding that dozens more suffered respiratory problems and other symptoms.
PHOTOS: The incredibly odd world we live in!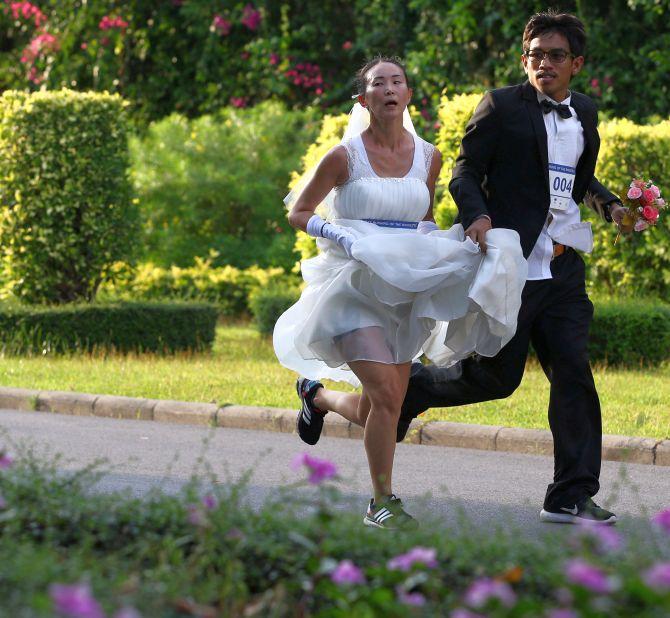 We know it's mad, mad world and these images prove it!
April 04, 2017
PHOTOS: Country reels under scorching sun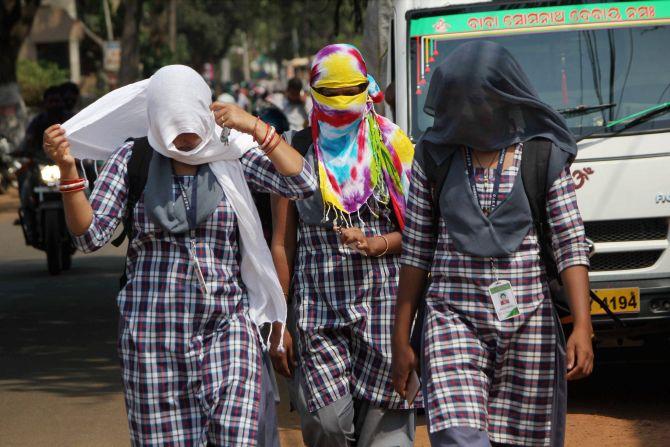 Vast swathes of the country are reeling under scorching heat with the mercury soaring to above 40°C mark in many areas.
April 03, 2017
Russia: 10 killed, several injured in blast at metro station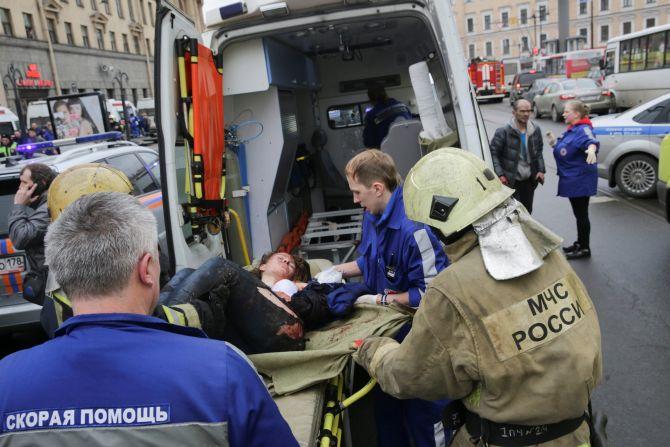 Investigators are looking into a possible terror attack as well as keeping an open mind to the motive of the subway blast, a Kremlin leader said.
Colombian flood, mudslide kills 254, leaves thousands homeless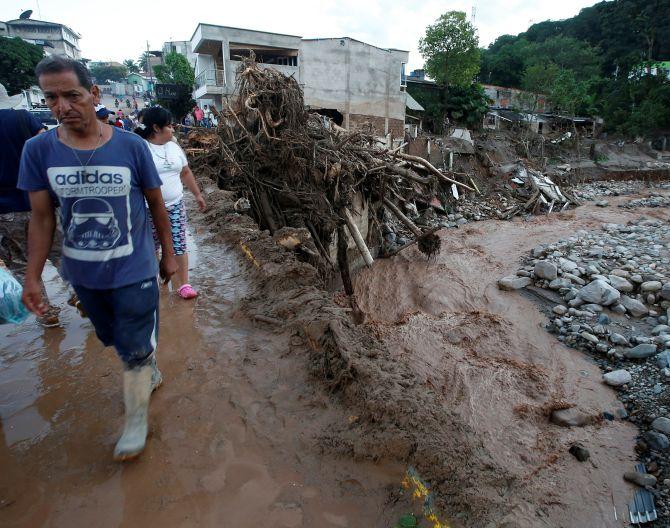 Several rivers burst their banks near the southwestern city of Mocoa, 500 km southwest of Bogota, in the early hours of Saturday, sending water, mud and debris crashing down streets and into houses as people slept.
April 02, 2017
PM inaugurates India's longest road tunnel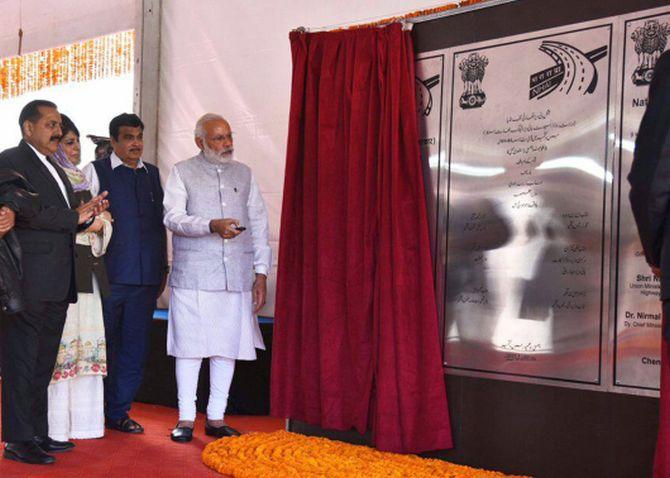 The tunnel, bypassing snow-bound upper reaches, will reduce the journey time by two hours and provide a safe, all-weather route to commuters travelling from Jammu and Udhampur to Ramban, Banihal and Srinagar.
April 01, 2017
PHOTOS: Welcome to Asia's largest tulip garden in Kashmir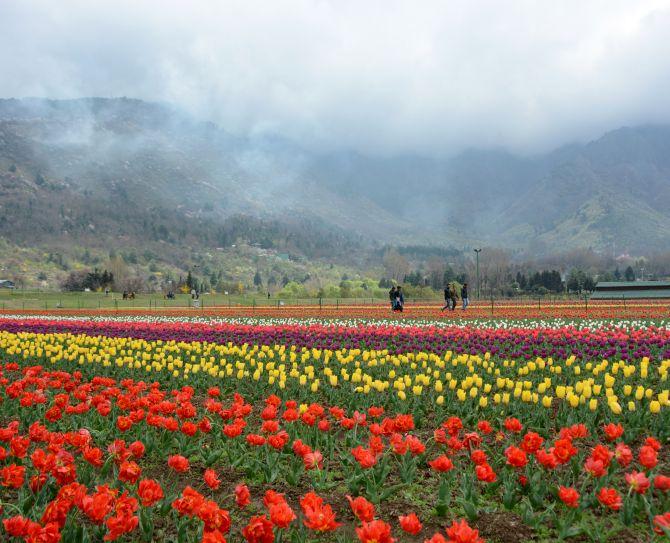 With 20 lakh tulips of 46 varieties in its lap, Asia's largest Tulip garden overlooking the world famous Dal Lake in Srinagar was on Saturday thrown open to visitors, marking the beginning of new tourism season in the valley.
DMK's Stalin meets protesting TN farmers, demands loan waiver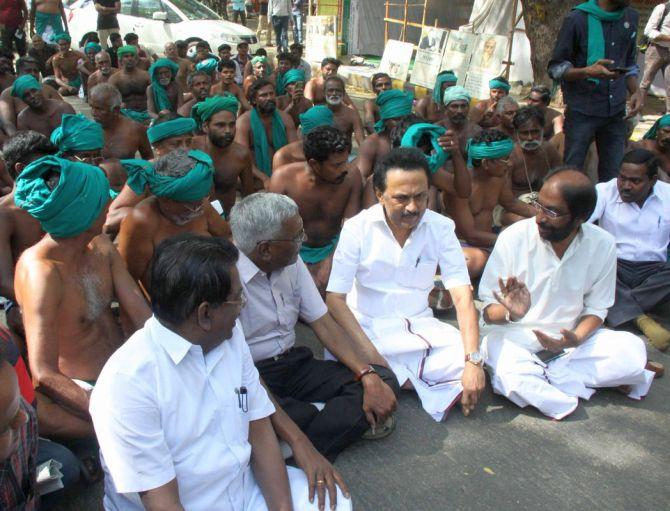 Stalin said that Modi should allow the farmers to meet him and offer a consoling solution at the earliest.
Army convoy attacked in Srinagar, 2 soldiers injured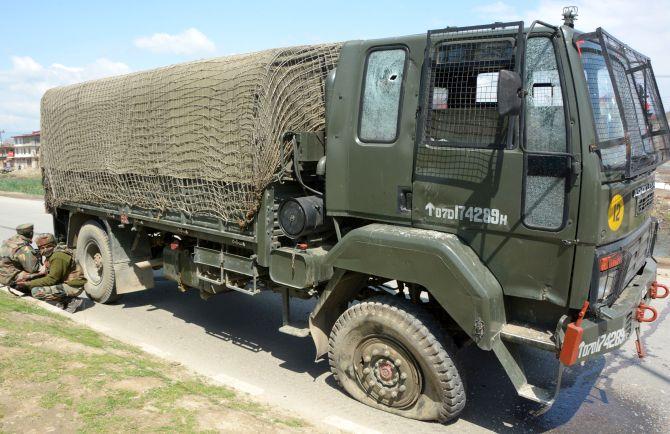 The terrorists opened fire on the convoy near SKIMS Hospital Bemina at around 1.15 pm.
March 31, 2017
FBI releases never-before-seen 9/11 Pentagon photos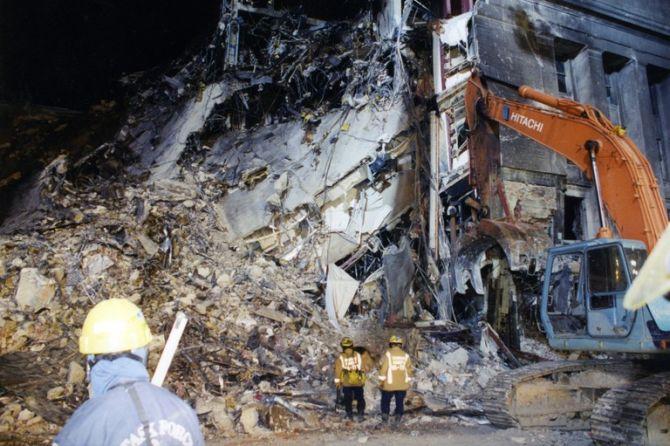 The Federal Bureau of Investigation released chilling new images of the Pentagon in the immediate aftermath of the 9/11 attacks.
UP CM Yogi visits Aparna Yadav's cow shelter, gives tips on better upkeep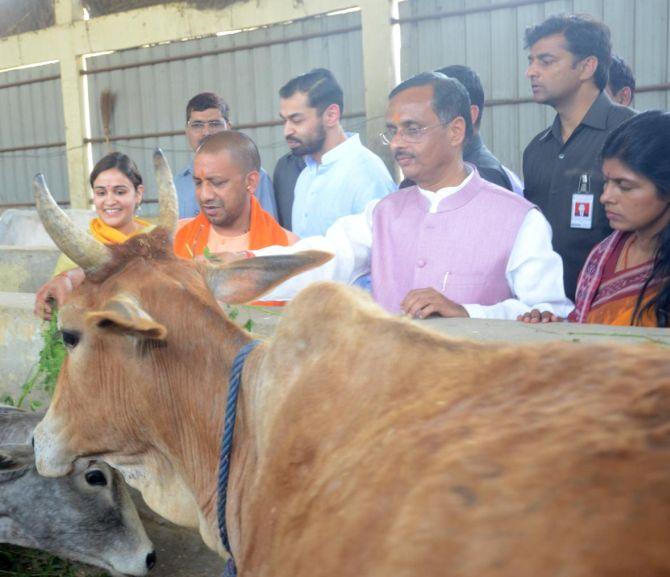 The chief minister stressed on more hygiene in the areas where cows were kept and gave a direction to ensure availability of green fodder to them.
Feast your eyes on these fantastic images!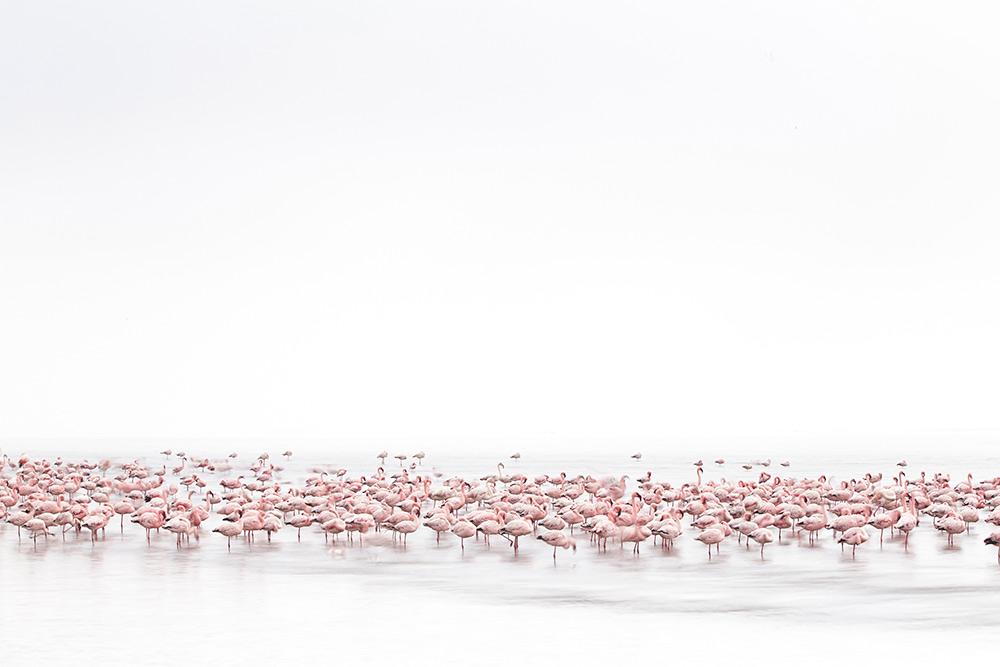 The Sony World Photography Awards, an annual competition hosted by the World Photography Organisation, has announced the winners of its Open categories and National categories for 2017.
March 30, 2017
Murli Manohar Joshi, Sharad Pawar conferred Padma awards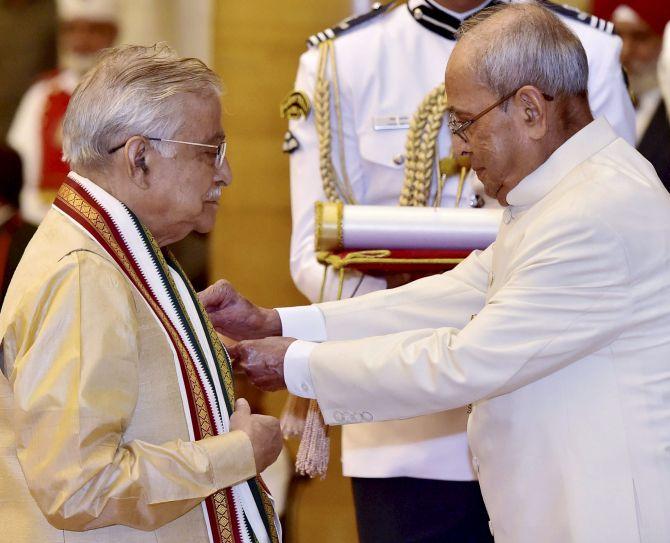 The number of Padma awardees this year is 89, which includes seven recipients each for Padma Vibhushan and Padma Bhushan.
2 people die as March becomes the new May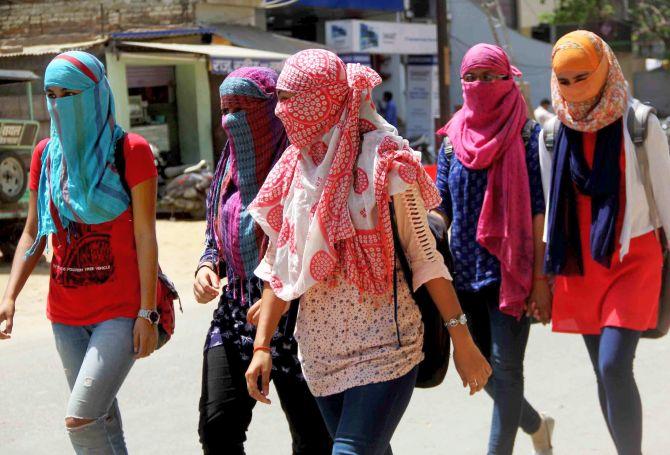 As per the India Meteorological Department many districts in Maharashtra recorded maximum temperatures of 40 degree Celsius or above in the last two days.
PHOTOS: When Muslims demand a Ram Mandir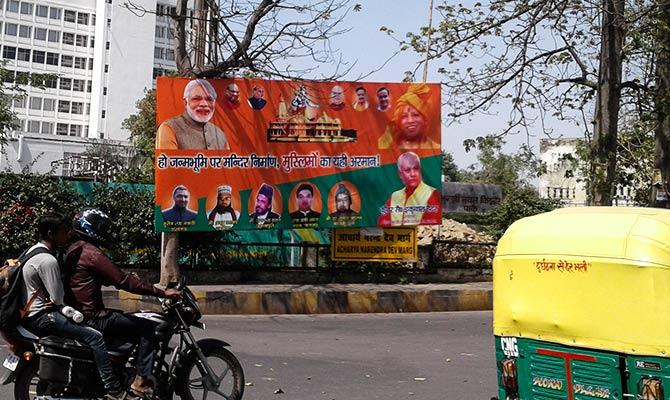 Around 10 hoardings have been put up near the disputed land which says that Muslims want the construction of the Ram Mandir
52 injured after Mahakaushal Express derails, railways order probe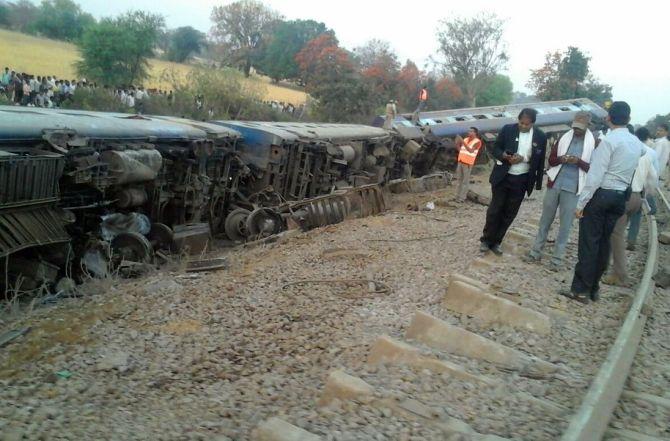 8 bogies of Mahakaushal Express derail in UP, 52 injured.
These 9 images wowed Smithsonian and we are sure they'll wow you too!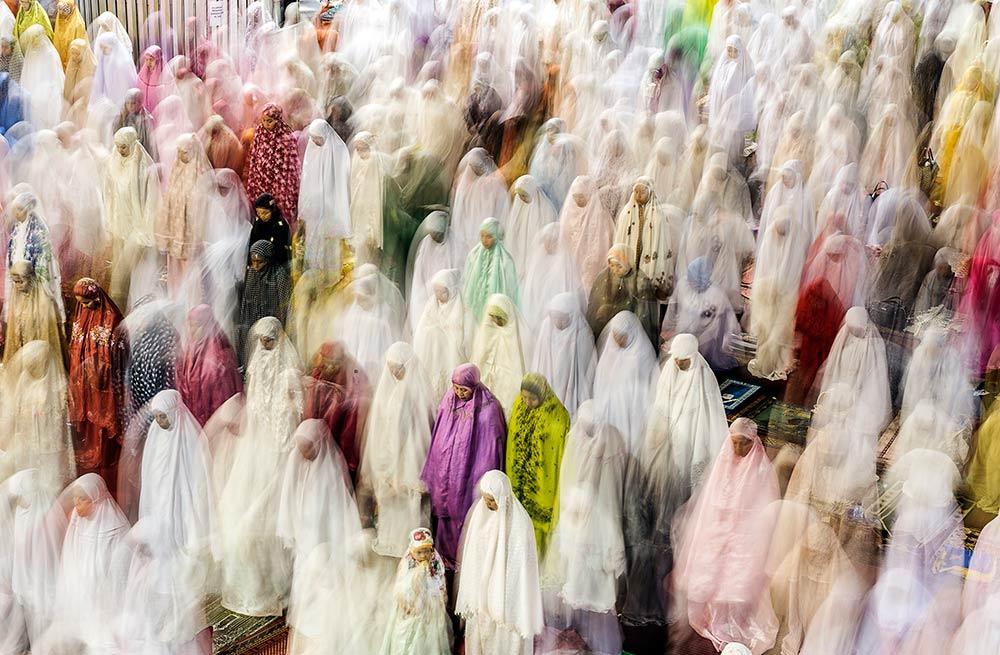 Smithsonian has just announced the winners for their 14th annual photo contest, which includes the grand prize, readers' choice and 7 category winners.
March 29, 2017
PHOTOS: When our MPs bent it like Beckham!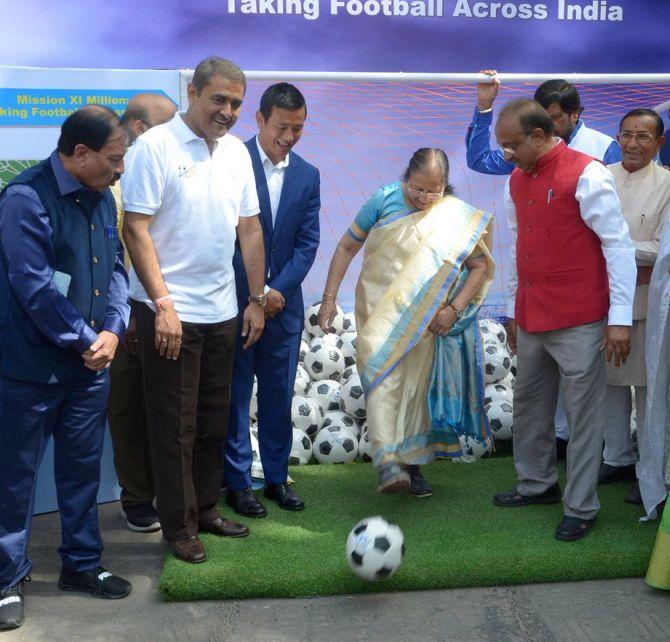 Members of Parliament cutting across party lines participated with enthusiasm in a mass awareness programme for promoting sports culture in the country, particularly the game of football.
With cherry blossoms in bloom, Washington is the place to see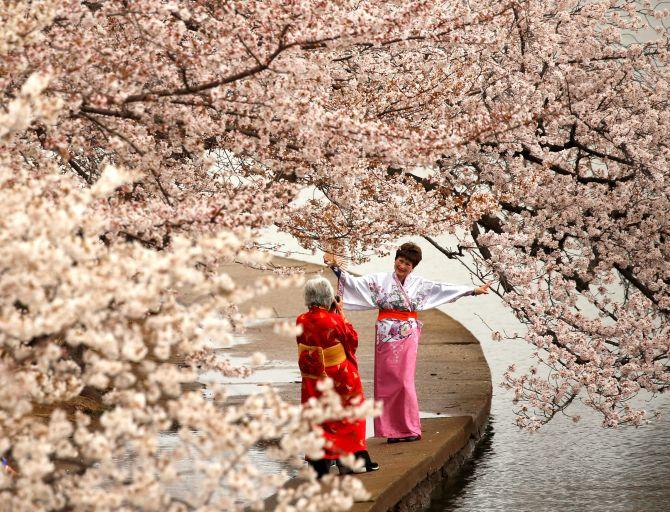 The iconic pale pink flowers have bloomed and Washington, DC hasn't looked this beautiful.
March 28, 2017
These pets are sure to make you LOL!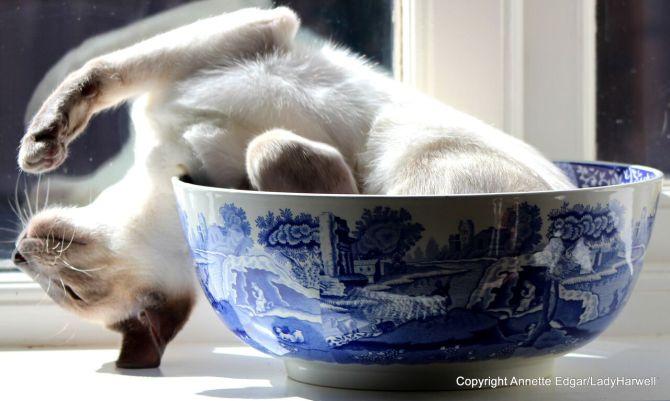 The Comedy Pet Photography Awards are calling on pet-lovers the world over to enter snaps of their comical pets to be in the running to win a £2,000 (Rs 1.63 lakh) cash prize.
PHOTOS: Meet India's silent soldiers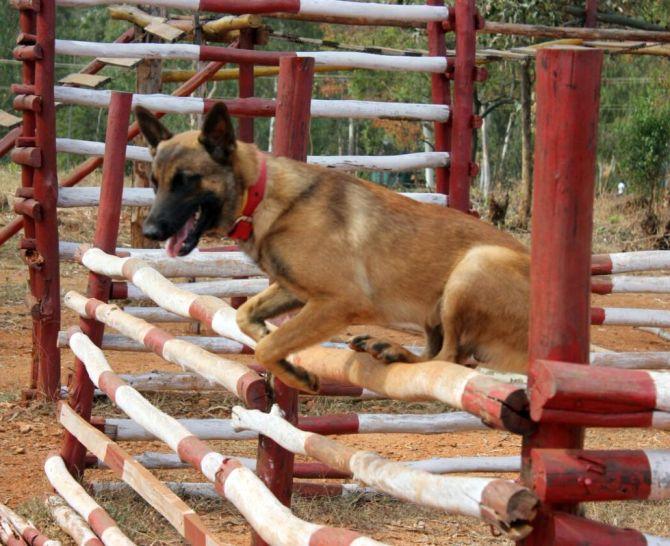 The four leg canine 'soldiers' play a crucial role in saving lives of troops and civilians, reports Mayank Singh.
March 24, 2017
Where are the doctors?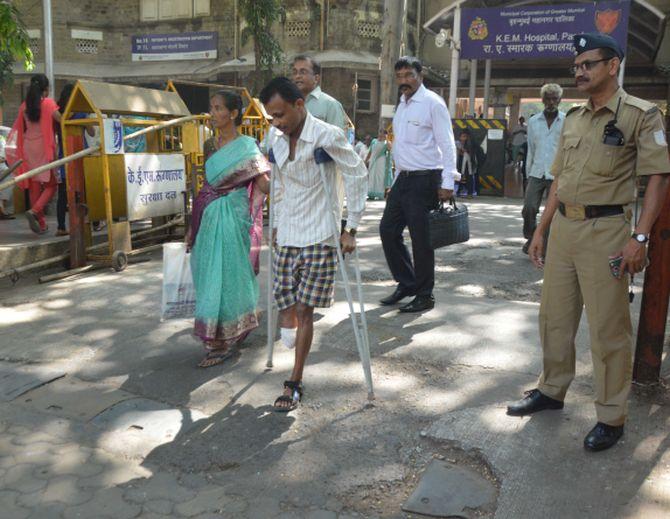 Resident doctors in Maharashtra are yet to resume work despite an appeal by an association representing them to join duty and intervention of the Bombay high court.
Trump sits in a truck, Twitter goes into overdrive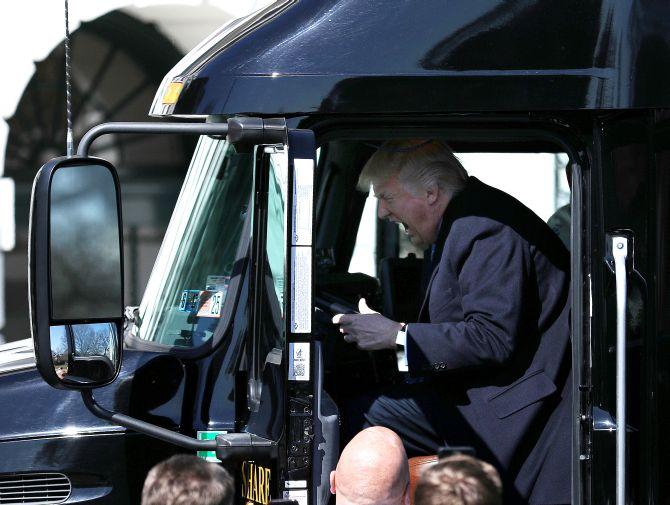 Trump was mercilessly mocked on Twitter for his whimsical reactions while seated in the truck.
'We are not afraid'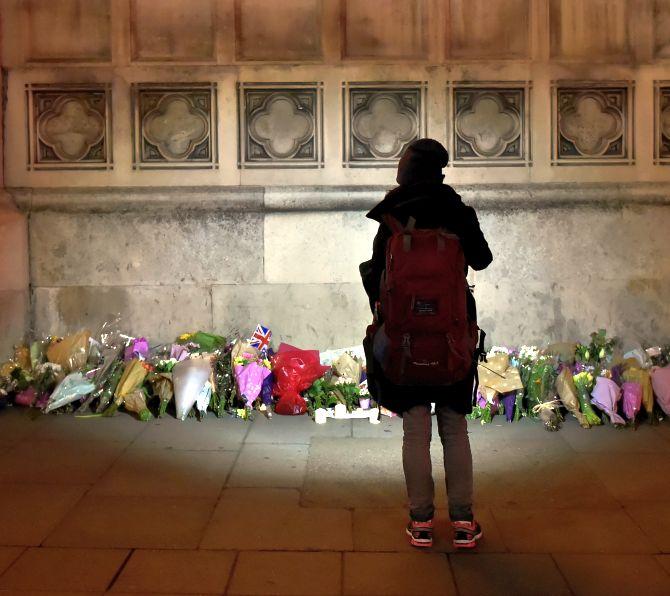 A day after Londoners were confronted with a 'sick and depraved' attack, crowds gathered in the heart of the city to pay tribute to the victims.
March 23, 2017
PHOTOS: The world takes to Twitter to 'Pray For London'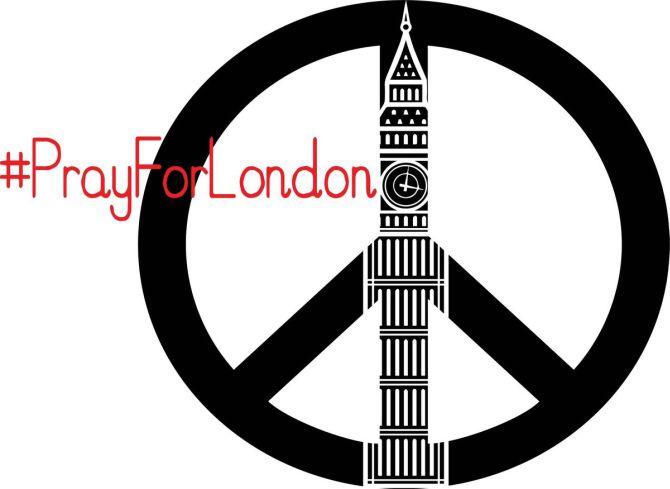 In the wake of the horrifying Westminster bridge terror attacks, people are sharing posts on social media with the hashtag #PrayForLondon, and #Londonstrong.
'Heard a thud, saw a man lying in a pool of blood'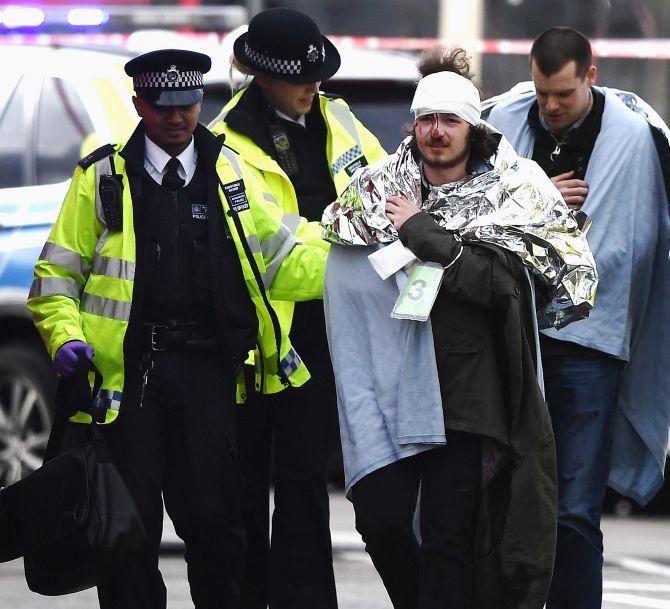 Members of the public recount the moment terror struck the heart of London, which left five people dead and at least 40 people injured.
No Indian casualty in London attack: Sushma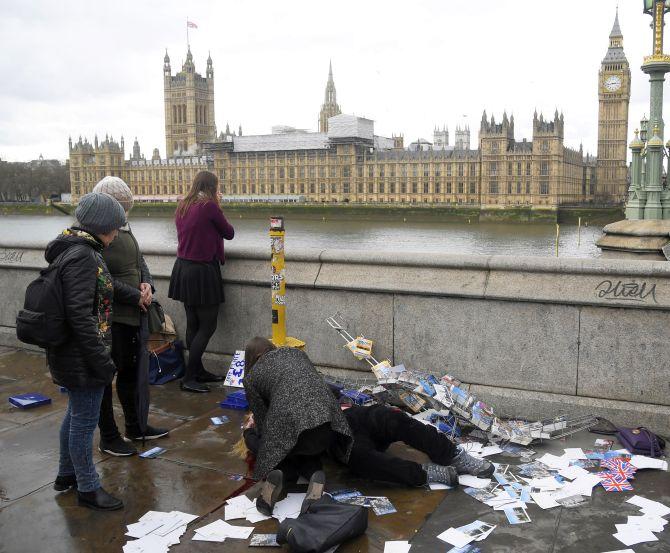 Swaraj also said that she is in constant touch with Indian high commission.
March 22, 2017
4 killed including attacker in London terror attack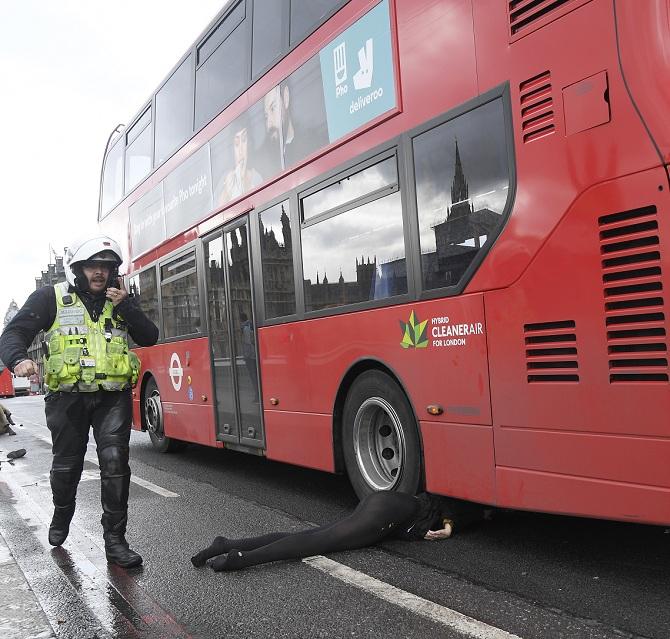 There was no immediate claim of responsibility and it was not clear if there was more than one attacker.
Rejoin duty or lose 6 months' pay: Government warns striking doctors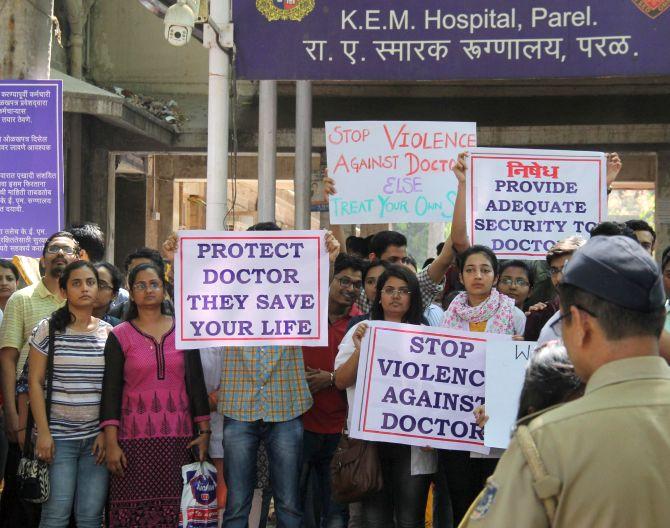 Nearly 4,000 doctors have been on strike in various government and municipal hospitals since Monday demanding security at work place in the wake of a string of attacks on their colleagues.
PHOTOS: Restoration of Jesus' tomb costs $3.3 million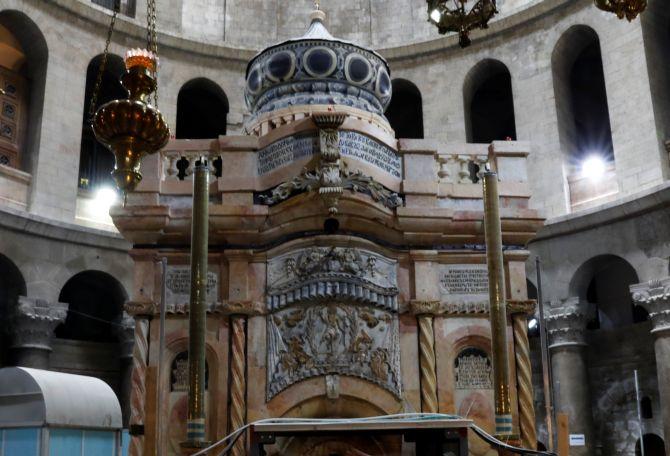 The restoration work, held up for more than 200 years, took nine months to be completed.
Now, a US billboard shows Trump with swastika-like symbols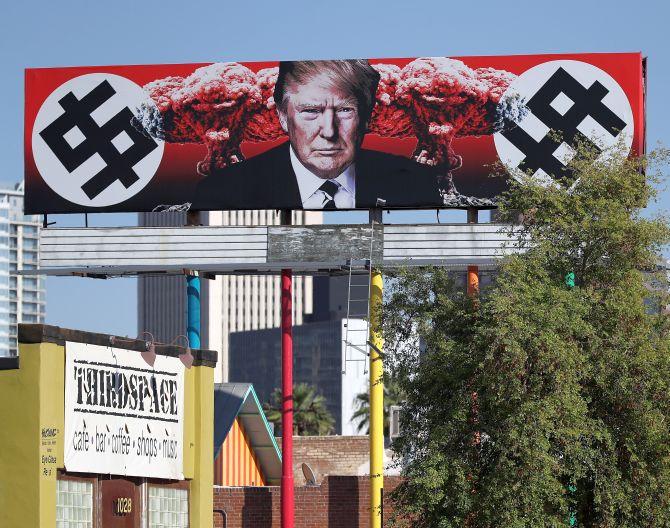 Artist Karen Fiorito reportedly designed the billboard on Grand Avenue which shows Trump and red nuclear explosions surrounded by the hate symbols.
63 million Indians don't have access to clean water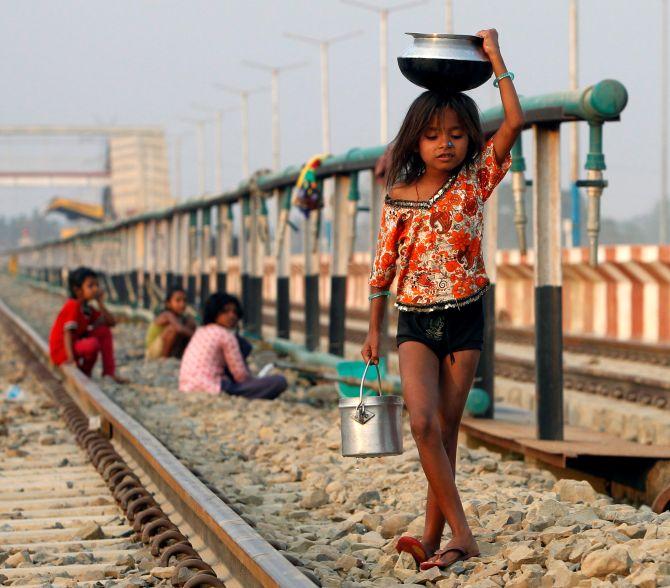 The report by WaterAid states that 663 million people globally are without clean water and the vast majority of them -- 522 million -- live in rural areas.
March 21, 2017
Patients suffer as 4,000 doctors go on mass leave in Maharashtra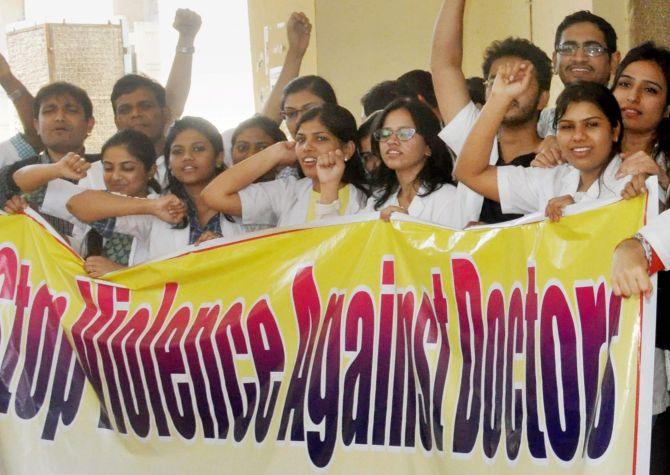 The doctors have been protesting against some recent incidents, including in Dhule and at the civic-run Sion hospital in Mumbai, where relatives of patients attacked the respective doctors in-charge.
So sad! Iraq, Pakistan, Bangladesh are happier countries than India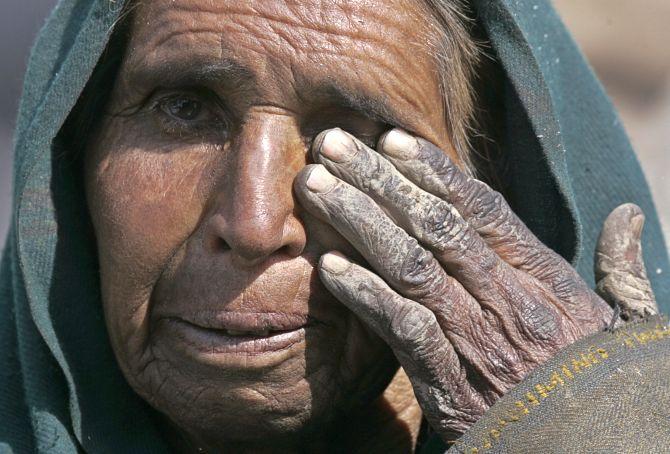 India ranks a lowly 122 according to the World Happiness Report 2017; Norway displaces Denmark for the top spot.
March 19, 2017
'Single CMs club' has new entrant in Adityanath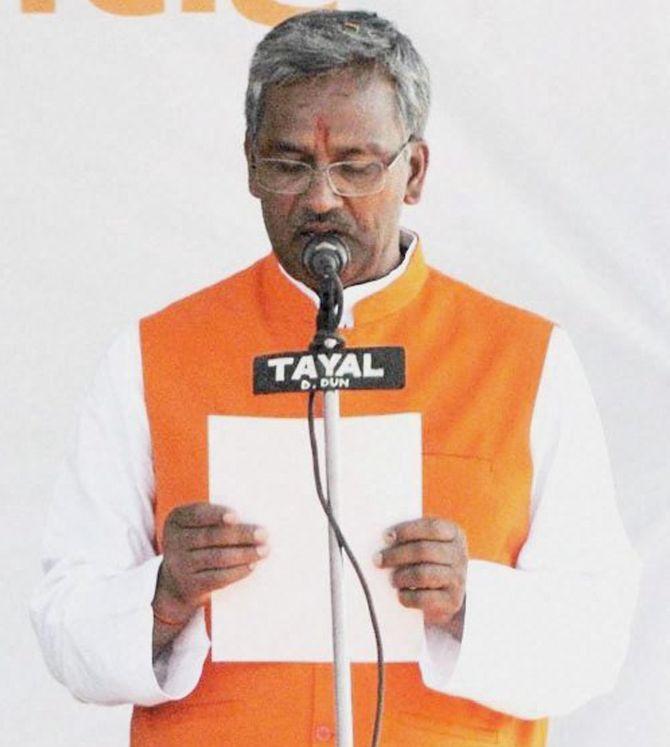 Priest-turned politician Yogi Adityanath, 44, who was on Sunday sworn in as the chief minister of Uttar Pradesh, now joins Trivendra Singh Rawat of Uttarakhand, M L Khattar of Haryana, Sarbananda Sonowal of Assam and 70-year-old Biju Janata Dal chief Naveen Patnaik of Odisha in the league of singletons running state governments.
PHOTOS: PM Modi, BJP biggies attend Yogi Adityanath's swearing-in ceremony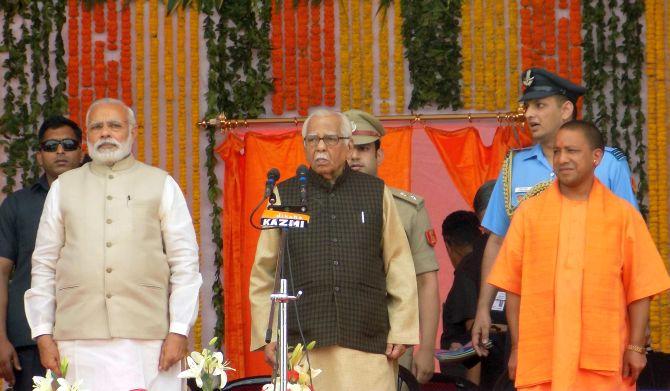 In front of a 50,000 odd strong audience, which also had Prime Minister Narendra Modi and Bharatiya Janata Party president Amit Shah, Yogi Adityanath was sworn in as Uttar Pradesh chief minister on Sunday.
PHOTOS: After trading barbs, PM shares light moment with Akhilesh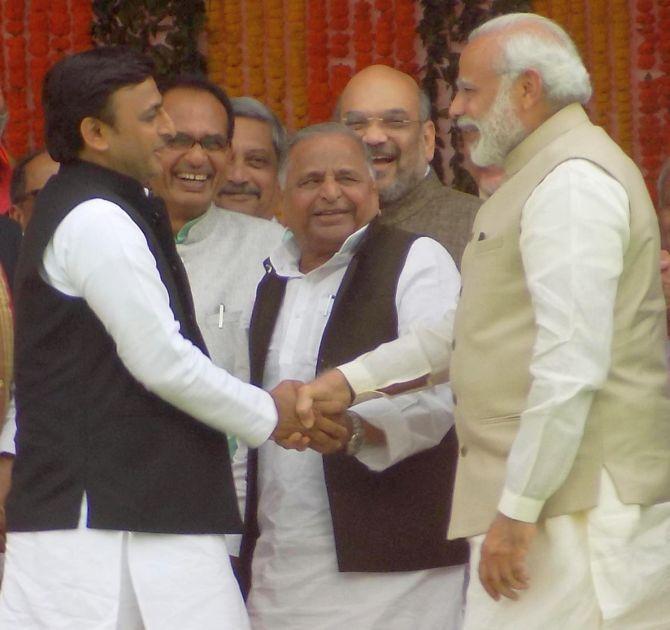 Akhilesh and his father Mulayam attended the swearing-in ceremony of Yogi Adityanath, a move that surprised one and all.
March 18, 2017
Yogi Adityanath to be next UP CM; Maurya, Sharma to be his deputies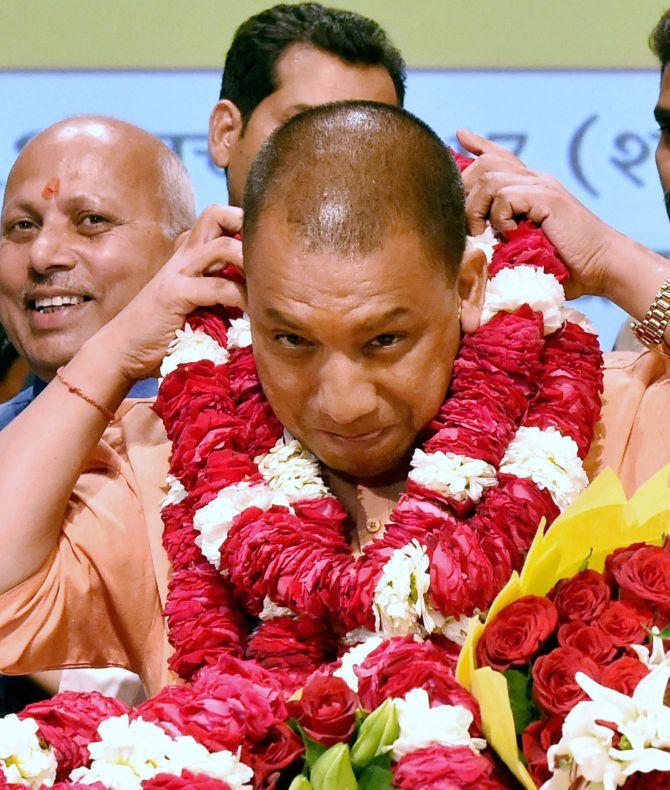 Adityanath will be the 21st UP chief minister and the fourth from the BJP.
Trivendra Singh Rawat, ex-RSS pracharak sworn in as Uttarakhand CM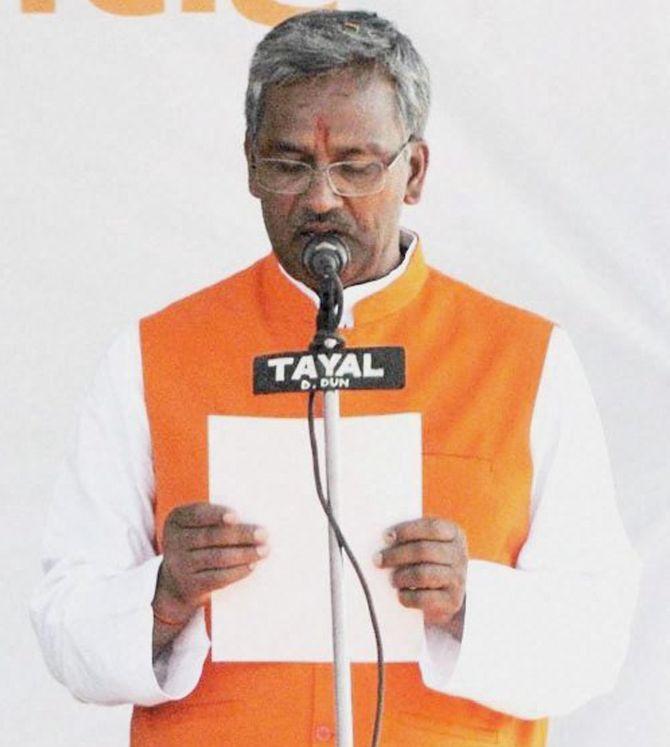 Nine ministers also take oath. Satpal Maharaj, Harak Singh Rawat, Madan Kaushik, Arvind Pandey, Subodh Uniyal,Yashpal Arya and Prakash Pant have been made Cabinet
March 17, 2017
PHOTOS: Meet Mumbai's new cute little friends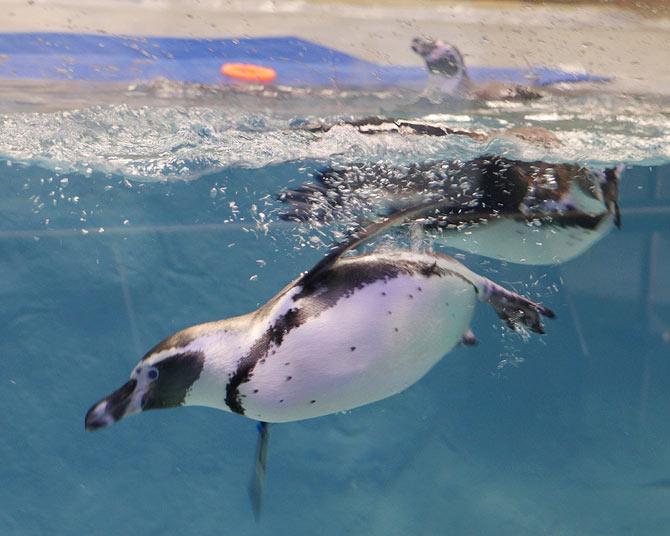 Meet penguins -- Bubble, Daisy, Donald, Flipper, Molt, Olive and Popeye.
PHOTOS: The wonderfully weird world around us!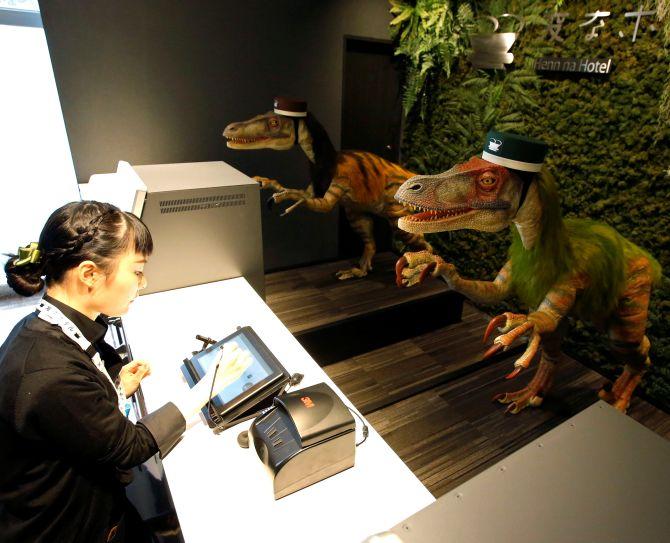 Here's a look at eight images that prove we live in an odd, odd world!
March 16, 2017
At parliamentary party meet, BJP sounds poll bugle for 2019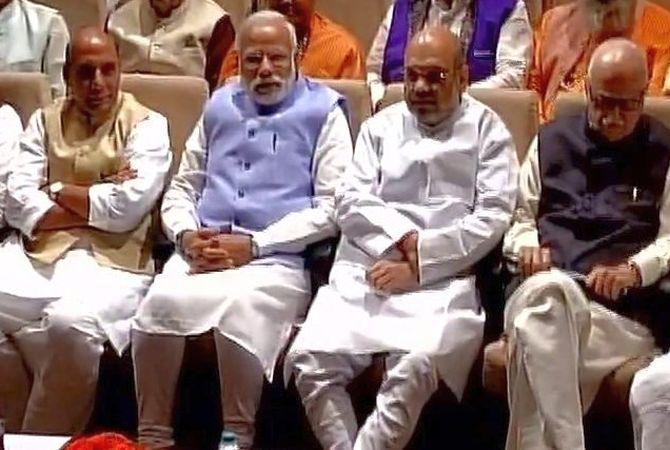 The prime minister said youths should be made "ambassadors" of the Union government's public welfare works and good governance.
Captain Amarinder Singh sworn in as Punjab CM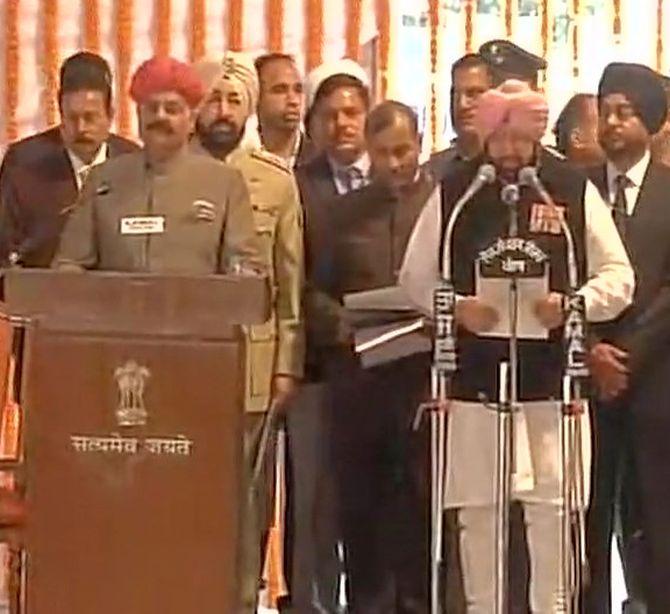 Amarinder, 75, was sworn in as the state's 26th chief minister along with nine ministers, including Navjot Singh Sidhu.
March 15, 2017
2016 was the worst year yet for Syrian children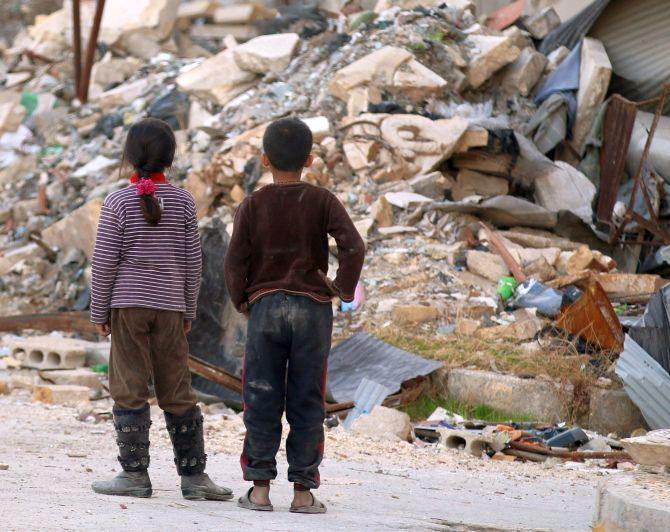 A new Unicef report reveals that more than 650 children died as military conflicts and political games in the embattled country waged on for the sixth year.
5 killed after cold storage collapses in Kanpur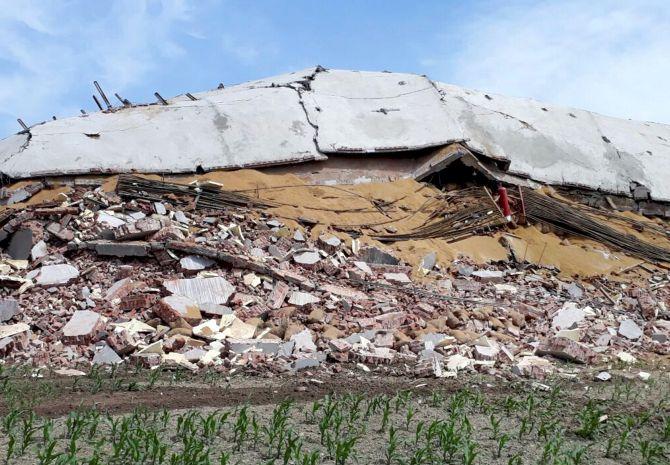 The gas leak started at the Katiyar Cold Storage in the afternoon. In the resulting explosion, the roof of the structure collapsed.
'Weather Bomb' Stella levels northeastern US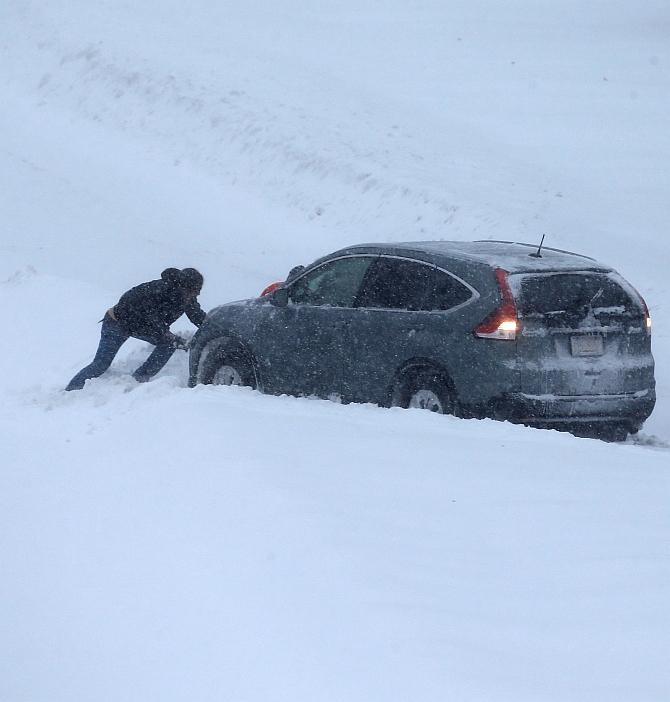 Heavy snowfall has shut major cities like New York, New Jersey, Connecticut and Pennsylvania, leaving thousands of travelers stranded in airports across the nation and prompting warnings from officials urging residents to stay off the roads.
March 13, 2017
PHOTOS: How netas celebrated Holi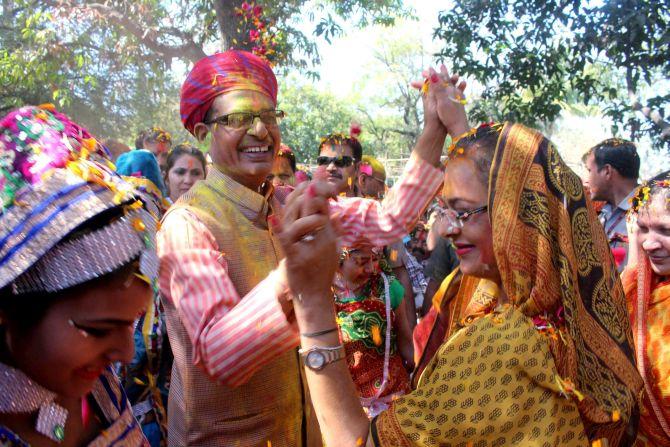 Here's how political leaders across the country celebrated the festival of colours.
PHOTOS: Country celebrates festival of colours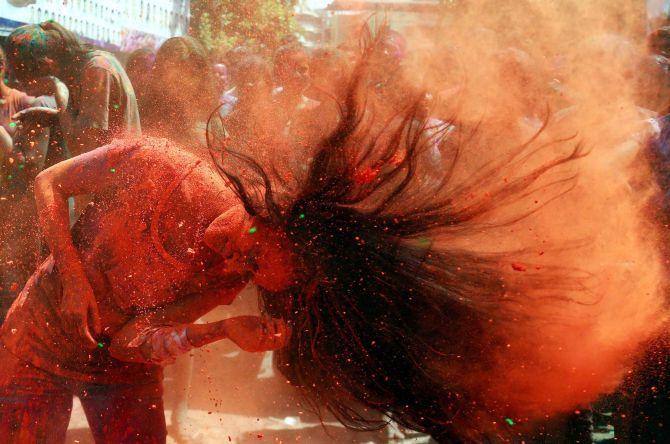 President Pranab Mukherjee, Vice President Hamid Ansari and Prime Minister Narendra Modi extended Holi greetings to the people, saying the festival symbolises the spirit of harmony and prosperity.
March 12, 2017
After win, a 'humble' Modi talks of inclusivity, a new India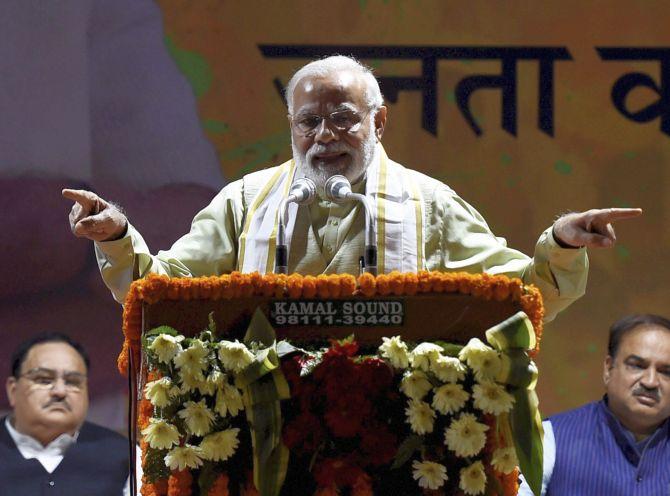 Modi said he saw the election results, particularly in Uttar Pradesh, as the "foundation of the new India".
March 11, 2017
BJP captures UP after 14-year hiatus; Congress takes Punjab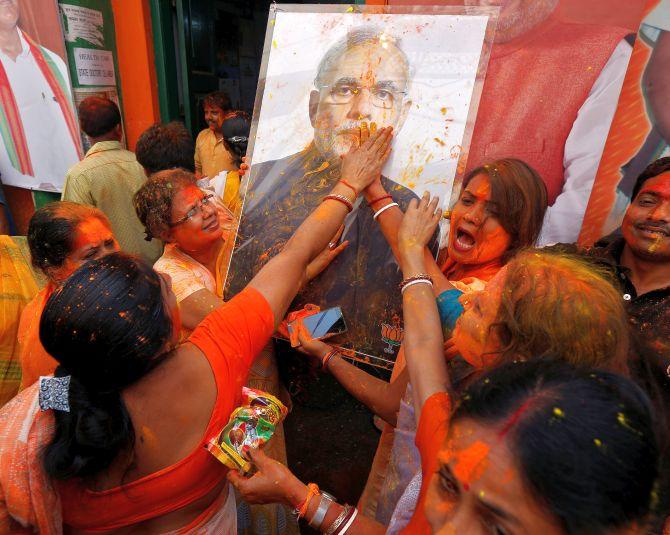 The two parties, however, are in a neck-and-neck race in Manipur and Goa.
PHOTOS: Holi comes a day early for the BJP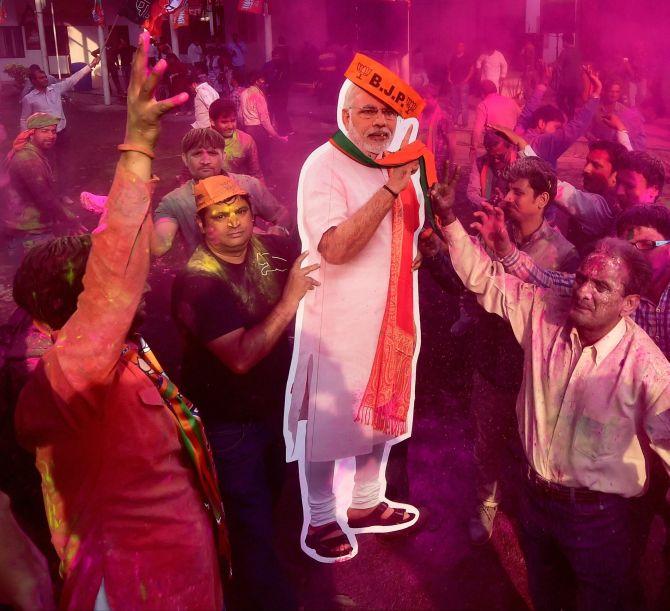 As the results pour in from the five states which have gone to polls, scenes of celebrations can be seen across the nation.
Battle for 5 states: Big winners and losers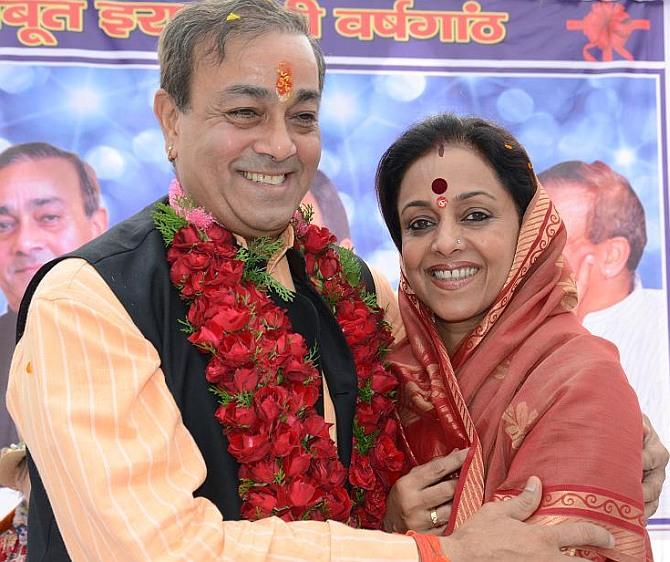 With the counting for the high-stakes assembly elections is on in five states - Uttar Pradesh, Uttarakhand, Punjab, Manipur and Goa, here's a look at some of the big names and where they stand.
March 09, 2017
PHOTOS: Day in the life of a US soldier fighting the Islamic State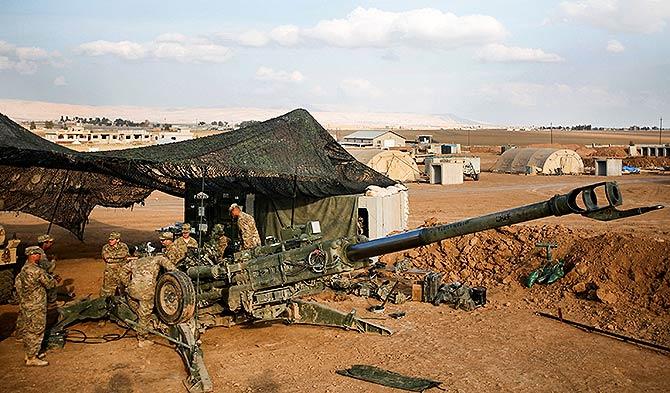 Here is a glimpse into US soldiers' life battling against IS.
March 08, 2017
Record 86% turnout in last phase of Manipur polls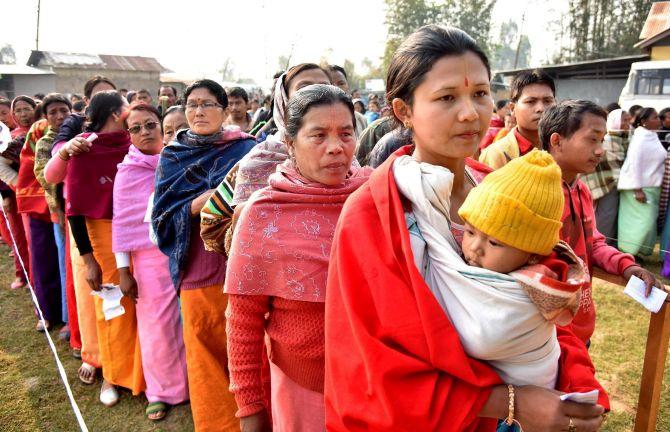 The state had recorded overall 79.80 per cent turnout in 2012.
60.03% voting in final phase of UP polls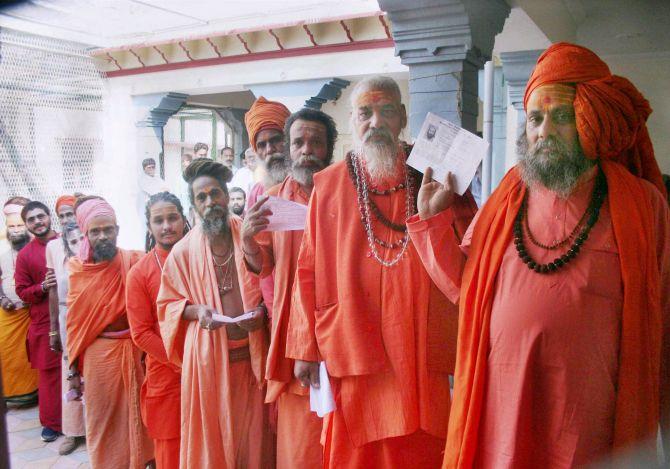 The turnout for these seats was 57.92 per cent in the last assembly polls in 2012.
From Australia to US: 'A Day without Women' protests erupt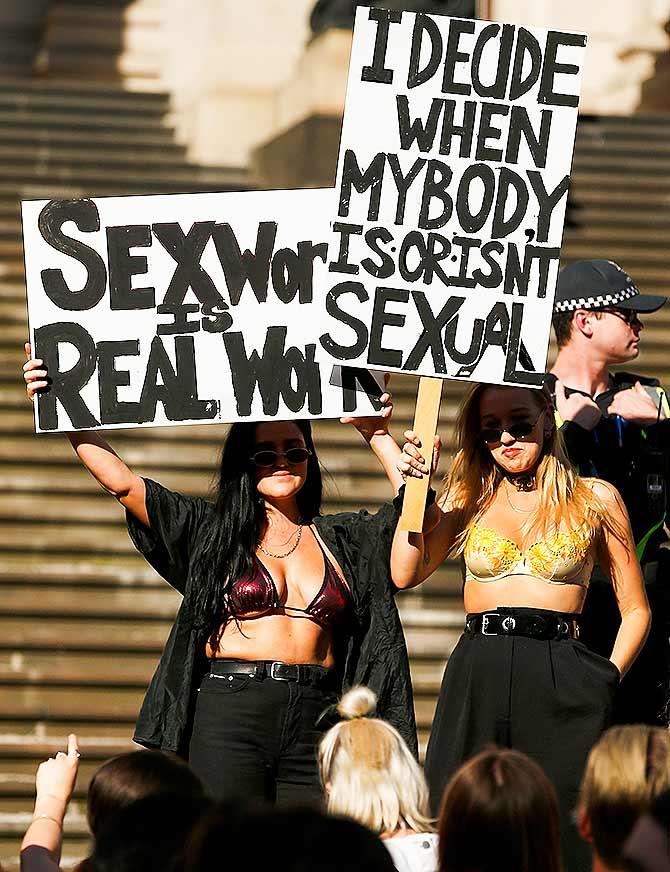 From Ireland to Poland, Thailand to the United States, women from more than 50 countries are getting involved in the first International Women's Strike to show solidarity with an energised global women's movement.
Bhopal train bombers sent pix of pipe bomb to Syria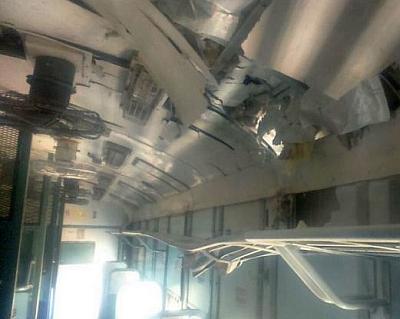 The perpetrators of Bhopal-Ujjain train bomb explosion were influenced by Islamic State ideology and the incident was a "trial blast" as the terrorists planned to carry out more attacks, the Madhya Pradesh government said on Wednesday.
14 awe-inspiring finalists from Smithsonian's Annual Photo Contest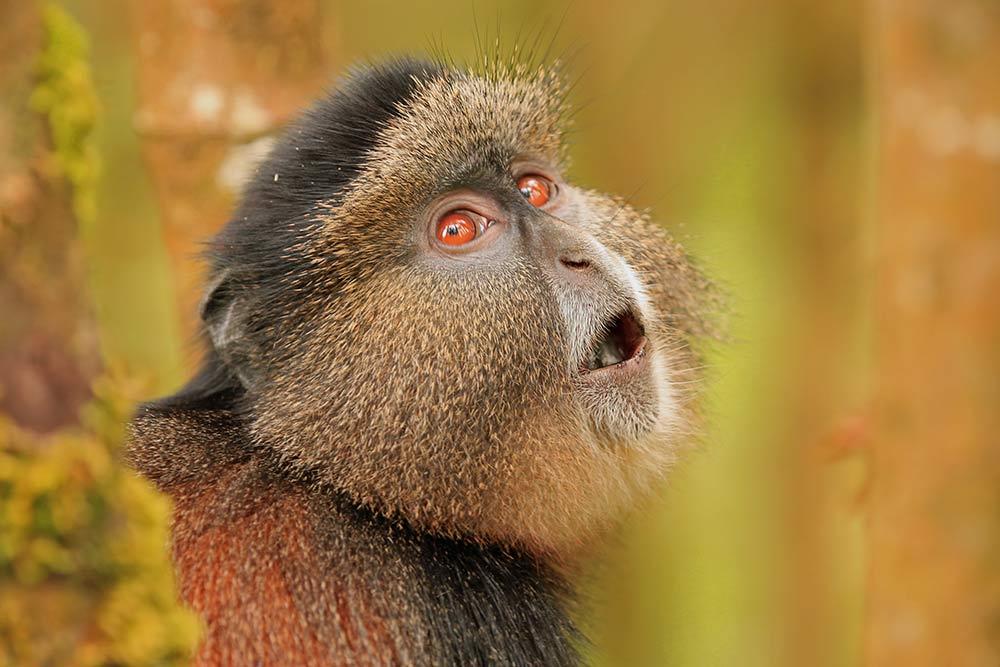 Amazing photography can leave you speechless.
March 06, 2017
After 30 years, INS Viraat sails into the sunset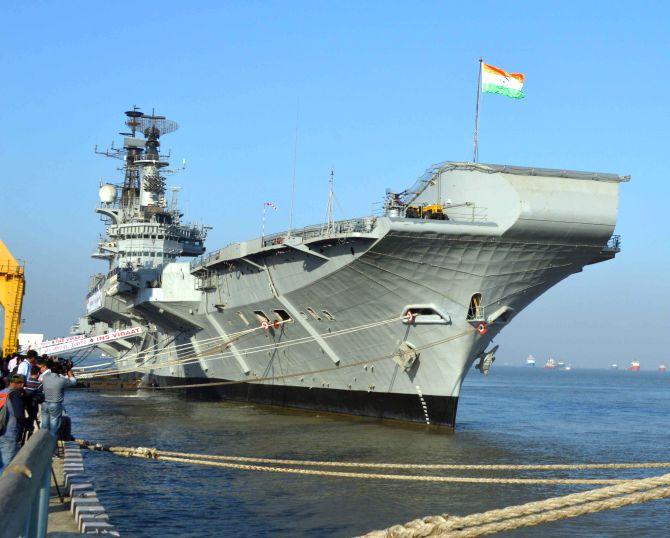 The fate of the 27,800 tonne warship remains unclear.
Photos: PM Modi's day out at Varanasi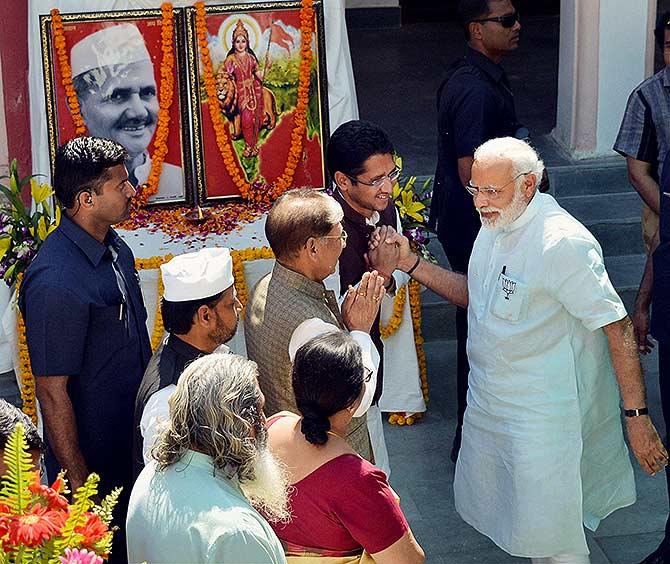 Prime Minister Narendra Modi on Monday visited Garhwa Ghat Ashram in Varanasi, which has considerable following among the backward castes, and paid tributes to former Prime Minister Lal Bahadur Shastri at his ancestral home.
March 05, 2017
Opposition believes in 'kuch ka saath, kuch ka vikas': Modi in Varanasi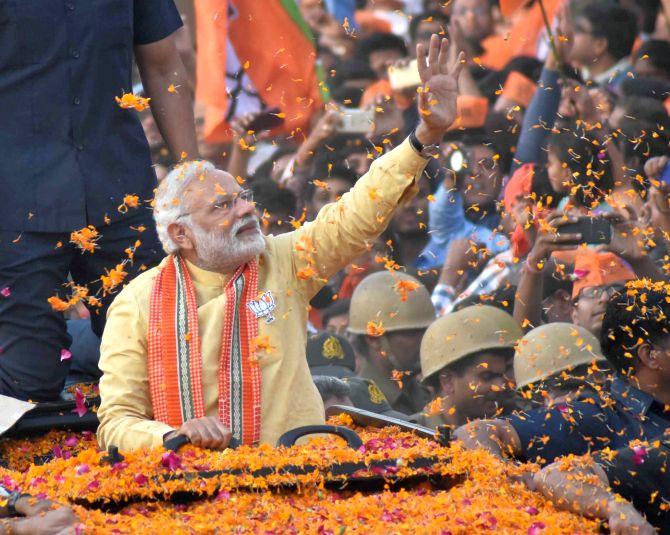 With an intention of pinching the opposition, Prime Minister Narendra Modi on Sunday launched a verbal attack, saying the Congress, Samajwadi Party and Bahujan Samaj Party believe in 'kuch ka saath kuch ka vikas'.
March 04, 2017
Roadshow politics: Akhilesh-Rahul show of strength in Varanasi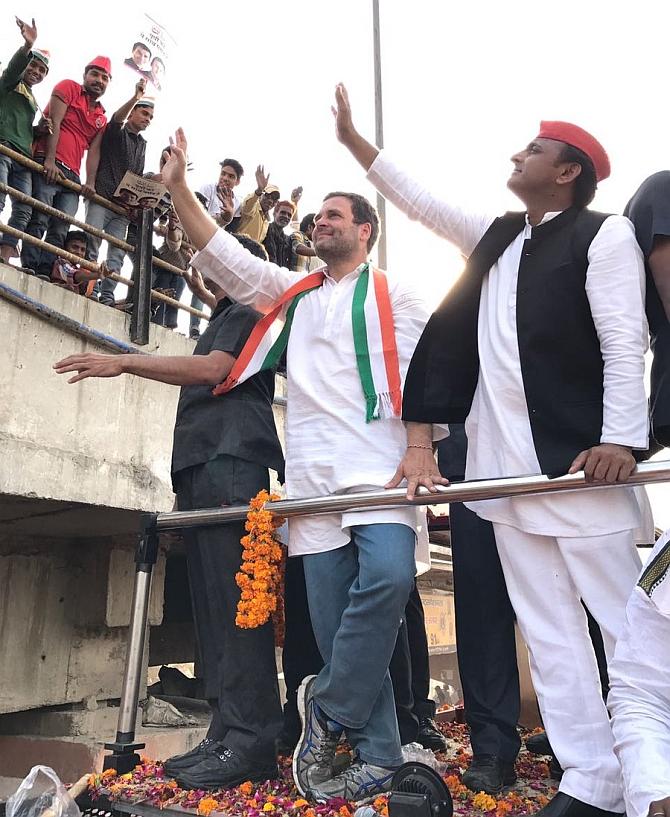 Yadav, who is seeking a second successive term in office after stitching an alliance with Congress, in wilderness in the state for a long time, led a roadshow with Rahul through the city, but not before he had paid a visit to the 'Kashi Vishwanath' temple of Lord Shiva, the presiding deity of Varanasi.
'Modi tere naam Banaras': Modi's roadshow in Varanasi draws huge crowd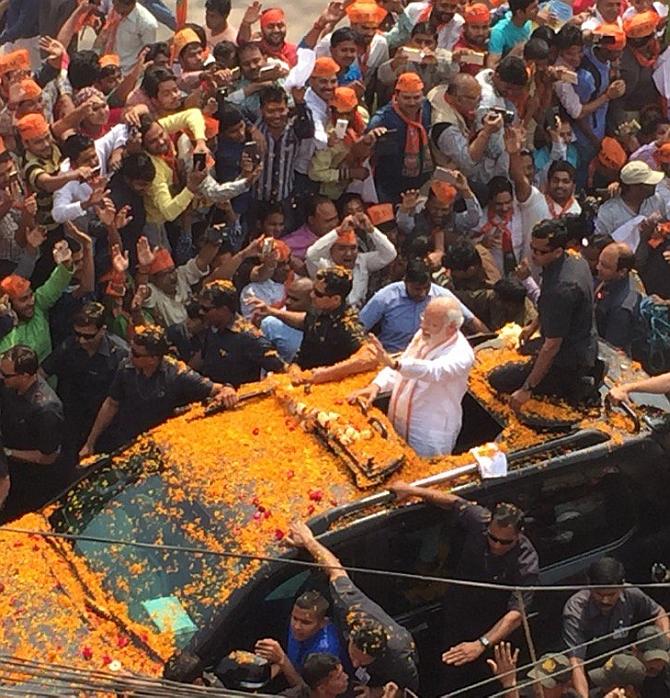 As the Prime Minister hit the campaign trail in his Lok Sabha constituency, the Bharatiya Janata Party in Varanasi on Saturday charged the administration with "selectively" pulling down its posters in the name of implementing the poll code.
Voting underway in Uttar Pradesh and Manipur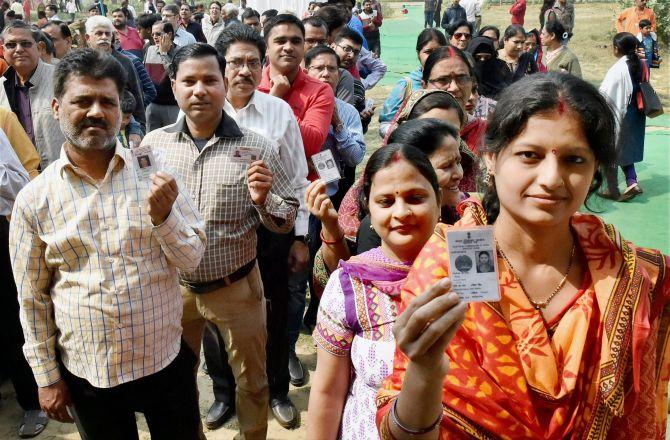 Around 1.72 crore voters, including 94.60 lakh men and 77.84 lakh women, are eligible to cast their votes in this round to decide the fate of 635 candidates.
March 02, 2017
PHOTOS: Olive ridley turtles are back in Odisha!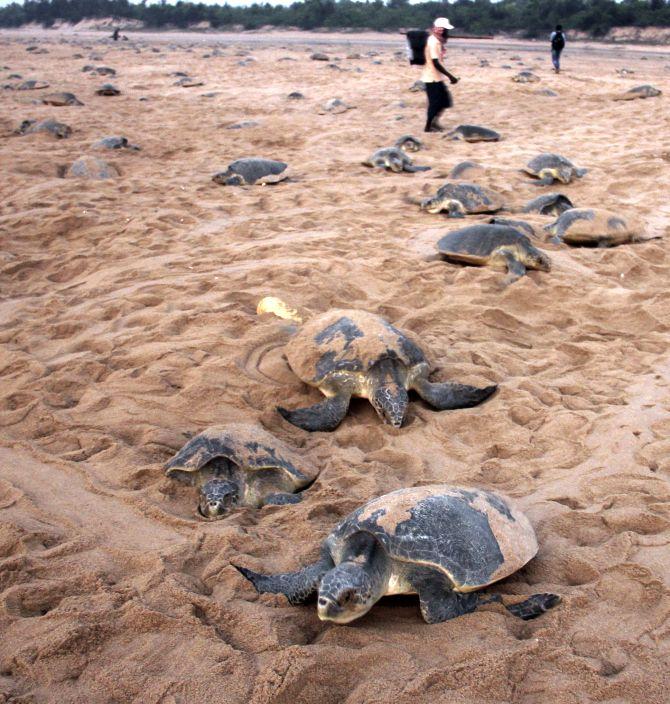 The delicate marine species which have dug out neat pits on the sandy beach have so far laid over whopping seven crore eggs.
March 01, 2017
After bloodshed and violence, school bells finally ring in Kashmir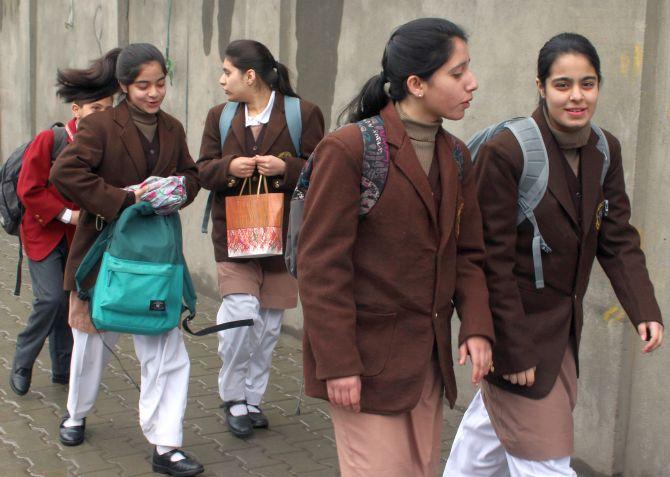 The students were happy to reunite with their classmates after so long and wished that there are no further disruptions to their studies.
The most wonderful and weird moments. Courtesy Sony World Photography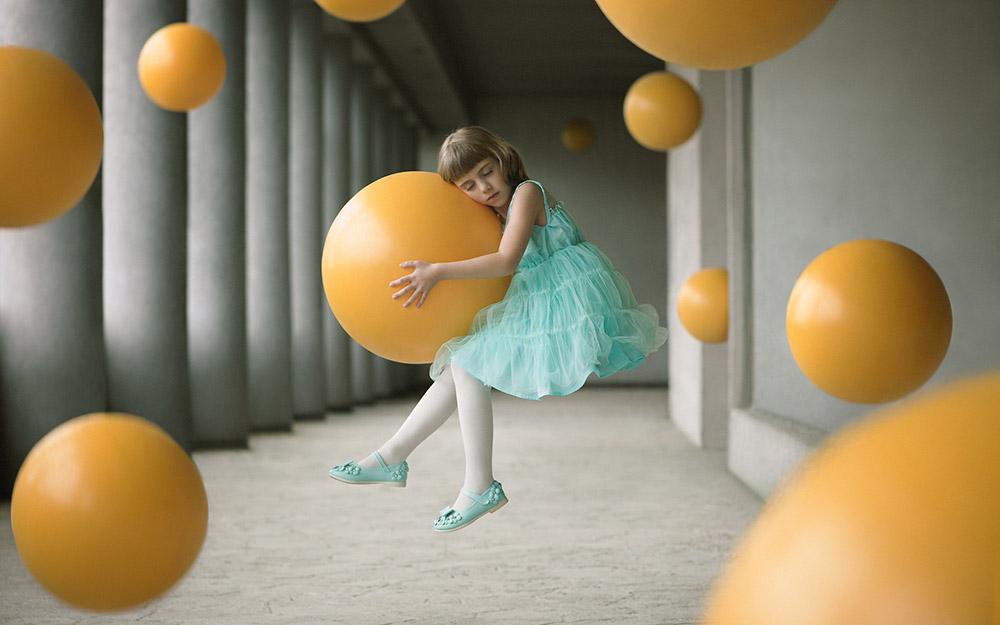 In the pitch dark of the African night, a herd of cape buffaloes gather at the watering hole for a drink, taking care to stay by the edge to avoid the crocodiles lurking in the depths.
February 28, 2017
When I met the Queen of England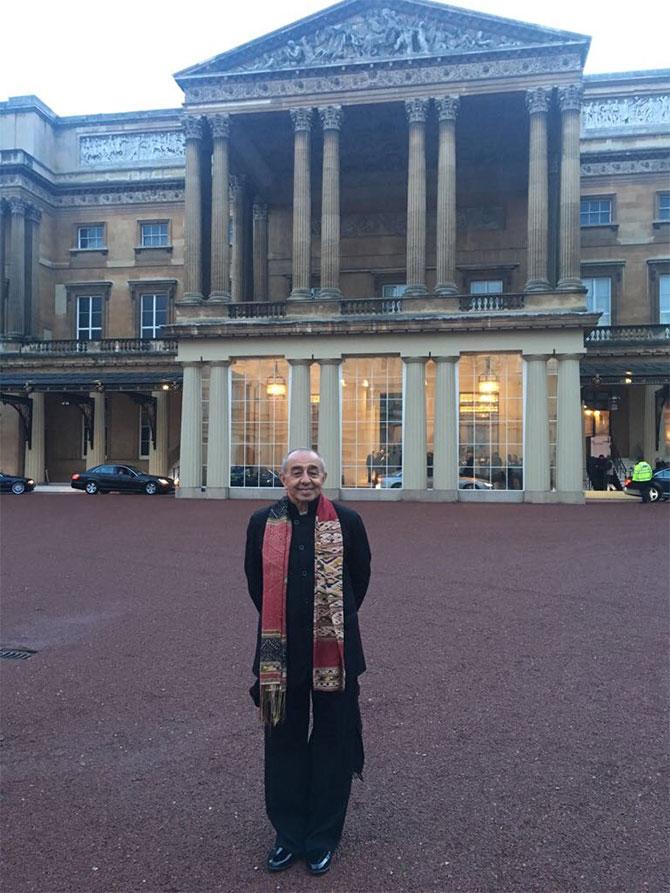 Dancer-Choreographer Astad Deboo met Queen Elizabeth, William and Kate at Buckingham Palace on Monday at the launch of India-UK year of Culture. He tells Archana Masih/Rediff.com that the Queen even did a cute little dance movement when he was presented to her.
When Queen Elizabeth tried dance mudras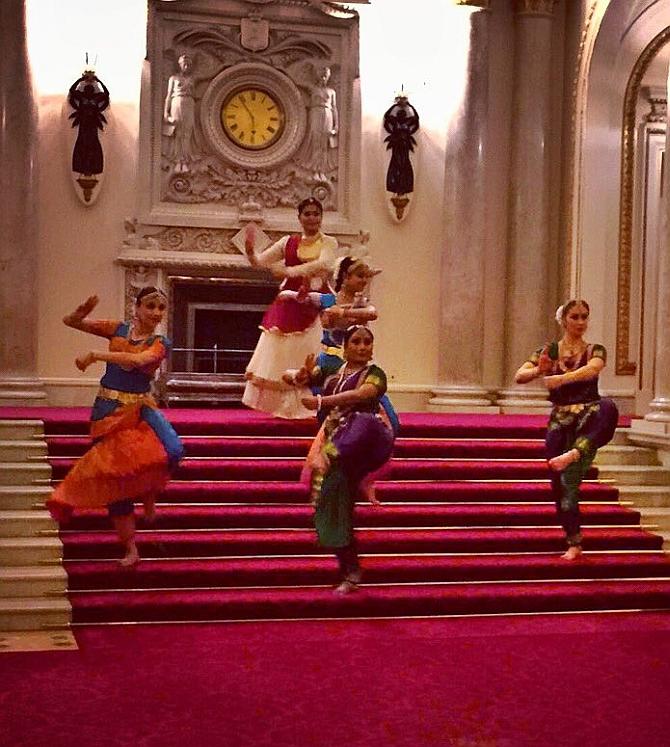 Queen Elizabeth II had an impromptu lesson in Indian dance mudras, or ritual hand gestures, when the 90-year-old monarch met celebrated dancer and choreographer Arunima Kumar at the Buckingham Palace.
PHOTOS: Feathers, fun and fanfare! It's time for the carnival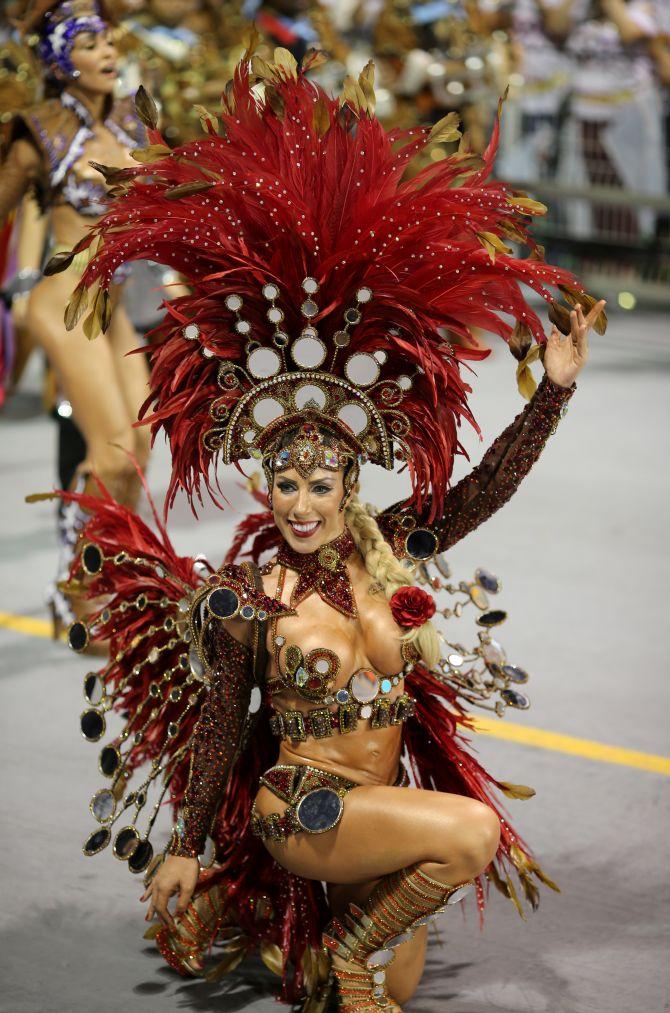 Rio de Janeiro's famed Carnival got underway as hundreds of thousands roared into the streets for the most colourful festival ever.
February 27, 2017
ABVP holds 'Tiranga March' against 'anti-national activities' in DU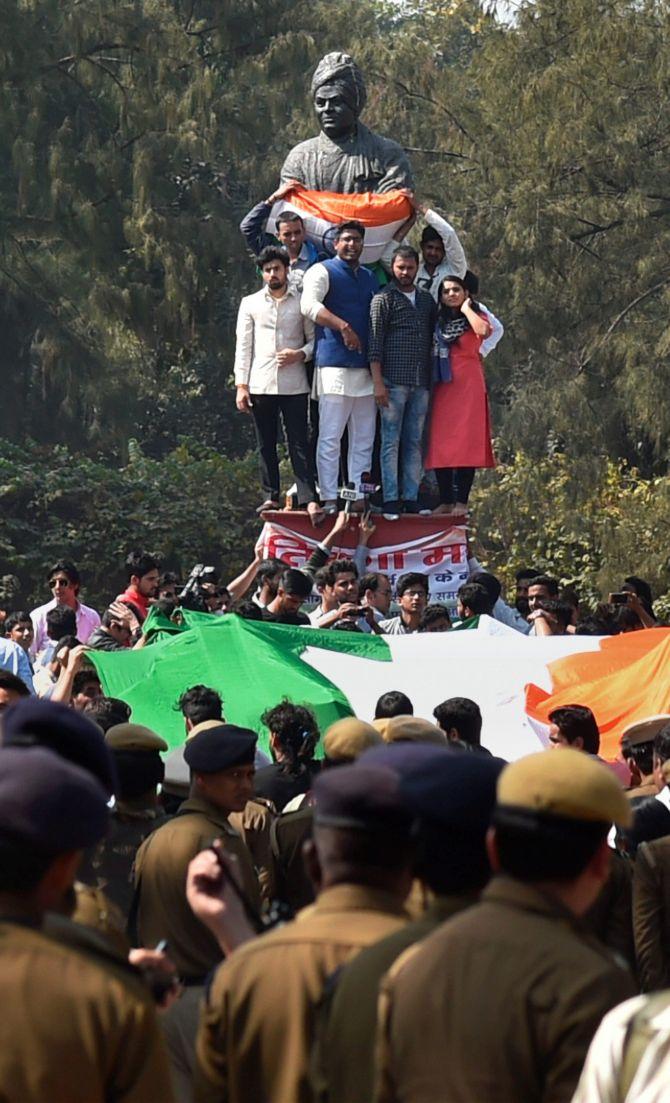 Raising slogans of 'Vande Mataram' and calling it a 'march for the nation', the ABVP members carried the national flag as they marched inside the Ramjas College campus.
'We love peace': Hundreds march in support of Indian killed in Kansas shooting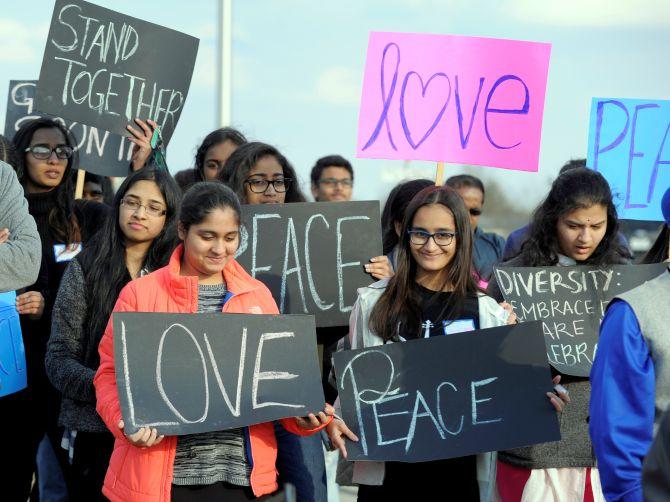 Many of them carried candles and signs reading, "We don't support politics of hate."
February 26, 2017
PIX: TROPEX, which tested India's combat readiness, concludes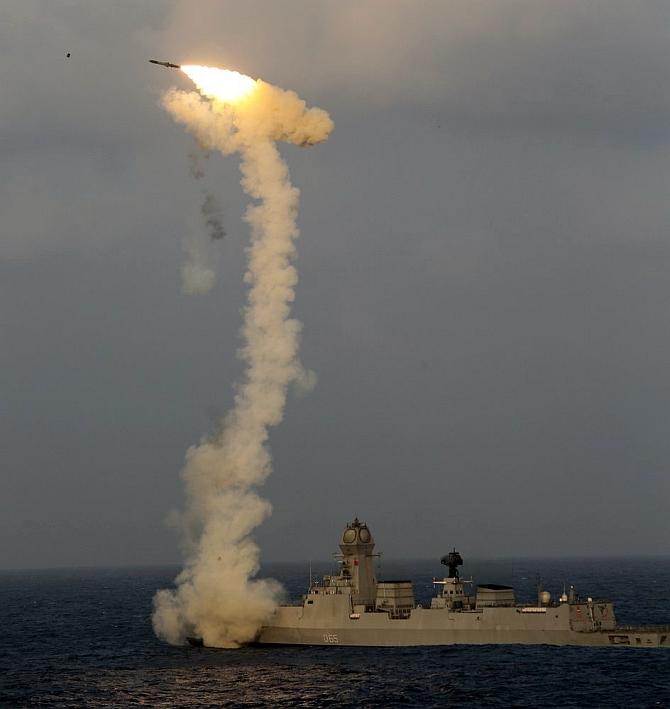 The Theatre-level Readiness and Operational Exercise was conducted to test combat readiness of the combined fleets of the Navy, the Air Force, the Army and the Coast Guard.
February 25, 2017
Thousands join Kargil martyr's daughter in war against ABVP on FB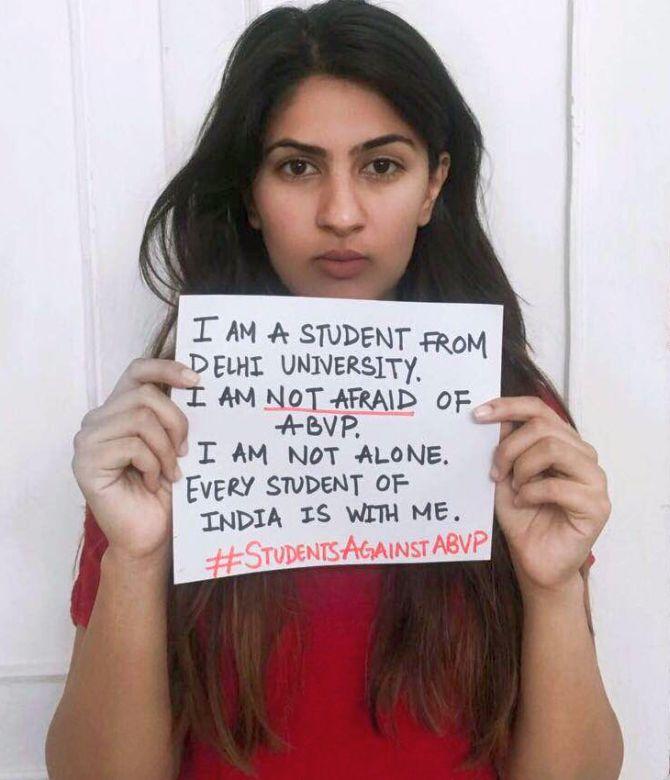 Gurmehar Kaur, daughter of Kargil martyr Captain Mandeep Singh, changed her Facebook profile picture holding a placard which read "I am a student from Delhi University. I am not afraid of ABVP. I am not alone. Every student of India is with me. #StudentsAgainstABVP".
February 24, 2017
PM unveils 112-ft bust of 'Adiyogi' Shiva; extols Yoga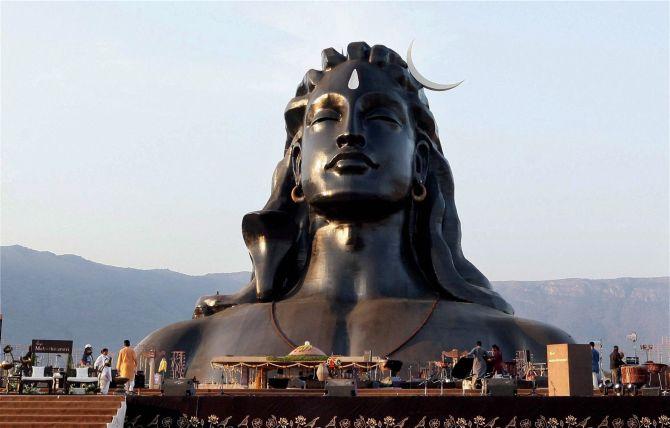 Before unveiling the giant 'Adiyogi' bust, Modi lighted the 'Maha Yoga Yagna' and released the book Adiyoga: The source of Yoga, which deals with yogic sciences.
PHOTOS: Country celebrates Maha Shivaratri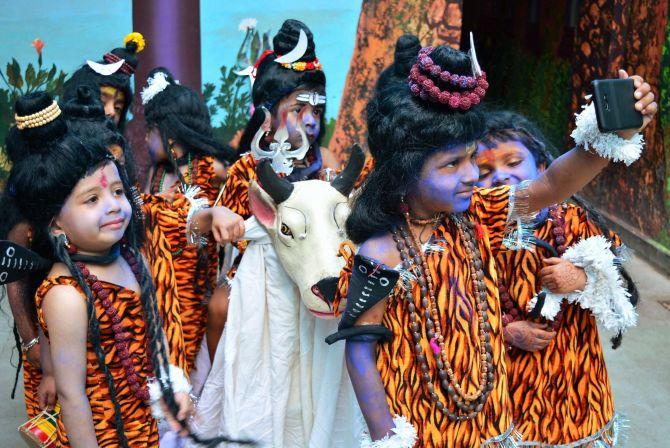 Prime Minister Narendra Modi greeted the nation on the holy occasion.
Om Namaha Shivaya! Mumbai airport exhibits giant Trimurti on Maha Shivratri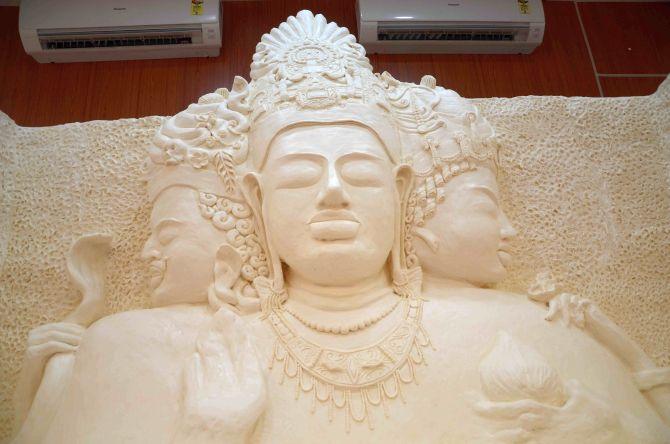 On the occasion of Maha Shivratri, a giant Trimurti made of margarine (butter), has been built at the Chhatrapati Shivaji International Airport in Mumbai.
February 23, 2017
Delhi: Students protest ABVP attack; 3 cops suspended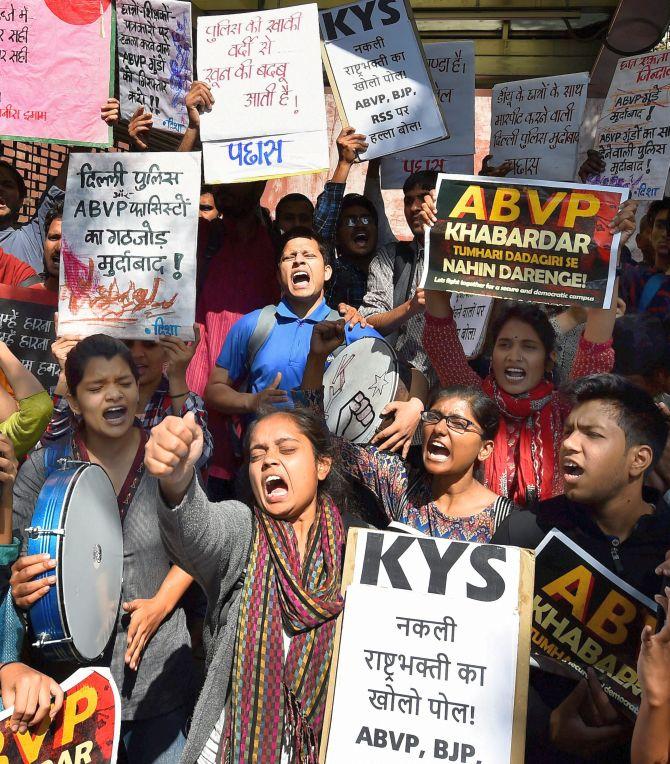 Khalid, who gave a miss to protests on Wednesday and the day before, joined the protesters at ITO in raising slogans of "ABVP se azaadi" and demanding registration of an FIR against them.
PHOTOS: Winners & losers in Mumbai's high-stakes civic poll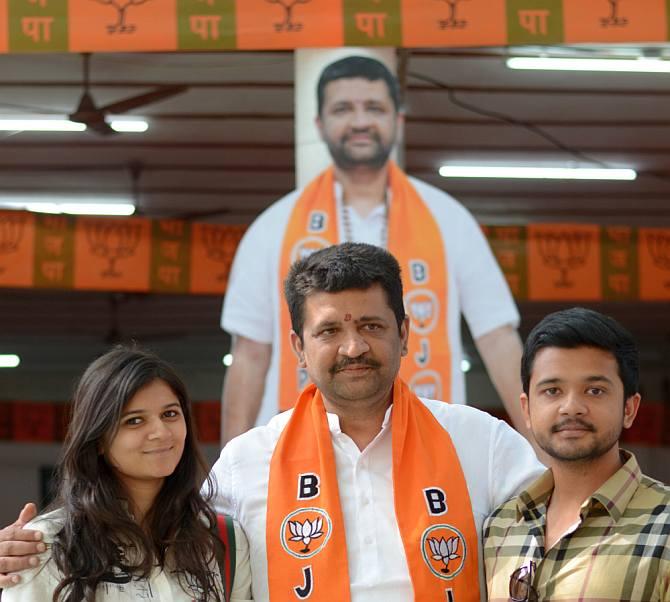 As counting is underway for the civic bodies in Maharashtra, and all eyes are on Mumbai's cash-rich Brihanmumbai Municipal Corporation.
Maha Verdict: Sena on top in Mumbai but BJP has last laugh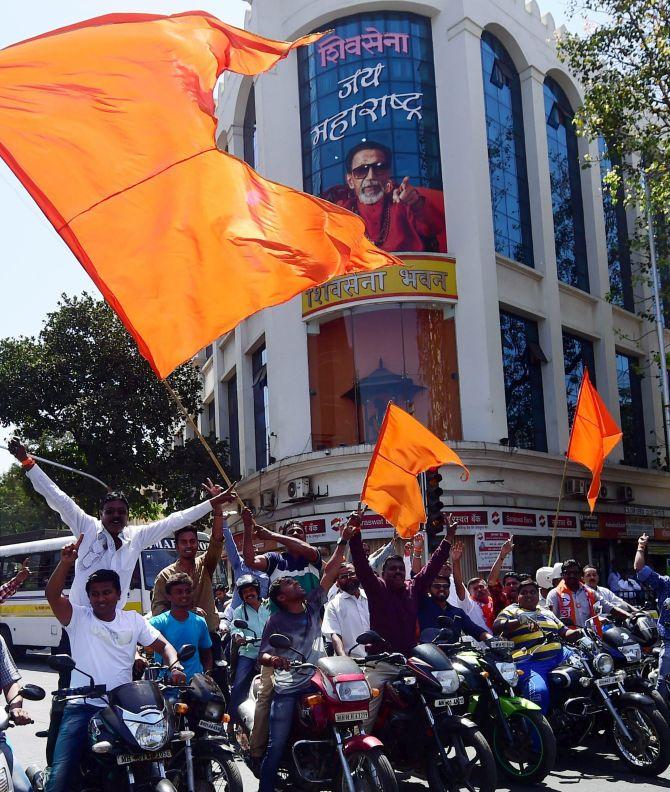 The BJP is set to make decisive gains in civic elections in Maharashtra even as it is locked in a neck-and-neck fight with its bickering ally Shiv Sena in Mumbai.
3 soldiers, civilian killed as terrorist ambush army convoy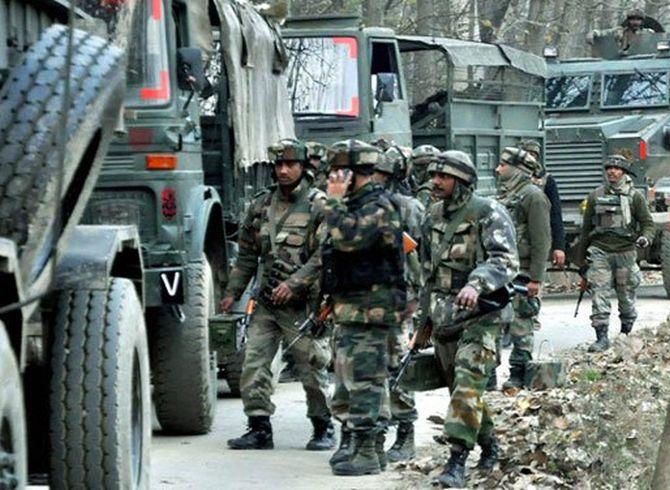 Two officers -- Lt Colonel Mukesh Jha and Major Amardeep Singh -- are among the five injured army personnel.
Over 61 per cent voting in phase 4 of UP assembly polls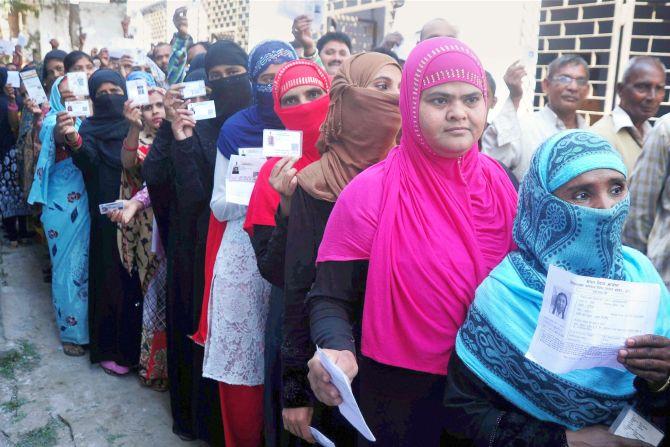 This phase of voting was crucial for the state's ruling Samajwadi Party and main opposition Bahujan Samaj Party.
February 22, 2017
ABVP, AISA clash at DU College; many, including cops, injured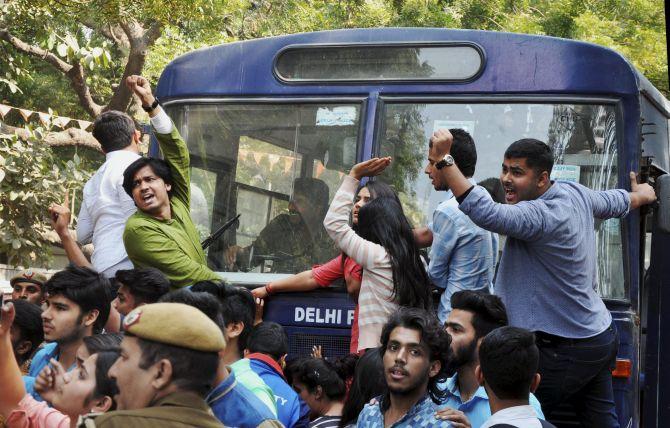 The ABVP members did not allow the AISA march to proceed and allegedly locked the students and teachers inside Ramjas College.
196 countries in 567 days with $198,000. Beat that!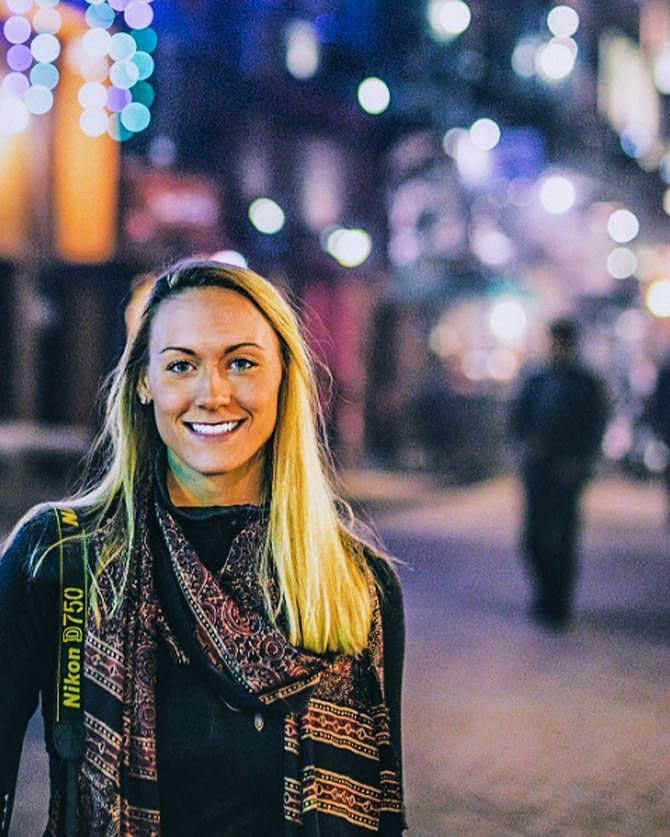 Meet Cassie de Pecol, a 27-year-old traveller from Connecticut, United States, who visited 196 countries in 18-and-a-half months, making her the fastest person to visit every country in the world.
February 21, 2017
Taliban suicide bombers attack court in Pakistan, 7 killed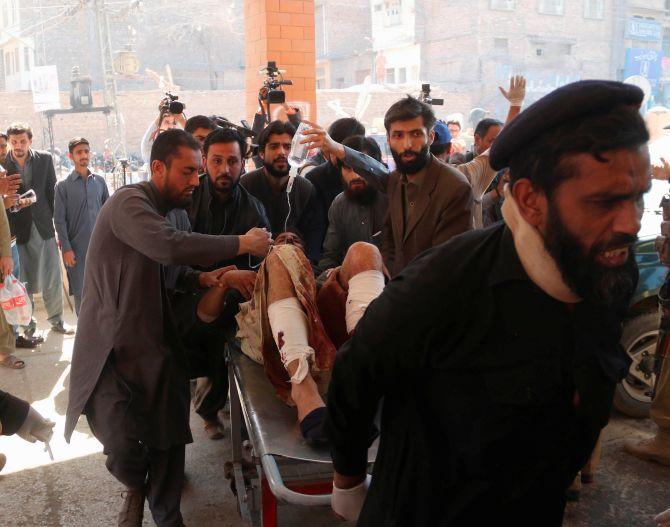 Jamaat-ul-Ahrar, a faction of the Pakistani Taliban, claimed responsibility for the attack.
55% voting in Mumbai; CM thanks people for 'record' turnout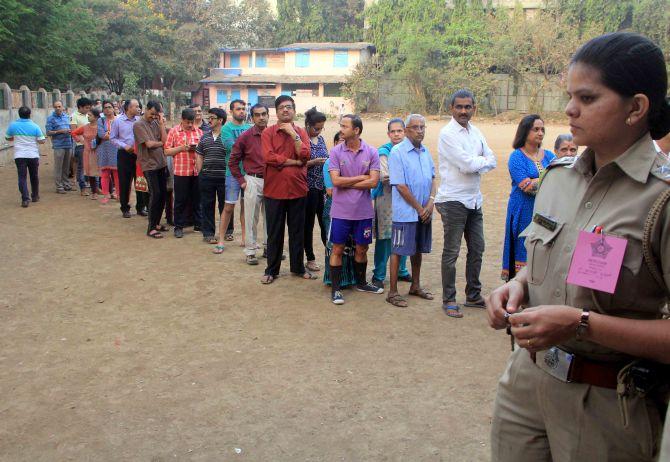 About 56 per cent was the overall turnout for 10 municipal corporations across Maharashtra.
PHOTOS: Guess who turned up to vote!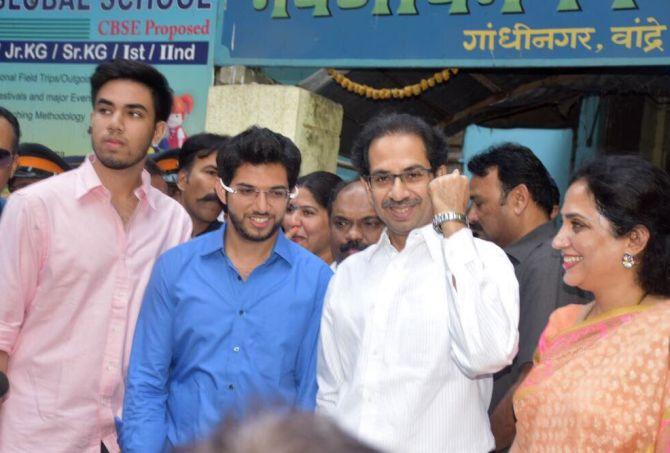 Holding the status of the richest municipal corporation in the country, BMC will witness competitive elections with 2,275 candidates in the fray for 227 seats.
Unsung Heroes: The men and women we don't notice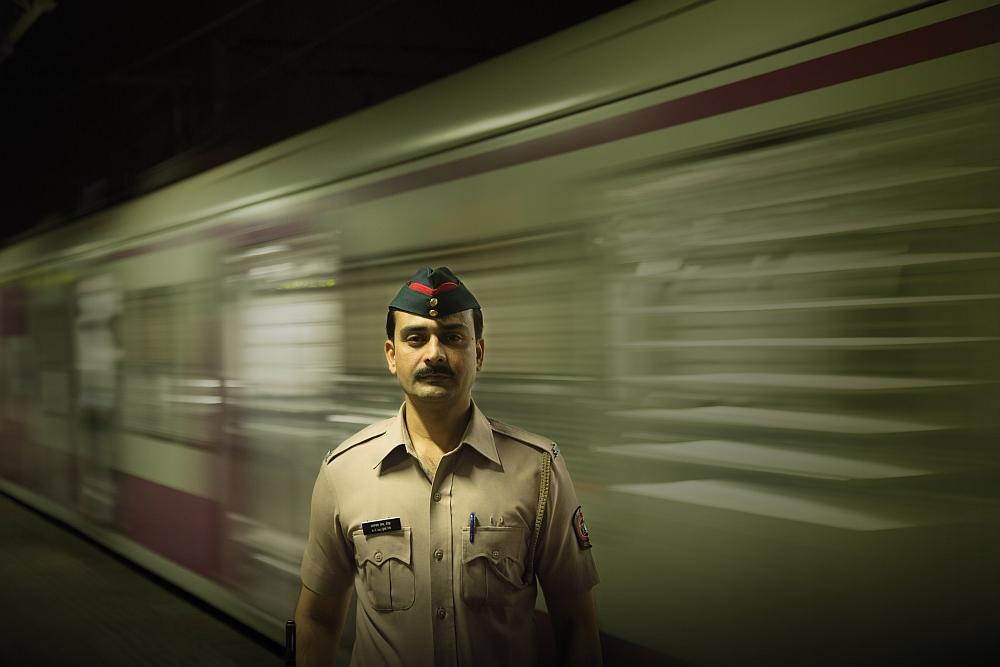 Ace photographer Pravin Talan has come out with the first-ever Mumbai Railway Police Calendar 2017 that explores this lesser-known police force.
From LA to New York, "Not My President's Day" protests erupt against Trump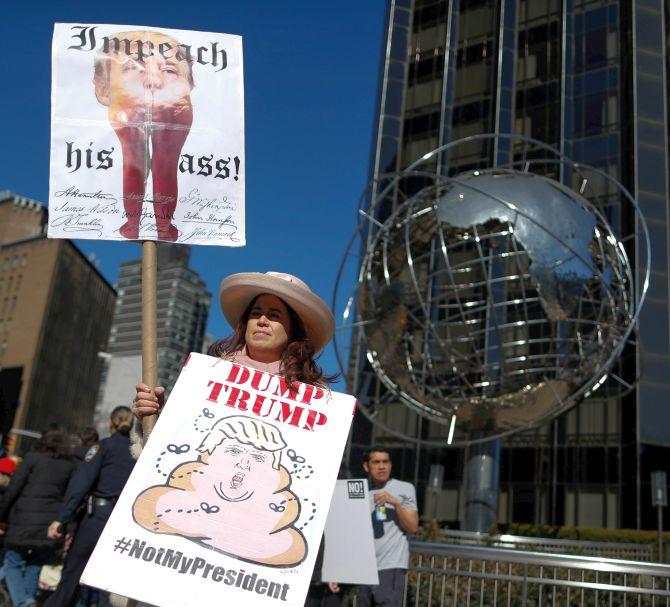 Thousands of people took to the streets on Monday to take part in 'not my Presidents' Day' protests against Donald Trump.
February 20, 2017
In New York, protesters take to the streets to say 'I Am Muslim Too'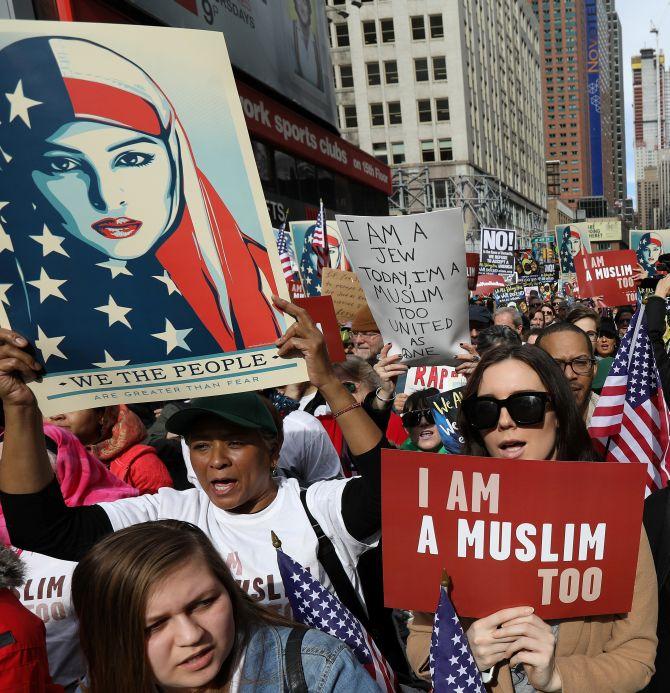 'We will fight hatred with love, we will fight bigotry with inclusivity. And today I am a Muslim too.'
WTF News: It's Weird, True and Funny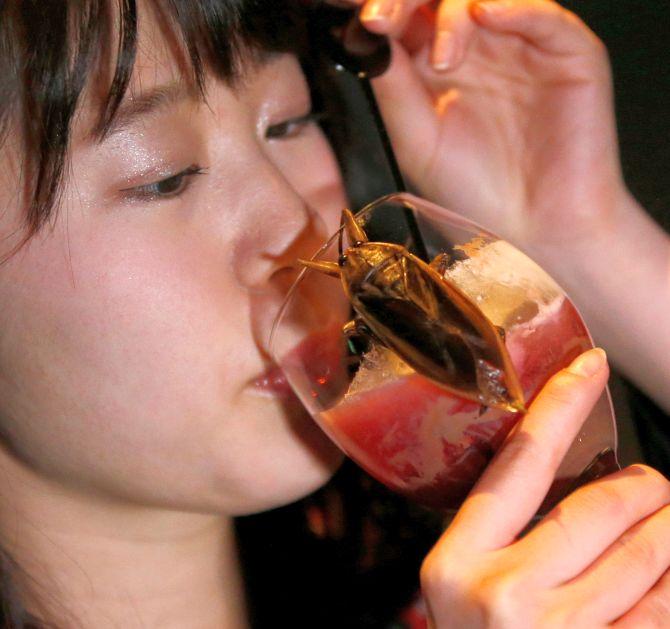 From drinks with worms to a snake stuck in a woman's ear, here's the weirdest, funniest stories from the world around.
February 19, 2017
PHOTOS: Netas at polling booths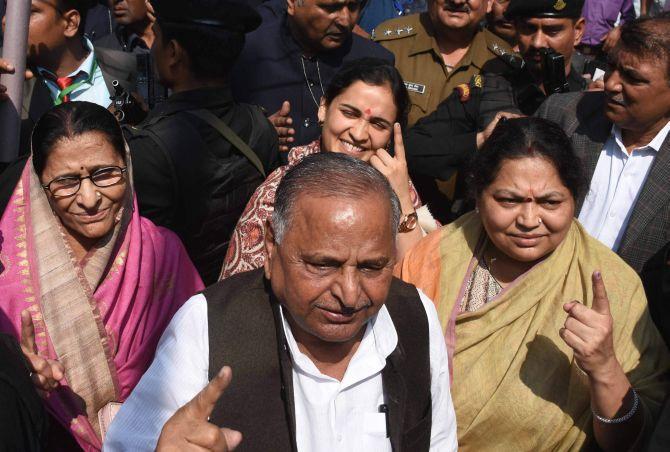 Chief Minister Akhilesh Yadav, Bahujan Samaj Party supremo Mayawati and other senior politicians on Sunday cast their votes in the third phase of Uttar Pradesh elections and claimed that their parties will form the next government.
Choked! 2 Indians die every minute due to air pollution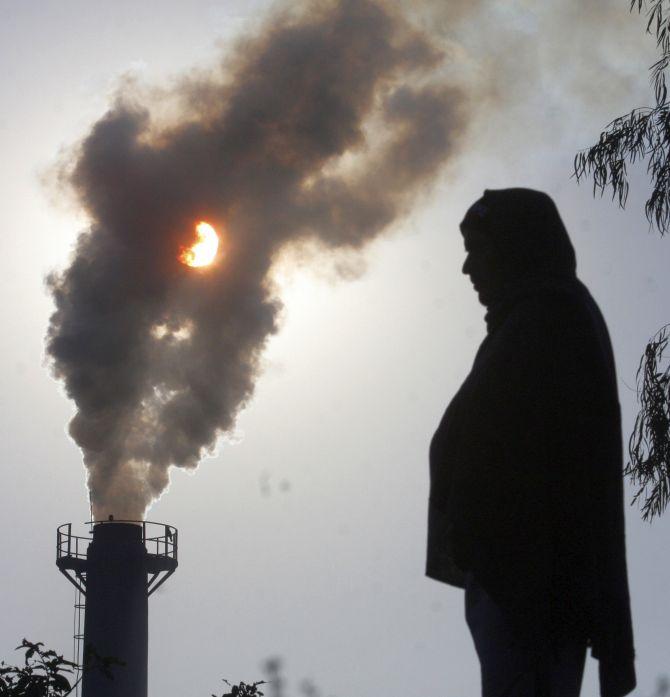 According to a study by the medical journal, the Lancet, air pollution has emerged as the deadliest form of pollution and the fourth leading risk factor for premature deaths worldwide.
Voting in UP Phase 3 ends with 61% turnout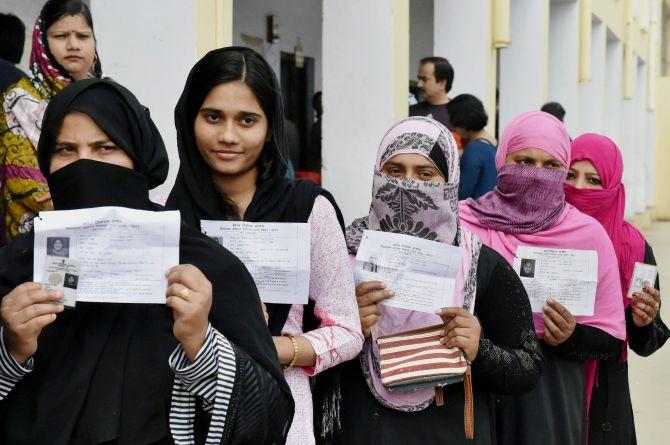 As many as 69 assembly constituencies in the Yadav heartland, considered crucial for the ruling Samajwadi Party in the state, went to the polls in this phase.
February 18, 2017
Indian Navy inducts all women crew sailboat 'Tarini'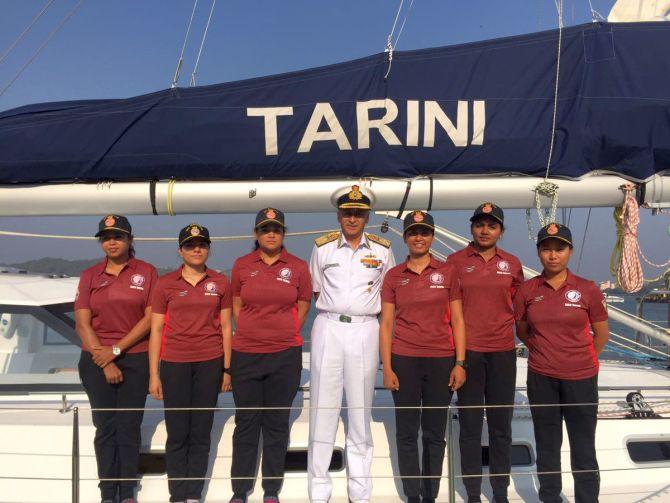 The vessel is slated to be the platform for the first Indian all-women global circumnavigation by the Indian Navy to begin in August.
Chairs broken, shirts torn: TN assembly turned into a virtual war zone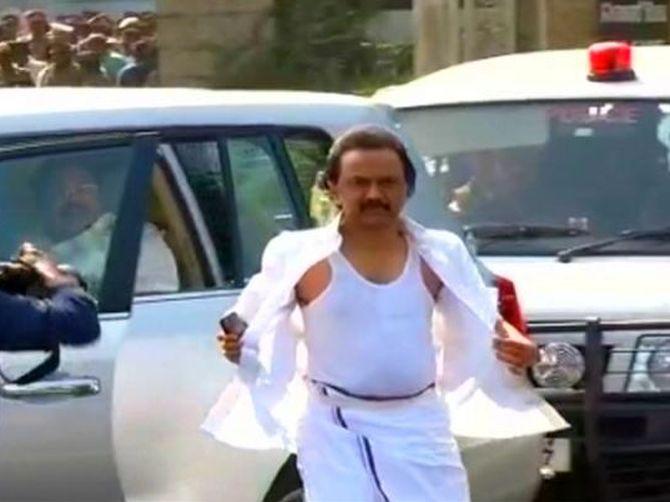 Confidence vote stalled after ruckus by opposition.
February 17, 2017
Despite army chief's warning, stones pelted, Pak flags raised in Kashmir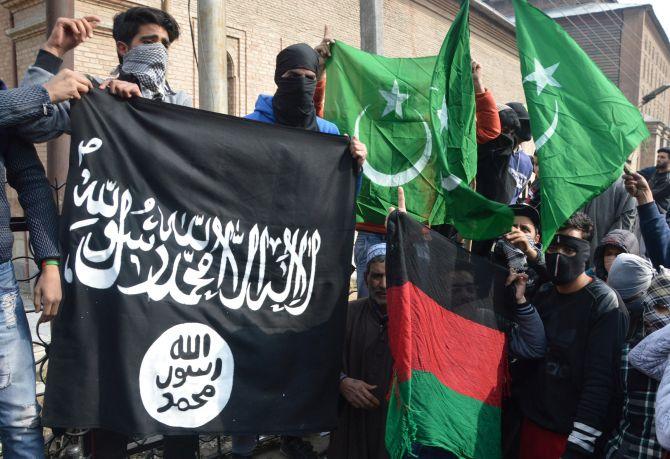 Despite Army Chief Bipin Rawat's stern message, Kashmiri youths on Friday waved Pakistani and Islamic State flags and pelted stones at security forces in old Srinagar city.
Bengaluru's Bellandur lake catches fire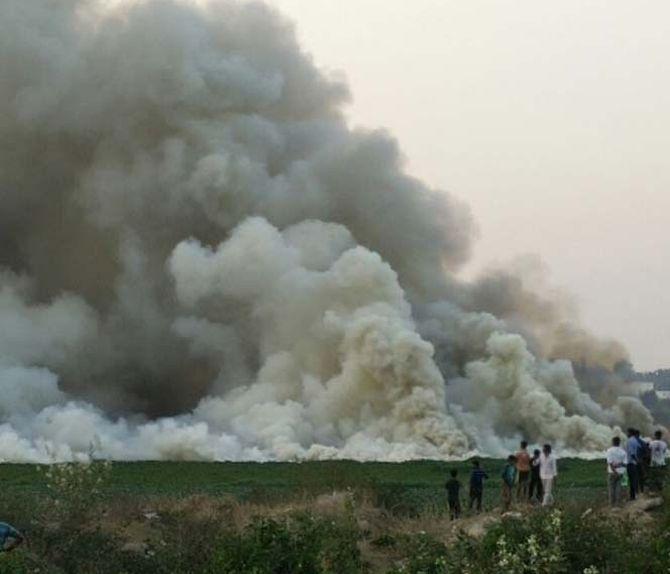 The incident triggered panic among motorists on the busy Sarjapur main road.
Aero Awesome: Stunning display over Bengaluru skies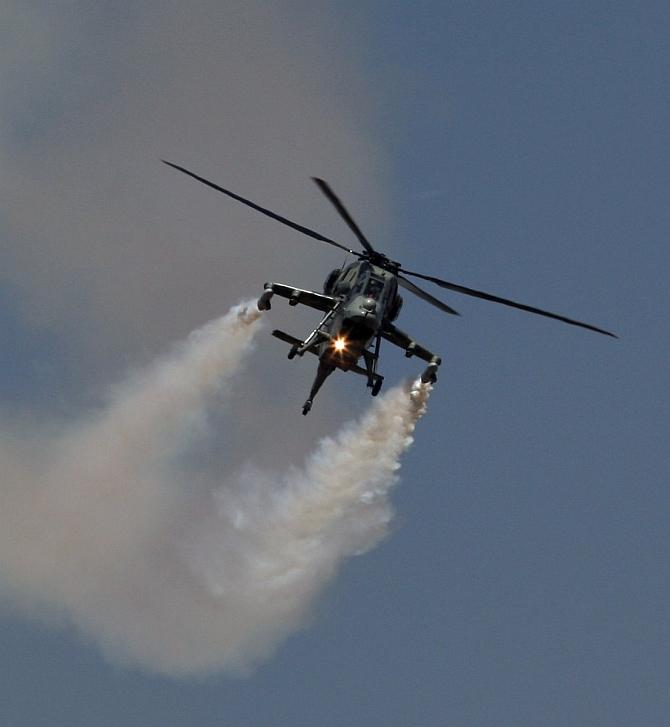 One of the most sought after exhibitions in Asia, as many as 549 companies are participating this year with 53 fighter aircraft on display.
February 16, 2017
PHOTOS: A mystic world beneath us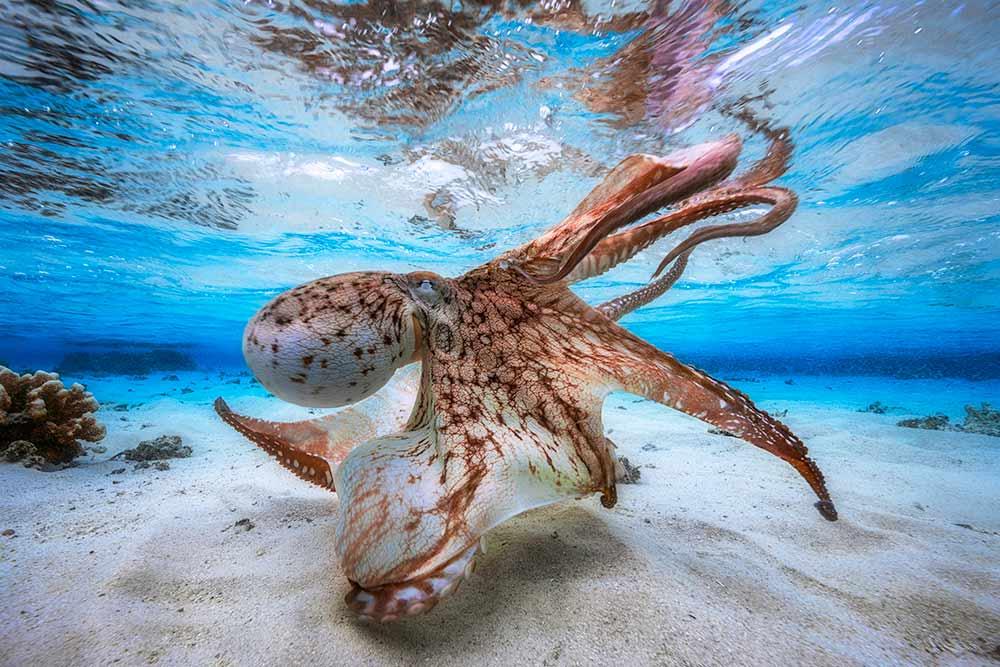 The Underwater Photographer of the Year competition has announced the winners of this year's contest, with France's Gabriel Barathieu being named Underwater Photographer of the Year for an image of a hunting octopus.
February 15, 2017
Uttarakhand decides its fate, voting begins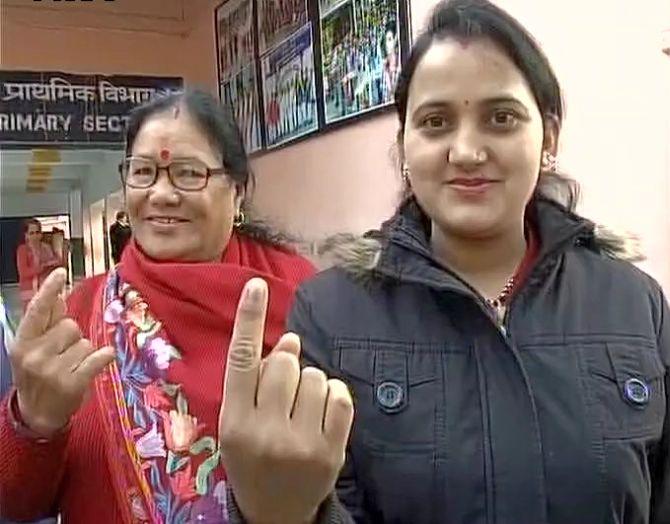 Over 74 lakh voters will seal the fate of 628 candidates in electronic voting machines between 8 am to 5 pm when polling concludes, state Election office informed.
Over 65% turnout in UP phase-II polling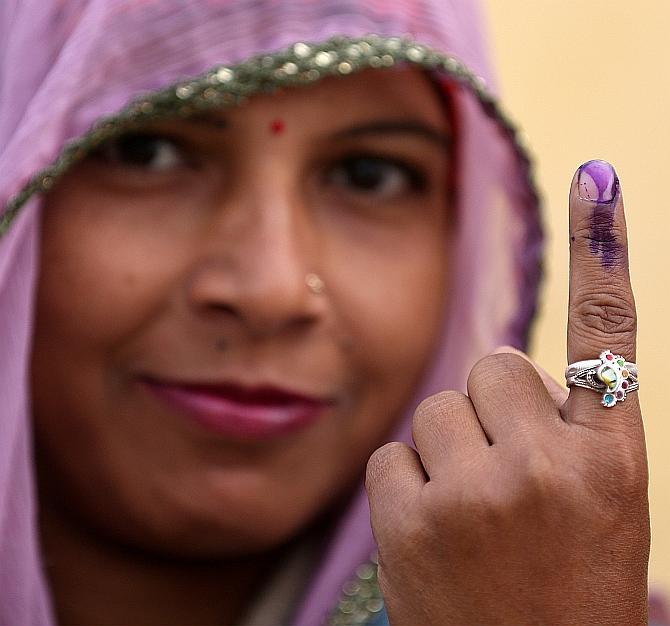 The fate of 720 candidates will be decided by 2.28 crore voters
Here are the best photos from the World Press Photo Awards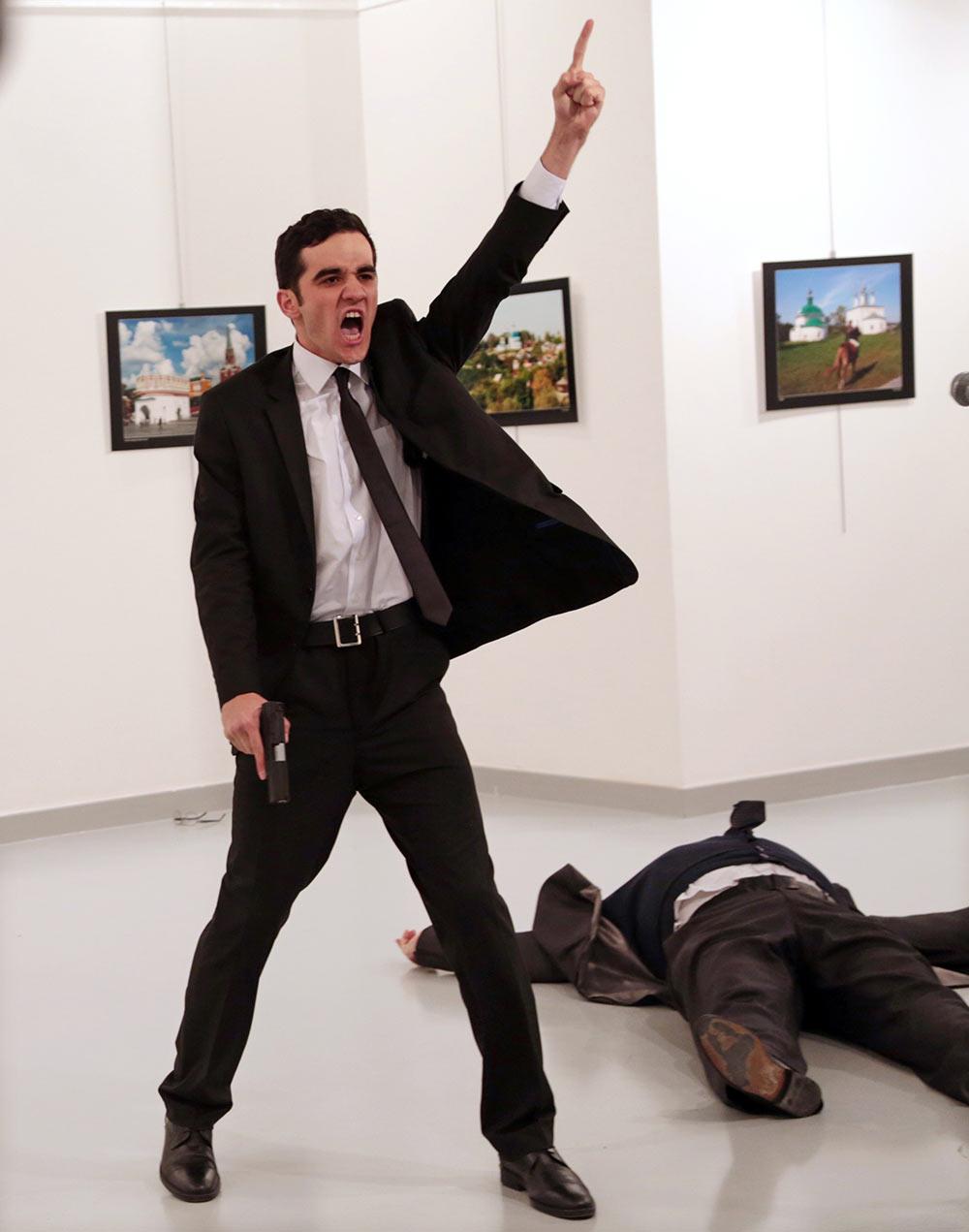 The winners of the 60th annual World Press Photo Contest have been announced.
February 14, 2017
These designs are so good, you can eat them!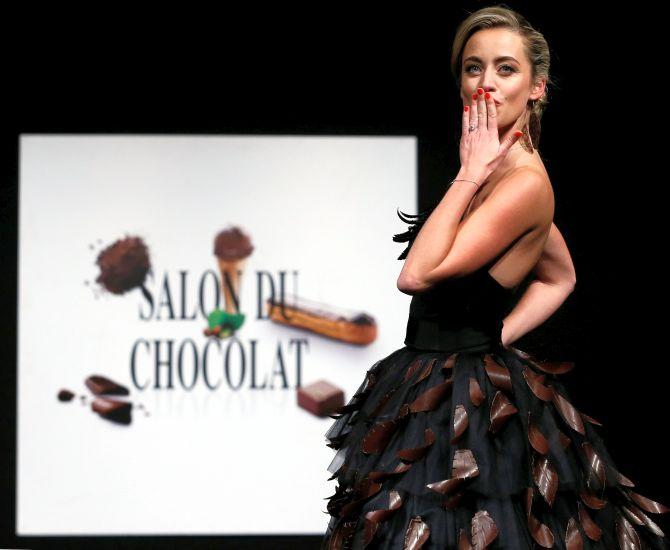 From floor-sweeping gowns to eye-catching shorter dresses, models strutted down a Brussels catwalk in an array of unusual designs -- all adorned with chocolate.
Eye in the sky.... Here's what to expect at Aero India 2017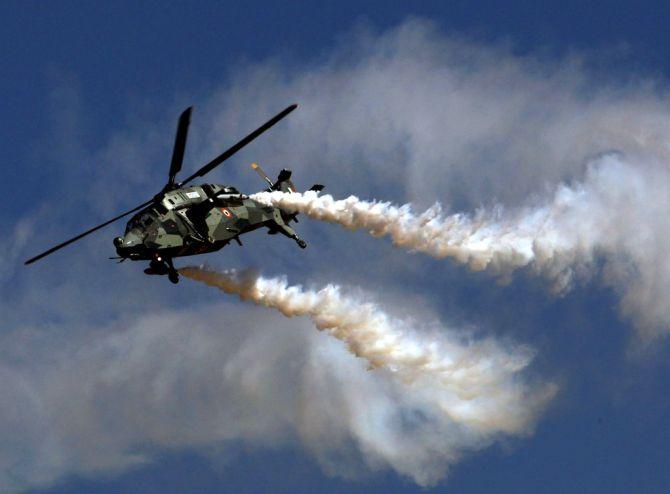 Starting Tuesday, the four-day Aero India 2017 event will kick off which will feature several state-of-the-art aircraft.
February 13, 2017
Uttarakhand polls: Rahul performs Ganga Aarti at Har Ki Pauri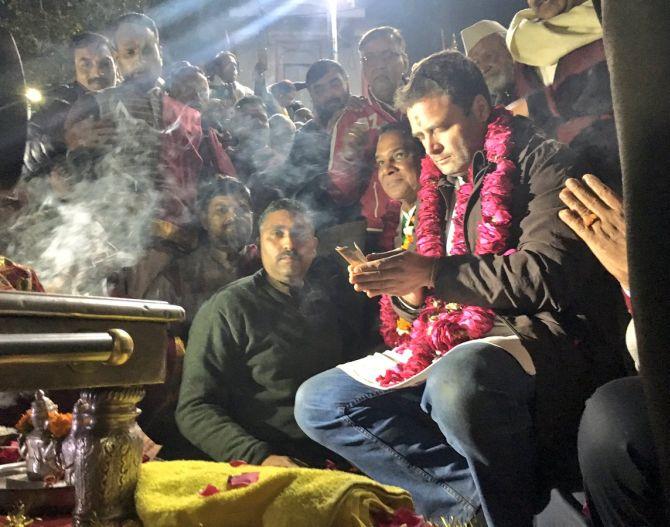 Rahul also held a 75-km long road show and a Nukkad Sabha in Haridwar.
PHOTOS: This festival will light up your day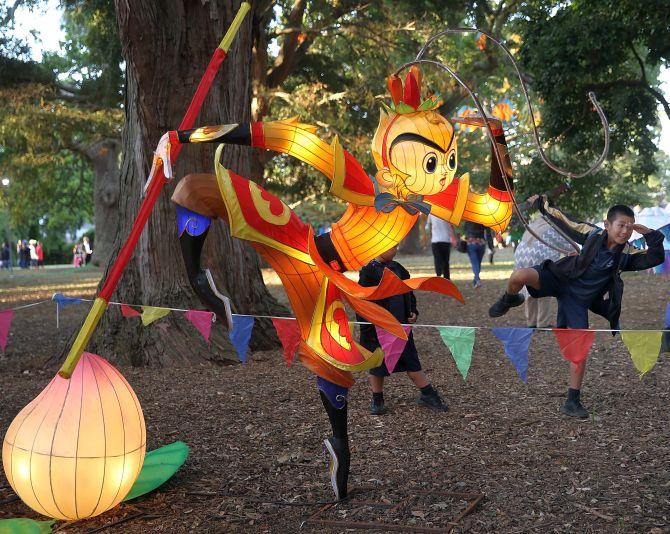 More than 2,000 people have gathered at Auckland's Year of the Rooster Lantern Festival at Auckland Domain.
February 12, 2017
Bride reunited with her 150-year-old lost wedding dress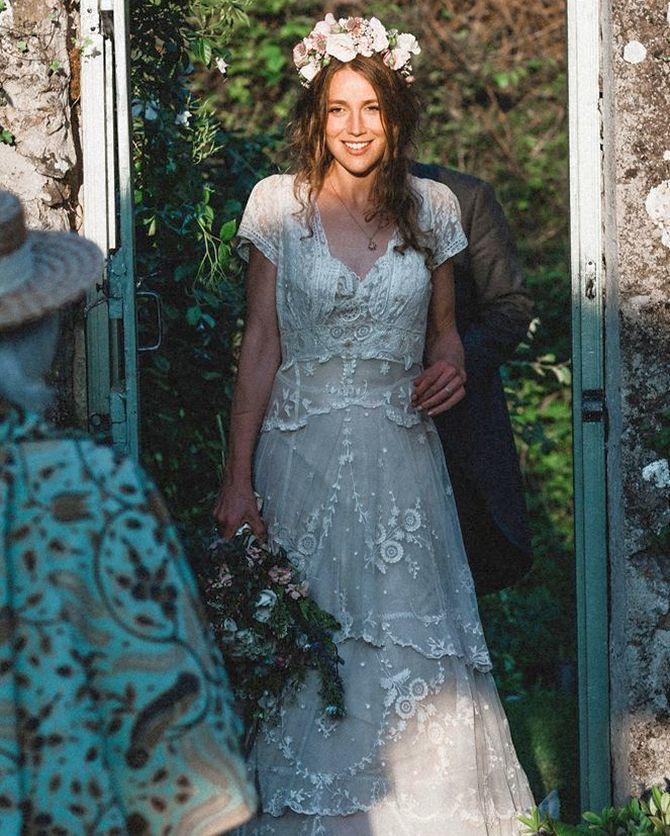 The dress was a family heirloom from the 1870s, which had belonged to the great-great grandmother of Tess Newall from the town of Morham in the East Lothian region of Scotland.
February 11, 2017
500-kg Egyptian woman in Mumbai for treatment, lifted by crane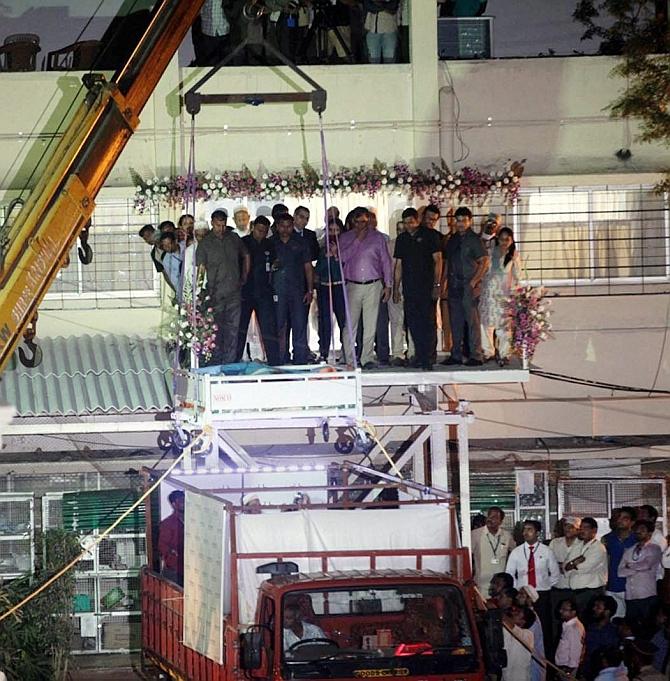 Eman Ahmed was transported by a fully-equipped truck, which was followed by an ambulance and a police escort, to Saifee Hospital where a special room has been built for her.
February 09, 2017
Beware! Donald Trump can break your marriage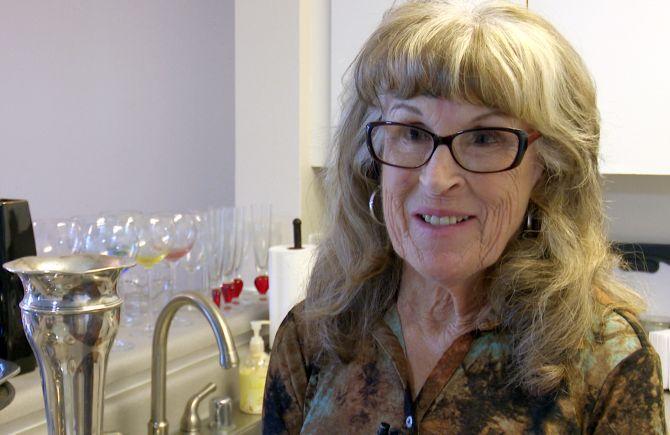 A 73-year-old woman has separated from her husband of over 20 years after he voiced support for Donald Trump in the run-up to the United States presidential polls.
February 08, 2017
Once Jaya's second in command, today's social media hero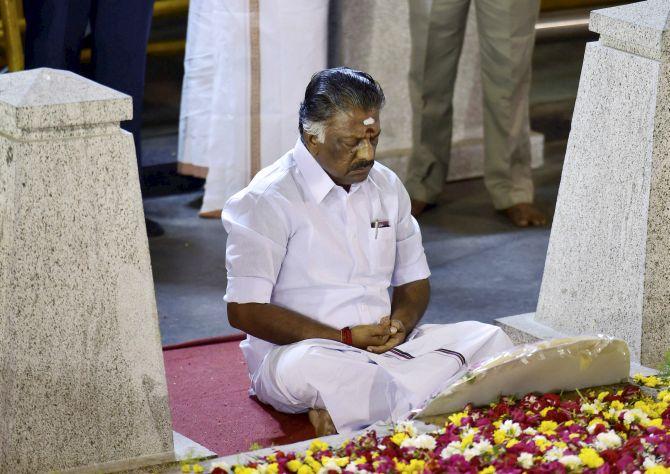 Social media exploded in support of O Paneerselvam as soon as he ended his explosive press conference on Marina Beach where he hit out against AIADMK legislature party leader V K Sasikala alleging that he was forced to resign.
Gone with the wind: 'Chill' Obama kite-surfs with Richard Branson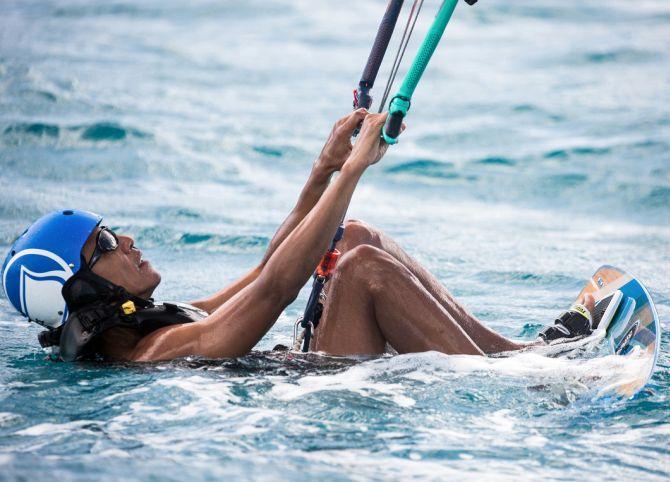 Obama and his wife Michelle are enjoying their new-found freedom holidaying in the British Virgin Islands with British billionaire Sir Richard Branson.
February 07, 2017
Ready for dinner 16 feet underwater?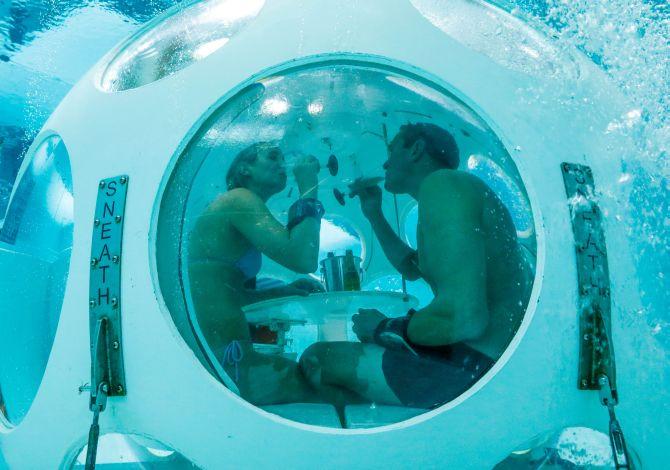 Are you bored of your regular dining options? Then experience this food treat underwater.
February 06, 2017
PHOTOS: When families in America were finally reunited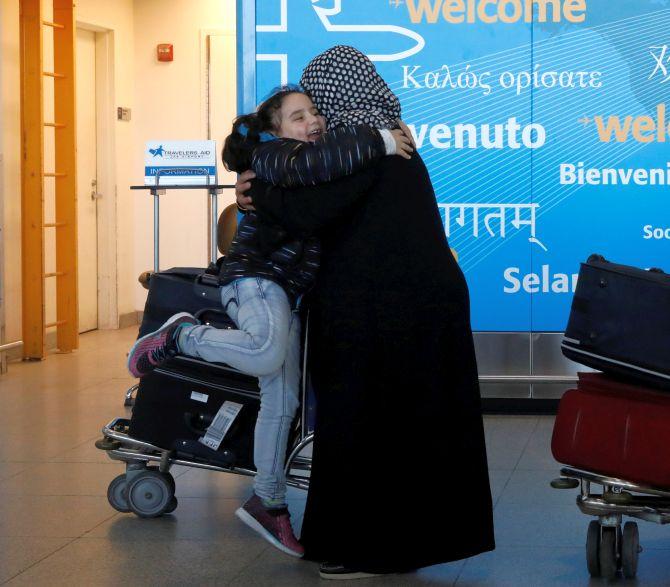 'Welcome to America', '#Americaisbeautiful'. These were just some of the chants heard at American airports as families reunited with their loved ones after a federal court swept aside the ban imposed by President Donald Trump, which restricted the access of people from seven nations -- namely Iran, Iraq, Libya, Sudan, Yemen, Syria and Somalia.
PHOTOS: 'President Pranab' to bloom at Rashtrapati Bhavan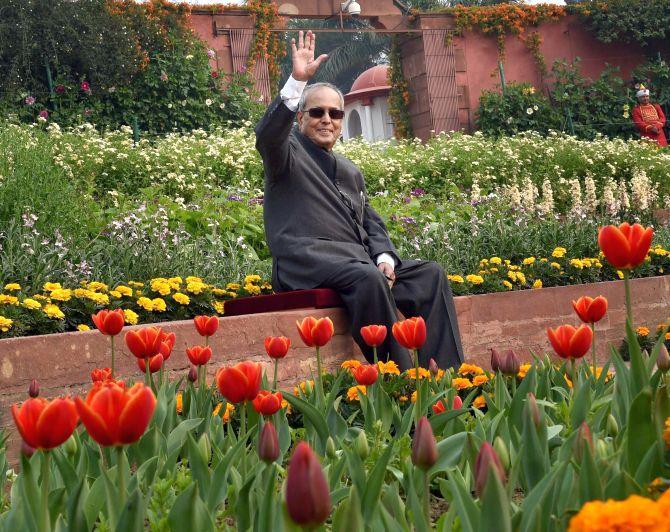 For those who aren't lucky enough to visit the iconic grounds, here's a stroll through the beautiful gardens.
February 04, 2017
PHOTOS: When the biggies entered polling booth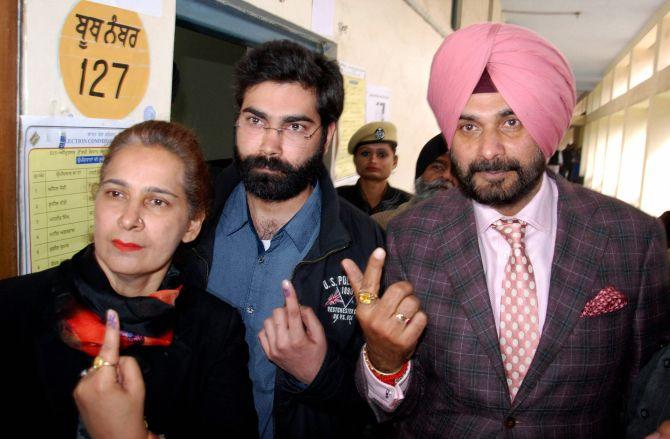 It was alleged that Sidhu violated the model code of conduct as he, along with his family, entered the premises of the booth in private cars.
February 03, 2017
Are you tough enough?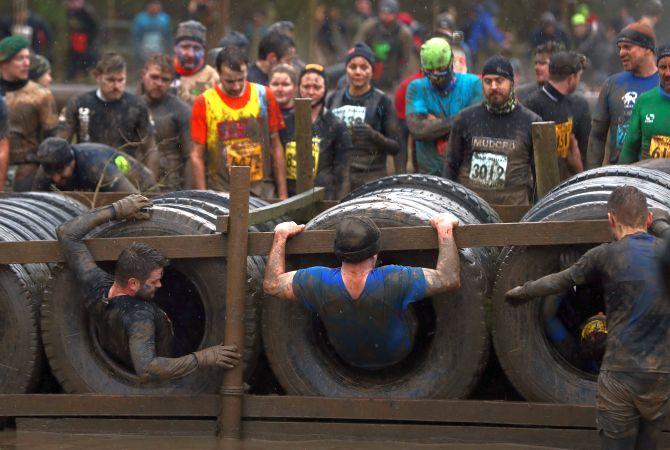 Here are some glimpses from Tough Guy, one of the most gruelling physical endurance challenges in the world.
Chennai oil spill: Centre orders probe, 80% clean-up ops over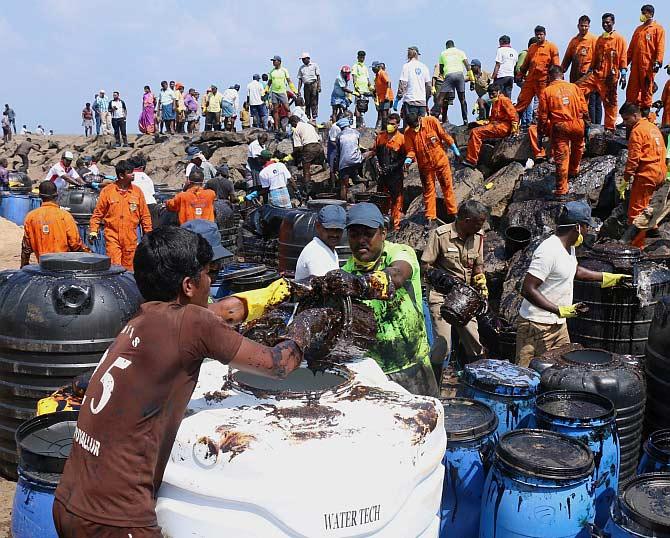 Minister of State for Shipping Pon Radhakrishnan said the vessel had more than 32,000 tonne of oil and has been emptied.
February 02, 2017
12 awesome cartoons in response to Trump's travel ban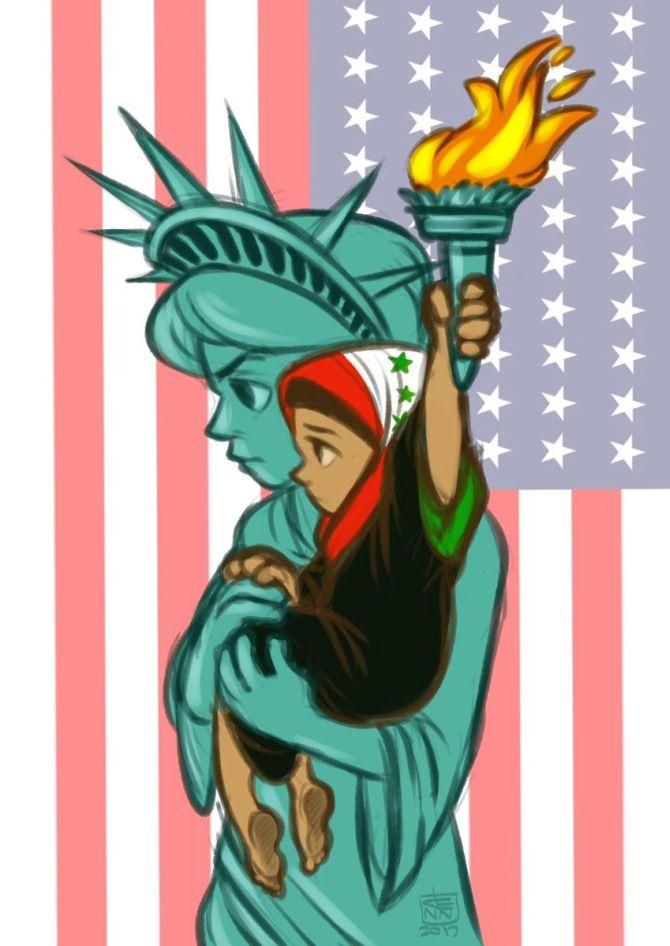 After President of the United States of America, Donald J Trump, banned immigrants from seven Muslim countries, the most powerful man in the world is being hated and mocked for being a racist as well as an Islamophobe.
January 31, 2017
PHOTOS: Trump travel ban protests spread from US to UK
Even as protests in America continue over President Donald Trump's travel ban, thousands gathered across the UK to protest against the same.
Follow this couple... and be blown away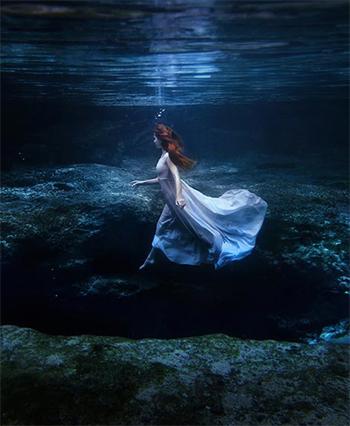 The Follow Me Away project -- where each photo shows Victoria exploring terrains hitherto unknown in a beautiful dress -- today has over 31,000 followers on Instagram.
You're fired! Trump sacks acting attorney general for defying his travel ban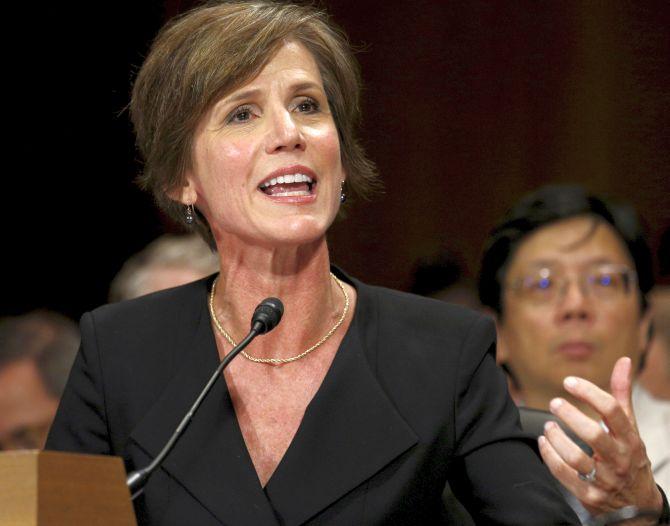 Acting Attorney General Sally Yates, a Democratic appointee, was accused of 'betraying' America after she directed Justice Department attorneys not to defend Trump's so-called 'Muslim ban' on Monday. She said she was not convinced the order was lawful.
January 30, 2017
'Refugees welcome here': Protesters rally across US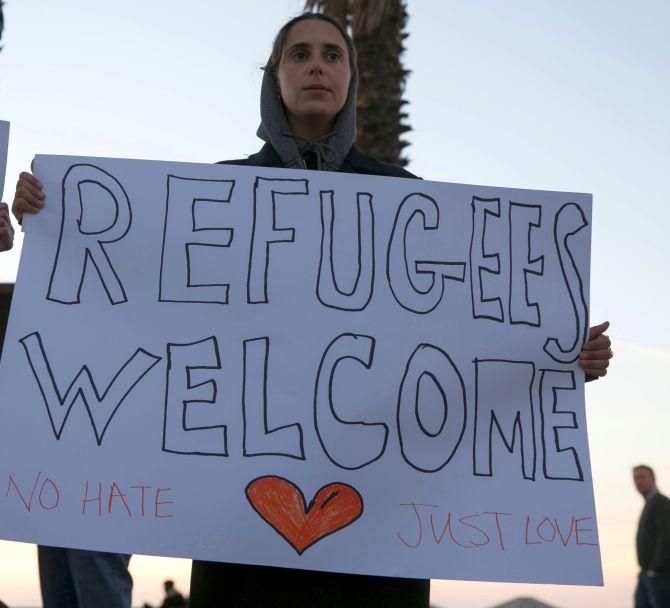 Protesters gathered outside the White House and raised slogans like 'This is what America looks like!', 'The people united, will never be divided' and 'No hate, no fear, refugees are welcome here,' as they waved the American flag and held placards, opposing Trump's order to block any visitors for 90 days from seven designated countries: Iran, Iraq, Libya, Somalia, Sudan, Syria and Yemen.
Families torn apart: Toll of Trump's immigration order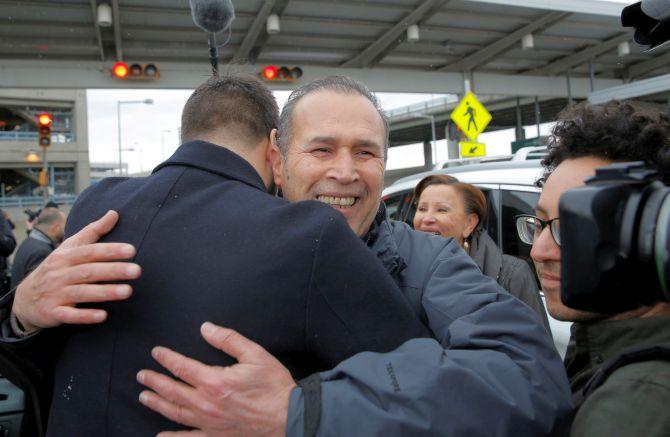 United States President Donald Trump's new executive order banning immigration from seven Muslim-majority countries -- Iran, Iraq, Libya, Sudan, Yemen, Syria and Somalia - has upended the lives of many families across the world.
'Terror attack' on Quebec mosque leaves Canada shaken, 6 dead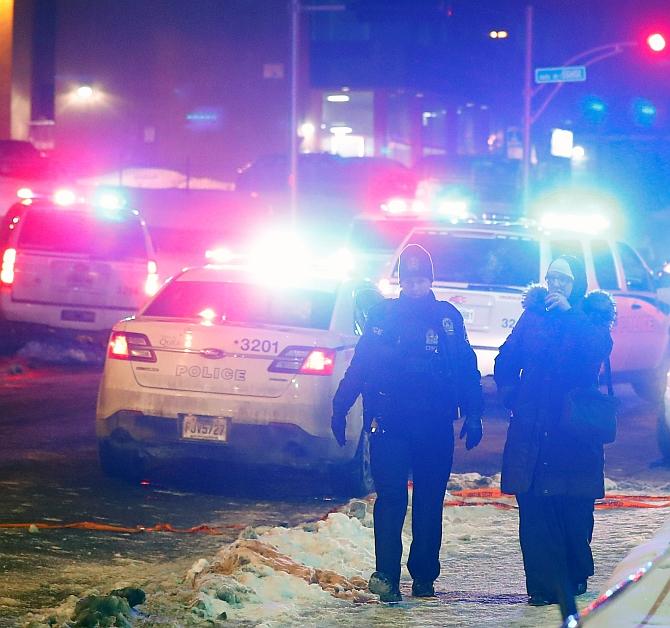 "Muslim-Canadians are an important part of our national fabric, and these senseless acts have no place in our communities, cities and country," Canadian Prime Minister Justin Trudeau said.
January 29, 2017
68th Republic Day celebrations end on high note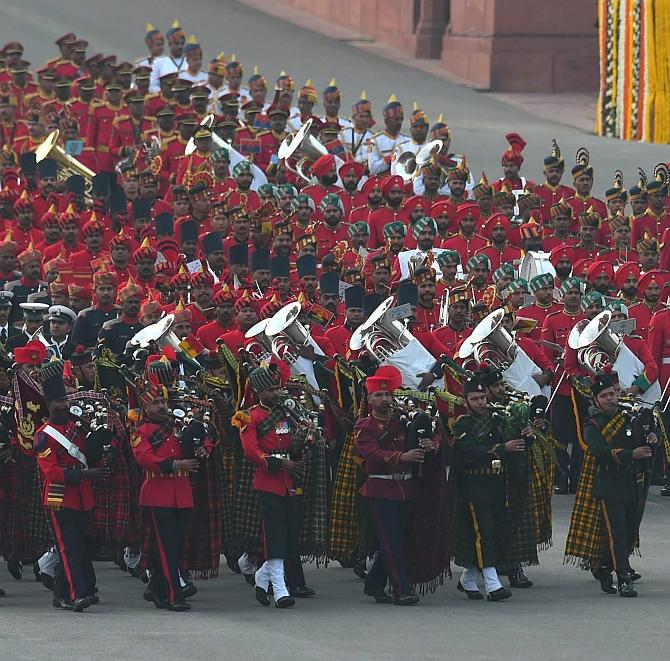 Foot-tapping music and soulful classical renditions rent the air as Republic Day celebrations culminated with the Beating Retreat ceremony in New Delhi where President Pranab Mukherjee rode the ceremonial buggy down the Raisina Hill on Sunday for the last time during his tenure.
PIX: Thousands decry Trump's immigrant ban at US airports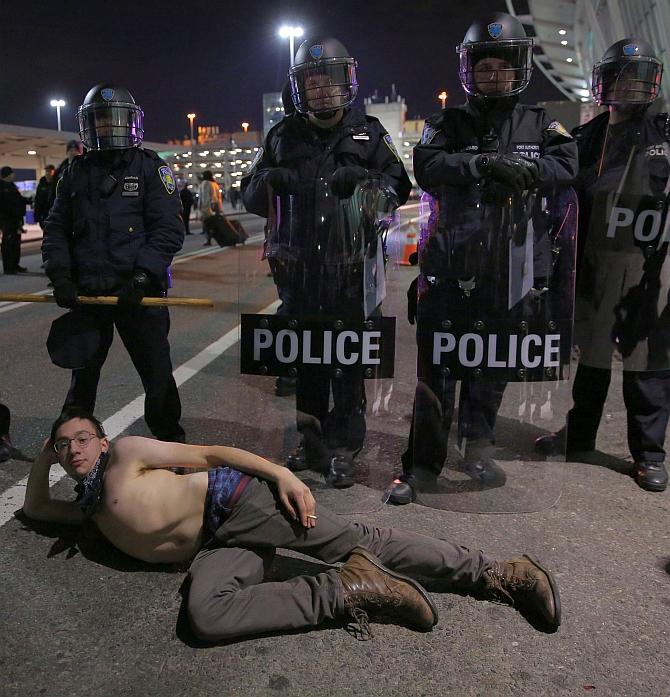 Hundreds of thousands of people gathered at airports across the US to protest the ban announced by President Donald Trump on immigrants from seven Muslim-majority countries, extending solidarity to those affected as chaos and fear gripped individuals trying to enter the country.
January 27, 2017
US VP at anti-abortion march: 'Life is winning again in America'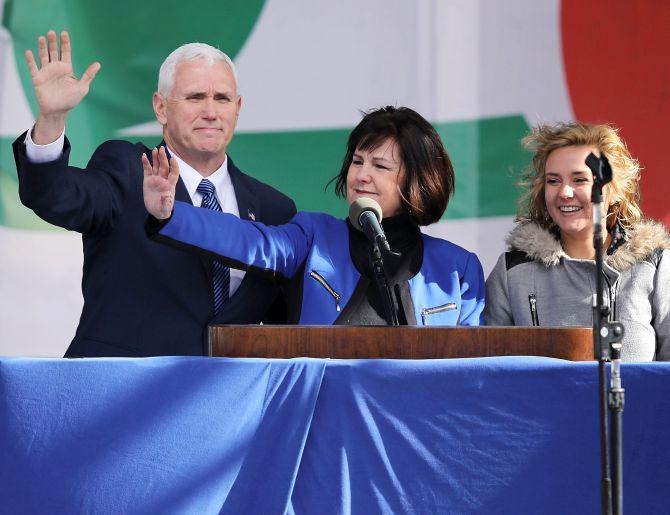 Mike Pence, a staunch conservative defender of traditional family values with strong anti-abortion views, is the first American vice president to speak at the March for Life gathering.
January 26, 2017
UAE contingent leads R-Day parade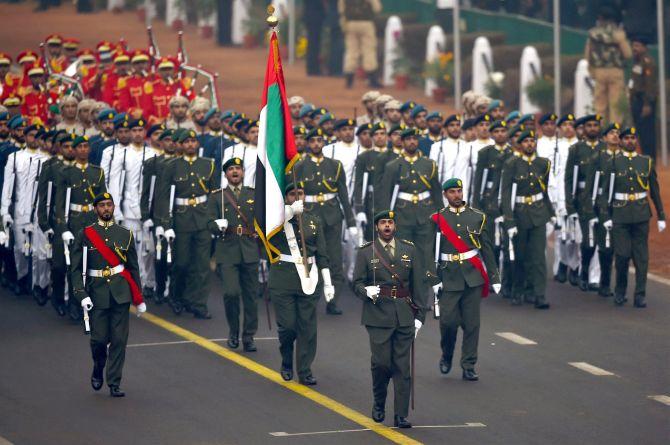 The UAE is the second country after France to send troops to participate in the Republic Day parade of India, a tradition started last year.
NSG's 'black cats' debut at Republic Day parade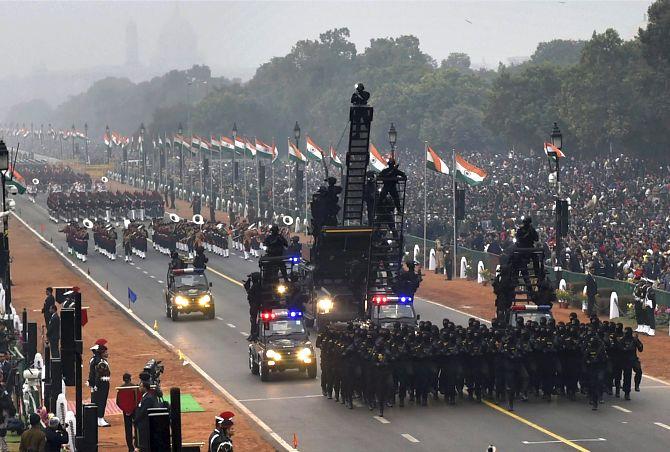 A contingent of about 140 personnel in black overalls, balaclava headgear and carrying special assault rifle MP-5 added dashing sheen to the parade.
PHOTOS: India displays its military might, vibrant culture on R-Day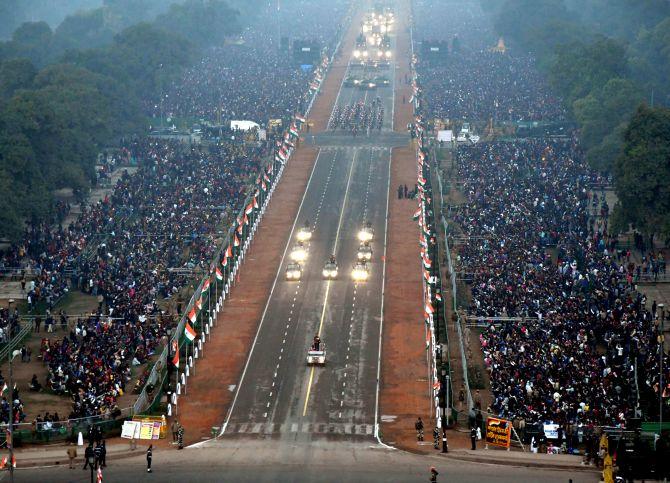 Here are highlights of the 68th Republic Day parade.
January 25, 2017
Heavy snowfall cuts off Kashmir; Army Major among 5 killed in avalanches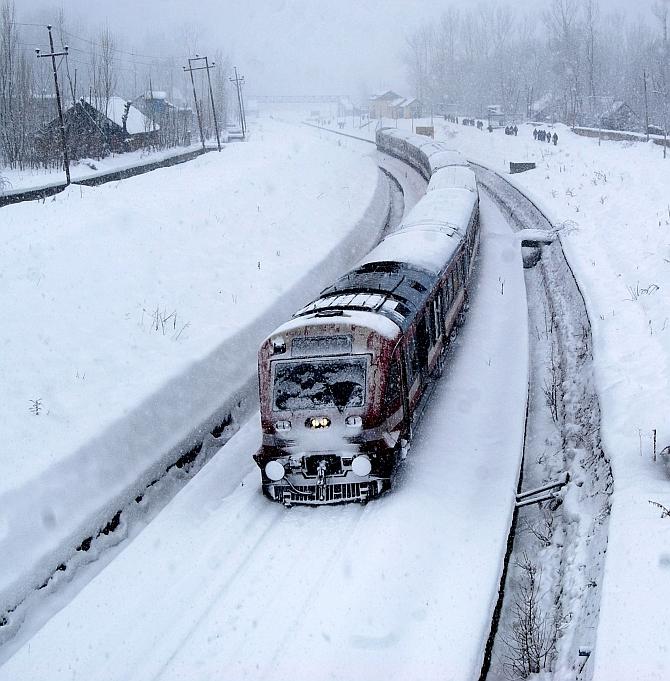 Surface and air links between Kashmir and rest of the country were cut off on Wednesday due to snowfall in the valley as the Srinagar-Jammu National Highway was closed for traffic and all flights to Srinagar Airport cancelled.
Isn't he magnetic?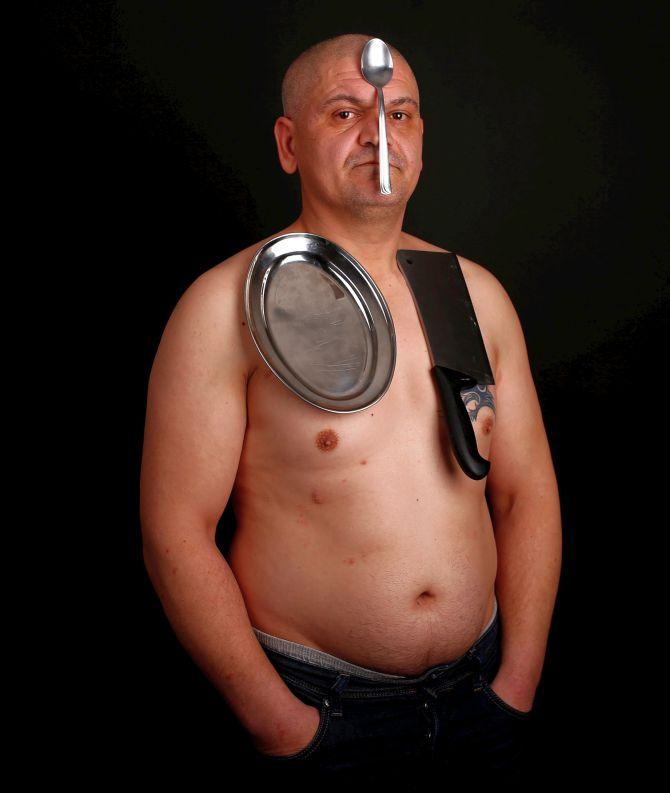 Nermin Halilagic, 38, from Bosnia and Herzegovina has discovered that he has the unusual ability to attach items to his body using what he says is a special energy radiated from his body.
January 24, 2017
PM receives R-Day parade chief guest Crown Prince of Abu Dhabi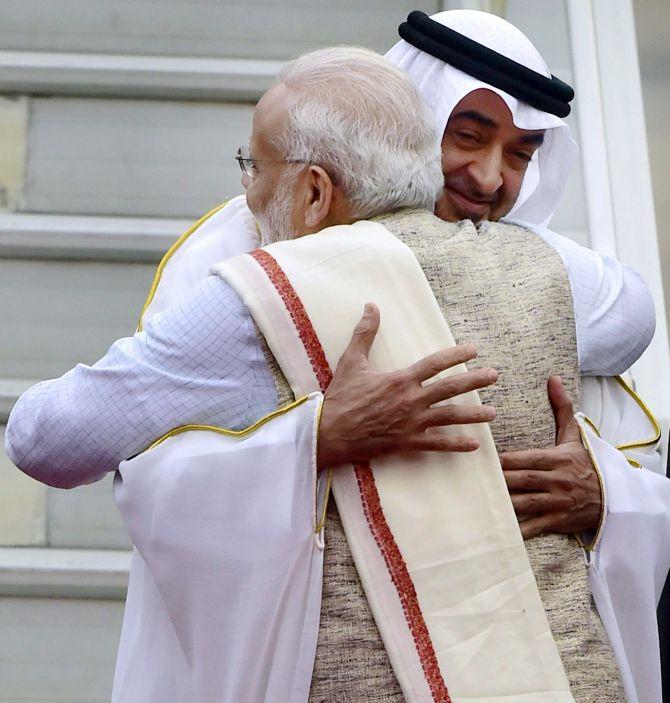 The Crown Prince, who arrived on a three-day official visit, will be accorded a ceremonial reception at the Rashtrapati Bhawan on Wednesday, following which he will lay wreath at Mahatma Gandhi' memorial at the Raj Ghat.
PHOTOS: Here's why you can't miss the R-Day parade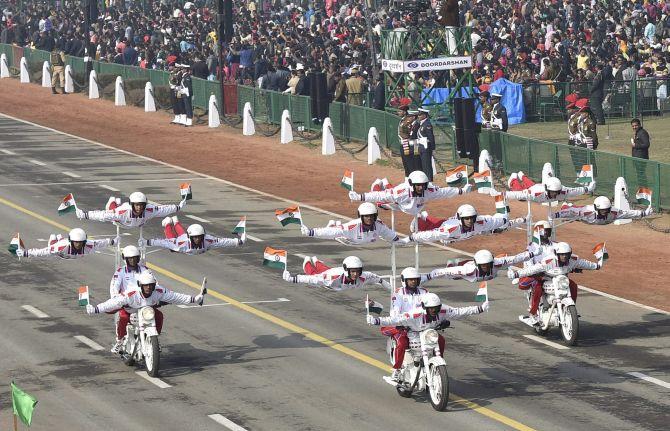 Glimpses of the colourful parade we will see on Rajpath in New Delhi on Thursday.
CRPF's valiant dog 'Pluto' martyred in IED blast in Chhattisgarh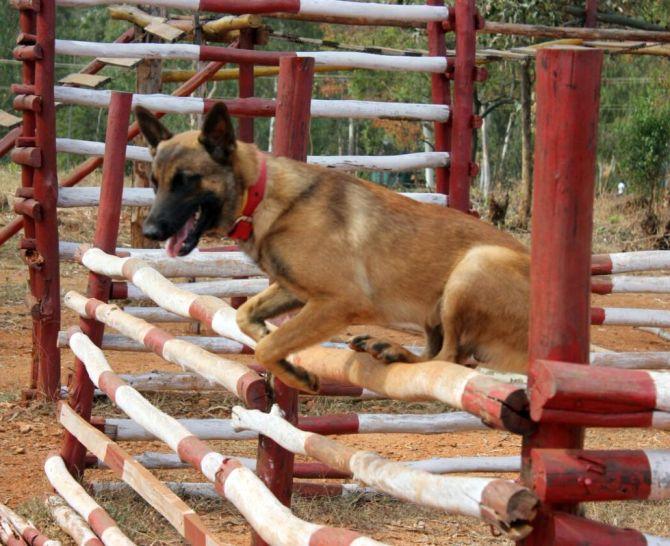 The dog handler was not injured in the blast.
PHOTOS: The mad, mad world we live in!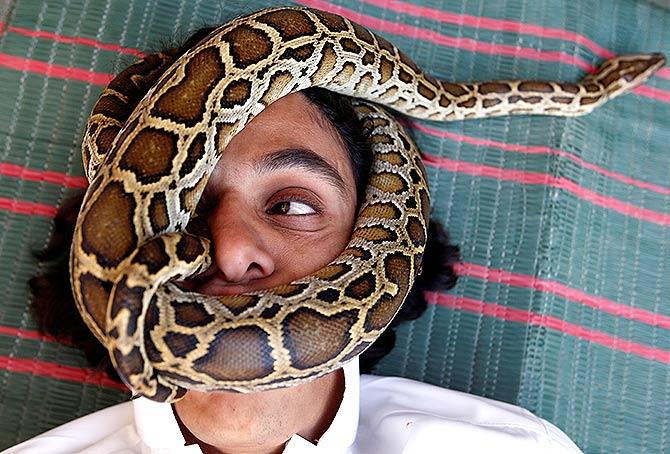 These 12 images prove that we truly live in an incredibly bizarre world.
January 23, 2017
Chill continues in Valley, Srinagar-Jammu National Highway reopens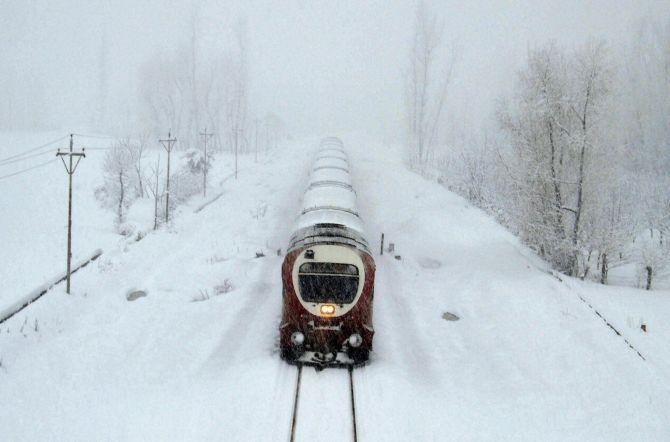 The Meteorological Department has forecast rains or snow over five days from Monday.
IN PHOTOS: India over the weekend
Here are the major events that shaped the country in the past 48 hours.
January 22, 2017
'Lucky enough to be alive'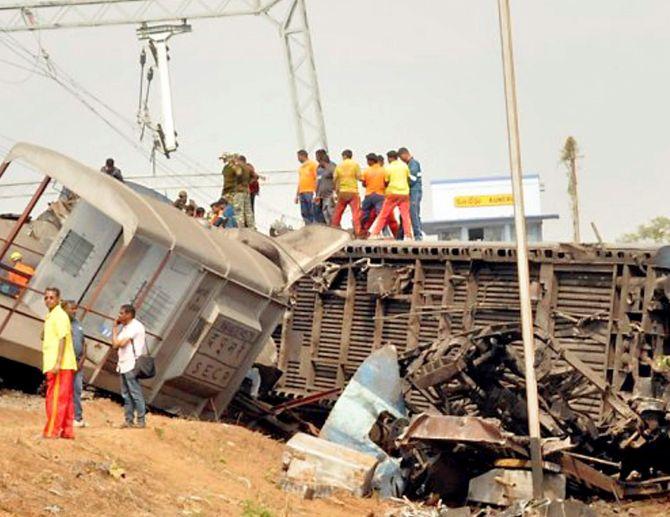 Survivors of the Hirakhand Express mishap on Sunday recounted their horrific experience when the trains nine bogies and the engine jumped off the track near Kuneru in Andhra Pradesh.
Jallikattu held in shadow of protests in Tamil Nadu, 3 dead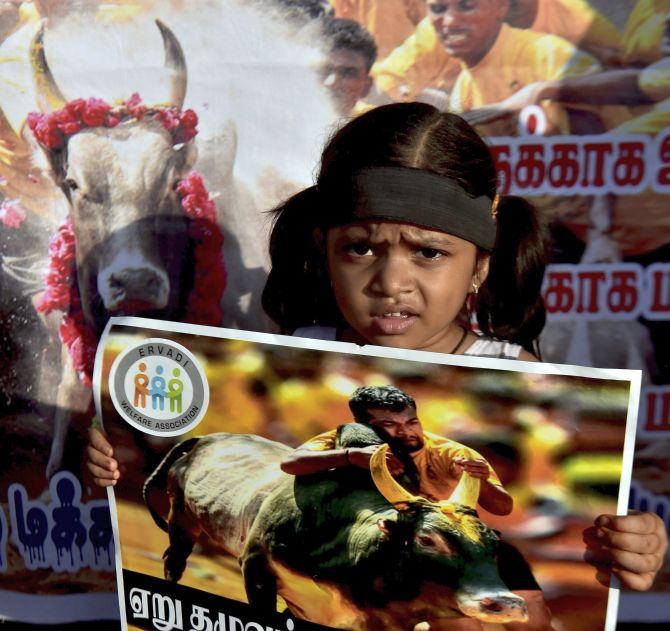 Protesters demanded a permanent solution for holding the sport and raised slogans that an ordinance was only a temporary measure.
PHOTOS: Women take over the world!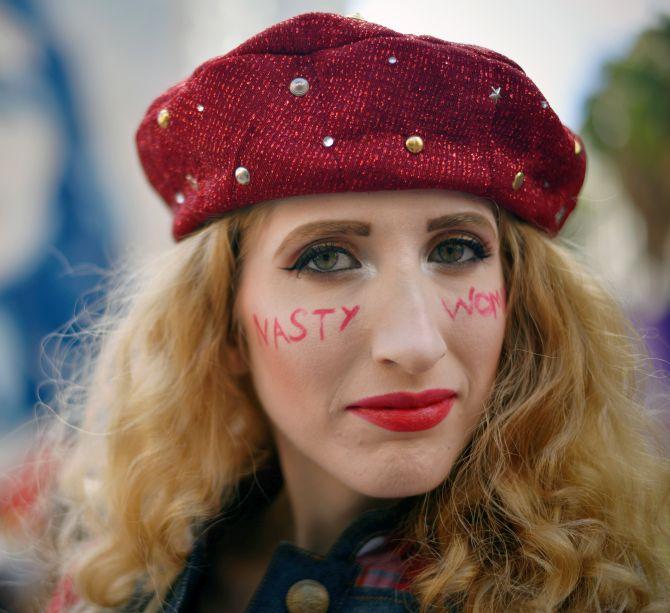 Wearing pink, pointy-eared hats to mock the new US president, throngs of protesters descended on the US capital and other cities around the globe to show Donald Trump they won't be silent over the next four years.
January 21, 2017
PHOTOS: US President Trump, wife Melania have a 'ball' of a time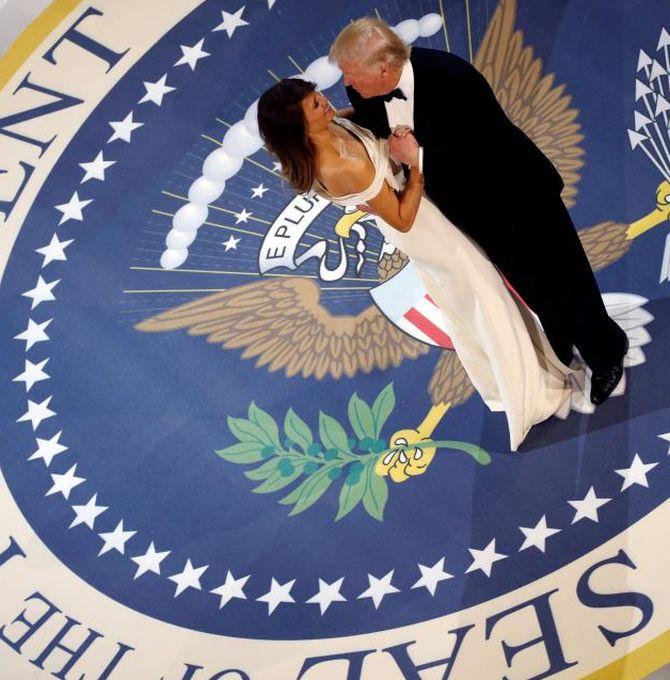 US President Donald Trump triumphantly greeted supporters at the first of the three inaugural balls, joining his First Lady on stage to tell them: 'We did it."
PIX: Trump walks in inaugural parade amid protests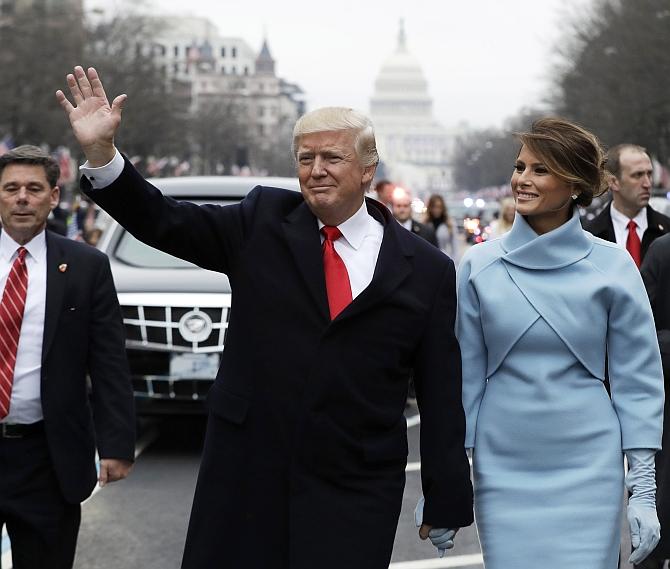 Even as protests raged across Washington, thousands thronged Pennsylvania Avenue on Friday as President Donald Trump and First Lady Melania Trump made their way from the Capitol to the White House.
Violence rocks Washington as Trump takes over; over 200 arrested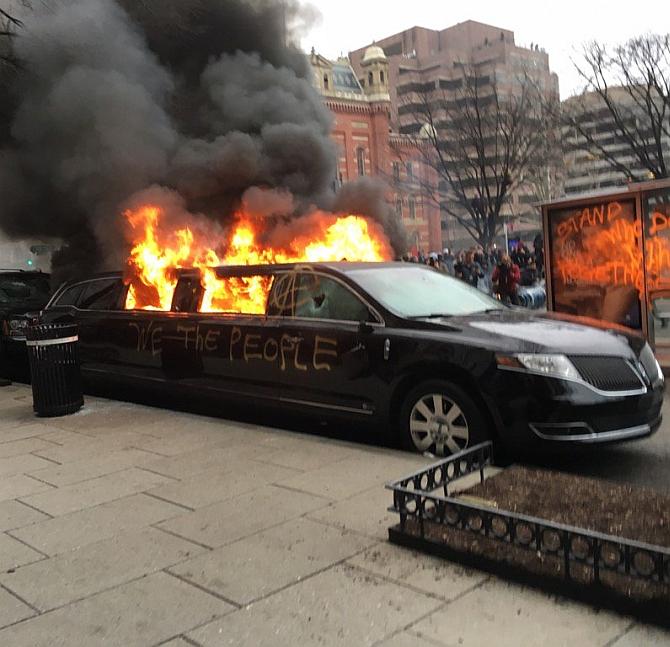 As Americans welcomed Donald Trump as their 45th President, police arrested nearly 100 protesters involved in "vandalism," blocks away from the venue for his inauguration celebrations, marred by sporadic violence and clashes between masked protesters and police.
January 20, 2017
PIX: Trump takes oath as president; vows to keep America first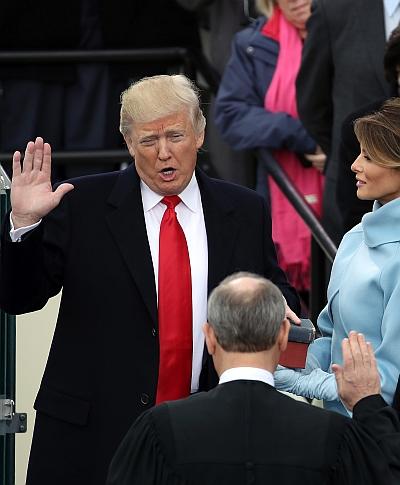 Trump, 70, took the oath of office in front of about 800,000 people who braved chilly weather to gather on the National Mall in the center of the capital to celebrate the rank political outsider, who defied all odds to defeat political heavyweight Hillary Clinton in the November polls.
PHOTOS: Look who showed up at Trump's inauguration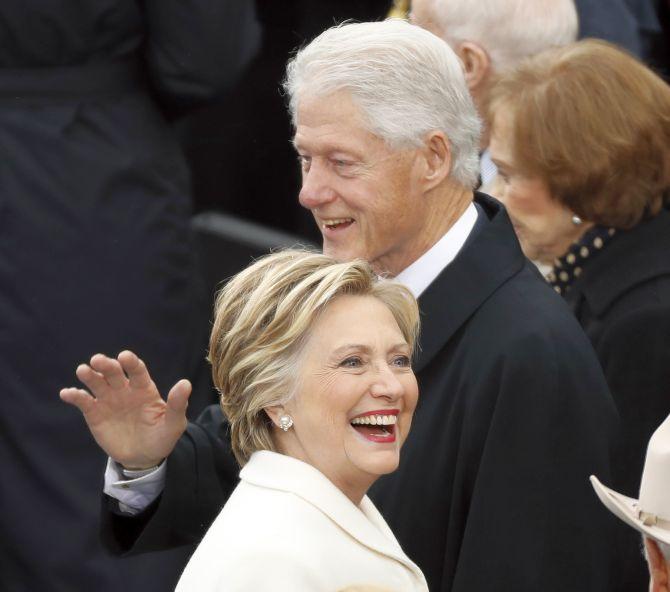 A gaggle of past presidents, prominent Senators, and other famous and eminent personalities gathered at Capitol Hill for the swearing-in ceremony of Donald J Trump as the 45th President of the United States.
The era of Trump begins: Quick takes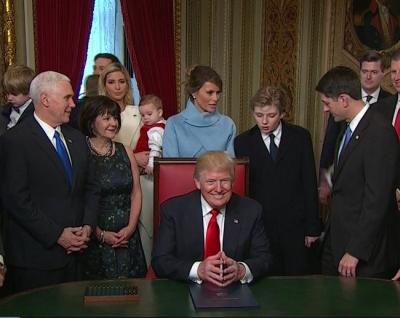 Here's the latest from the inauguration day of Donald Trump as the 45th President of the United States.
PHOTOS: Protests mark the start of Trump's presidency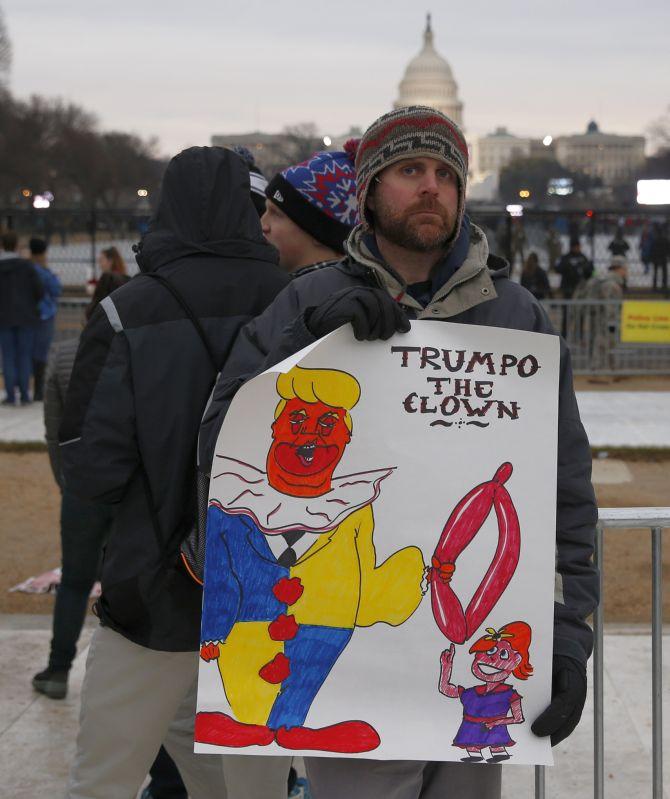 Thousands of anti-Trump protesters, including politicians and celebrities, have rallied in New York. Demonstrators also clashed with police outside the National Press Club in Washington, DC ahead of Donald Trump's presidential inauguration.
'I outworked anybody who ever ran for office': Trump at inaugural dinner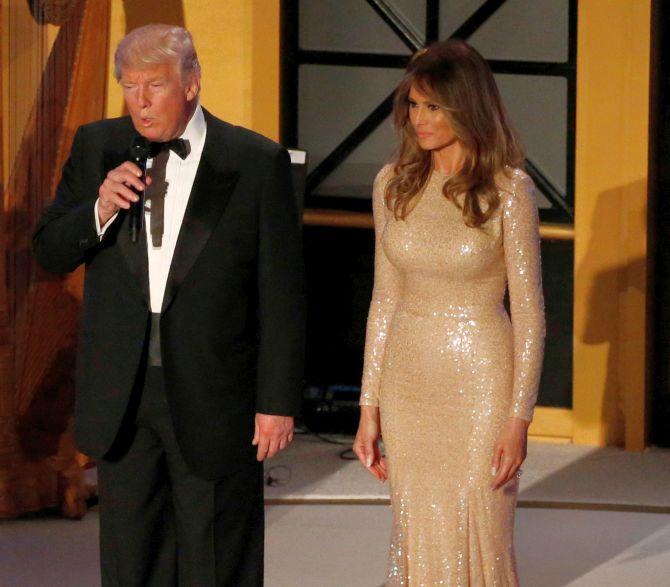 Even before assuming the United States President's office, Donald Trump has boasted about his election victory, his re-election prospects, re-prided himself for picking a "great" Cabinet and showered confidence on the capabilities of his son-in-law to broker peace in the volatile Middle East.
Trump calls for unity at opening concert as inaugural festivities begin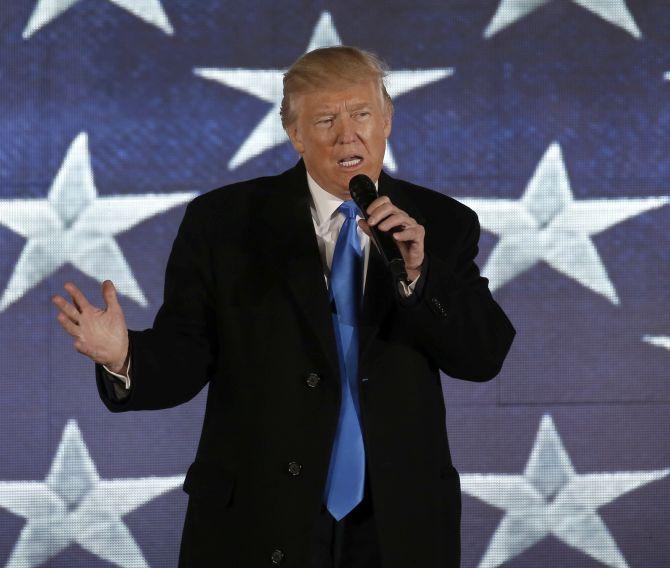 Joined by his wife and incoming First Lady Melania Trump, daughter Ivanka and son-in-law Jared Kushner, his sons and their families, Trump enjoyed the nearly two-and-a-half hour concert.
PHOTOS: Trump lays wreath at Arlington National Cemetery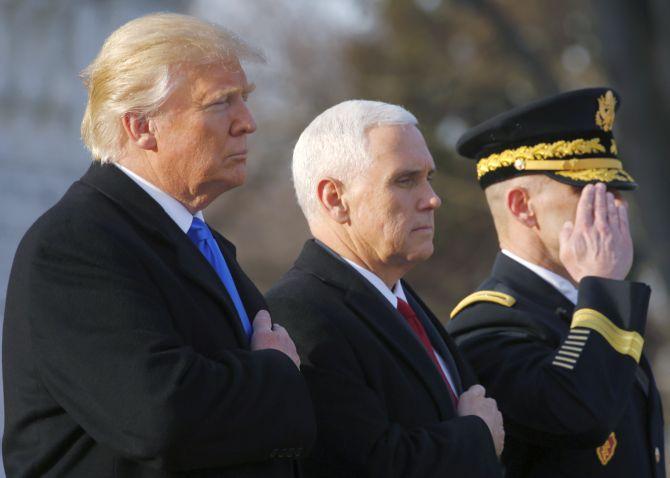 Trump along with Vice President-elect Mike Pence laid wreaths on the Tomb of the Unknowns at the Arlington National Cemetry in Washington
On Day 4, Jallikattu protests spread from Chennai to Vadodara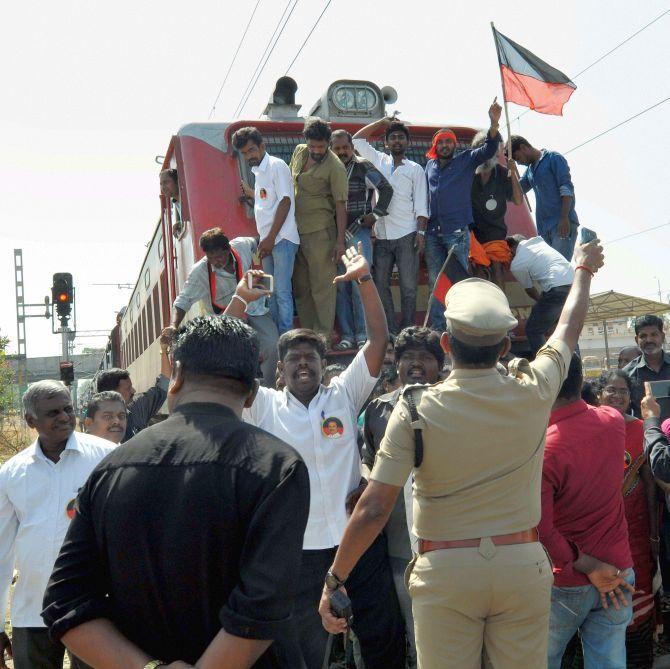 The mass Jallikattu protests on Chennai's Marina beach showed no sign of dying out on Friday, even after Tamil Nadu Chief Minister O Panneerselvam promised that a draft ordinance aimed at ensuring the conduct of the traditional bull-taming sport has been submitted to the home ministry.
January 19, 2017
PIX: Trump arrives in Washington for inauguration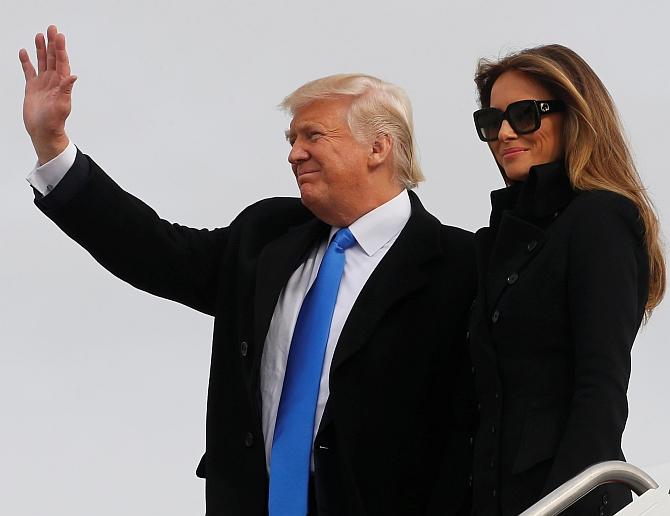 Joined by his family, wife Melania, daughter Ivanka and sons Don and Eric, Trump will take the oath of office as the leader of the world's most powerful nation on Friday as hundreds of thousands of people descend on Washington to both support and protest his inauguration.
January 18, 2017
Restored! The Audi in which Netaji made his great escape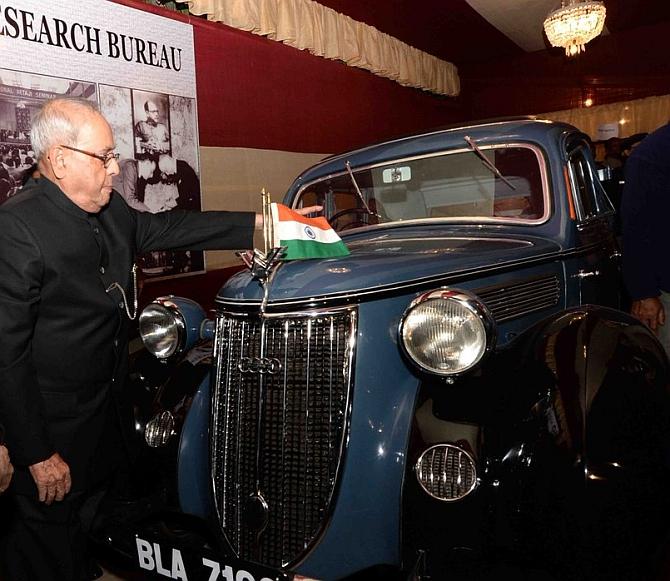 Netaji had used the Audi Wanderer W24 to escape from his Elgin Road residence to Gomoh railway station in Jharkhand to catch a train to Delhi.
PIX: Gearing up for the big bash called Republic Day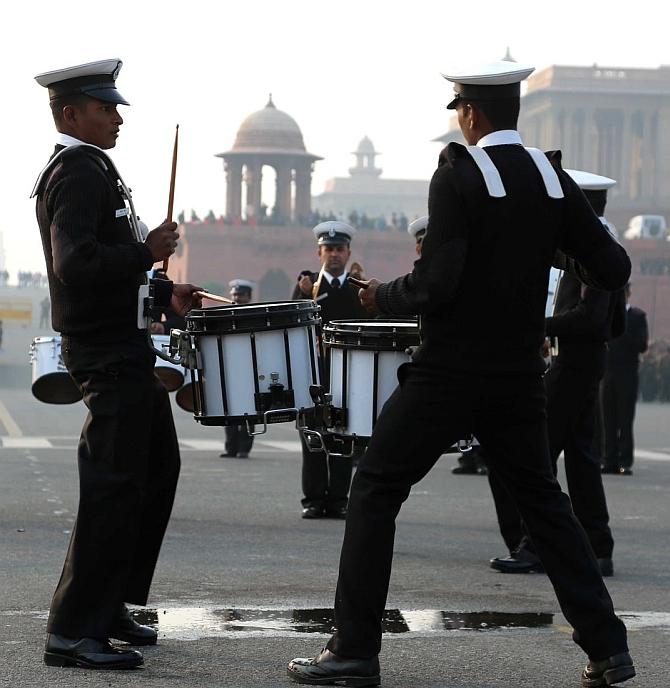 India's military prowess and its cultural diversity is bound to leave the chief guest, Abu Dhabi Crown Prince Sheikh Mohammed bin Zayed Al Nahyan, spellbound.
January 17, 2017
Young and fearless: They are the National Bravery Award winners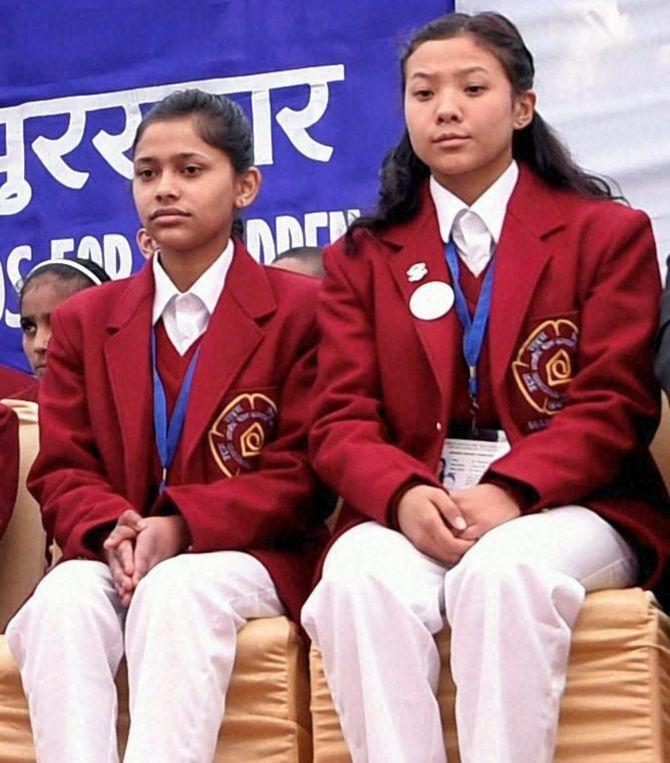 Twenty-five children -- 12 girls and 13 boys -- have been selected for the prestigious award, which they will receive from the prime minister on January 23 and thereafter participate in the Republic Day parade, officials said.
PHOTOS: It's an odd, crazy world out there!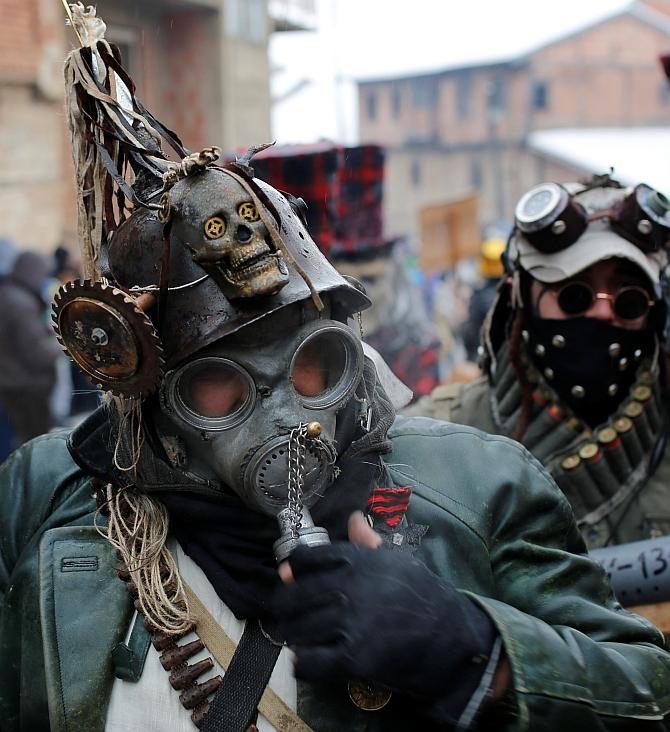 Here's your weekly digest of unbelievably unusual images from across the world.
January 16, 2017
Getting some sleep: What Obama looks forward to after January 20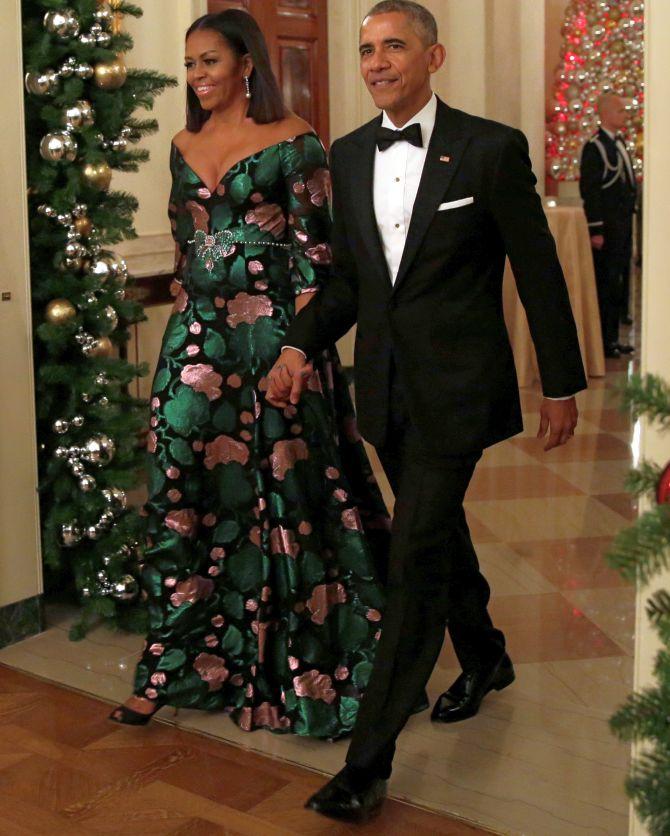 In what is his final on-camera interview during his eight year stay at Washington's most famous address, US President Obama tells CBS that his family will be happy to be out of the White House come next weekend.
January 15, 2017
Modi joins the nation in saluting soldiers on Army Day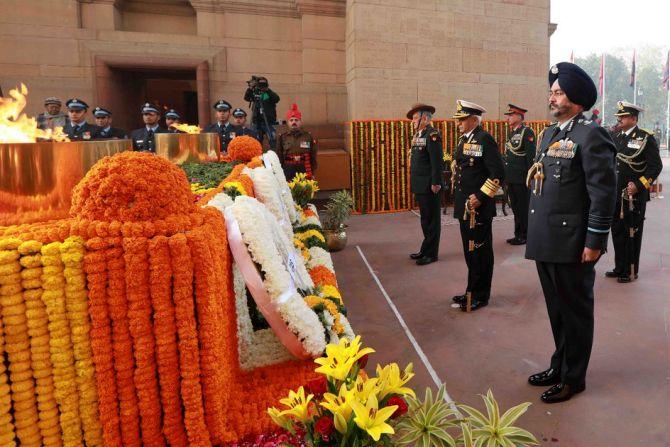 Prime Minister Narendra Modi on Sunday saluted the courage and invaluable service of the soldiers and officers, including the veterans on the Army Day. PM Modi said the army and its brave soldiers have made the nation proud by their sacrifices
January 14, 2017
PHOTOS: India celebrates its winter harvest festivals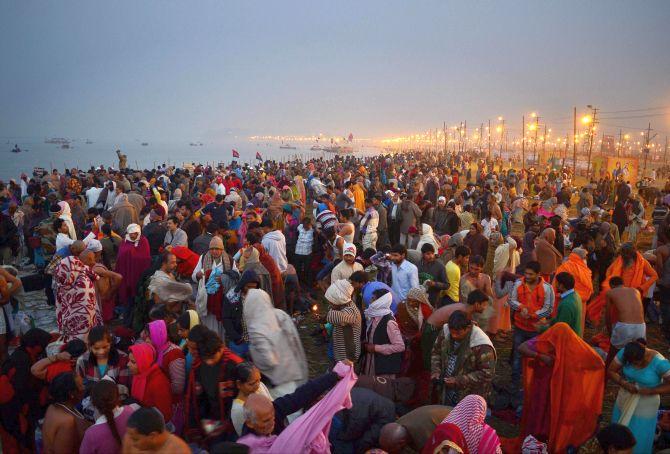 Here are glimpses of some of the celebrations.
January 13, 2017
PHOTOS: There couldn't be a cuter family than this!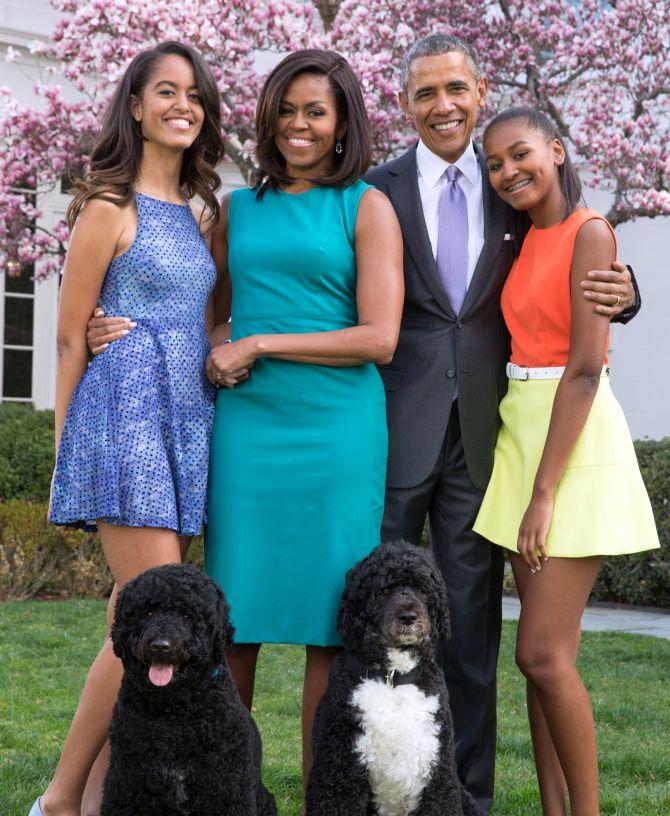 He was a great Commander-in-Chief, but he was also a great dad and a great husband and these photos will surely give you some #familygoals.
January 12, 2017
2nd Scorpene class submarine Khanderi launched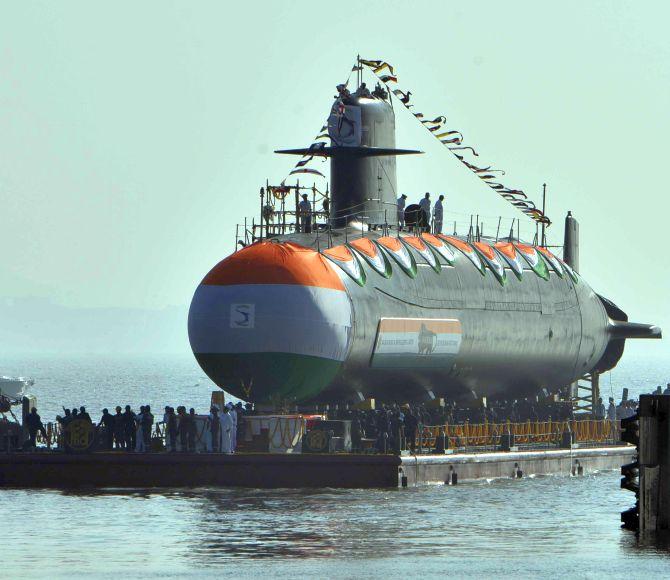 The state-of-the-art features of this Scorpene class submarine include superior stealth and the ability to launch a crippling attack on the enemy using precision guided weapon.
PHOTOS: The world turns white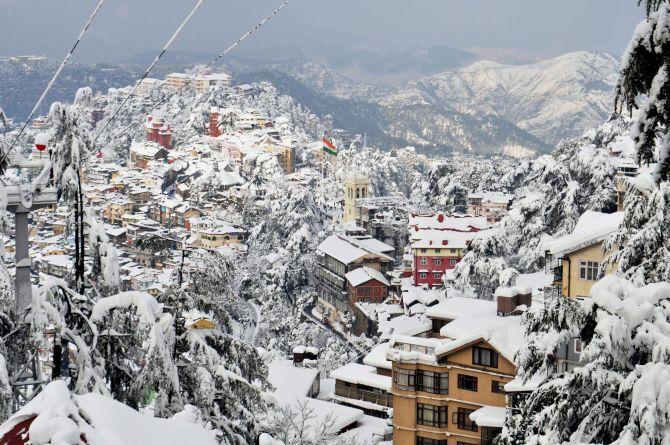 Winter photos from across the world.
January 11, 2017
'Yes we can, yes we did!' Teary Obama bids farewell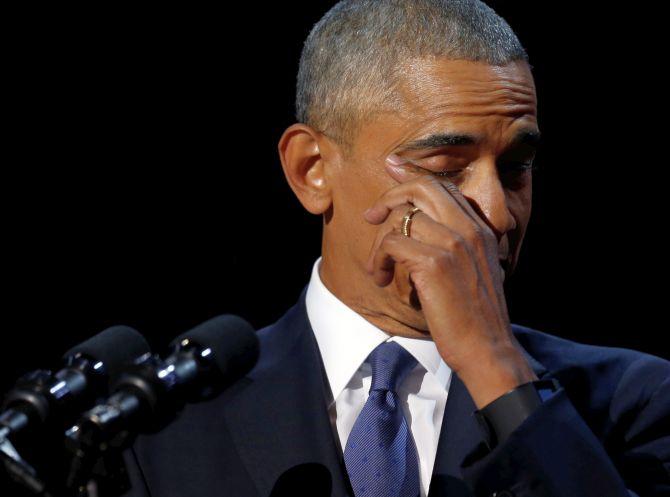 United States President Barack Obama said goodbye to his nation in an emotional address enriched with wisdom and optimism.
Here's what you can expect at this year's R-Day parade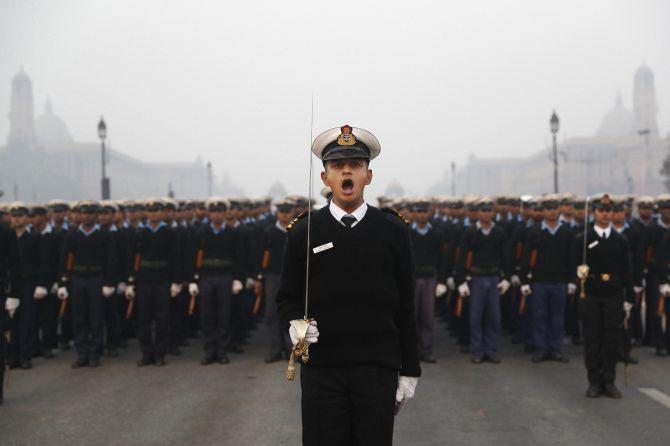 For the first time, NSG commando will participate in the parade.
January 10, 2017
PHOTOS: Here's what happens when London's Tube comes to a halt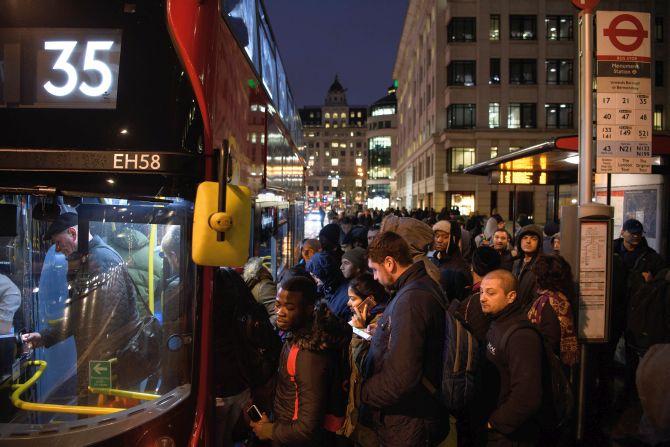 Millions of Londoners endured a chaotic start to the week on Monday after a strike shut down most of the Underground network, including many city centre stations.
January 09, 2017
Don't blush! It's 'No Pants' day on the subway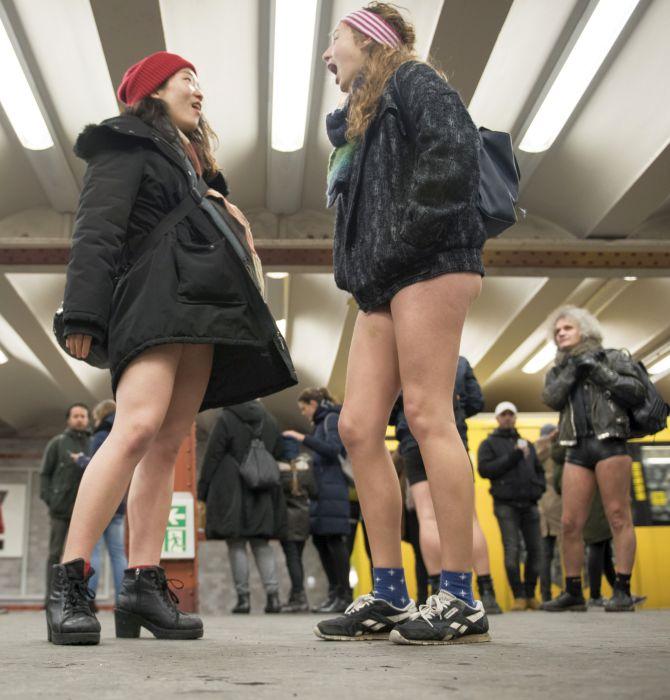 Subway riders in New York City and other places around the world on Sunday got an eyeful when their fellow transit users stripped down to their underwear, as a part of the annual No Pants Subway Ride.
The world from the skies is just UNREAL!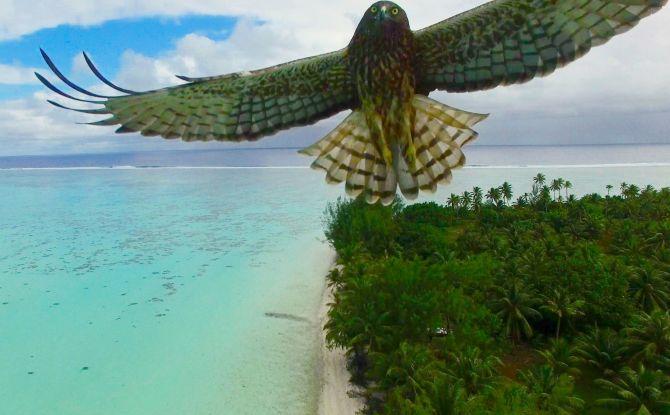 The drone photography community Dronestagram released a collection of their favourite drone photography of the year.
January 07, 2017
In tearful finale, Michelle Obama says, 'I hope I've made you proud'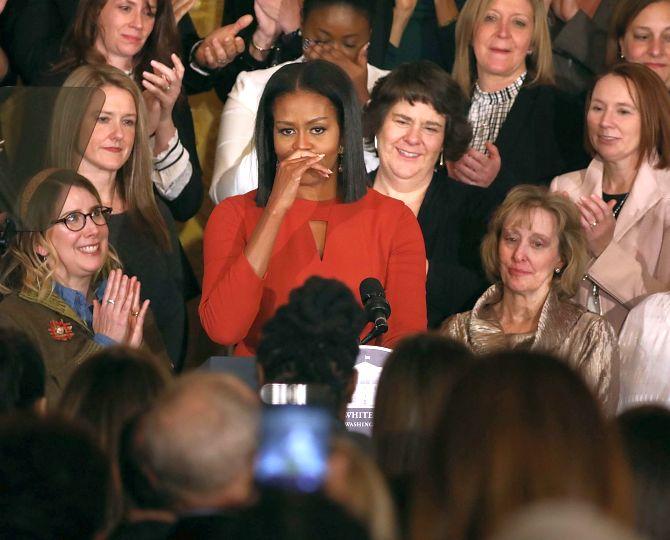 The first lady also praised the 'glorious diversity' of people of all faiths, colours and creeds in America as 'not a threat to who we are' but as what 'makes us who we are.'
January 06, 2017
What lies ahead for the world in 2017?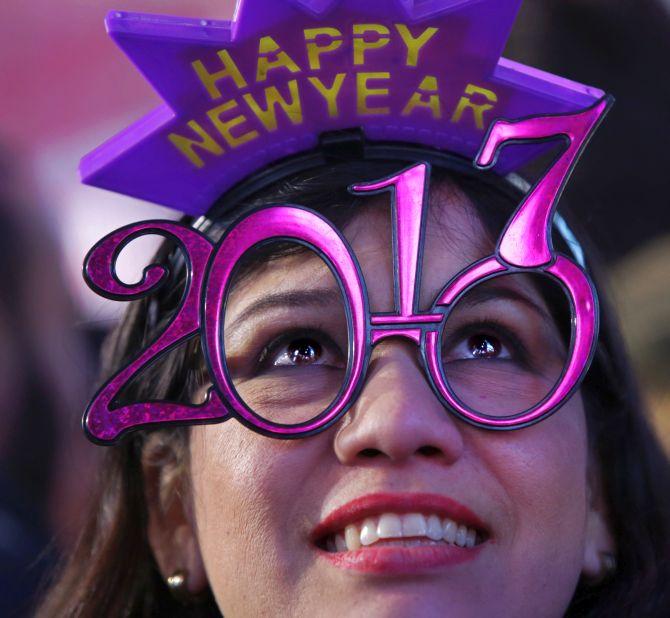 With 2016 officially behind us, let's look forward and speculate about the events, people and issues that will shape 2017.
PHOTOS: Heavy snowfall paints Kashmir white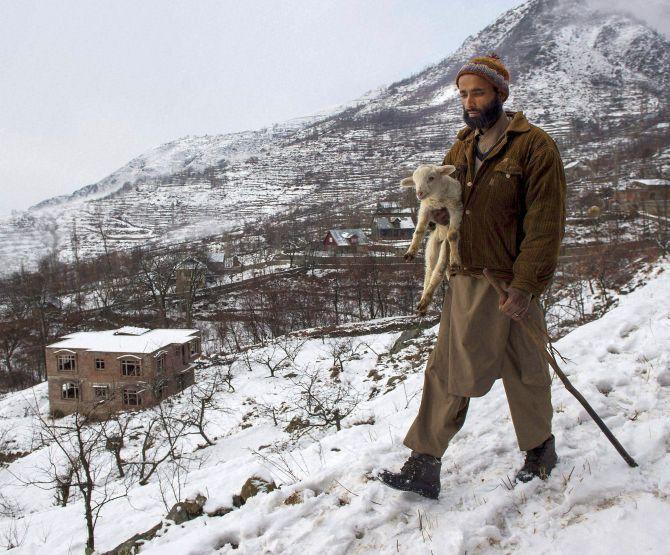 The weather department has forecast widespread snowfall or rains over the next two days also.
US military welcomes first women infantry Marines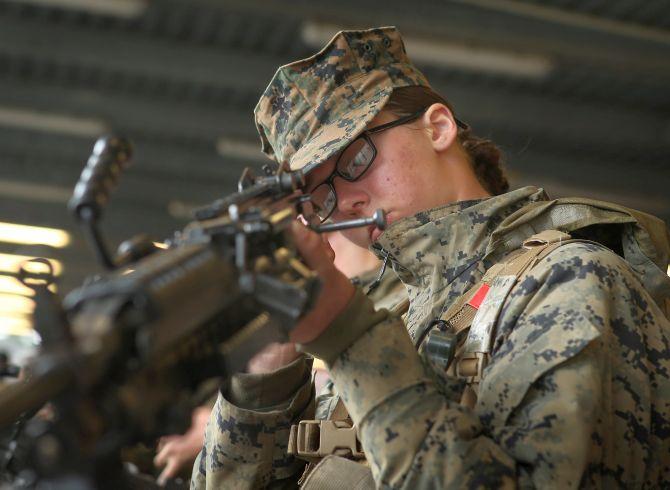 They will serve as a rifleman, machine gunner and mortar Marine.
January 05, 2017
STUNNING PHOTOS: Mumbai cops in action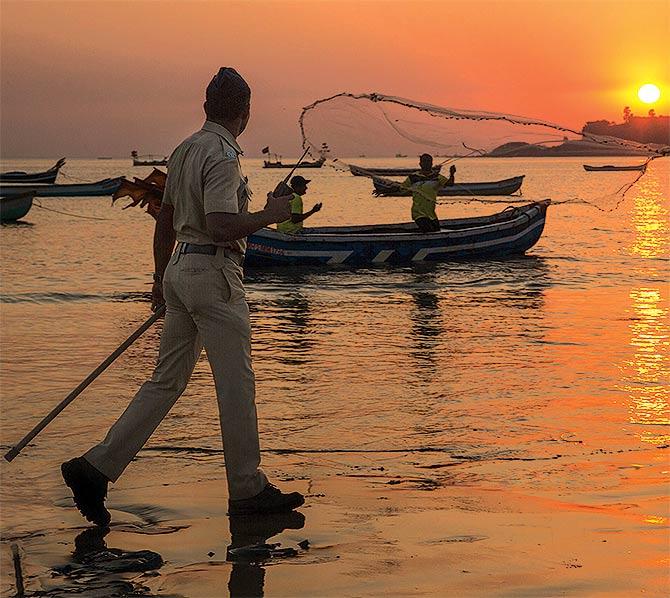 Here is the Mumbai Police Calendar 2017.
January 04, 2017
TMC workers protest outside Babul Supriyo's house, stage rail-roko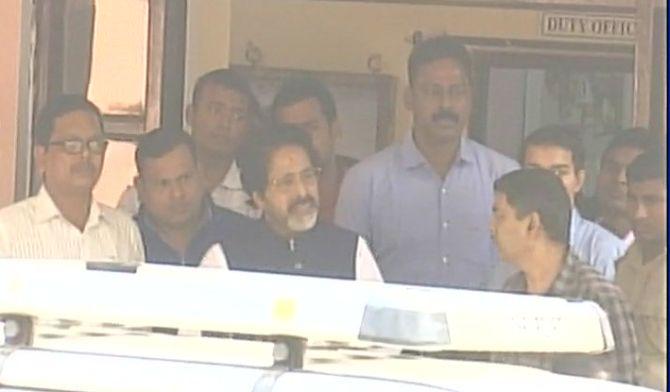 In New Delhi, Trinamool Congress MPs took out a protest march towards the PM's residence but were taken into police custody en route.
PIX: This US Congress swearing-in is historic for all desis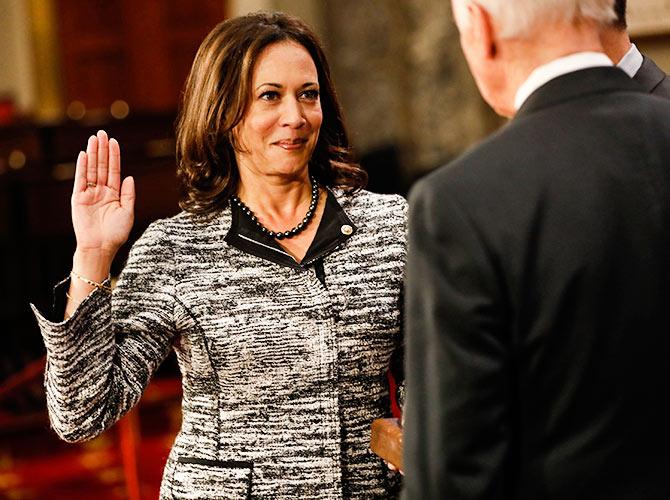 Not only does the new US Congress have the first Indian-American US Senator, for the first time in history it also has four Indian Americans in the House of Representatives! Glimpses of the change of guard.
January 03, 2017
Science must meet rising aspirations of our people: PM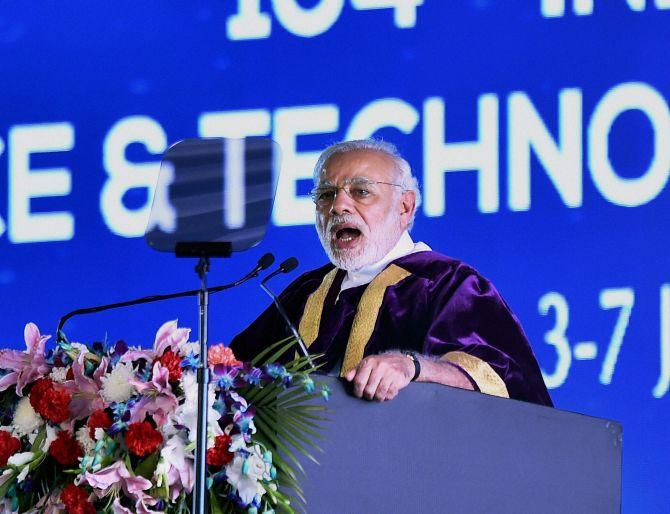 By 2030 India will be among top three countries in science and technology: PM
PHOTOS: PM offers prayers at Tirupati temple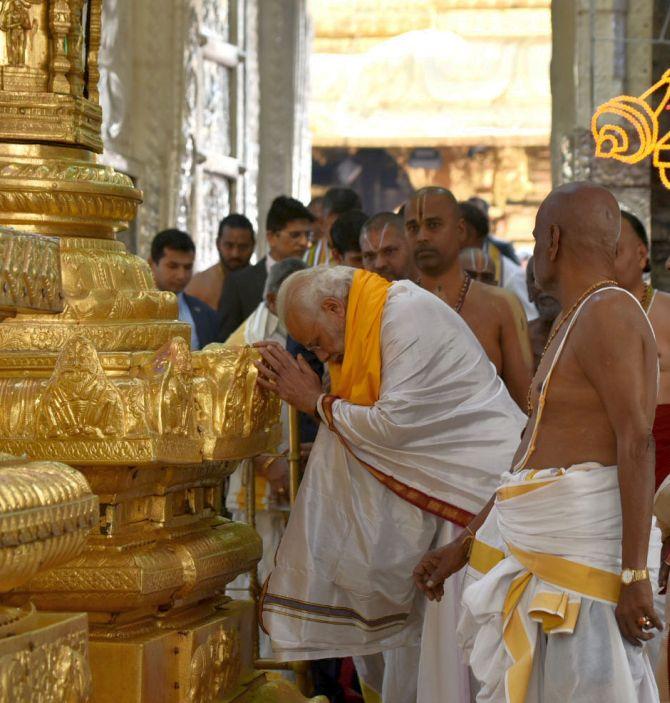 This is Modi's second visit to the temple since he became the prime minister in 2014.
PHOTOS: The very best of Obama in 2016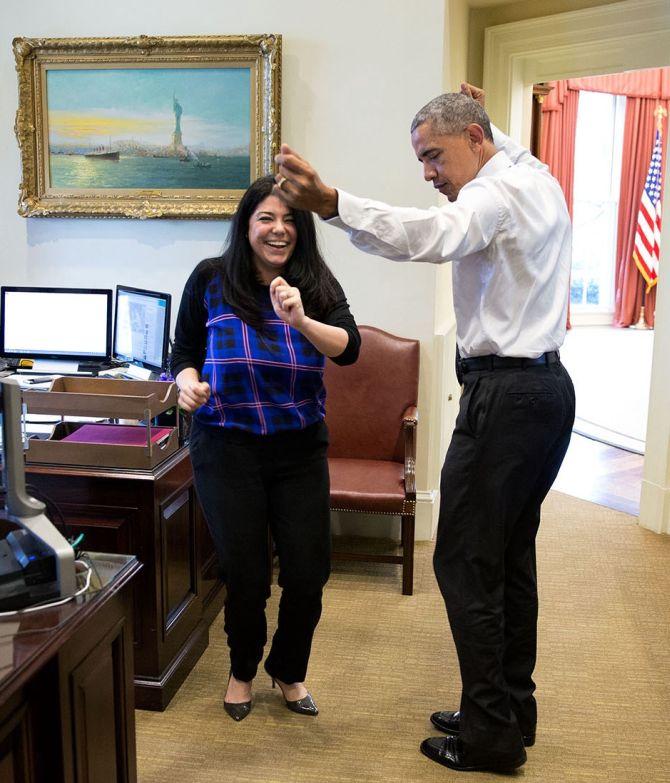 As United States President Barack Obama's second term draws to a close, Chief White House Photographer Pete Souza shared his favourite images captured over the course of the last year.
Mortal remains of 2 Indians killed in Turkey to reach on Wednesday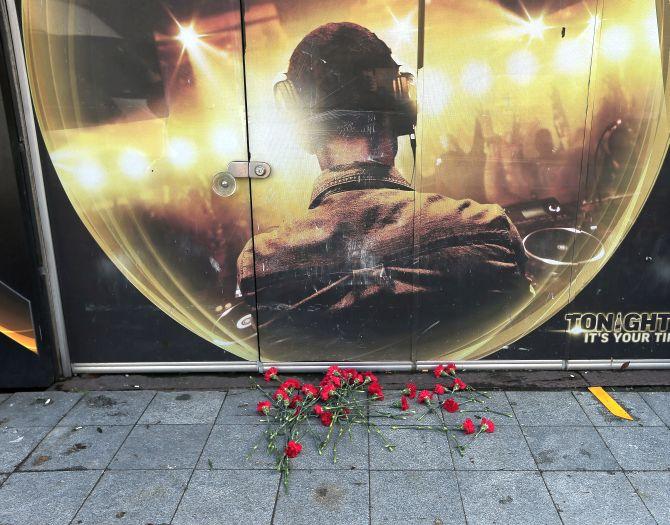 External Affairs Minister Sushma Swaraj said the bodies of Abis Hasan Rizvi and Khushi Shah from Gujarat will be brought back by Turkish Airlines flight from Istanbul on Tuesday night and reach Mumbai on Wednesday morning.
The odd, odd world we live in!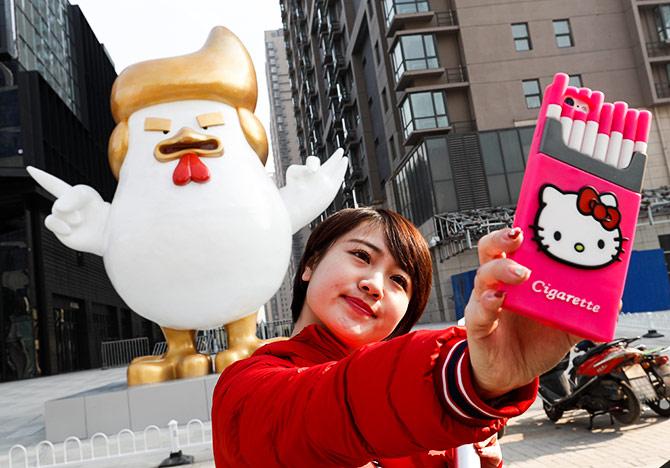 This week's collection of unbelievably unusual images from across the world.
January 02, 2017
PHOTOS: When Hollywood became Hollyweed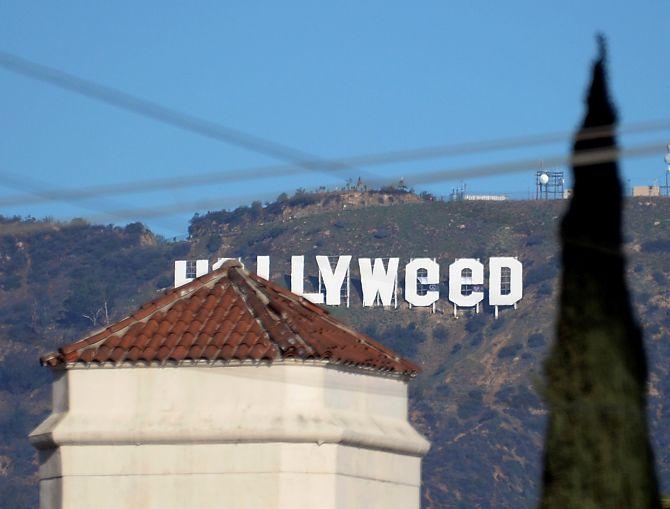 Security cameras showed a man dressed all in black scaling the sign around 3 am (local time) on New Year's Day and throwing huge black and white tarpaulins over the Os so as to change the shape of the letters.
Turkey hunts for gunman after New Year's Day attack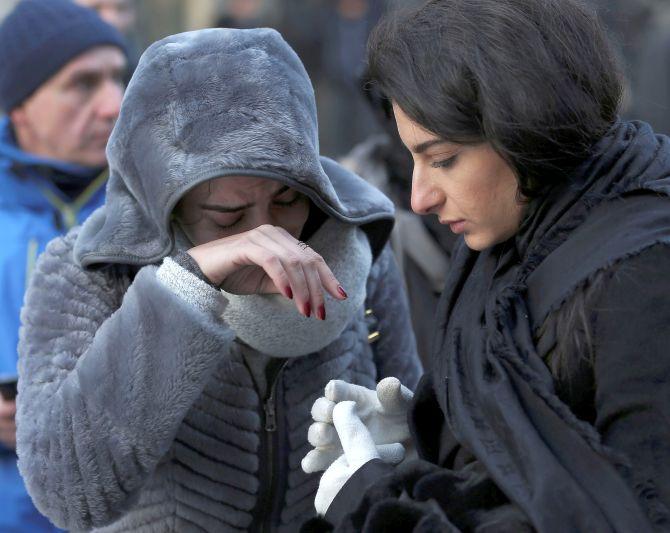 Turkish Prime Minister Binali Yildirim said he believes the attacker will be found soon.
REWIND: India in photos over the last 48 hours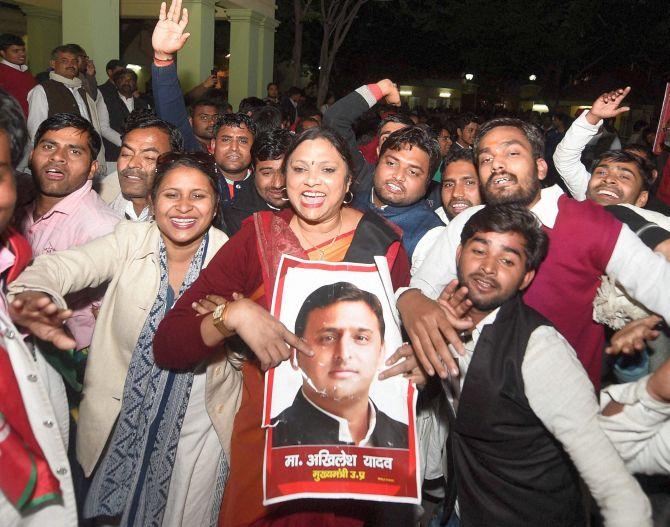 Here's a recap of the big events that shaped the nation over the weekend.
January 01, 2017
Jharkhand coal mine collapse: Death toll climbs to 17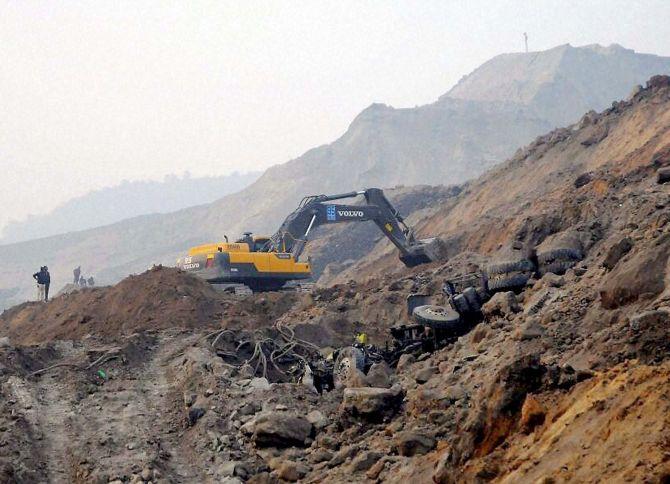 The incident occurred at around 7.30 pm on December 29 when a massive mound of earth came crashing down on excavators at Lalmatia open cast coal mine of Eastern Coalfields Ltd, the worst such disaster in over a decade.
PHOTOS: Hello 2017!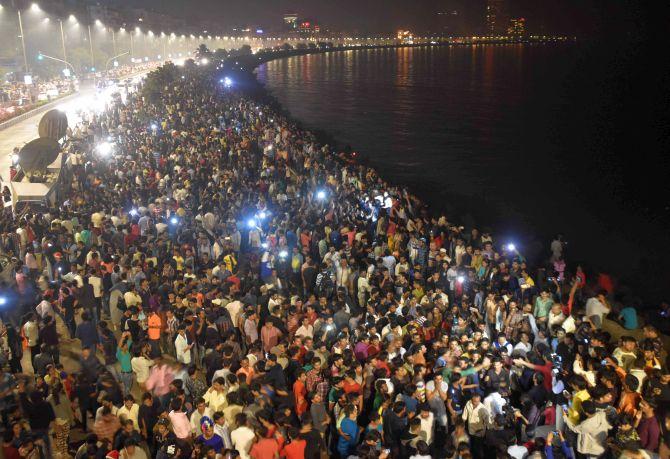 As 2016 came to an end, countries across the globe rung in the new year. Hello, 2017 -- here we come!
2 Indians among 39 killed in Turkey terror attack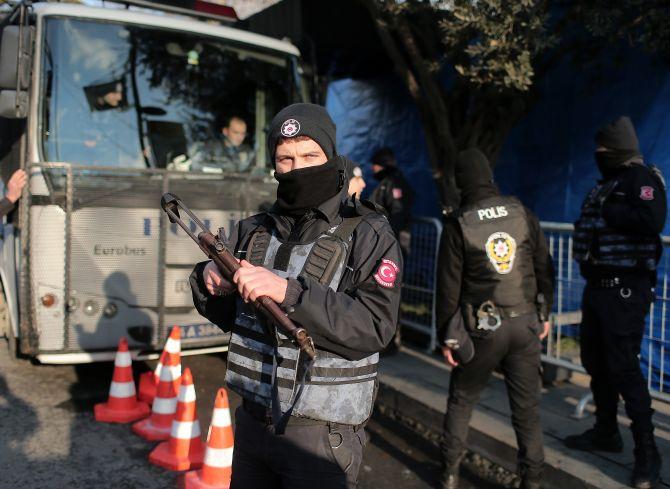 The gunman, believed to have been dressed in a Santa costume, opened fire inside the Reina nightclub in Istanbul's Ortaköy district, where hundreds were celebrating the New Year.
Archives
January 2016 - December 2016
|
March 2015 - December 2015
|
August 2014 - February 2015
|
January - July 2014
|
April 2013 - December 2013
|
January 2013 - March 2013
|
November 2012 - December 2012
|
September 2012 - October 2012
|
August 2012
|
July 2012
|
June 2012
|
May 2012
|
April 2012
|
March 2012
|
February 2012
|
January 2012
|
December 2011
|
November 2011
|
October 2011
|
September 2011
|
August 2011
|
July 2011
|
June 2011
|
May 2011
|
April 2011
|
March 2011
|
February 2011
|
January 2011
|
December 2010
|
November 2010
|
October 2010
|
Sepetember 2010
|
August 2010
|
July 2010
|
Jun 2010
|
May 2010
|
April 2010
|
March 2010
|
February 2010