'All judges are conscious of the historical legacy they leave behind. Chief Justice Thakur understands the important question of Constitutional law involved and the change in public mood,' lawyer Anand Grover tells Sunil Sethi.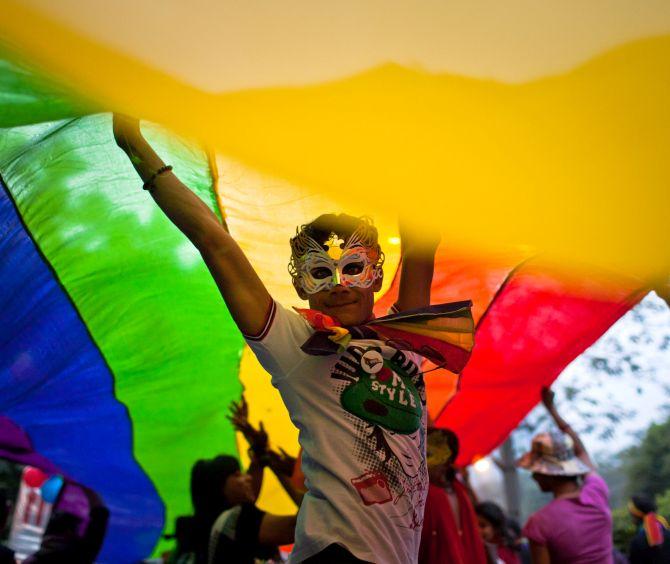 In 2013, the well-known fashion designer Suneet Varma took off for New York with his younger boyfriend and business partner Rahul Arora. There, the two men donned their sherwanis, paid a fee of $35 (Rs 2,385) and had a City Hall wedding.
To their delight, the newlyweds elicited the overwhelming support of friends and well-wishers. Although their union has no legal sanction in India, Varma, proudly posing with his partner, Arora, in a magazine this month says, 'For us, we're just living our lives, we haven't done anything brave. I married my lover, that's all.'
Ironically, not long afterwards, the bid to decriminalise homosexuality received its biggest setback. On December 11, 2013, a two-member Supreme Court bench, led by Justice G S Singhvi, overturned the historic 2009 ruling by Chief Justice A P Shah of the Delhi high court, which termed Section 377 of the Indian Penal Code as a violation of 'individuals' fundamental rights of dignity and privacy.'
Justice Singhvi argued that the matter concerned only a small number of people; upholding the Constitutional validity of Section 377, he made homosexuality a crime again -- in effect, passing the buck for the legislature to decide. Widely condemned as 'retrograde' and 'disgraceful,' Justice Singhvi's parting shot -- the judgment came on the day before his retirement -- was described by Justice Leila Seth, whose novelist son Vikram Seth long ago came out as gay, as 'untempered by any sympathy for the suffering of others.'
How could the Supreme Court 'abdicate its responsibilities to protect their fundamental rights, or shuffle them off to Parliament...' she asked.
But now the final battle against Section 377 has begun. Chief Justice T S Thakur's decision this month to refer eight pending curative petitions to an expanded five-member bench has sparked a glimmer of hope among the lesbian, gay, bisexual, and transgender community, public-spirited citizens and leading lights of the legal fraternity.

This is a very rare occurrence. Curative petitions are the last resort to restore justice. They are seldom admitted -- in fact, 99 per cent are turned down. Their success rate is even rarer -- only three in the entire history of the Supreme Court so far -- which makes the legal challenge formidable.
Yet, it is a sign of the changed tenor of the times that the Chief Justice stressed, 'The matter is of such importance that it should go to a five-judge bench,' though the composition of the bench remains to be announced.
Led by the indefatigable Anand Grover, the co-founder of the Lawyers Collective, who has been fighting for the rights of HIV patients and the LGBT community since the early 1990s, the battle is now joined by court luminaries of the order of Kapil Sibal, K K Venugopal, Ashok Desai, Shyam Divan and Colin Gonsalves.
Grover, who is married to the feminist lawyer and former additional solicitor general Indira Jaising, operates out of a first-floor office in a crowded south Delhi marketplace. I asked him why the contest to legalise homosexuality, after years of tortuous twists and turns, has come to such a pass? Could it be that Chief Justice Thakur, who retires next January, hopes to be seen as a trail-blazer? "Perhaps," he answered cautiously. "All judges are conscious of the historical legacy they leave behind. Chief Justice Thakur understands the important question of Constitutional law involved and the change in public mood."
Parliament has failed miserably in repealing Section 377, as proven by the resounding defeat of Shashi Tharoor's private member's Bill in the Lok Sabha last December. Although the Congress, Aam Aadmi Party and the Communist Party of India-Marxist are in favour of striking off Section 377, conservative sections of the Bharatiya Janata Party have refrained. Finance Minister Arun Jaitley is the odd man out. 'When you have millions of people involved in this (gay sex) you can't nudge them off,' he said not long ago.

More than a hundred countries, including neighbouring Nepal, have legalised homosexuality, either through their legislatures or courts or both, but India is stuck in a political and legal quagmire. Lately, however, a growing body of literature has added resonance to the voices against Section 377.
The most courageous recent account is by the journalist and activist Siddharth Dube in No One Else: A Personal History of Outlawed Love and Sex. Dube was a child of privilege -- Doon School, St Stephen's College, Harvard University -- and later a consultant to the World Bank and UNAIDS. His story of loneliness and persecution, including being thrown into the lock-up when he lived with his Indo-French lover in an upscale New Delhi neighbourhood, sums up the transition from how the personal became political.
As more and more Indians come out to openly declare their same-sex relationships, will the Supreme Court support their last stand? Grover quantifies the sea change by saying, "In 2001, there were few willing to join the fight. Today they all want to be petitioners."
IMAGE: The Delhi Queer Pride march. Photograph: Daniel Berehulak/Getty Images