The South Delhi Municipal Corporation's decision to make washrooms in hotels and eateries open to the public for a fee highlights India's failure to expand access to toilet facilities, says Kanika Datta.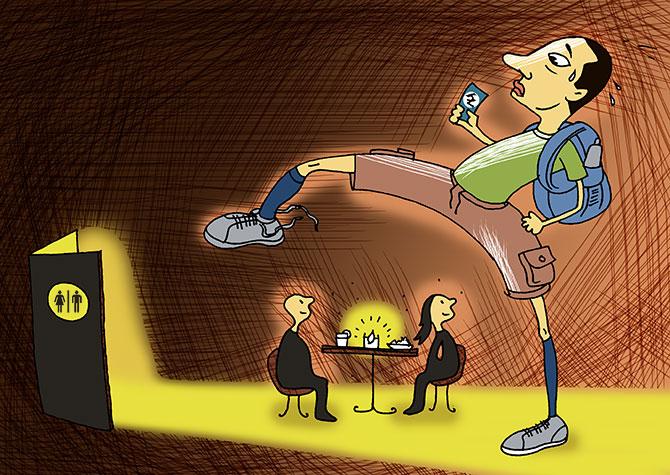 The South Delhi Municipal Corporation has unwittingly highlighted a chronic failure in public service delivery with its well-meaning efforts to expand access to toilet facilities from April. According to a decision last month, washrooms in hotels, restaurants and eateries located within its municipal limits will have to be open to the public for a fee of Rs 5.
The media has been politically correct in praising this move as a healthy way of making exclusive institutions more inclusive, especially since it is aimed at enhancing safe facilities for women.
The hospitality industry is viscerally averse to strongly-expressed outrage but has, nevertheless, expressed dismay.
The prospect of hordes of People Like Them with possibly questionable notions of toilet etiquette invading their premises is the un-stated anxiety, of course. How would this play out with guests, the People Like Us (PLUs) who pay premiums for the, sometimes, prohibitively expensive food, drink, ambience and privacy of such spaces?
The legal question hinges on an interpretation of the standard sign outside such establishments proclaiming "Rights of Admission Reserved".
Article 15 (2) of the Constitution prohibits restriction of any citizen to a public hotel, restaurant or place of entertainment on grounds of religion, race, caste, sex or place of birth. Everyone knows that this provides a pretty broad field for managements to reject anyone they don't consider suitable (i.e: non-PLUs).
The absurd dress codes they impose nowadays is a sure shot, for example.
The real question is whether it is legally possible for hotels etc to turn away anyone who only wants to pay and use their toilets without partaking of other facilities such as food and drink.
This is a grey area, and the municipal corporation has sought to enforce the order by explicitly making it a provision in these establishments' health trade licences. Signs that proclaim these services would be mandatory.
The other complaints are purely practical.
Some restaurant owners, for instance, say they occasionally allow ladies to use the facilities, even if they are not customers, free of charge, and worry that the Rs 5 fee will turn their washrooms into public toilets.
Others worry about the impact toilet-going queues may have on guests; and still others of the extra staff that would be needed just to mind the pees and queues.
Beyond the legal or practical reservations, however, this policy marks a tacit recognition of the inability of the municipal administration to provide adequate toilet facilities for its citizens. Where it has built toilets, extreme desperation or a willing suspension of the six senses would induce usage.
The irony is inescapable: The toniest parts of the national capital, a 1,400 square kilometre area adjacent to the official residence of Narendra Modi, who expended considerable energy on his Swachh Bharat toilet-building mission from the first year of his prime ministership, is short of toilets.
Of course, application of this policy does not arise on Lok Kalyan Marg (the name Mr Modi has chosen for Race Course Road), snugly located within Lutyens' Delhi and under the exclusive are of New Delhi Municipal Corporation (a mobile toilet has been thoughtfully provided for the media outside the Kemal Ataturk Marg entrance of the prime ministerial residence).
From a broader perspective, this ingenious public-private toilet-usage partnership is one manifestation of the creeping imposition of public policy obligations on the private sector. For this, blame the incompetent United Progressive Alliance for setting one of the silliest precedents in global corporate history.
The growing "anti-people" reputation it garnered owing to its inability to frame a viable policy of compensation and alternative livelihood for people displaced by mega-industrial projects led to the corporate social responsibility (CSR) mandate. From April 2014, company law made it compulsory for corporations with turnovers exceeding Rs 1,000 crore to set aside 2 per cent of their profit for CSR activities (the escape clause allowed them to provide an explanation in the annual report if they didn't meet this target).
This stipulation, which was restricted to activities specified by government notification, reflects a misunderstanding of how corporations function. Mandating a percentage of profit, a derived figure, rather than turnover was one example of this.
The other is an awareness of the interplay between corporate activity and society, a subtle dynamic that "compulsory" CSR cannot alter. The robber barons of early American capitalism did not transform the country through philanthropy, for example, though they became big CSR spenders once they'd made their millions.
The immediate impact of this law has admittedly been an uptick in social sector spending -- but also a concomitant explosion of publicity by corporations above and below the cut-off. In short, the government has provided corporations a handy way to burnish their credentials, but without any noticeable impact on India's many and formidable human development challenges.
Asking private establishments to provide public toilets is but a continuation of that thought process.
Illustration: Dominic Xavier/Rediff.com