'The Dalai Lama is in a tearing hurry.'
'The 'reincarnation' card remains unplayed, and time is running out.'
'Is something big being planned for the event of Tibetan Buddhist leaders in Leh in November?' asks Ambassador M K Bhadrakumar.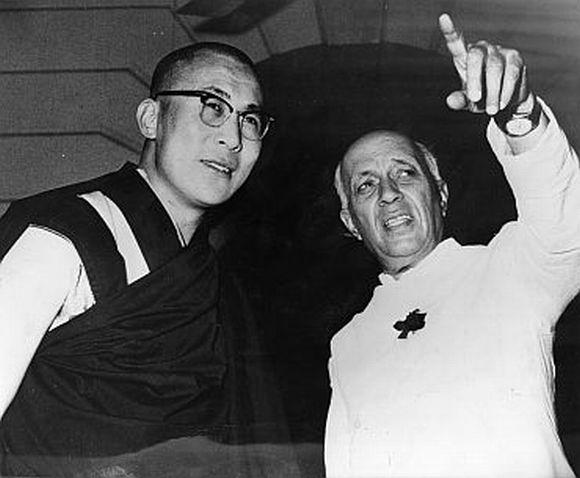 Much animated media coverage followed the caustic remarks by the Dalai Lama regarding Nehru's 'self-centred' mindset that apparently precipitated Partition in 1947.
The consensus seems to be that the Dalai Lama's understanding of British Indian history is weak. Such consensus opinion is predicated on the assumption that the Dalai Lama strayed into a realm that was outside metaphysics and found himself simply gasping for breath.
However, facile assumptions can go horribly wrong.
The point is, what if history was not even remotely in the Dalai Lama's thought process when he made those silly remarks?
What if he was consciously making a loaded political statement with a certain Indian audience in mind, who would greatly relish any, whatever denigration of Nehru in any, whichever context in our present-day extraordinary times when Nehru's legacy cannot even have a final resting place in a living museum?
So, what if it was a deliberate act on the Dalai Lama's part?
For, he is an intelligent man who would know he was being plainly ungrateful to the cherished memory of Nehru to whom he literally owes everything in this material world, especially, his Nobel.
And, above all, make no mistake, the Dalai Lama has an acutely politicised intellectual sensibility, which only qualified him for the Nobel Peace Prize.
Succinctly put, after the call on the RSS chief Mohan Bhagwat by Lobsang Sangay -- the head of the so-called Central Tibetan Administration -- on August 6 at Nagpur, the Dalai Lama seems to have drawn encouragement that he can still reverse the Modi government's course correction on our Tibetan policies (in the backdrop of a new initiative to improve relations with China), which has lately somewhat relegated him to the dustbin of history.
From Sangay's side, an ecstatic account of his meeting with Bhagwat has been put out.
Some excerpts: 'The meeting which took place at Shri Mohan Bhagwat's residence in Nagpur on Monday evening and the leaders discussed on key issues relating to environmental and political situation in Tibet, Indo-Tibet ties and the geological ('geopolitical'?) impact of the ongoing situation in Tibet on India and rest of the world particularly the South Asian countries considering the strategic significance of Tibet...'
'Shri Mohan Bhagwat is a strong admirer of Tibetan spiritual leader His Holiness the Dalai Lama's commitment and wisdom. During the meeting... the RSS chief told that India and Tibet are a family and he will continue to support and lend his voice to raise the issue of Tibet.'
This could be an exaggerated version. Or, it may not be. That's beside the point.
Importantly, the Tibetans have all along in recent years harboured a notion that they have a direct line to the RSS. Sangay saw to it that he got an invite arranged for Modi's inaugural ceremony at Rashtrapati Bhavan in May 2014.
Possibly, elements within the Indian establishment have led them to such a belief. But the big question today is something else: Will the RSS undermine a diplomatic initiative that Modi has made to improve relations with China? Seems unlikely.
But then, the Dalai Lama is in a tearing hurry. The 'reincarnation' card remains unplayed, and time is running out.
Is something big being planned for the upcoming event of Tibetan Buddhist leaders in Leh in November? The possibility is there.
After all, these leaders were expected to decide about 'the future Dalai Lama' when the living Dalai Lama 'reaches around 90 years.' That point may have come.
Meanwhile, the Karmapa Lama, who lives in exile in New Jersey for the past year or more (and is most certainly under the control of US intelligence), is also being primed like a retreaded tyre to return to India in time for the conclave in Leh in November.
Interestingly, the American ambassador in Delhi paid a 3-day visit to Leh last month just before Radio Free Asia announced the Karmapa's intention to return to India in November. A recce trip?
Indeed, one can only hope that the left hand knows what the right hand is doing within the Indian foreign and security policy establishment.
It will be a great pity -- even a veritable tragedy, perhaps -- if the Wuhan spirit evaporates as such a short-lived dream.
The best hope will be that the dream doesn't turn sour by November and become a nightmare haunting Indian diplomacy for years or decades to come, long after the Dalai Lama himself joins history books alongside Nehru.