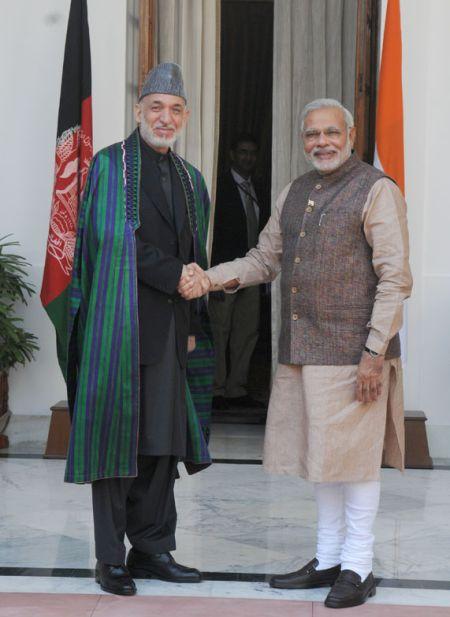 Security will be a consideration, as would protocol, but given Modi's penchant for the unconventional, it should not come as a surprise if he indeed decides to attend the ceremony in Kabul, says Ramesh Ramachandran.
Will Prime Minister Narendra Modi's swearing-in set off a new South Asian Association for Regional Cooperation-wide precedent? And will he spring a surprise again and attend the new Afghan president's inauguration? We will know soon. Other things being equal, India can be expected to be represented at a high level at the August 2 inauguration of the new president of Afghanistan.
It is reliably learnt that Afghanistan has drawn up a list of 40-odd countries whose heads of state and/or government would be invited for the ceremony to be held at the presidential palace in Kabul. Incidentally, all SAARC members are invited, which has got some asking: Will Modi travel to Kabul given that he himself made the unprecedented move of inviting SAARC leaders to his May 26 swearing-in ceremony?
President Hamid Karzai of Afghanistan was among the SAARC leaders who graced Prime Minister Narendra Modi's swearing-in ceremony. If Modi, and some or a majority of his SAARC counterparts, indeed make the journey to Kabul for the inauguration of the new Afghan president-elect, then they would have well and truly established an unwritten SAARC-wide convention for heads of state and/or government to grace each other's inauguration.
Security will be a consideration, as would protocol, but given Modi's penchant for the unconventional, it should not come as a surprise if he indeed decides to attend the ceremony in Kabul. That said, protocol has never come in the way of the time-tested ties between India and Afghanistan. Most recently, Vice President Hamid Ansari was the senior-most foreign dignitary to attend the funeral of Afghanistan's first vice-president Marshal Mohammad Qasim Fahim, who was a close lieutenant of the late charismatic Northern Alliance commander Ahmad Shah Masood.
However, if the past is any indicator, it could well be that the external affairs minister will represent India at the inauguration of the Afghan president. A former external affairs minister in the UPA-2 government, S M Krishna, represented India at the November 19, 2009 inauguration of Hamid Karzai's second consecutive five-year term as President.
Incidentally, New Delhi had initially planned to nominate Vice President Ansari to attend the inauguration but decided against it because Ansari was required for chairing the proceedings of the winter session of Parliament) About 800 invitees, including foreign dignitaries, government- and military officials and tribal representatives, were present. On the occasion, Krishna had a separate meeting with his American counterpart, Hillary Clinton, and got to exchange pleasantries with his Pakistani counterpart, Shah Mahmood Qureshi.
Going further back, former Prime Minister Dr Manmohan Singh dispatched Prithviraj Chavan, a minister of state in the Prime Minister's Office, as his personal emissary for Karzai's inauguration on December 7, 2004. Chavan was among the representatives from 27-odd foreign delegations who attended the event. The invitees included, among others, the then US Vice-President Dick Cheney and the then US Defence Minister Donald Rumsfeld, the then UN Secretary-General Kofi Annan's special adviser Lakhdar Brahimi, the then Iranian Foreign Minister Kamal Kharrazi and the then Pakistani Interior Minister Aftab Sherpao.
If Modi deputes his external affairs minister, Sushma Swaraj, for representing India at the inauguration of the new Afghan president next month, her visit to Kabul would come almost immediately after conclusion of her talks in New Delhi with visiting US foreign minister John Kerry. Kerry is expected to visit New Delhi for the annual India-US strategic dialogue, to be held on or about July 31. This year it was Washington's turn to host the Indian delegation for the strategic dialogue, which is held alternatively in Washington and New Delhi.
However, Modi's ascension as prime minister in May prompted Washington to change tack -- and quickly at that -- given its unofficial boycott of Modi for close to a decade. The US imposed a visa ban on Modi in 2005 for his alleged role in the 2002 Gujarat riots and it remains in place to this day. (Yet, Modi would automatically be eligible for an A-1 (diplomatic) visa as head of government.)
Washington, accordingly, thought it fit to first send a bipartisan delegation to call on Modi in New Delhi before hosting him at the White House in September this year. John McCain of the opposition Republican Party called on Modi on July 3. Kerry's aide William Burns will be in New Delhi soon before Kerry himself comes calling on Modi -- something that would not have been possible if Washington had hosted the India-US strategic dialogue.
The only on-the-record comment so far has come from Amar Sinha, India's ambassador to Afghanistan, who said that the swearing-in ceremony of the new Afghan President would be attended by India at duly appropriate level.
He pre-empted speculation about India's preference (between Ashraf Ghani -- a Pashtun, a former World Bank economist, a former adviser to the Bonn Process and a former finance minster in Karzai's transitional administration; and Dr Abdullah Abdullah, a former foreign minister of mixed Pashtun-Tajik ethnicity) for President by saying that "either of the candidates become president they both are good friend of India and will work very closely with them (sic). They look towards India as a true friend. Our policy towards Afghanistan transcends political differences and each government work very closely both in India as well as here."
Image: Prime Minister Narendra Modi and Afghan President Hamid Karzai
Ramesh Ramachandran is a journalist based in New Delhi.