'Will the liberals explain if minorities are under such a dire threat in India, how come more and more groups want to separate from the majority and want themselves to be declared a minority?' asks Colonel Anil A Athale (retd).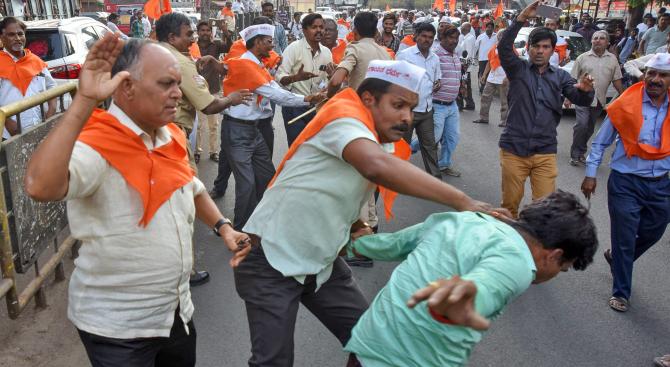 IMAGE: Clashes break out in Kalburgi, March 19, 2018, after the Karnataka government announced that the Lingayats would be granted a separate religion. Photograph: PTI Photo
Just when one thought that politics in India had reached a nadir, Indian politicians and political parties come up with surprises that takes politics to even lower depths!
One is referring to the Karnataka government's move to 'create' a new minority religion out of the Veershaiva Lingayat sect.
This short-sighted move has the potential to sow the seeds for future conflict in South India.
The parallels to what happened in Punjab need reiteration to warn countrymen of a future threat to internal security.
Most Indians will agree that the gravest threat to national security was posed by the Khalistan separatist movement in Punjab in the 1980s. Neither Pakistan nor China has ever posed such a threat.
It is universally accepted that the roots of the Khalistani movement lay in the Congress party's encouragement to fundamentalist elements led by Jarnail Singh Bhindranwale in order to defeat the Shiromani Akali Dal in provincial elections.
In the space of a few years, the Congress party's creation turned on its creator.
Pakistan and Western powers -- keen on the break-up of India -- poured in arms and money to bleed Punjab in a fratricidal conflict that cost over 50,000 lives, both Hindus and Sikhs.
The disastrous political game ended up in the tragic Operation Blue Star and then prime minister Indira Gandhi's assassination.
Her killing provoked the anti-Sikh pogrom of October 31-November 3, 1984 in which over 5,000 Sikhs were killed in engineered riots.
The roots of Hindu-Sikh differences lay in the British colonial policy of divide and rule.
By the Sikh Gurudwara Act 1925, the British sowed the seeds of political division between Hindus or Sahajadhari Sikhs and Keshdhari Sikhs.
In Punjab and even Sindh, many Hindus even today call themselves Nanak Panthis (followers of Guru Nanak and other Sikh Gurus) and regularly participate in Sikh prayers at gurdwaras.
For long it was a tradition in many Hindu families to make the eldest son a Keshdhari Sikh. There have always been a roti-beti relationship between Hindus and Sikhs.
The point to note is that once the poison of separatism and political identity was added to this mixture, it gave birth to the tragic conflict in Punjab in which Sikh shrines were destroyed and a permanent damage to the Sikh psyche inflicted.
It seems we have not learnt the correct lesson from the Punjab tragedy.
It is to be expected that many other sects -- like the Warkari sect in Maharashtra, for example -- may come up with a similar demand.
This fascination for minority status raises an important question for professional 'liberals' of the Indian variety.
These worthies have been shouting from the rooftops for the last four years that India is turning 'majoritarian' and the minorities are under perpetual threat and subject to discrimination.
If this is true, then why are more and more groups clamouring to be declared a 'minority'?
Obviously, the Indian Constitutional scheme is such that it assumes majority domination and offers 'special rights' to the minorities.
Unfortunately, the good intentions of the founding fathers have ended up in creating a vested interest in separatism.
At this rate, over time, India will turn into a nation of minorities.
Will the liberals explain if minorities are under such a dire threat in India, how come more and more groups want to separate from the majority and want themselves to be declared a minority?