'While overall this is a face saving deal just before the BRICS meeting in Xiamen, any forward military movement at Doklam once again could bring the two Asian giants at loggerheads,' says China expert Srikanth Kondapalli.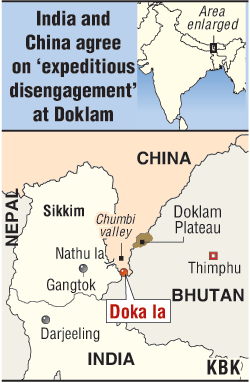 In a surprise move, India announced on Monday, August 28, afternoon that the 'ongoing' and 'expeditious disengagement of border personnel' from the Doklam area which witnessed a standoff between an estimated 200 to 300 troops each at the tri-junction area of India-Bhutan-China since mid-June.
India's ministry of external affairs stated that this is an outcome of the 'diplomatic communications' between the two countries for the past more than two months.
The modus vivendi of withdrawal and the context for such withdrawal, while not clear at the moment, suggest to some significant victories for India, even as China has a face saving solution.
To begin with, when India sent troops to the Doklam area, it was mentioned that it is doing so to observe Article 2 of the 2007 agreement with Bhutan which has territorial claims on this area, and secondly that the security of the Siliguri Corridor would be questioned if China continues to build a road for military purposes.
India then suggested that both China and India should withdraw troops and observe the status quo as mentioned in the bilateral discussion between India and China and China and Bhutan in 2012 and 1988 and 1998 respectively.
While China's foreign ministry spokesman stated that Indian personnel and equipment are being withdrawn, he was silent on any Chinese withdrawals or any renewal of road construction.
He instead reiterated China's sovereignty and territorial integrity and that Chinese patrols would move in the area.
In the face of mounting Chinese psychological pressure on asymmetries, combined with coercive diplomacy and deployment of lethal equipment, the Indian announcement of 'disengagement' at Doklam comes as no surprise.
But what surprised many -- including many countries which faced similar treatment from Beijing -- is the tenacity of Indian presence for more than two months in support of Bhutan.
Neighbouring countries like Nepal, Sri Lanka, Myanmar, the Maldives and Afghanistan, but also others such as Thailand, Indonesia, Singapore, Vietnam and Philippines now know which doors to knock at for sustainable support in times of crisis.
Secondly, in terms of crisis management, India is progressively learning from previous such border engagements.
In the April-May 2013 Depsang Plains incident in the western sector of the border, as the standoff continued, China finally wilted as Premier Li Keqiang's visit to New Delhi closed in.
Indian statements that the visit may have to be revised if the standoff continued had a telling impact to clear up the border build-up.
Likewise, India's foreign ministry was silent and non-committal on Prime Minister Narendra D Modi attending the 9th BRICS summit at Xiamen on September 3.
Also, compared to the Depsang Plains incident, during the Doklam standoff India had utilised multiple channels of pressure points on China.
At the diplomatic level, while no major country favoured China's position, the Indian position gathered momentum in the United States, Japan, Australia, the UAE and possibly Russia.
US Secretary of State Rex Tillerson's comments on a 2+2 dialogue format may also have an immediate impact.
Another level was multiple visits from the Indian side to China including three ministers including Minister of State for External Affairs General V K Singh (retd), Human Resources Development Minister Prakash Javdekar and National Security Advisor Ajit Doval.
Also, while the Chinese embassy in Delhi was drumming up support for its actions, the Indian embassy in Beijing was reaching out to crucial stakeholders including in the business communities.
Unlike at Depsang Plains, the Indian armed forces exhibited confidence in tackling any escalation at Doklam.
Despite the Comptroller and Auditor General's caustic remarks on shortfalls in logistics suppliers and in other quarters, the Indian military conveyed a firm message of cost escalation for the other side in the event of armed clashes.
It is significant that unlike in Depsang where confidence building measures among the military forces, including five border personnel meetings, were implemented, Doklam did not witness such a scenario, suggesting possible military escalation.
It is also significant that the highest leadership in both India and China remained cool despite the general ratcheting up across the Line of Actual Control.
While President Xi Jinping and Prime Minister Modi did refer to protection of sovereignty and territorial integrity in their August 1 and August 15 speeches respectively, these are seen mainly as broad positions of ther respective sides.
It is unclear whether Monday's announcement amounts to 'mutual withdrawal' of troops or unilateral withdrawal by India.
Second, it is also unclear if China will be allowed to re-construct the road in the region.
China did say it will resume patrols in the region, but is silent on the road construction issue.
While overall this is a face saving deal just before the BRICS meeting in Xiamen, any forward military movement at Doklam once again could bring the two Asian giants at loggerheads.
Srikanth Kondapalli is Professor in Chinese Studies at Jawaharlal Nehru University.