'When my mother refuses to buy onions because of the appalling price and the next door maid tells her employer that there are plenty of people willing to work for the 10 days when she goes on leave, then I know we are indeed facing a tough situation,' notes Sherna Gandhy.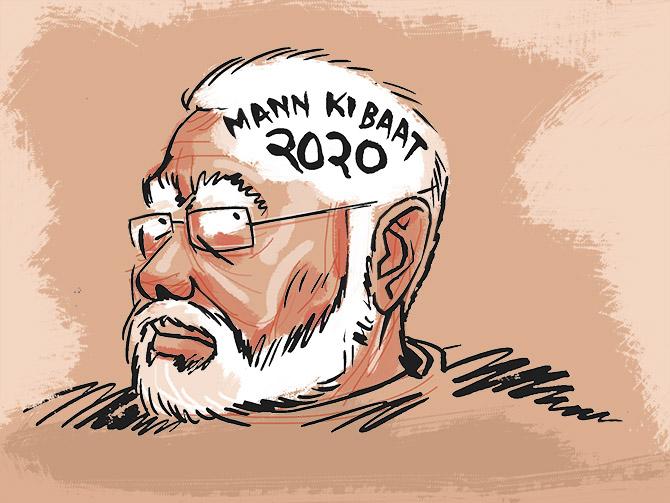 What will the new year bring?
The old one ended with a surprisingly big bang and the cheerful news that civil society still has a voice, that attempts to suppress it will not always succeed, and that the cancer of communalism -- the biggest threat to the country -- has for the time being gone into remission.
The new year will show whether that cancer can be eradicated.
The ruling party has for five years been assiduously fanning the flame of communalism.
The thing to watch out for in the new year is whether the ruling dispensation will junk the Constitution, and more seriously pursue its ambition to turn the country into a Hindu one, or whether the demonstrations across the country against one of its attempts to do so -- the alphabet soup of CAA, NRC and NPR -- will give it pause to rethink its design.
Another thing to watch out for is whether the citizens's protests will continue, or whether in a short while it will be business as usual and only the few well-known and honourable human rights defenders in the country will still hold out.
After all, the people were unmoved by the ill-treatment and blatant suspension of democracy in Kashmir, and the contradictory Supreme Court judgment on the Babri Masjid dispute.
There was blank and total silence from the people on these important issues, but they have now come out in droves to protest the imposition of the citizenship laws that will disenfranchise and render stateless lakhs of people as it has done in Assam.
Much has been said of women's safety this year as it is said every year.
Things went from bad to worse, as in both the Unnao rape case and the Kathua rape case, there were those who actually supported the rapists, especially an organisation calling itself the Hindu Ekta Manch.
The body of the eight-year-old girl raped and strangled to death in Kathua had to be buried in another village because right wing hoodlums threatened the family and would not allow burial in the family's own plot.
There was much pressure from civil society and the media regarding both cases.
While the judgment in the Kathua case came within a year, with the conviction of six of the seven defendants, the Unnao rape victim had a more harrowing time, her father falsely accused, beaten, and put in jail, where he died, her uncle similarly jailed over a trifling age-old case that was suddenly resurrected, and she herself threatening to immolate herself before Uttar Pradesh Chief Minister Adityanath's house if the accused, principally Kuldip Singh Sengar, an MLA and BJP member, were not arrested.
This year, while on her way to court, a truck with blacked out number plates crashed into the car she was travelling in.
Her police escort was not with her because they said there was no room in the car.
No one can think this was an accident.
Sengar, of course, had a huge following, but this year was sentenced to life imprisonment.
Until people stop supporting rapists, until rape is seen as the heinous crime it is, until the woman victim is not made out to have invited the crime in some way or other, until crude ministers stop making senseless statements and until the police take the crime seriously, remain impartial, and conduct a proper investigation, the rape graph will not come down and the victims will continue to be badly treated.
The economy is of great concern having gone into a tailspin it seems.
I am not qualified to comment on high funda economic matters, but when my mother refuses to buy onions because of the appalling price, and the next door maid tells her mistress that there are plenty of people who will be willing to work for the 10 days that her maid is going on leave, then I know that we are indeed facing a tough situation.
Maids in the suburb of Mumbai that I live in were difficult to get, but now it seems many are out of work and willing to work for whatever days are on offer.
Many working people I know get their salaries more than one-and-a-half to two months late, and in the case of freelancers, five and six months late.
No wonder, consumption has fallen.
I am also aghast at the number of big businesses that are declaring bankruptcy or being taken over or have shut down, unable to repay their humongous loans.
Banks seem happy to lend money -- I get offers of loans from banks I don't bank with at least once a day.
God knows if they have any idea of my ability to repay the loan -- with the kind of snooping and surveillance that technology makes available today, they probably do know.
How the economic slowdown will play out next year I don't know, but if prices of everyday consumption don't come down, employment doesn't pick up, and salaries are not paid on time, 2020 will not be a happy year for anyone but the super rich.
I doubt very much that the farmer, who politicians are always eager to champion and give loans to (some on paper only), will ever get a better deal.
What he or she needs is not the annual ritual of waiving loans, but someone to look into what really ails this sector and how it can be put right so that unpaid loans do not become a problem.
But that, of course, means doing some really hard and sincere work; waiving the loans is so much simpler since it is not the chief minister's money but ours, the taxpayers' money that is being disbursed.
And, besides, it shows the munificence of the government doing the waiving and helps boost its fortunes in the next election.
Will the environment get its due next year? There are two important climate conferences coming up in 2020, in China and the UK.
Representatives of countries present will doubtless quarrel about how much emission they should cut, when they should do so, which countries should cut how much, and so on.
Our prime minister who loves to hobnob with world leaders may well be present if other major world leaders are going to be present.
He will make some bombastic speech about how India has reduced its carbon imprint while at home licences continue to be given to mine coal, the dirtiest source of energy.
Thousands of people are displaced in the process, sometimes in violation of the laws, and whether the 'compensation and rehabilitation package' ever reaches them is anyone's guess.
Trees are cut with abandon despite the existence of tree authorities and other such bodies that are usually in a comatose condition.
To stop 2,500 trees from being cut in one of Mumbai's few forest areas, the initiative was citizen-driven this year.
The minute the sacred (and utterly meaningless) word 'development' is uttered, all environmental concerns are thrown out of the door.
A car shed for the Metro line, which could easily be moved elsewhere, was considered more important than 2,500 trees which can't be moved anywhere.
The courts, incidentally, were of no help either.
A road that borders the western shoreline of Mumbai, destroying whatever little mangroves there are, was another crackpot idea of the then state government.
The current one says it will not allow it.
Let us see.
India has set a target of reaching 175 GW of installed capacity from renewable energy sources by 2022, which includes 100 GW of solar and 60 GW of wind.
At the end of 2017-2018 the total renewable power installed capacity in the country was almost 70 GW.
If we can be relieved of the strangling electricity tariffs (private players were supposed to lower tariffs; instead, tariffs have climbed to dizzying heights) it would be a great boon, but with two behemoths like Tata and Adani in the fray, it's doubtful if renewables will go very far.
Some 11,000 thousand scientists have announced that climate change is on track to cause us 'untold suffering'.
They say since 1970, we have destroyed vast habitats and wiped out 60 per cent of mammal, bird, fish and reptile population.
The UN says the collapse of our eco-system could wipe out a million species.
We humans, of course, are one of those species.
It is easy for us to think this is a far-off problem we need not bother about.
But in fact it is affecting communities right now.
A seaside village in Wales is expected to go under water in the next decade and the city council is making plans to move people away.
Unlike in India, where the rising ocean waters have submerged several communities in the Sunderbans that no one has considered worth planning for, in Wales, all sorts of plans are being discussed that may have to be put into action by 2024.
Anything new we can expect in 2020? I'm hoping that having finally found a voice, civil society will keep up the pressure.
We have been dumb for five years, in every sense of the word, but now we may just be able to subvert the evil laws this government is planning.
I love the flash protests that popped up in Hyderabad on the weekend.
With police not allowing people to demonstrate peacefully, a small group of four that swelled to 10 sat sipping coffee at a Starbucks holding up placards denouncing the citizenship laws.
Another such protest popped up at another location.
Not much the police can do, but they did try to intimidate the second group by asking for identity details and spending a long time checking these.
The action of the police in Adityanath-ruled UP has been expectedly brutal.
If such behaviour is encouraged it will be a very bad new year.
I heard a retired DG of police on TV condoning a police officer who threatened a locality (Muslim, of course) that he had his eye on this locality and would remember the people in it, so they better behave themselves.
Instead of condemning this partisan behaviour, the DG said police were under much stress and sometimes said such things and made other such weak excuses.
It would be a magical moment indeed if in 2020 the police would grow some spine and assert their independence, but it's highly unlikely.
In 2020, things might come to a boil with consequences that are difficult to imagine.
Or, things could go back to being the way they were.
I think the former more likely and that will make 2020 an interesting year.
---
Sherna Gandhy, distinguished journalist and commentator, can be contacted at news@rediff.co.in