Aakar Patel tell us why we must travel with open eyes and discover ourselves.
Illustration: Dominic Xavier/Rediff.com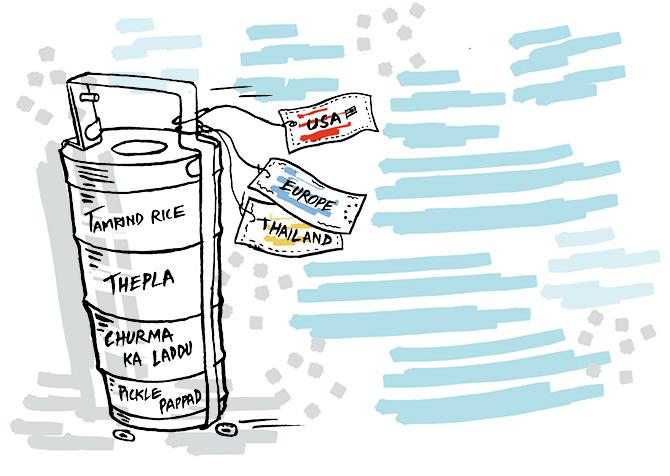 There is a little jewel of a quote that appears on ads for channels like Discovery that you may have seen. It reads, 'We travel to find ourselves.'
It's taken from Pico Iyer and the full quote is: 'We travel, initially, to lose ourselves; and we travel, next to find ourselves. We travel to open our hearts and eyes and learn more about the world than our newspapers will accommodate. We travel to bring what little we can, in our ignorance and knowledge, to those parts of the globe whose riches are differently dispersed. And we travel, in essence, to become young fools again — to slow time down and get taken in, and fall in love once more.'
This is obviously a quite sensual read as a whole, but the key line, the key insight, is still that one about travelling to discover ourselves.
What does that mean?
To me it means that we can learn valuable things about ourselves in comparison. However, this can happen only when we are open, attentive and interested.
The accusation that the writer Naipaul makes against Indians is that they are inward-looking. He means that we don't observe the outside world and, in particular, we ignore the differences when abroad.
Is this allegation true?
I have thought about it for many years and examined it through various ways (including reading in several languages the travelogues written by Indians) and have come to conclude it is true.
We can speculate on the reasons why but it would be difficult to argue against it, particularly for those of us who can see the manifestation of this phenomenon in ourselves.
Only around 5 per cent of all Indians have a passport, so the vast majority of us have never been abroad and never been exposed to a different cultural space.
But even those Indians who do often carry a cocoon-like sensibility that insulates us from engagement.
Gandhi landed in Southampton when he was, I think, 17 and he only notices one thing on this first visit of his to a foreign country. He is wearing white flannels (and nobody else is because it is autumn or winter).
His awkwardness because of this overwhelms everything else. The London of the late 19th century, with its order and architecture and the manner of its streets and people -- Gandhi engages with none of this.
He seems to assume, as many of us Indians do, that this is the way things are. That India is a particular way and the rest of the world is different, but there is no examination of what the difference is and why it exists.
This is not travelling to find oneself. It is a sort of running away from oneself.
I must admit to the same lack of awareness and observation when I first travelled abroad when I was 17 and indeed for many years afterwards.
Foreign parts, especially Europe and America, were just places.
That they had a culture, which was on display in the behaviour of people with one another, and that it was this culture that has produced the order and the surroundings and the architecture and the food and the music. None of that registered for me.
The real hammer blow came for me when I first travelled east, which happened when I was older. By now my travels had somewhat denationalised me and my 'Mera Bharat Mahaan' certitude had eroded a little.
At this juncture, to be exposed to Thailand and Japan, in particular, was just unbearable.
It may interest readers to know that Japan was as poor as we were (and are) till a couple of centuries ago. At that point, this is somewhere in the late 18th century, it received a strain of high quality rice from India.
Japanese farmers used this strain to quickly produce a surplus (meaning growing more rice than the family consumed and thereby generating profits and cash).
This happened because though production grew, the rate at which the population grew was the same or was slower.
In India, home to that strain of rice, the surplus did not materialise. Why? This is the question that we must ask ourselves, but don't.
Japan, of course, will put all the world to shame with its highly developed aesthetic sense at the level of the individual and community and culture. It is incomparable in many ways.
However, nothing really prepares the Indian even for Thailand. The level of cleanliness, the efficiency, the quality and consistency of the food (the attention to appearance and the balance of flavours across price points), the taking on of individual responsibility and the high-class finish in everything from footpaths to airports.
We must ask ourselves why it is that they are different from us. Actually the question must be: Why are we different?
It is because most of the world to our east and west is unlike us.
Bangkok has traffic jams, but these are silent. They don't have the insensitivity to the senses that we show in our everyday life. Why is this the case and why are we the way we are and why is it that we are not more like the Thais in this aspect?
Thailand is not a perfect society and I am not extolling it as being that. But it has got things right that we are very far away from in 2018, after at least 3,500 unbroken years of civilisation.
And I am not running down all things Indian, for that is not my intent. I have great respect for many of the things that we stand for, but this is not the time or place to list those. There will be other occasions for that.
Today we are discussing the idea of discovery of ourselves and what makes us different, as experienced through travel.
It is obligatory on us, at least the 5 per cent of us who are fortunate to be able to afford foreign travel and experience the world, to interrogate ourselves.
It is too bad, as all the evidence shows, that we don't.