Resettlement of refugees elsewhere is not the morally correct solution to the problem for it lets the perpetrators off the hook.
Return of refugees to their rightful homes is the ethical remedy, says Vivek Gumaste.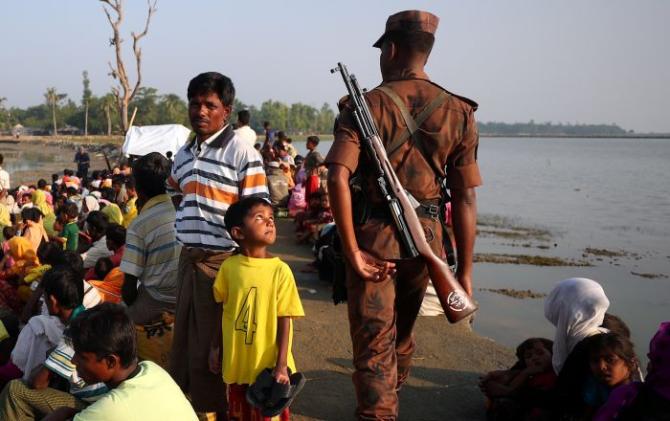 IMAGE: A Rohingya family awaits permission from Bangladesh soldiers to enter Teknaf, Bangladesh, from Myanmar, October 25, 2017. Photograph: Hannah McKay/Reuters
When the compulsions of moral and humanitarian obligations collide violently with the exigencies of national security, it stalls a nation at excruciatingly painful crossroads that offer no easy choice.
A challenging dilemma that embodies the predicament: Damned if you do and damned if you don't.
With the growing number of Rohingya refugees finding their way into India, the country finds itself trapped between a rock and a hard place.
On one hand it faces the ignominy of being demonised as a callous, insensitive nation immune to the plight of starving, frightened women and children fleeing from an authoritarian regime; while on the other, it stares down a path fraught with the danger of terrorist infiltration.
Rohingya Muslims are a Stateless ethnic minority numbering close to a million (the Myanmar government denies them citizenship deeming them as Bangladeshi immigrants) who inhabit Rakhine province in western Myanmar.
Since Myanmar's independence in 1948, the Rohingyas have been subject to varying degrees of persecution prompting thousands to flee to Malaysia, Indonesia, Thailand, Bangladesh, Pakistan and India.
Since August 25, when a Rohingya insurgent group -- the Arakan Rohingya Salvation Army -- attacked Myanamarese army posts and provoked retaliation, the exodus of Rohingyas has intensified.
According to the United Nations high commissioner for refugees, 536,000 Rohingyas have fled to Bangladesh in this period. A significant number of them have found their way across Bangladesh into India, facilitated by human traffickers.
Currently, India harbours over 40,000 Rohingya Muslims; 16,000 of these have been registered by the UNHCR.
Responding to the burgeoning crises, Union Minister of State for Home Affairs Kiren Rijiju stated in Parliament in August that the Centre had directed state authorities to deport illegal immigrants, including Rohingya Muslims.
This pronouncement unleashed a public debate on the morality of the issue, invited censure from the UNHCR and prompted a legal challenge in the Supreme Court.
But what exactly are our legal obligations? Should blind humanitarianism prevail over pragmatic concerns of security? And should the Supreme Court reframe an issue that has security and international ramifications? These are the pressing questions that are germane to a cogent conclusion.
First, in strict legal terms, India has no obligation to the Rohingya refugees or refugees in general as it is not a signatory to the 1951 Refugee Convention or the 1967 Protocol Relating to the Status of Refugees.
The 1951 Refugee Convention is a United Nations multilateral treaty that lays out the rights of refugees and responsibilities of asylum granting nations.
According to T Anantachari (external link), director general (retired), Border Security Force, 'India does not have on its statute book a specific and separate law to govern refugees. Even though India is not a signatory to the 1951 Convention and also the 1967 Protocol, India is a signatory to a number of United Nations and World Conventions on Human Rights, refugee issues and related matters. India's obligations in regard to refugees arise out of the latter.'
India's obligation, if any at all, is indirect and stems from the broader concept of human rights and its own traditional morality.
Secondly, there appears to be a credible, multi-faceted threat that not only involves terrorism, but includes human trafficking and intentional demographic manipulation.
In a 16-page affidavit (external link) filed in the Supreme Court, the government made these observations:
'It is also found by the central government that many of the Rohingyas figure in the suspected sinister designs of ISI/ISIS' (Pakistan's Inter-Services Intelligence/Islamic State).
'There is also a serious potential and possibility of eruption of violence against the Buddhists who are Indian citizens.' (My interjection: The 2013 serial bombings in Bodh Gaya was related to the Rohingya problem).
'Due to an already existing large influx of illegal immigrants from the neighbouring countries, the demographic profile of some of the bordering states has already undergone a serious change which is already causing the far-reaching complications in various contexts.'
'... some Rohingyas are indulging in illegal/anti-national activities ie mobilisation of funds through hundi/hawala channels, procuring fake/fabricated Indian identity documents (PAN cards and voter cards) and also indulging in human trafficking.'
But most concerning is the threat that the Rohingyas pose in the highly sensitive area of Jammu and Kashmir.
Inadvertently or intentionally, a large number of refugees (5,700 according to the official figure) are concentrated in Jammu, which raises the twin fears of increasing terrorism and demographic manipulation.
Intelligence reports identify definite links between terrorists and Rohingyas. An India Today report (external link) says:
'Around October last year, reports surfaced that a Rohingya terror group, known as Aqa Mul Mujahideen (AMM) was in touch with terrorist outfits active in Jammu and Kashmir including Lashkar-e-Tayiba (LeT) and Jaish-e-Mohammed (JeM)'.
'There were also reports that Rohingya terrorists were being sent to the Kashmir valley along with Pakistani mercenaries. One Chotta Burmi of Rohingya ethnic group was killed in an encounter in Kashmir in 2015. Burmi was said to have received patronage of Hafiz Saeed in Pakistan.'
'The intelligence agencies suspect that increasing concentration of Rohingyas in Jammu and Kashmir could be part of JuD (Jamat-ud Dawah) and Kashmiri militant groups to keep them in "their area of influence". Some Rohingya militants are suspected to be active in the Kashmir valley.'
With the Kashmir valley being cleansed of Hindus, the concentration of Rohingya Muslims in neighbouring Jammu makes the danger of demographic manipulation a plausible fear.
Local tensions have been rising.
Rakesh, president of the Jammu Chamber of Commerce and Industry, was quoted as saying in a Hindustan Times report (external link), 'people will have no choice but to deport them against the law. It can be civil war or communal riots. They (the Rohingyas) want to change Jammu into an Islamic State which will not be tolerated by the people.'
Therefore, despite the caveat that all refugees are not terrorists, one cannot deny that the threat from the refugee influx is real and not paranoia or imaginary.
In this setting, the principle of non-refoulement (return of refugees to a place where they may be persecuted) cannot be invoked as per Article 33.2 of the 1951 Convention: 'The benefit of the present provision may not, however, be claimed by a refugee whom there are reasonable grounds for regarding as a danger to the security of the country in which he is, or who, having been convicted by a final judgment of a particularly serious crime, constitutes a danger to the community of that country.'
Lastly, this issue that has national security and international implications is best left to the prudence of the executive branch of a government rather than the judiciary, as the government affidavit (external link) indicates: 'Such facts (security inputs received from intelligence agencies) will satisfy this Hon'ble court to accept the respectful submission of the central government that it is desirable, expedient, Constitutionally imperative and in the interest of the nation to leave such a decision to the executive decision making/policy of the central government...'
The court appears to have partially concurred by not staying the deportation order and concluding (external link): 'There is no iota of doubt that a humanitarian issue is involved but national interest has to be kept in mind.'
The impression that India is morally delinquent and that the government is communalising the issue is misleading and deceptive.
India has already sent 53 tonnes of relief materials to Bangladesh as aid to Rohingya refugees and has vowed to take a humanitarian approach in deportation.
As Rijiju averred (external link): 'No country can accuse India of being intolerant or inhuman in dealing with Rohingyas. Deportation has to be done legally. We are not going to use force to throw out anybody. So allegations of being inhuman are wrong. No other country has accepted more refugees than India.'
Resettlement of refugees elsewhere is not the morally correct solution to the problem for it lets the perpetrators off the hook. Return of refugees to their rightful homes is the ethical remedy.
Accordingly, on October 15, former UN secretary-general Kofi Annan who the Myanmar government sanctioned commission to resolve the Rohingya problem, requested the UN Security Council to pass a resolution that 'urges the government to really press ahead and create conditions that would allow the refugees to return with dignity and with a sense of security'.
In conclusion, India cannot be faulted morally or legally and is fully justified in protecting its national interest even as it pursues a legal and considerate path to deport the Rohingyas.
Vivek Gumaste is a US-based academic, political commentator and the author of My India: Musings of a Patriot.