President Pranab Mukherjee's recent visit to the Pacific Island nation is path-breaking, but much more needs to be done, says Dr Rahul Mishra.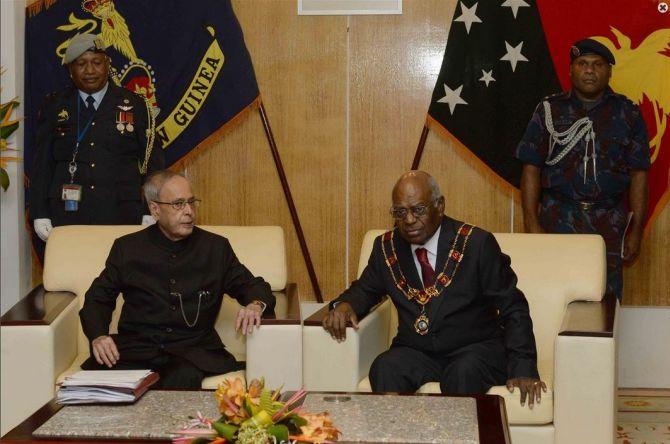 With an aim to widen the horizons of India's Act East policy, President Pranab Mukherjee paid a two-day state visit to Papua New Guinea on April 28-29, 2016. The event could not attract as much media attention as it should have despite the fact that it was the first-ever visit of India's head of state to PNG, the largest Pacific island nation.
Nevertheless, with its Act East Policy, New Delhi is swiftly reaching out to countries of the extended eastern region that are significant but have not been sufficiently engaged yet. It is in this context that India's engagement with the Pacific Island Countries, or PICs, provides India with opportunities to strengthen its active presence in the region. President Mukherjee's visit is a step forward in engaging the PICs, and should be seen in continuation with Prime Minister Narendra Modi's visit to Fiji in November 2014, the second summit of FIPIC hosted by India in 2015, and India's aid to cyclone-hit Fiji in February 2016 -- all of which are steps towards increasing India's engagement with the region.
As President Mukherjee himself stated during his visit, "PNG has a key role in India's extended 'Act East' policy, and India views this nation as a gateway to closer cooperation with the Pacific Island Countries."
Among the major highlights of the visit were MoUs signed between the two countries. As detailed by the ministry of external affairs, these were:
MoU between the ministry of health and family welfare and the ministry of health and HIV/AIDS of Papua New Guinea in the field of healthcare and medical science;
MoU regarding a US$ 100 million line of credit between the Government of Papua New Guinea and the Export Import Bank of India;
MoU between the Indian Council of Agricultural Research, New Delhi, and Papua New Guinea University of Technology, Lae, Papua New Guinea; and,
MoU between India and Papua New Guinea for establishing an India-Papua New Guinea Centre for Excellence in IT.
PNG is a resource-rich country and India has been attempting to secure its energy supplies and benefit from PNG's untapped resources, especially its liquid natural gas. In the joint statement issued during President Mukherjee's visit, it was mentioned that "PNG with its abundant natural resources, and India with its managerial and technical expertise, presented complementarities which could be built upon for the mutual benefit of the two countries".
India's growing maritime interests are not limited to the Bay of Bengal, Indian Ocean neighbourhood and the Straits of Malacca; rather, with its increasing economic prowess and strategic interests, it has to also keep a close eye on the South China Sea and Pacific Ocean to safeguard its interests. Thus, maritime security has been one of the key aspects of India-PNG relations also. It is also because of the fact that both the nations have a vast coastline and a huge exclusive economic zone to take care of.
During the second Forum for India-Pacific Islands Cooperation Summit in Jaipur in 2015, India offered a coastal surveillance radar system and Coast Guard patrol vessels to PNG. Mukherjee's visit thus succeeded I strengthening maritime cooperation between the two nations.
Fiji has been at the centre of India's regional strategy, which is largely attributed to the presence of the Indian diaspora in Fiji, approximately 40 percent of Fiji's total population. PNG also is home to 3,000 Indians. Nevertheless, critics argue that India's diplomatic postures are excessively focused on Fiji. Widening and deepening strategic and economic engagement with PNG, the biggest country in the region, is the way to make India's Pacific island strategy more balanced. PNG can indeed serve as a gateway to the region and beyond.
The trajectory of India-PNG bilateral relations suggests that despite political willingness, India's policy towards the PIC has been subdued for a long time. With Mukherjee's visit, India has strived to actively engage with the region.
While the visit was successful enough in bringing home a few important MoUs, including in the field of agriculture and health, there are still a few critical issues which need to be addressed. For starters, more diplomatic missions need to be opened in the region. India has high commissions only in Fiji and Papua New Guinea.
Lack of connectivity between India and any of the PacificIsland nations including PNG and Fiji is perhaps the biggest challenge in people-to-people links and in improving India-PNG bilateral trade, which stood at US$ 209.48 million in 2014-15. Direct flights between India and the PacificIsland countries should be started sooner rather than later.
India's presence in PNG's infrastructure development and energy sector has also been negligible. Essar (India) is the only Indian construction company which has been operational in PNG for the past few years. In 2014, Essar Projects PNG was awarded its third contract, worth US$ 32 million, for construction of the provincial headquarters of Jiwaka province. India's presence in the mining, education, services and healthcare sectors has been miniscule. Among all sectors, pharmaceuticals and healthcare stand out as the biggest potential beneficiaries. These sectors have immense growth potential in PNG and need to be harnessed wisely with a long-term perspective. PNG could also contribute in meeting virtually the insatiable demand for gold among Indian households.
There is a greater need to encourage Indian companies to invest in the PacificIsland nations in general and PNG in particular. Improved interactions between the two nations have the potential to step up India's diplomatic and economic foothold in the region and make India's Act East policy a success.
Image: President Pranab Mukherjee with the governor general of Papua New Guinea, Sir Michael Ogio, at the Government House, Port Moresby in Papua New Guinea on April 28, 2016. Photograph courtesy: Rashtrapati Bhavan.
Dr Rahul Mishra is a research fellow at the Indian Council of World Affairs, New Delhi. Views expressed are the author's own and do not represent the views of ICWA.