'Going by his political conduct over the past 15 years since first becoming chief minister, he has made enough enemies.'
'They could gang up and that could mean a lot for AIADMK politics to handle,' says N Sathiya Moorthy.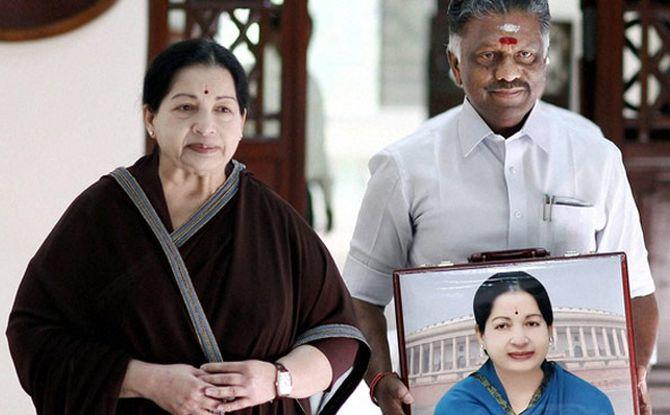 It might sound intemperate and inappropriate, but a quick rewind of Tamil Nadu politics in the last hours of Jayalalithaa in hospital could mean that All India Anna Dravida Munnetra Kazhagam politics will never be the same again.
The AIADMK, its cadres and Tamil Nadu voters alike have lost the most charismatic leader of them all post-Independence.
To her was left, long after the mid-term exit of Dravidian political ideology as an electoral force, to keep the flag flying.
Her electoral outings as the head of the AIADMK's campaigns in the 2014 and 2016 elections showed that she had done better without any serious allies, which her political mentor MGR could not and would not risk in his time.
Choosing a possible successor to take over from 'acting chief minister' O Panneerselvam -- even as Jaya continued as the Constitutional head from her hospital bed -- revealed how riven the AIADMK is in her absence.
Twice on her last day, party MLAs met for long hours, trying to choose a successor, even if interim.
If nothing else, it was not unnatural for the AIADMK to let Panneerselvam continue as a full fledged chief minister for the third time in 15 years.
OPS was Jaya's choice twice in the past decade plus: First when the Supreme Court unseated her after she had obtained bail against the Tansi case verdict in 2001.
More recently, OPS became the natural choice after a trial court in Karnataka ordered her imprisonnment in the 'wealth case'.
The main state appeal is still pending a verdict in the Supreme Court after the Karnataka high court acquitted her.
This, and his position in the warrant of precedence as the senior-most ranking minister after Chief Minister Jayalalithaa, meant that acting Governor Ch Vidyasagar Rao asked him to chair cabinet meetings and attend to her ministerial responsibilities even as she lay unconscious in hospital.
Continuing with the status quo would have been the best thing the AIADMK's second leadership could have done in the circumstances, but the party's second-line would not do it.
Now that OPS has been sworn in as chief minister, he will have to prove his leadership qualities to the party cadres and second-line leadership before he can emerge as a leader in his right.
Whether the second-line, in Jayalaithaa's absence, would want to make one out of him is a question nonetheless.
Considering that the party has always functioned under a supremo, with caste and community-centric local leaders dancing to her tune, the best thing that could happen to the AIADMK is to form a presidium to fill the void, however partially.
Should it happen, and work successfully, the AIADMK's very style of functioning could change, and change for the better.
Considering that the rival Dravida Munnetra Kazhagam has always had a system of limited/guided democracy, more than in the AIADMK, be it under MGR or Jayalalithaa, this in turn could change the democratic character of the Tamil Nadu polity as a whole after a long gap.
This does not mean that local satraps who are part of such a presidium would not assert themselves and share power vis-a-vis Panneerselvam on the one hand and local sub-divisional level party third and fourth liners.
It could be as disastrous as anything could be, especially in the absence of a charismatic leader, who won or lost elections for the party.
In the interim, the second-line leadership would find it difficult to adjust to life without Amma.
One other question remains. The midnight choice was confined to a new chief minister in OPS. No decision has been taken on a new general secretary in Jayalalithaa's place to head the party organisation.
Under the Election Commission rules, this process waited to be completed as Jayalalithaa lay in hospital. Now it is as much an opportunity or challenge as it was routine with Jayalalithaa around.
At this point, OPS is better placed to guide the AIADMK as general secretary, but working out power equations in the new environment could make him vulnerable without Amma's protection to guide him and corner the rest.
At the end of the day, the new formation/formulation, including the CM-GS combo, would have to provide for factions that lay low when Jaya was around. It may not be the case now.
On the party front, there are reservations about a member of Sasikala Natarajan's family heading it, owing also to the caste factor.
OPS also belongs to the larger Mukkulathor community in southern Tamil Nadu as does Sasikala Natarajan, Jayalalithaa's loyal aide of many years.
There are other 'loyal' caste groups and loyalist leaders like Vellalar-Gounders in western Tamil Nadu, who may then feel left out. There are other identifiable sub-regional caste groups whose interests need to be protected too.
It is a test that OPS and the AIADMK need to pass before becoming an electoral force, post-Jayalalithaa.
In this, apart from mutual accommodation and respect, good governance and corruption could become major issues.
Panneerselvam is as much an unknown quality as he was seen as loyal.
He may not be a Narendra Modi (despite both being chaiwallahs in their earlier avatars) in reaching out to the people over the party, as Jayalalithaa and MGR had done.
He could still prove to be another P V Narasimha Rao -- the weakest link that asserted itself with the kind of silence that hid a lot of cunning that his adversaries were unaccustomed to.
If nothing else, going by his political conduct and purported partisanship, depth and reach within the party outfit, at least over the past 15 years since first becoming chief minister, he has made enough enemies among equals as friends and followers.
They could gang up and that could mean a lot for AIADMK politics to handle.
The near complete wash-out of a third, fourth or fifth alternatives to the AIADMK and rival DMK, especially after the 2014 and 2016 elections, could give some cushion for a presidium of AIADMK leaders in the interim.
Overdoing it, however, could well mean that they would be over stretching themselves. That is when a a national outfit like the Bharatiya Janata Party could be tempted to take a swipe at Dravidian politics and try its electoral luck in Tamil Nadu all over again.
Alternatively, a party like the BJP could seek an alliance with the AIADMK sans Amma.
It could provide ministerial berths at a non-competing, higher, level at the Centre, for aspirants now sulking after losing out in the unannounced, unpronounced, race for the chief minister.
It could create another triangular party leadership, which could be divided in many forms and levels. These are all things in the future.
In the interim, the DMK will be waiting and watching what awaits the OPS leadership.
Soon after the assembly poll results in May, DMK supremo M Karunanidhi pointed out how 20 MLAs made a difference to victory and defeat.
It is not the kind of calculation any leader, least of all someone as experienced as Karunanidhi, would have mentioned, that too in public.
As if to nip rumours on this score in the bud, his son and heir apparent M K Stalin conceded the election long before the last results were out.
This conflict of concepts and interests in the DMK apart, there is no knowing if the AIADMK after Amma would fight their political fights to the extent that the DMK would feel invited and wanted to intervene in the name of providing political stability if nothing else.
In all this and more, the future role of the BJP leadership at the Centre would be watched with suspicion by Tamil Nadu political players. They all would want the BJP and the Centre on its side, but would not be willing to yield, politically or administratively what the Centre or the leading party at the national level would want in equal terms, and equitably so!
N Sathiya Moorthy, veteran journalist and political analyst, is Director of the Observer Research Foundation, Chennai Chapter.