Prime Minister Narendra Modi's maiden speech from Red Fort last Independence Day outlined some grand programmes. Shehzad Poonawalla does a quick check on the progress made.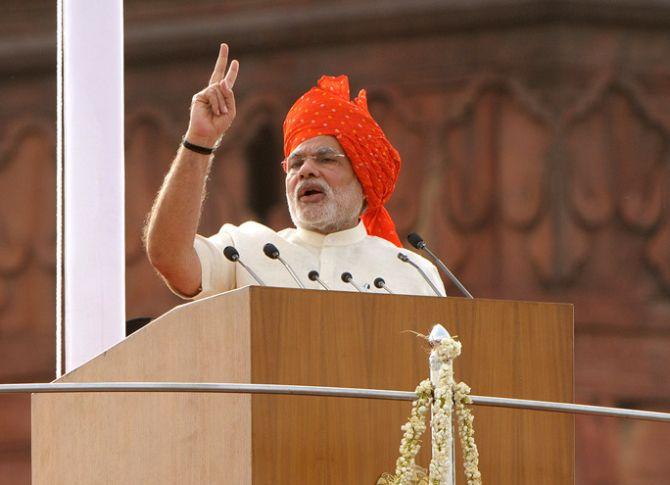 Exactly a year ago, Narendra Modi addressed the nation from the ramparts of the Red Fort on August 15, 2014, for the first time in his avatar as the prime minister and made some promises. A year later, on the occasion of the 69th Independence Day, before PM Modi lists out yet another set of promises, let us assess if he has been able to keep his word on the previous ones. Here is a quick report card.
1. Modi had said the first step towards 'Swachh Bharat', a programme that was later launched on October 2, 2014, would entail building toilets in all schools, including separate toilets for girls, within one year. He said by next August 15 there should be no school without a toilet.
Report Card: Fail (below 35 per cent).
Only 32 per cent of the toilets have been built; 68 per cent, or 2,98,458 toilets, are yet to be built. Thus, work has been completed in only one of every three toilets to be constructed across India according to a review of the Swachh Vidyalaya programme chaired by Modi himself in June this year.
2. Modi had launched the Pradhanmantri Jan-Dhan Yojana which would provide for a bank account and a debit card to poor families.
Report Card: Poor (below 50 per cent).
As on July 29, 2015, a total of 17 crore 29 lakh accounts have been opened as per statistics provided by the PJDY website; 46.91 per cent of these accounts have zero balance. About 15 crore Rupay debit cards have been issued. According to the 2011-12 Rangarajan methodology, a minimum of 36.29 crore Indians are below the poverty line, a figure that is likely to rise if one takes a look at the trend put forth by the Socio Economic Caste Census findings, which says that 70 per cent of all rural households live on less than Rs 200 a day.
3. Modi demanded a 10-year moratorium on communal violence.
Report Card: Fail.
Incidents of communal violence in India rose by nearly 25 per cent in the first five months of this year compared to the same period in 2014. Deaths in communal incidents rose from 26 to 43 last year while the number of those injured in such clashes increased from 701 to 961, as per reported home ministry figures.
Here one is not even mentioning the spate of inflammatory and communal statements made by Modi's own colleagues Sadhvi Jyoti, Sakshi Maharaj, Yogi Adityanath and members of his Sangh Parivar including Mohan Bhagwat, Pravin Togadia, Ashok Singhal, Sadhvi Prachi and others on issues like 'Love Jihad', 'Ghar Wapsi'.
The alarming number of church attacks in Delhi and tension in Trilokpuri, Bawana areas of Delhi and riots in Bharatiya Janata Party-ruled Haryana also leave many questions unanswered on whether Modi indeed pursued the fulfillment of this promise with any sincerity at all.
Modi emphasised the importance of daughters and made a mention about India's poor sex ratio.
Report Card: Average.
4. Despite Modi's emphatic messages, his 'Man Ki Baat' on the issue, his campaigns like 'Selfie with daughter' and 'Beti Bachao', the sex ratio has shown no improvement whatsoever in 2015 and remains stagnant at the 2014 figure of 943/1000 males.
Modi claimed that he would boost manufacturing through 'Make In India'.
Report Card: Fail.
5. Core sector production, which was as high as 8.7 per cent in June 2014, hit an 18-month low of -0.4 per cent in April 2015. The eight industries that constitute the sector grew at a slower pace of three pc in June 2015. As per commerce ministry data, exports in 2015 fell by a whopping 15.82 per cent compared to 2014.
Modi had announced the Sansad Adarsh Gram Yojana whereby every member of Parliament was exhorted to adopt and develop a village as an ideal/model village. Although Modi had said that since this was a new programme, it would take up to 2016 for it to be implemented.
Report Card: Average.
According to Rural Development Minister Rao Birender Singh, in the first year of SAGY, 679 village panchayats have been adopted; 108 MPs are yet to adopt villages even one year later. Whether all these villages would be developed as ideal villages is anybody's guess.
6. Modi said Niti Aayog, a new body with new body and soul, would be created to replace the Planning Commission. This new institution would respect the federal structure of the country, he had assured.
Report Card: Average.
Apart from the name change, nobody is quite sure what Niti Aayog is all about even after one year. It continues to face a number of challenges, including a lack of clarity on what issues it needs to focus on. Till very recently there was even confusion about its members' position. Only recently the PMO issued an order granting the rank and status of cabinet minister to Niti Aayog Vice Chairman Arvind Panagariya and that of minister of state to its two full-time members, economist Bibek Debroy and former bureaucrat V K Saraswat.
As far as cooperative federalism is concerned, 12 states skipped the last meeting of Niti Aayog chaired by the PM, indicating how little faith they have in this institution's commitment towards the federal structure.
7. Modi said he would launch the Digital India and Skill India initiatives
Report Card: Pass.
Although the fine print of both these initiatives is yet to be studied, the two programmes have been initiated.
8. Modi had expressed dismay at the rising number of rape incidents in the country and prioritised the safety of women.
Report Card: Fail.
In the first two months of 2015, the Delhi police's statistics show 300 rapes and 500 molestations have been reported. So under Modi's watch, Delhi has witnessed about five rapes and eight molestations per day!
Shehzad Poonawalla is a lawyer-activist and founder-member of the governing body of the think-tank PolicySamvad.