'If all goes well, Modi will visit the Maldives later this year. But two Indian concerns remain unaddressed: President Yameen's intentions about Mohammad Nasheed and China,' says Rajeev Sharma.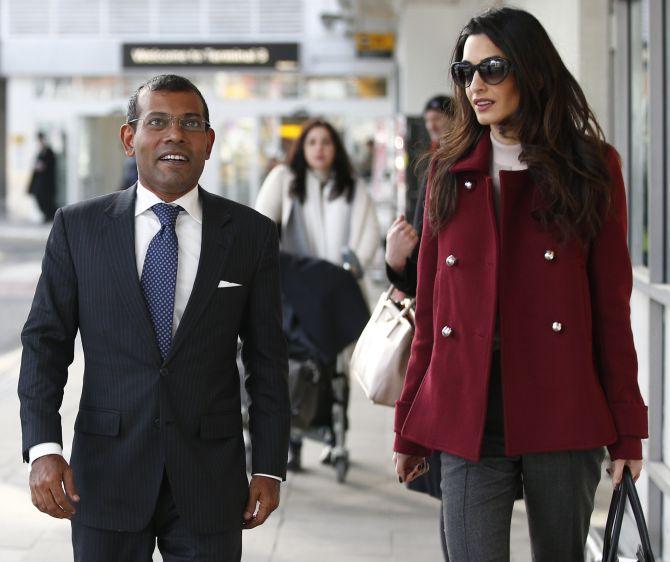 IMAGE: Deposed Maldivian president Mohammad Nasheed at Heathrow airport in London, January 21, 2016, with his lawyer Amal Clooney.
Nasheed was granted medical leave from his 13-year jail sentence to have spinal surgery. Photograph: Peter Nicholls/Reuters
After two back-to-back chief guests from the world's most powerful Western P-5 democracies on India's Republic Day -- presidents of the United States and France respectively -- it is time for Prime Minister Narendra Modi to do some thinking about the near-abroad.
A humble near-abroad destination that has still remained untouched by Modi's foreign visits is the Maldives. It is a SAARC (South Asian Association for Regional Cooperation) country. It is in India's immediate neighbourhood. It is an Indian Ocean archipelago. All three factors are of enormous strategic importance for India.
Modi has been known for his out-of-the-box moves as far as foreign policy is concerned. He has demonstrated it in ample measure.
However, one country in the immediate neighbourhood that has stayed away from Modi's personal radar screen thus far is the Maldives. He was scheduled to visit the Maldives almost an year ago, but had to cancel his visit because of former Maldivian president Mohammed Nasheed's arrest, his conviction in an alleged sedition case and his imprisonment for 13 years.
Though Modi cancelled his Maldives visit he went ahead with his visit to three other Indian Ocean island States -- the Seychelles, Mauritius and Sri Lanka in March 2015. His primary reason for not visiting the Maldives -- the incarceration of India's friend Nasheed -- still continues to remain in place even now.
But some minor, though important, changes have taken place in the interregnum which may propel India to engage with the Maldives more pro-actively.
First and foremost, Nasheed is no longer in his home country, but is in the United Kingdom on a sort of parole for spinal surgery. This Is an important concession handed out to Nasheed by the Yameen Abdulla Gayoom government at the behest of New Delhi's constant pressure. It is an important change in the political situation in the Maldives that India cannot ignore.
Moreover, External Affairs Minister Sushma Swaraj and Foreign Secretary Dr S Jaishankar have visited the Maldives lately and many ministerial-level visits from the Maldives to India, including one from Maldivian Foreign Minister Dhunya Maumoon, have taken place in this period. All these to-and-fro visits indicate that India-Maldives ties are on the mend.
Against this backdrop, it is only in the fitness of things that Modi embarks on his much-awaited visit to the Maldives. He may well have been planning such a visit, but Dhunya Maumoon landed in Pakistan for a two-day official visit on January 27.
Dhunya's Pakistan visit has raised red herrings in India particularly because the main objective of her visit is to urge Pakistan Prime Minister Nawaz Sharif to visit the Maldives at an early date. Sharif was scheduled to visit Maldives in July 2015, but had to cancel it at the eleventh hour because of severe floods in Pakistan.
There are chances that Nawaz Sharif may visit the Maldives in the next few weeks. Against this backdrop it will be difficult for Modi to announce his dates for a visit to the Maldives. Obviously he will have to wait to gauge the full import of Dhunya's Pakistan visit.
This development would inevitably put the Modi government on a wait-and-watch mode. The government will have to weigh its pros and cons carefully before the prime minister undertakes a visit to the Maldives.
After all, India's biggest strategic concern is the lengthening Chinese shadows in the Maldives and if Pakistan too were to up its ante in this country then Modi will have to hold his horses.
If all goes well and as per New Delhi's plans, Modi will visit the Maldives later this year. But two Indian concerns remain unaddressed: President Yameen's intentions about Nasheed and China.
Now if Pakistan too were to roil the Maldivian waters, it would definitely complicate issues.
It is time for India to apply a soothing balm on frayed India-Maldives ties. This can be done best if Modi undertakes a visit to the Maldives.
The situation is in a flux. Perhaps it will be better to have President Yameen in India first. It is eminently do-able.
Rajeev Sharma is an independent journalist and strategic analyst who tweets @Kishkindha