Turkish President Recep Tayyip Erdogan has been trying to mollycoddle India with sweet nothings while having a very close relationship with Pakistan, observes Rajeev Sharma.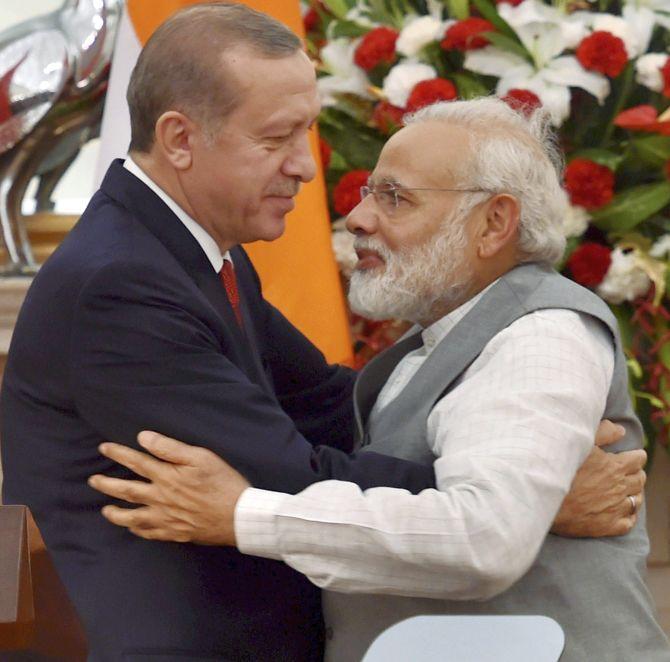 IMAGE: Prime Minister Narendra Modi greets Turkish President Recep Tayyip Erdogan after their joint press statement at Hyderabad House, New Delhi, on May 1, 2017. Photograph: Shahbaz Khan/PTI Photo
Strange are the ways of international diplomacy where its practitioners openly and unabashedly play the 'running with the hares and hunting with the hounds' kind of game.
But rarely does it happen that a head of state indulges in this kind of diplomacy, and that too with a country he is about to visit.
Turkish President Recep Tayyip Erdogan has done precisely this. Ahead of his state visit to India (April 30-May 1), Erdogan made on-record statements which would have left the Indian diplomatic establishment gasping.
He batted for India's membership in the Nuclear Suppliers Group, something which has been stridently opposed by China. But wait! Erdogan hyphenated his 'gesture' with a similar status for Pakistan, a country with which Turkey has extremely close political and strategic relations, and supporting Pakistan's case for NSG membership.
This is what he said in an interview to an Indian TV news channel: "Both India and Pakistan have the right to aspire for NSG membership. I think India should not assume such an attitude. If Turkey was fair enough to support Pakistan, it was fair enough to support India. We are very objective and positive to the NSG process." (Full text of the interview HERE)
Erdogan didn't stop there and went on to talk about the need for multilateral negotiations on Kashmir, knowing full well that India baulks at such an idea and has always said it would never brook any third party involvement on the Kashmir issue which is essentially a bilateral issue between India and Pakistan.
But then this is how international diplomacy has always been, and perhaps will always be. Obviously, these statements from Erdogan would have been at the back of the mind of the Indian leadership, but didn't deter Prime Minister Narendra Modi in engaging Erdogan in a constructive, meaningful and results-oriented dialogue when the two leaders held delegation-level talks in Hyderabad House on Monday.
Turkey is an important world power, no matter howsoever close it may be with India's arch-rival Pakistan, and India and Turkey have to build on their many convergences and build mutual trust soon.
This is possible at a time when both countries have very strong leaders and stable governments. Undoubtedly, the world is looking at PM Modi with even more respect after his string of recent electoral victories.
Erdogan too is in the Modi mould in terms of popularity and power. He has been Turkey's prime minister for 12 years and now president for the last two-and-a-half years. This is his first foreign visit after scoring a comprehensive victory in a controversial referendum recently which gave him overwhelming powers and further cemented his place in the country's power structure.
While Turkey's close ties with Pakistan and Ankara's ever-deepening involvement in several urban development projects in Pakistan-occupied Kashmir has riled India no end, Turkey too has its own concerns with India, right or wrong.
For example, the issue of Fethullah Gulen, a Turkish preacher and political figure who is currently living in exile in the United States, is a major sticking point between Turkey and India. Erdogan dislikes Gulen as much as the Chinese government abhors the Dalai Lama. Gulen is reported to be behind last year's failed coup attempt against the Erdogan government.
For quite some time, the Erdogan government has been asking India tough questions about Gulen and believes that Gulen's movement, which Ankara dubs as FETO or Fethullah Gulen Terrorist Organisation, has "infiltrated" India, a charge which about New Delhi has neither evidence nor any credible information. Turkey wants India to take action against FETO but has thus far failed to give any concrete information to India on the basis of which action can be taken.
The Gulen issue inevitably featured among Erdogan's talking points during his summit meeting with PM Modi on Monday. As far as the official Indian response goes, the on-record terse remark by Ruchi Ghanshyam, secretary (west) ministry of external affairs, puts things in perspective: "The Turkish side has raised this issue (Gulen) and we have noted their concern."
Erdogan had last visited India in 2008 but that time as the prime minister. The Gulen issue was not an irritant in India-Turkey bilateral relations then because Gulen was a major ally of Erdogan. The two fell apart only in 2013, when major corruption scandals against the Erdogan government broke out. This time Erdogan's stakes in India are much higher.
Cooperation with India in the field of counter-terrorism should be a major area of interest for Erdogan as Turkey is in the grip of a spate of jihadist attacks. Turkey stands to benefit more on this than India. But what kind of value can he impart to this exercise when his government is closely involved with a country like Pakistan which has a proven track record of using terrorism as an instrument of foreign policy?
But Erdogan is a wily politician and is a past master in the art of running with the hares and hunting with the hounds. Recently he had a dinner meeting with Syrian President Bashar al-Assad even as he has been aiding and abetting Salafi jihadis against him.
He has been playing the same game with India by trying to mollycoddle New Delhi with sweet nothings while having a very close relationship with Pakistan.
Keep your fingers crossed, folks, but don't expect an overnight transformation of India-Turkey relations following Erdogan's visit.
The writer, an independent journalist and strategic analyst, tweets @Kishkindha.