The critics of Prime Minister Modi's latest project are not looking at the future but living in the past, says Syed Firdaus Ashraf.
Illustration: Dominic Xavier/Rediff.com.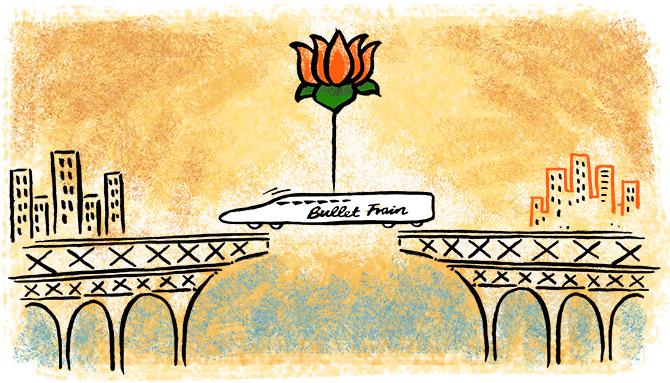 When Rediff.com began its operations in December 1995, my father told me I was making a big mistake by joining this "computer company" (he didn't know what the Internet was then, like most Indians).
The reason?
"Who reads news on computers?"
"In India people don't have money to eat food, and you think they will read news on computers. Which world are you living in?" he asked me.
I preferred to keep quiet because I knew my father was a Luddite, and blithely went on to work for Rediff.com.
That was an era when the mobile phone had not come to India, and the Internet on mobile was unheard of.
India was four years into liberalisation and P V Narasimha Rao was still the prime minister of India. Yes, that's how old we are as a company.
The old socialist ideas of India were still haunting many, and they felt India was doomed as a country with the entry of computers and the Internet.
Computers are taking jobs away, was the mantra of men with a socialist mindset, even when the contrary was staring them in the face because software companies like Infosys and Wipro had just begun hiring young Indians with a basic knowledge of computers.
Twenty-two years later everyone is hooked to the Internet, and that includes my father who has joined the WhatsApp bandwagon and who no longer asks me, 'But who read news on computers?'
So when the bullet train was launched by Prime Minister Narendra Modi last week I started to hear the same arguments which I had heard 22 years ago.
"Why does India need the bullet train?"
"But our farmers are committing suicide."
"Who can afford to travel in a bullet train?"
"World over the bullet train has failed."
"Mustn't we first improve our existing rail network?"
"Modi has lost it. He is only wasting money."
'Bullet Train. Emperor's White Elephant,' screamed one headline.
These were the kind of statements that haunted me when the Internet was coming to India. Sure, we need to solve the basic problems of life but that doesn't mean we should not adopt, and adapt to, new technology.
So why am I favouring the bullet train, you may ask?
The reason is simple. Mumbai is overpopulated and has decayed so much that it cannot take further influx of people; but still people come here, lured by this City of Dreams.
The worst sufferers are the people who commute daily in Mumbai.
Travelling from South Mumbai to either the western or eastern suburbs will easily take two hours by road, and this has become the norm.
Like Sisyphus and his never-ending task, Mumbaikars are cursed to suffer traffic jams day in and day out.
Another problem is housing. It may be easy to get a job in Mumbai but it's next to impossible to buy a house.
Housing has become a nightmare for any youngster growing up in the city. There are no affordable homes for these young men and women in the City of Gold.
Even if a couple is earning Rs 1 lakh a month they will not be able to buy a decent 2BHK home in the suburbs.
A friend of mine from Uttar Pradesh, who earns Rs 1 lakh a month, could not buy a flat in Mumbai as it was simply unaffordable. So he bought a 3 BHK row house in Baroda for Rs 40 lakhs.
"Retirement plans," he told me.
Another friend bought a 2 BHK flat in Surat for Rs 25 lakhs three years ago.
The housing complex has a swimming pool and badminton court.
Both of them bought homes outside Mumbai because it was affordable, and it was also their retirement plan, for the day they will leave this city.
Right now they are staying in rented apartments paying Rs 15,000 a month in faroff suburbs of eastern Mumbai and travelling 2 hours to reach their office in Central Mumbai.
A decent 1BHK of 500 square feet area, in a good housing complex, within Mumbai city limits will cost Rs 1 crore. Yes, you read that number right. These two friends could not afford to buy here so they bought homes in Surat and Vadodara.
And if your net income is below Rs 1 lakh a month, simply forget about owning a home in Mumbai. Period.
So what do you do?
Buy a home in places where the bullet train will halt in Gujarat, where the property prices are very low compared to that in Mumbai.
The bullet train stations are: BKC, Thane, Virar, Boisar, Vapi, Billimoria, Surat, Bharuch, Vadodara, Anand, Ahmedabad and Sabarmati.
Do a quick search on different housing sites and you will find that property rates in these cities are cheap and affordable compared to Mumbai.
If you want to buy a 2BHK flat of 1000 square feet in Dahisar, the last extended western suburb of Mumbai, you will have to shell out Rs 1,10,00000
In Dahisar, the price for one square foot area is Rs 11,000.
Now if you are staying in Dahisar and working in BKC, the last stop for the Ahmedabad-Mumbai bullet train, you will reach your workplace in one hour via the Mumbai local train and road.
Compare this to another person staying in Vapi, Gujarat, where the property price is as low as Rs 3000 per square feet.
For the Rs 1,10,00000 he may have to spend in Dahisar, he can easily own a 3 BHK flat in Vapi, even a bungalow.
And if he is working in BKC just like the Dahisar guy, then he will take the same amount of time to commute from Vapi to BKC via the bullet train.
The same is the case with other Gujarat cities where property prices are as low as Rs 6000 square feet in Surat, Rs 5000 in Vadodara and Rs 7000 in Ahmedabad.
So youngsters, don't listen to these oldies who tell you the bullet train is a waste and not needed for India.
Instead, buy a home in Vapi, Bilimoria, Surat or Vadodara and travel by bullet train to reach BKC in just one hour.
But what about the cost of travelling in bullet train, you ask, will it not be expensive?
I would tell them that my friends who are living on rent in Mumbai's suburbs spend Rs 15,000 for their house and another Rs 5,000 on monthly commute.
Rs 20,000 spent a month and at the end of it they are not even staying in their own house!
So won't it be cheaper, and wiser, to spend that much money on your monthly pass to travel by bullet train and go back to your own home at the end of the day?
Think about it.