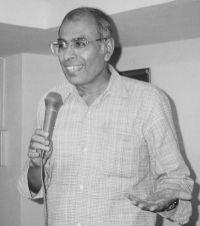 The rationalist has proved to be a greater voice of reason in death than he was during his lifetime.
One could have almost entirely agreed with Narendra Dabholkar but for a few observations like why should youngsters go to Siddhi Vinayak and Shani temples.
It's a matter of belief, and if youngsters thronging the church, or the Holy Mount, or Haji Ali or Eid prayers in Jama Masjid and the slaying of millions of animals can be accepted as a valid expression of faith, why can't going to temples too be an acceptable exercise, whether the State is secular or atheist or both?
Still, the other voices, even if with malice and prejudice unintended, too need to be heard and protected. If we do not do that, we fail as citizens, and as I am a Hindu, I can say we fail our great dharma too.
That's the reason Dabholkar should have lived a hundred years and this nation, belonging to a great civilisation, alone deserved him.
I have never met him, nor had any interaction with him ever. Still, if you are a Hindu you have to be a rationalist and show courage to listen to the other viewpoint. Dabholkar in death has appeared to be a greater voice of reason than he was during his lifetime.
Sad, but true.
Dabholkar appeared to be a moral reformer, a 'cleaner' of high order.
He was harsh on pujas, miracles performed by holy men, people, especially youngsters, standing in long lines at a Shani temple, millions thronging to have a darshan at Siddhi Vinayak, and the higher-ups, wearing stones and diamonds to ward off evil influences.
He had every right to be so, as a Hindu and as a rationalist. His views were appreciated by many as well as countered by a greater number of people. But those who turned violent and silenced his voice in a cowardly manner did an absolutely un-Hindu act.
My father was an Arya Samaji and my mother a Sanatani Hindu. We children all followed her. We have inherited faith in Murti Puja (idol worship) and also wearing stones, and yet I find it completely unacceptable to stonewall the voices of reason from the other side of the fence. More so when I see the ugly display of religious marketing and deceptive carnivals of blind faith in my state Uttarakhand and elsewhere. I feel we need Dabholkar's fearless and firm stand to help Hindus come out of their dark age ritualism.
My mother would say, even if you choose not to go to any temple, never ever worship a god, or perform a yajna, but if you do good deeds, that's enough to bring you the bliss of the gods.
We, the faithful, the devotees, let our temple be the dirtiest place in the city; just see Kashi Vishwanath or the Ganga and Yamuna, Manikarnika Ghat in Varanasi, Har ki Pauri in Hardwar, Sangam in Prayag, Kshipra in Nashik. We see it, feel bad about it but still can't speak against it. Our pandits and priests don't follow religious norms, but charge exorbitantly when they come to perform puja at pilgrim centres, refuse to have a systematic method of charging dakshina. We need a Dabholkar to challenge them.
The stinking rich spend crores on Bhagwat Kathas but refuse to ensure that no one goes to sleep on an empty stomach, they are the sinners and only a Dabholkar would have said that.
No comparison intended, still we have had Swami Dayanand, who raised the Pakhand Khandini Pataka ( the flag to destroy hypocrisy) and opposed image worship by the Hindus. Even if one chooses to be an atheist, and I personally feel that too is a form of faith, he has every right to propagate his ideas and be harsh on those who, in his view, are irrational, and still be a Hindu.
In fact, politicisation of the faith and the pressures of vote bank politics have reduced the reformist spirit among Hindus to shamanism.
We uphold the ideals of Swami Vivekananda, without even caring to have them implemented. The way he came down on the 'touch me not-ism' of the so-called higher castes, and the treatment meted out to women and pariahs as bonded slaves, never occurs in the expressions of our ideas for a new India and on our manifestos.
The entire polity and the media are in the grip of casteist leaders, and yet we boast of equality and social harmony. We know we will never ever allow people from Dalits and tribal sections, as brilliant and intelligent as from any other caste, to become chief editors, anchors and news editors and have them as genuine decision-makers in the political and social set-up, yet we boast of our holy scriptures which have never sanctioned caste-based apartheid.
We need a Dabholkar to puncture this hypocrisy of the so-called high caste scholars and corporate leaders, and take corrective measures.
To be a Hindu means to be logical, have a scientific worldview and an open house for all ideas barring those which are anti-national and deliberately derogatory.
There might be a question, why is all this reformist zeal shown only towards Hindus, and why the same saner voices are not raised regarding the equally bad practices, if not worse, like 'healing melas' among non-Hindu denominations?
Still, even if only Hindus are addressed by Dabholkar, let it be because that benefits us and we have often seen that such moves have encouraged other faiths too to look inward and give space to reformist voices, like Hussain Dalwai in Maharashtra, though in a much limited and smaller manner.
It is the reformist movements like Swaminarayan and Gayatri Pariwar which have kept the fire of hope alive and intact for Hindus.
The intrinsic strength of Hindu dharma, to accommodate and be inclusive to all streams of discourse, has made us survive millennia of assaults and invasions. That justifies the name Sanatan Dharma, the eternal way of life. If we violate this spirit and become anti-reformist, and become slaves of businessmen turned seers, we shall be doing the greatest disservice to Hinduism.
Tarun Vijay is member of the Rajya Sabha; member, Parliamentary Consultative Committee on External Affairs; member, Parliamentary Group on India China Friendship.